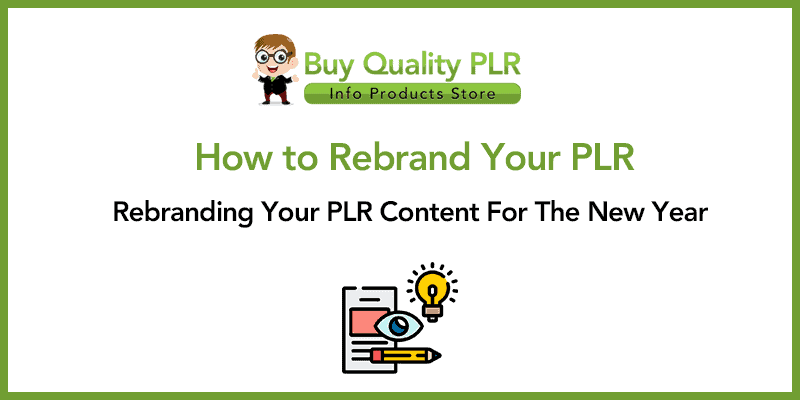 Rebranding PLR Content
Before we start rebranding your PLR, remember to check your license. If you buy nonexclusive content with resale rights (RR) or master resell rights (MRR), you don't have the right to edit the content. You can't rebrand it. You have to use it or sell it as is.
These means when you are purchasing content with the idea that you will change it and rebrand it as your own, make sure you get full PLR rights.
This allows you to make any edits you desire.
Once you have acquired content with a private label rights license to edit it, how are you going to make those changes? That's what this chapter of your report is all about. I'll share with you a few different ways to rebrand your PLR content to make it uniquely yours.
The first thing you can do is …
Change the Name
This is simple. Sometimes you might not want to do this. The name of the PLR product or products you purchased might be really catchy. You may be tempted to leave it as is. Don't do this. Do a little brainstorming and come up with your own, unique title. Be sure to use keywords or your company name or phrases that can help identify the product as belonging to your business.
Make your title catchy. Talk about the major benefit the content delivers. Speak about advantages and benefits, not features. You can browse your competitors for ideas.
(A quick Google search will reveal if the new name you want to use is already out there somewhere. If so, keep going until you find a unique name.)
Come up with a New Headline (and Make It a Good One)
John Caples gave some good advice about writing headlines a long time ago. Who is John Caples, and why should you care about what he has to say? Caples is known as an advertising pioneer. He developed many advertisements that sold billions of dollars worth of goods and services.
He wrote many great books on advertising, copywriting and marketing. These include "Tested Advertising Methods," which was published way back in 1932. It's considered a "must read" for marketers, salespeople and advertisers. Even though it's decades old, the marketing information contained in that book is as applicable today as it was then.
One thing Caples famously said about writing headlines is important when you are rebranding your PLR.
"If the headline is poor, the copy will not be read. And copy is that is not read does not sell goods."
That is very powerful information. In other words, you shouldn't forget that your headline only has one job to do … get the prospect to read the rest of your content.
That's it. That's all your headline should be focused on doing; getting a web surfer to click and read more. If you like a headline because it's catchy or silly or outlandish, that's okay … as long as it gets people to read your content. Don't fall in love with a headline because you think it's neat, if it isn't getting people to click and read.
Here are a few tips for writing headlines that get clicks.
Use numbers and statistics. Don't spell out a number, use the numeral instead, such as "10" instead of spelling "Ten". This is a seemingly simple but incredibly powerful headline writing tip.

Create a list headline. Certain words make people think of lists. Your prospects like lists because they are easy to read and sequential.

Use the following words in your content and you can easily edit your PLR into a list format. Reasons, tips, secrets, techniques, facts, ways, tricks, ideas, strategies, methods. Combine your list words with numbers to make your headline doubly powerful. For example, "10 Ways to…" Or "7 Techniques for…".

Make sure you use keywords and phrases you're trying to target, but don't keyword stuff. That means don't cram in a bunch of keywords unless they make sense, and you should usually only include 2 or 3 keywords and phrases you're trying to target.

Begin your headline with the words "How to". This is what people type into Google when they're looking for the solution to a problem. They write "how to…", So if your headline starts this way, it makes your content relevant in the eyes of both the search engines and your prospects.

Crank up the curiosity factor. Curiosity always gets clicks. How many times have you read a headline which made you curious enough to click on it and read more?

Make a promise. Tell your reader what the content is going to do for them. Don't be scared to make a big promise, as long as your content can back it up. Promise someone how to lose 20 pounds in 30 days without exercising in a headline and your content is definitely going to get read.

Split test your headlines. When you come up with aheadline you think will work, test that out. Give it 30 or 60 days to run its course. Look at your click through rates and conversions. Then try another headline and stick with whichever one works the best.

Change from one content format to another. Turn an article into a video. Turn a video into an article or blog post. Several autoresponder emails can come together as a single piece of content you can use for a report or article. Changing the format of your PLR content can make it unique.
A lot of marketers don't do this. When you repurpose your PLR content you multiply your marketing efforts. A single piece of PLR can be reworked into a blog post, a video, a report, an e-book and so many other types of content.
Add Your Logo and Business Branding
If you've created a logo for your business, use it on all your PLR. This instantly identifies the content as belonging to your business. If there is any other type of branding you have created for your business, add it to your PLR.
Include Custom-Made Graphics
Most PLR content is text-based. This means that simply by adding some graphics, images or videos you instantly make it unique. You make it yours. If you purchase PLR reports and e-books, have a graphic designer or freelancer create new e-covers for your content.
Make it Personal
Add a picture of your smiling face to your content. Create a signature file out of your cursive signature and contact information. Introduce yourself and tell your readers your name. You are a unique, one-of-a-kind individual. Adding your picture, signature and other techniques for personalizing your content makes it is unique as you are.
Add Bonuses and Other Extras
This is easy to do. If you purchase a PLR bundle that you're going to resell, there are other people purchasing the same content. One easy way to make your offer more valuable in the eyes of your prospects is to add bonuses.
Your competitors are already doing the same thing. This means your bonus packages need to provide a lot of extra value for you to get the sale over your competitors.
Don't Forget to Include Testimonials
You might be wondering how you can get testimonials for PLR content. You might have to wait until you sell a few pieces of your rebranded content to get these testimonials. You can also include testimonials that speak to you and your business in general terms, rather than to the specific piece of content you're offering.
Elaborate on the Content
Imagine that one of your pieces of PLR is an article entitled 10 simple weight loss tips for men over 50. Why not add a few more tips and make the list longer? You can also add your personal insights and ideas. Sometimes you only need to elaborate on the existing information.
Perhaps a piece of PLR content talks about eating avocados every day as a weight loss tip. The content doesn't go do a good job of explaining how eating avocados leads to weight loss. You can research the process and elaborate on that content to make it better.
Include Examples
There is a lot of good content out on the web. Sometimes though, the content isn't as good as it could have been. Examples make content come to life. They make it real for the reader. Instead of just giving weight loss tips, follow the tips with examples of how the readers can put the content into practice.
Tell a Story
Content tells, but stories sell. A story works just like an example, it brings content to life. Stories have been used from the beginning of human history to pass on our knowledge. Before writing was widespread, storytelling was how history was recorded.
You can turn a dull piece of PLR content into a riveting story that not only makes the content unique, but also memorable and engaging.