Finding High Quality Rebrandable PLR is NOT the Easiest Task and That's Exactly The Reason Why I Decided to Create This Page For The Top PLR Websites.
Top Quality PLR Content Can Be The Game Changer in Your Business – On This Page You'll Discover The Best PLR Sites That Offers The Highest Quality PLR…Guaranteed!
You've probably already found out how tough it is to find good PLR products….and it can be difficult to separate the good PLR sites from the bad ones. In my years as an online marketer, I've found a LOT of high quality PLR–and I've also found a lot of garbage. Have you ever downloaded a piece of PLR, only to discover that it's so badly written that you can't use it without totally re-writing it? Or, when you DO find a usable product, you find out that it was put out many years ago and it's already been bought thousands of times over.
When I began using PLR in my own marketing efforts, it was easy to see its potential–but l couldn't get past the poor quality of the products I was downloading. I knew that I wasn't the only one going through the same thing, and I figured that most marketers wanted to cut through all the clutter and have access to the best PLR products on the Internet.
If you want an inexhaustible supply of new, top-quality information products in various niches, you're in the right place.
Below is an alphabetical list of the best PLR websites that offer quality PLR content that you can rebrand and use as your own in your business:
This page is updated on a monthly Basis
Last Update: 13 January 2020
IMPORTANT: The Best Trusted PLR Sites has been moved to a PLR Directory.
Below you can see the categories in the PLR suppliers directory. This directory is updated on a daily basis.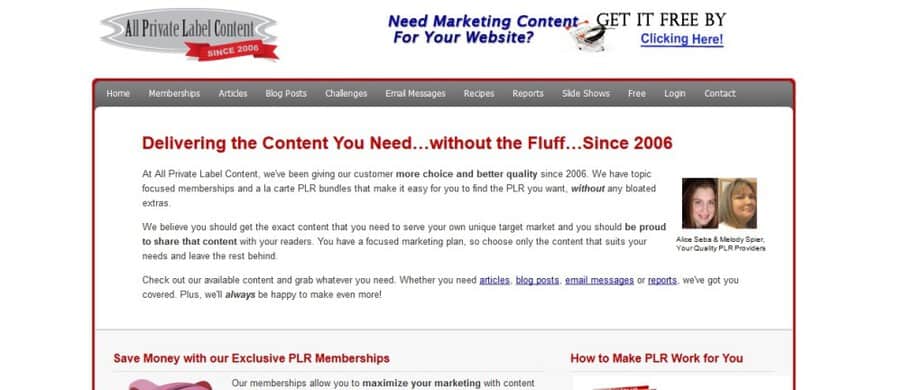 "Delivering the Content You Need…without the Fluff…Since 2006"
By Melody Spier and Alice Seba
The founders of All Private Label Content, Alice Seba and Melody Spier, have been giving their customers better quality and more options since 2006. Their topical memberships and PLR bundles make it easy for internet marketers like you to find the perfect PLR for your membership sites and blogs, without a bunch of extras you don't really need.
They believe that customers should get just the content they need to serve their target market, and that site owners should be proud to share the content with their audience.
All Private Label Content memberships allow you to get the most for your marketing efforts by offering fresh content every month. With PLR packs from this site, you can naturally increase search engine traffic, keep readers informed, and become an online authority in your field. Site memberships come with access to slideshows, images, articles and reports; you can also sign up for a reseller membership.
Options at All Private Label Content include memberships for:
Self improvement PLR content
Health PLR content
Marketing PLR content
Reseller rights PLR memberships
Every membership on All Private Label Content is backed by a 30-day money-back satisfaction guarantee, so you can try it for yourself without worry. Get started today!

"Everything You Need to Start Building Your List and Profit From It"
By MemberSpeed
Almost 90% of online marketers fail, largely because they don't understand the importance of building a subscriber list and maintaining relationships with those subscribers.
However, even those who know how vital list-building is can get lost in the shuffle. The marketplace is fiercely competitive, and the bigger fish have in-house content creation teams and tons of money to throw around.
To set yourself apart from the competition, you'll need to find a way to get an advantage over the big guys. That edge is: Automated List Profits.
With a membership to Automated List Profits, you'll get access to two reports with squeeze pages that convert site visitors into sales leads. Affiliate and keyword research is included, to make the leap between good content and high profits a short one.
The reports come with PLR, so you can rebrand and resell them as you wish. Not only that, you'll get a series of follow-up emails to accompany each report.
Why I Chose To Get a Membership For My Business?
Well other than the fact that list building is one of the most important strategies for a serious marketer,
Here's why I chose Automated List Profits:
Exclusive Content – It's not rehashed PLR, it's quality content crafted by their in-house team
List Building Tool-kits – You don't only get PLR reports, you get squeeze pages that were designed by veterans in the internet marketing niche
Flexible Licensing – I am able to build my list, give them away for free and even use them for affiliate bonuses!
A Huge Time Saver – Now I can release fresh content every month, no more researching from scratch and my list just keeps growing
Get 2 brand new lead magnets every single month and download all previous months with over 100 ready-to-go list building lead magnets to supercharge your email list building efforts.
Life-time option – I'm not a fan of monthly costs, I have enough of those!
A lifetime platinum membership to Automated List Profits is just $197, and there are no monthly fees to pay, ever. You'll get 2 brand new PLR lead magnets every month for life.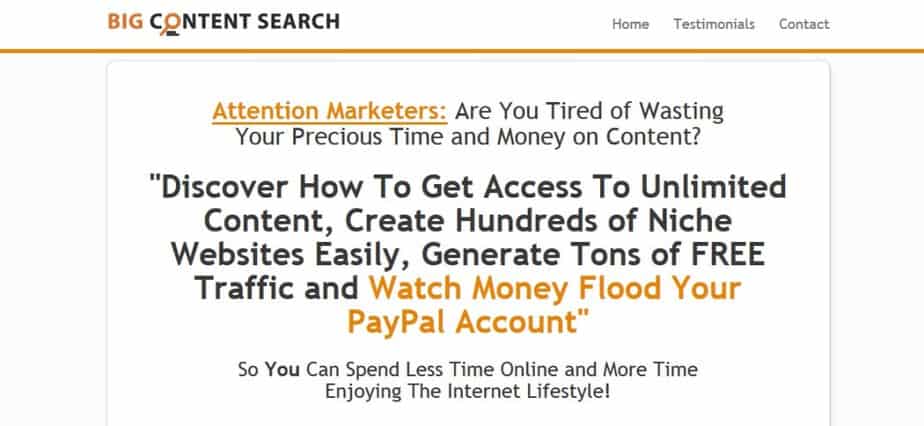 "A massive PLR content database that has monthly, yearly and lifetime membership options"
By Dejan Murko
If you're tired of spending hours writing your own content–or if you're sick of paying an outsourcer hundreds to create it for you, Big Content Search may be worth a second look.
This search engine-like site can be accessed from anywhere you have an Internet connection, and it's easy to preview articles and download them in ready-to-use or spintax format for submission across multiple sites.
With Big Content Search, you'll be able to:
Quickly build profitable niche websites. Simply pick a popular niche, put together a blog, and search for, edit and publish your content.
Keep customers updated with the freshest content. With so many eBooks in easy reach, it's simple to put out new info products every week, including sales funnels with upsells, squeeze pages and auto responders.
Build hundreds of top-quality backlinks. The search engines provide tremendous traffic for most websites, but you need a LOT of content for good SEO. Big Content Search provides over 125,000 articles ready for spinning and submission to directories.
Big Content Search is fully integrated with other IM tools such as submitters, autoblogs and spinners. They've really made it simple to find and use high quality PLR articles.
With an average price of $2 per article and $7 per eBook, you're sure to find the best high-quality PLR content.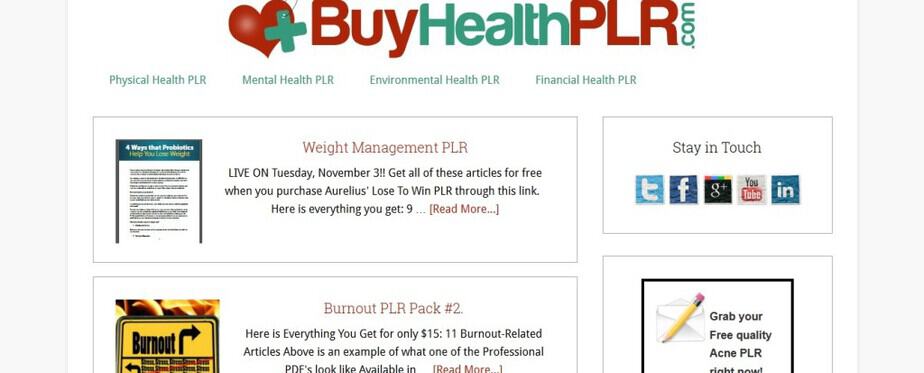 Buy health PLR content packs with no membership required!
By Kim Phoenix
If you're building a site in the health niche and you need good content fast–look no further than Buy Health PLR. On the site, you can get physical, mental, financial and environmental health PLR packs, which can help you get your health sites up and running quickly.
Below are five good reasons to go with Buy Health PLR:
The author's healthcare experience means that all content will be accurate and of the highest quality.
You're not forced into a membership; you only buy the content you need.
All PLR packs are limited to 250 licenses per pack.
There's a 60 day, 100% money back guarantee if you're not satisfied.
This PLR content is so good that you can put it to use right away.
With an average price of $17 per pack, this site is worth looking into if you're starting a health site on a shoestring budget.

"Your stop PLR and Resell Rights Digital Products MEGA Store"
By Mozie
The owner of the PLR and resell rights products store at buyqualityplr.com which specializes in many different niches and adds new PLR and resell rights digital products on a daily basis. Our store is one of the fastest growing PLR sites today.
Here's some types of PLR and resale rights content you can expect to find in store:
PLR Video Tutorials
Rebrandable PLR eBooks
PLR Article Packages in a wide variety of niches
Autoresponder series emails
A large variety of coaching content
Lots of quality FREE PLR products
Exclusive PLR that you will not find anywhere else
All types of digital products with master resale rights and basic resell rights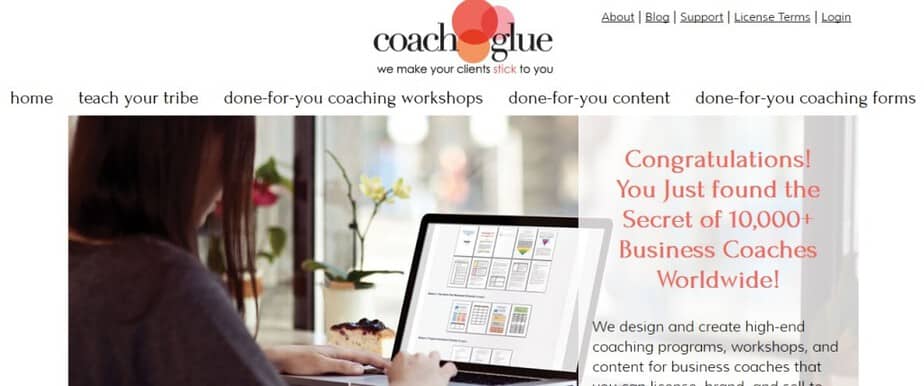 "We Make Your Clients Stick to You!"
By Nicole Dean and Melissa Ingold
The founders of Coach Glue, Nicole Dean and Melissa Ingold, have over 20 years' combined experience in the online marketing world–and they've parlayed that experience into a coaching business.
Some of their hottest products include:
Ready-made coaching forms
Done-for-you workshops on book writing and the creation of PLR packages
Newsletter and weekly content planners
This membership site offers a monthly package for $29.95 per month, or you can pay $197 for a year's worth of business coaching help. Sign up today!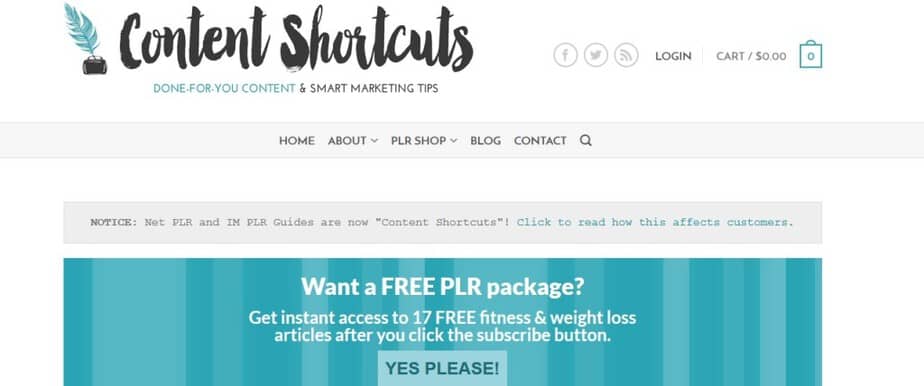 "Done for You Content and Smart Marketing Tips"
By Ruth Pound
The author, Ruth, is from the UK and she's been creating high quality PLR content since 2008 in a variety of niches such as health and wellness, social media, blogging and WordPress, and self-help.
With prices ranging from $3 for a sale PLR pack to $39 for a fitness walking pack, you can surely find what you're looking for on this pay-as-you-go site. There's no membership required to buy from Content Shortcuts, so visit today to get started.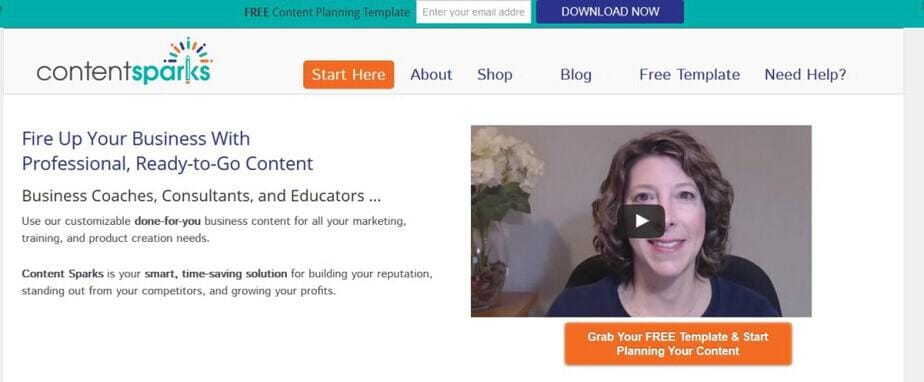 "Fire Up Your Business With Professional Ready-to-Go Coaching Content with PLR"
By Sharyn Sheldon
Ms. Sheldon started Content Sparks with the goal of providing professional-level content that will help you put the spotlight on your expertise, attract leads and build lasting business relationships. If you're a coach or business consultant, you can visit this site to find the type of content that will help you cover all the topics that small business owners want to know more about.
There are three steps involved in using PLR content from Content Sparks, which is a non-membership site:
Choose pieces from the site's huge library, which covers topics in the marketing, business and professional development niches.
Customize that content to fit your market segment.
Sell or publish the content on your desired platform in your chosen format, and tell everyone about it.
It's really that simple to get started! Content Spark's bundles range from $24 to $197, but they're worth every penny.
Visit them today to take your coaching business to the next level.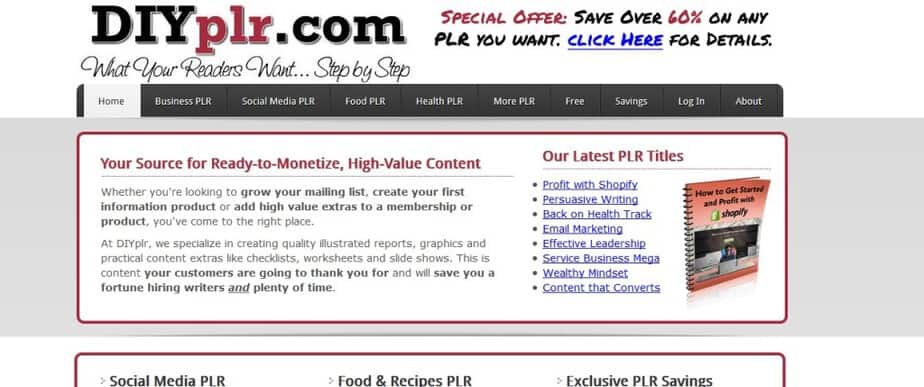 "What Your Readers Want….Step by Step"
 By Alice Seba
Whether you're a new internet marketer or you've been in the game for years and you're looking for fresh content, DIYplr.com has what you need. They make it easy to grow a mailing list, create new information products, or add great bonuses to site memberships.
At DIYplr.com, you'll get access to:
Illustrated PLR reports
Graphics
PLR Slideshows
PLR Checklists
PLR Niche Bundles
Tons of FREE PLR!
There's PLR content in a variety of niches, such as social media, business, health, food and recipes, and many more. You'll also find a great selection of free PLR, which is great for those who are just starting out and are on a tight budget (and who isn't, these days?)
When you set up your free account on DIYplr.com, you'll be added to the site's notification list, and you'll stay up to date on special discounts, plus you'll get advance notice of hot new PLR products.
The site's creator, Alice Seba, started DIYplr.com in 2006 in response to a high demand from business owners who wanted valuable, readable and relevant content that they could repackage as they wish.
The content you get there will save you a tremendous amount on hiring writers, and it will also save you time on editing and rewriting. Buy from DIYplr.com—your customers will thank you!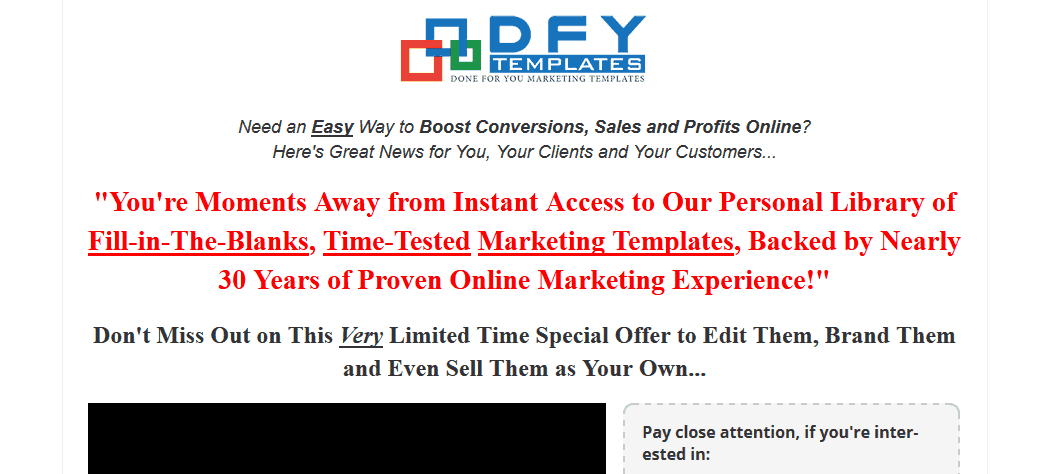 "Done for you great marketing templates"
By Ron Douglas and Alice Seba
If you are looking for an easier way to market your online business, but you haven't found it—and your business isn't growing as fast as you'd like—the Done For You PLR Marketing Templates Membership is the ideal solution. This package gives you the chance to save time, boost your bottom line and benefit from years of IM experience. It can help you with problems like:
Falling behind on marketing chores that you just don't have time for
Being unsure of which steps to take next
Not knowing how to be cost-efficient in outsourcing, or not having time to train a team
Procrastinating about list building
Wanting to be able to charge more without additional work on your part
Wanting to add value to your product offering
With this PLR package, you don't have any more excuses because you'll learn just what to do—and much of it is already put together for you. Each month, you'll get:
Monthly templates that allow you to fill in the blanks and focus on certain marketing strategies
Insider tips and strategies that make it easier to use these templates
There are numerous ways to use the monthly packages to grow your business and connect with your audience to sell more products. You can learn how to increase your viewership, outsource your marketing efforts, boost your conversion rates and improve the value of your products.
Use these products yourself, sell them to other customers or pass them on to coaching clients. While the company has done most of the work for you, it's up to you to brand and edit these templates to fit your brand.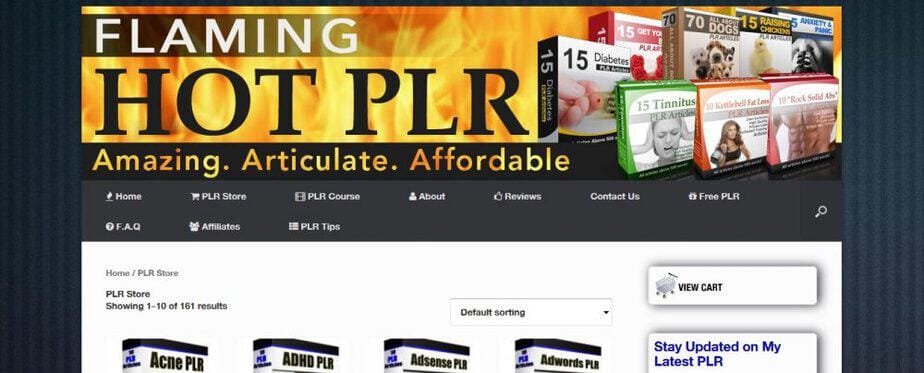 "Amazing. Articulate. Affordable"
If you're looking for PLR content in the arts and entertainment, business, internet and many other niches, you'll love what's in store at Flaming Hot PLR. The author created the site to help marketers who couldn't find good content in their small niches, and it has grown into a big success. On this site you'll find content in a variety of niches like:
Current events
Politics
Home and Garden
Parenting
And a lot more. You'll find content in several categories, such as PLR articles, promo reports, reseller rights PLR, minisite PLR and limited PLR. Regardless of what you need, Flaming Hot has a package that's just what you're looking for. The author is so sure you'll love the content, that he's offering a free PLR package.
Yes, that's right, FREE.
There are several free PLR articles available, including some on:
Cellulite massage
Bikram yoga
Heartburn relief
The Paleo diet
While these articles can't be sold as your own or used along with the author's name, they make a great base for new articles. If you're a proficient rewriter, you can quickly turn these into unique content that's guaranteed to draw more traffic to your site.
What are you waiting for! Try Flaming Hot PLR today.
If you're looking to break into the health PLR niche, this site is for you. The Health and Wellness PLR Store has some of the Internet's best articles on diet, fitness, senior health, juicing, the Paleo diet, acne prevention, ketosis and many more topics. Best of all, every piece of content on this site comes with private label resale rights, which means you can edit it, rename it and make it your own. Turn it into newsletters or sales videos, or use it to populate a niche blog with relevant, readable content that will keep your visitors coming back for more. With this collection of wellness PLR, it's easy to make money while encouraging your customers to live a healthier lifestyle.
On this site, you'll get the highest quality health and wellness PLR content available. Choose from a selection of ready-made minisites, autoresponders, reports, product reviews, eBooks, and other content for your email lists, website and blog. Use it to build your own health and wellness online business, or package it and sell it to your customers while keeping all the profits. If you're looking for the right time to get into the health and fitness business, now is the time to start—and this site makes it easy.
Click here to browse at healthandwellnessplr.com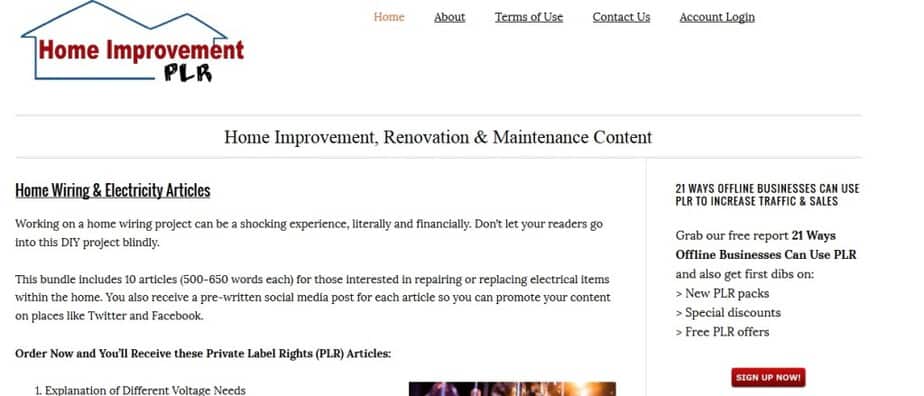 "Home Improvement, Renovation and Maintenance Content"
By Melody Spier
Melody and her team have been one of the top PLR suppliers for almost ten years. Whether you need articles on DIY kitchen remodeling or pieces on hiring a contractor, you'll get quality home related content packs that make it simple to find what you need–all without being locked into a monthly membership.
Home Improvement PLR believes that customers should get just what they need, when they need it–and each pack has a limited number of licenses, so you won't have to worry about hundreds of other site owners having the exact same content.
Prices start at $15.75, which makes this PLR site a real bargain. Stop by today and fill your site with the freshest content there is!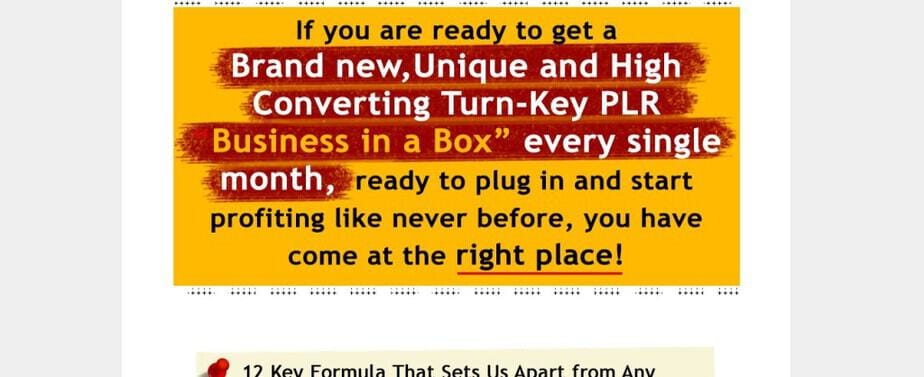 "Brand New, Unique and High Converting Turn-Key PLR Business-in-a-Box PLR"
There are tons of PLR sites out there, but HQ PLR Store sets itself apart in a few ways. You'll get content in an evergreen niche, along with marketing tools, awesome bonuses and sales copy that converts–guaranteed. When you sign up for a membership, you'll pay just $1 for the first month, and $27 per month after that.
With your membership fee, you'll get complete reseller tool-kits including:
A professionally designed squeeze page
A free report
Follow-up emails
Training guides
Cheat sheets
….and a whole lot more. Visit the HQ PLR Store today, before time runs out on this special offer!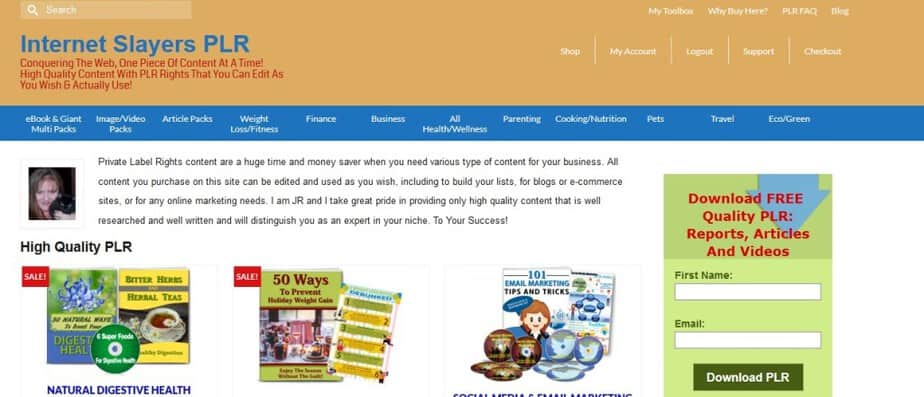 "Conquering The Web, One Piece Of Content At A Time! High Quality Content With PLR Rights That You Can Edit As You Wish & Actually Use!"
By JR
As I've said before, there's a lot of good PLR content out there, but there's a lot of poor content as well. At Internet Slayers PLR, they've taken the time to separate the good from the bad, so you don't have to.
Below are four reasons you should consider buying from this PLR site:
The content is top-quality. JR, the site owner, only offers carefully written content that's audience-ready. It's fluff-free, and every piece contains well-researched and relevant information for a specific niche.
There's no membership to buy. You only buy the articles you need!
This isn't a "content farm", where article packs have been sold thousands of times. Here, licenses and sales are limited to 180 per pack.
JR really cares about the customer, and there's a 100%, 30-day guarantee on every purchase.
Stop by today to see what's available. Prices for multi-packs and eBooks start at just $10, making this a low-cost way to get the content your business needs.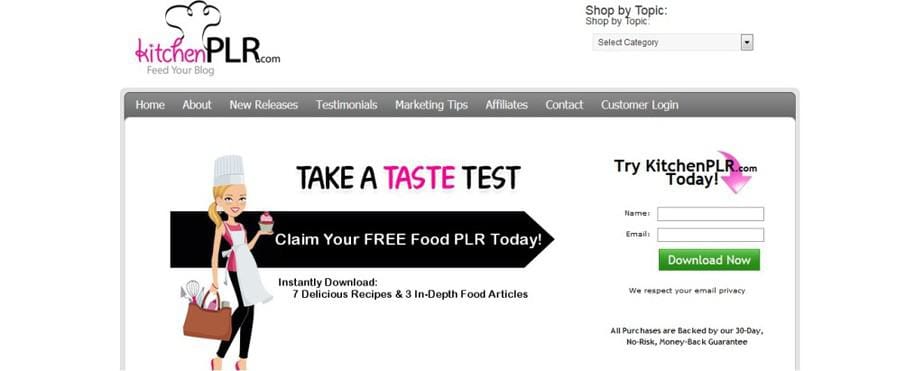 "Feed Your Blog"
By Trish
Trish, the owner of Kitchen PLR, started her career as a professional writer in 1995, and since then she's focused on WordPress design and web content. She's an avid cook and gardener, and she's used that experience to create fresh content ready for online entrepreneurs to use.
On Kitchen PLR, you'll find tested recipes, original articles and photographs and detailed product reviews, as well as resources to teach readers how to start their own gardens. Prices on PLR packs start at $10, or you can buy a multi-pack for $24.
It's an incredible value if you run a health or gardening blog, so visit Trish today for the best selection.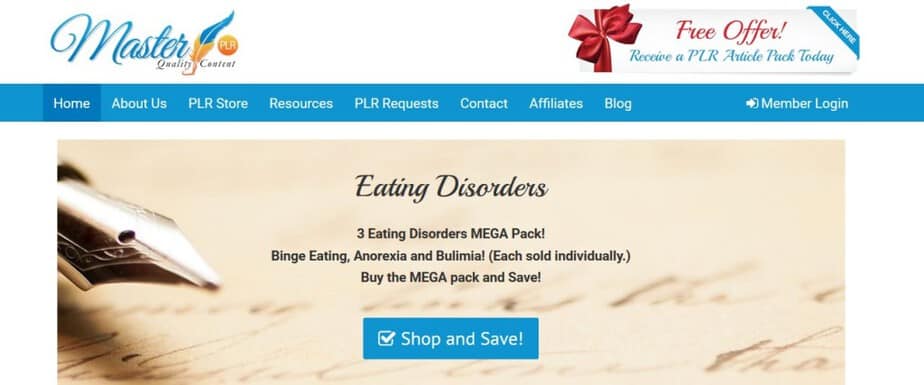 "Quality Content"
By Geoff and Susan O'Dea
Geoff and Susan O'Dea, the owners of Master PLR, have been married for many years and they've owned online businesses since 2007. They've turned their internet marketing experience into one of the web's top PLR sites.
They pride themselves on providing readable, engaging content that will keep your site visitors coming back for more.
Here are a few advantages of buying from Master PLR:
Either Susan, Geoff, or one of their in-house expert writers writes every article. They don't sell content that they wouldn't use on their own sites!
They constantly update their library, removing sold-out packs and putting up new, fresh content on a regular basis.
This health-focused PLR site doesn't require you to buy a membership—you'll only pay for the PLR packs you need.
You'll find articles on low carb diets, prostate health, fertility and many other subjects. Prices start at about $14 per pack, and you'll quickly see that this is one of the best places to go for quality health content.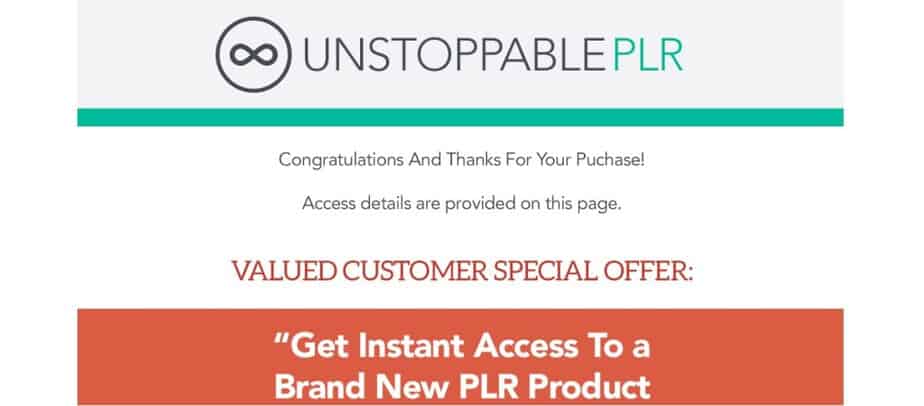 "Instant Access To A Brand New PLR eBook Every Month"
Creating new informational products can be difficult, even if you're a good writer—and if you want to hire someone to do the writing for you, it can get expensive fast.
At NitroWealth PLR, you'll get access to a new eBook every month, and you'll also get a professionally designed sales page and landing page, as well as sales copy that's designed to convert.
Visit them today to get a mini site template that makes it easy to quickly set up niche sites, and a monthly content pack that includes 10 400-word articles.
It usually costs $10 to start and $10 per month, but if you visit today, you'll get your first month for just $1. What a value!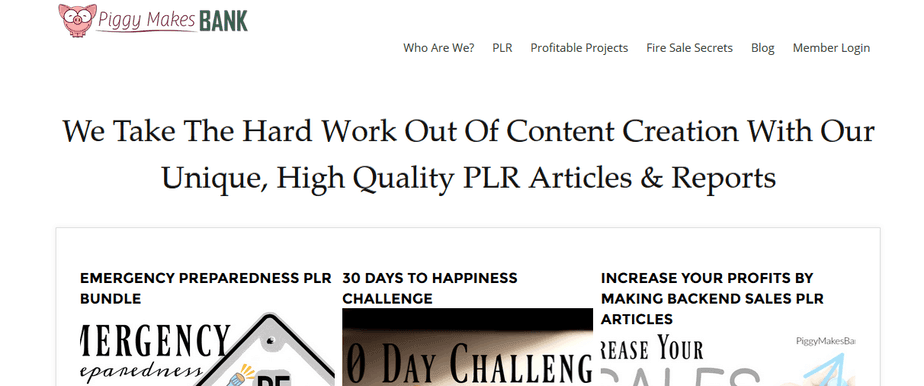 "We take the hard work out of content creation with our unique, high quality PLR articles & reports"
By Susanne Myers and Tracy Roberts
At Piggy Makes Bank, the authors aim to take the struggle out of online content creation with high-quality, unique PLR reports and articles. You can visit the site to buy PLR packs on topics such as:
Emergency preparedness
Increasing profits by making back-end sales
Mental focus
Email engagement of customers
List building
Intermittent fasting
And many more we don't have time to go over here. Chances are, if you're blogging or writing web content about it, Piggy Makes Bank has a PLR pack for you.
And, they have FREE packs so you can try it out before you make a purchase!
You can get a free PLR pack on making healthy school lunches, walking for fitness, email marketing, creating products or personal finance.
Try one or all, it's up to you! The authors, Tracy and Susanne, enjoy helping other entrepreneurs take their businesses to another level by finding out who they help and how they can grow their customer base by working with competitors. With Piggy Makes Bank, it's easy to make PLR your own.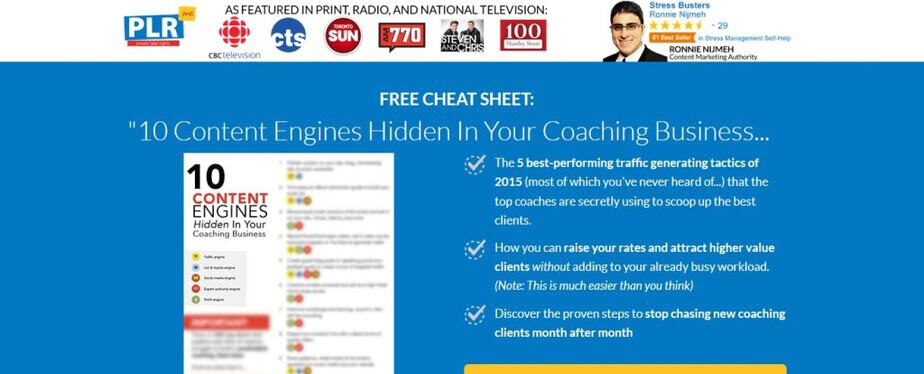 "Done-For-You Private Label Content for Health and Wellness Professionals"
By Ronnie Nijmeh
Ronnie Nijmeh, owner of PLR Me, took a simple blog and turned it into a source for traffic, offline PR and sales leads.
He's taken that experience and used it to start a membership site to help others in the IM field.
His team creates unique, fresh content every month.
Members get access to the content and they can sell it, put it on their own sites, give it as a sales bonus, or use it any way they see fit.
3 Core services offered by PLR.Me are:
Self-Help PLR Membership
Finance PLR Membership
Done-For-You Content Packs
Exclusive Content Marketing Tools
This done for you PLR content isn't like any other that's available. There are many other providers out there, but none offer what Ronnie and PLR.Me do–a proven traffic building system with guaranteed results. Ronnie's Self Help PLR content is the best solution for high quality coaching content suitable for health and wellness professionals.
Visit today to pay your introductory fee of $19, and pay just $97/month after that.
Click here to learn about PLR.ME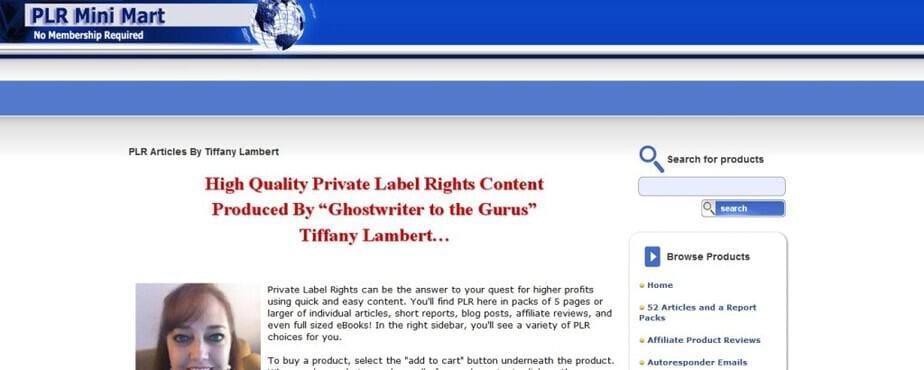 "No Membership Required"
By Tiffany Lambert
Tiffany Lambert, the owner of PLR Mini Mart, made it her mission to help other online marketers make higher profits with quality content. On this site, you don't have to pay for a membership; you'll find a wide selection of high quality PLR.
You can buy it by the piece for $5, or in a multi PLR pack for roughly $57, and you can get access to short reports, affiliate reviews, eBooks and blog posts.
The choices are numerous and the prices are low–so visit the PLR Mini Mart today to see what Tiffany has in store!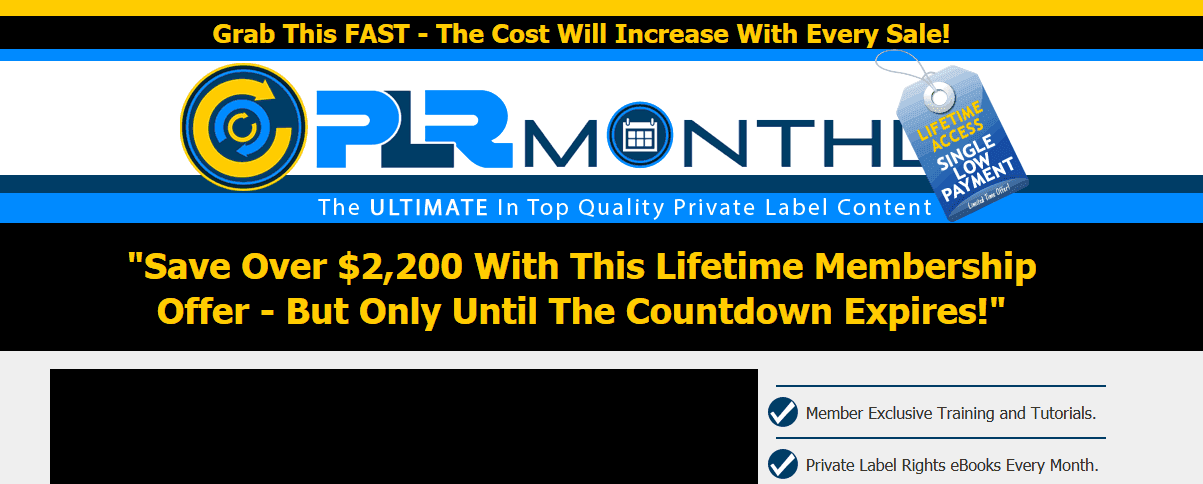 "The ULTIMATE In Top Quality Private Label Content"
By Dave Nicholson and Daniel Sumner
To make money as an online marketer, you'll need:
Great products to sell
A fantastic sales page
A surefire way to turn those visitors into customers
However, these three things can be difficult to obtain. It's difficult, expensive and time-consuming to create your own products or to design your own sales page, especially if you have no graphic design experience. It's so hard, in fact, that many fledgling marketers give up altogether.
….but not you, because the PLR Monthly Lifetime Special is here to help you fullfill all these needs. Here, you get instant, ready made products that are literally like being handed the keys to success. PLR allows you to be the author and creator of a product that you had no hand in creating, and PLR Monthly gives you top-quality content that can help you build your subscriber list and earn a substantial income. You can:
Sell the products for an additional income
Combine several related products to create a mega PLR package
Convert them to DVDs and CDs for sale on auction websites
Split packages into articles for instant website content
Convert them into mini-courses for email delivery to your subscribers
It's all up to you, and the choice is yours. With PLR monthly, you're always guaranteed access to the best, most current and relevant content. Visit the site today to get started, and watch your online business grow by leaps and bounds.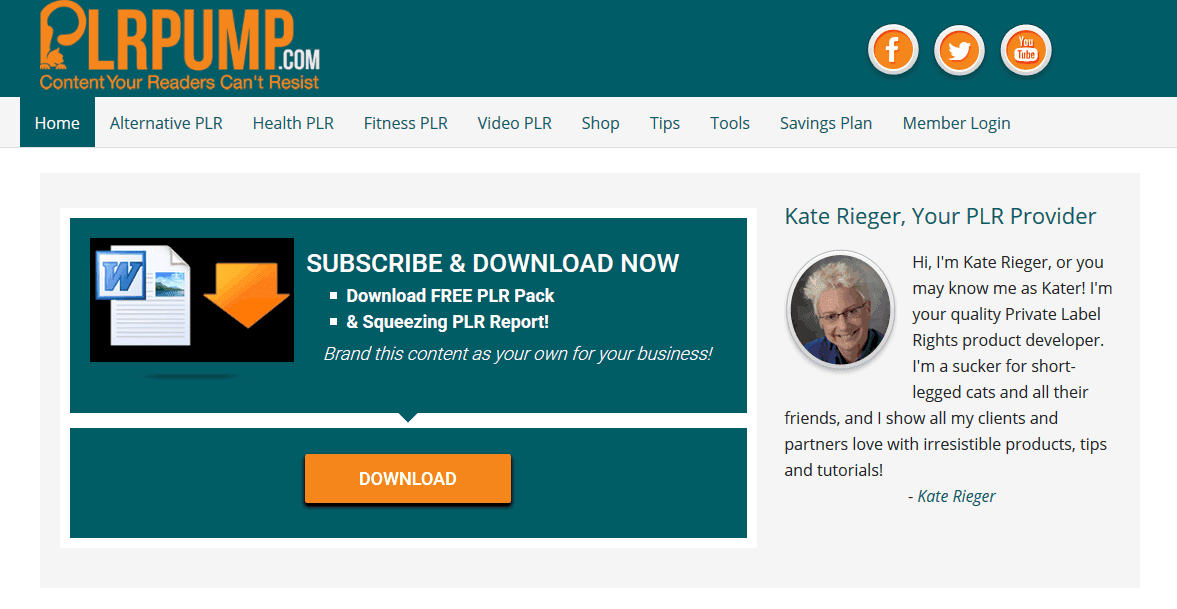 "Content Your Readers Can't Resist"
By Kate Rieger
Being a ghostwriter can be lucrative, but the major problem is that once it is sold, it doesn't earn you any more income. While referral work is sometimes available, it can be sparse. However, there's another content market, called PLR, that can change your online marketing and writing efforts.
PLR content, or private label rights, is sold to multiple buyers. However, you can change the content as you see fit. PLR licenses differ, but the most flexible ones allow you to brand the content as your own and even put your name on it as the author.
With PLR Pump, you'll be able to streamline your product development process, especially if you lack the time, skills or money to invest in a professional ghostwriter's services. PLR Pump offers some free articles for publishing on your own health or fitness site. That way, you can try out the content to see if it will be a good fit.
If you're building a health and fitness website, you can certainly find the right content at PLR Pump.
The author, Kate Rieger, has significant experience in the niche and she prides herself on providing content that answers customers' concerns. Offer your customers something valuable and increase your sales today!
Click here to learn more at plrpump.com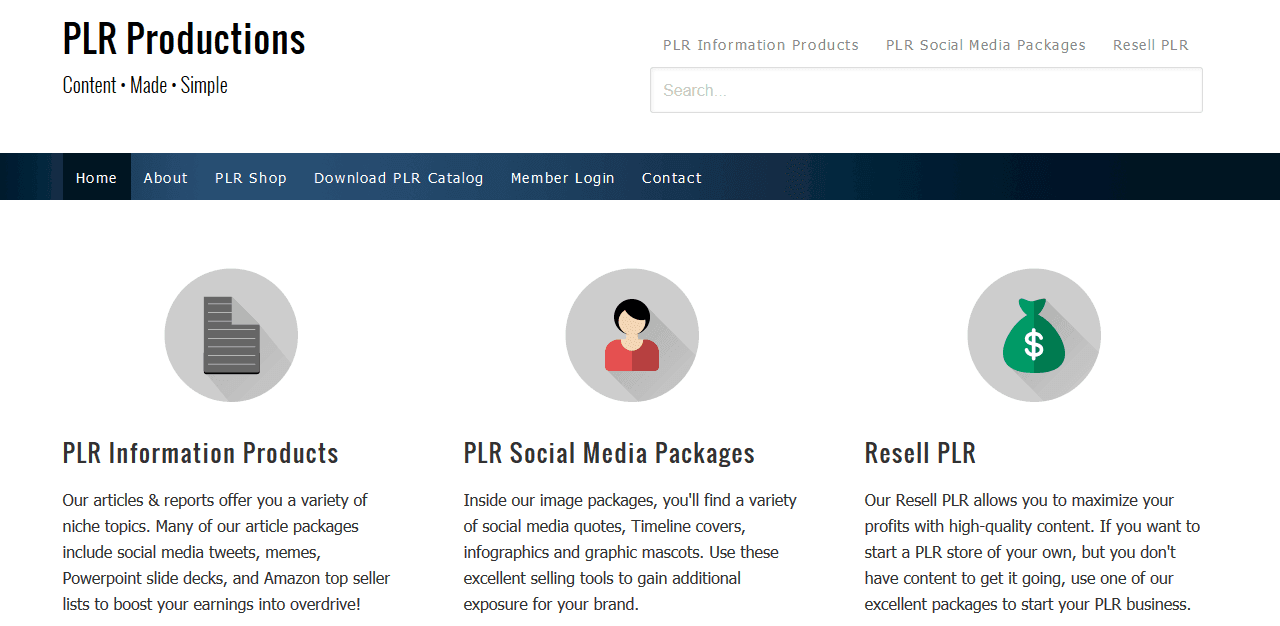 "Content Made Simple"
By Bonnie Gean
If you're looking for great content that drives conversions and turns visitors into customers, but you don't have the time, money or inclination to write it yourself, PLR Productions is a must-see. Bonnie Gean, the creator, has put together a library of relevant, readable and engaging articles, information products and other materials. Use them to populate your blog, package and resell them, or use them to make your bottom line grow.
PLR Informational Products
Reports and articles from PLR Productions are available on a wide selection of topics for various niches. Most of its article packs include memes, Tweets, social media posts, PowerPoint slide sets, and top-seller lists for Amazon. All of these make great tools in your IM toolbox!
PLR Social Media Packs
Inside PLR Productions' image packs, you will find numerous Facebook timeline cover photos, infographics, mascots and social media quotes. Use these as selling tools that can build brand awareness and change casual site browsers into customers.
PLR for Reselling
Reseller PLR from this site will make it easier for you to devise a content-driven marketing strategy. If you want to start your own PLR store—but don't know how to get started—you can buy one of PLR Productions' packs to start off on the right foot.
Whether you are running your own PLR membership site or you need fresh content for your site, you can find what you're looking for here. With private label rights packs from PLR productions, you can increase profits without investing too much of your valuable time.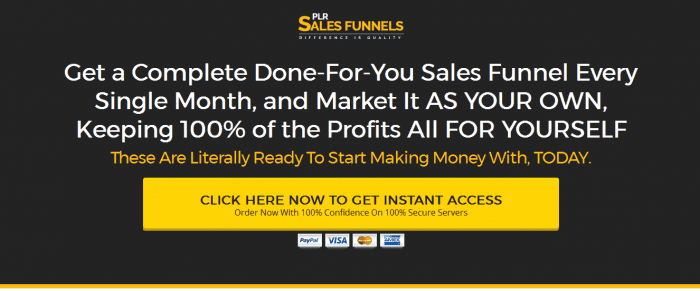 "Get a High-Quality HD Video Series, and Complete Sales Funnel Every Single MonthWhich You Can Market As Your Own…Charge WHATEVER You Want, And Keep 100% of The Profits For Yourself, While Our Pre-Made Sales Funnel Does All The Heavy-Lifting For You!"
By Sajan Elanthoor & Justin Opay
If you've ever wanted to break into the business of selling hot in-demand internet marketing info products, this is the way to do it. With this business in a box, you'll be well on your way to selling the best internet marketing PLR available.  With your membership, you will get a ready-to-use sales funnel each month. Market it as your own product, and keep all the profits for yourself! With your membership, you'll get:
A high-quality training eBook each month. These 10,000+ word guides are informative and current, and they are full of useful info on the topic of each month's product.
A cheat sheet that effectively and simply explains every aspect of each month's training manual
A mind map that outlines what your buyers will learn during training
A ready-to-use mini-site that has everything you'll need to set up your webpage and start making money. All the site's content, CSS, JavaScript and HTML have already been done for you.
A professionally created sales letter that drives conversions
Professionally written email swipes that promote your new product and ensure high profits
Catch Customers' Attention With Great-Looking Graphics
With these complete sales funnels with PLR, you will also get a full set of professional-quality graphics including DVD covers, sales page art and a lot more. These graphics will make your product look more credible, and they come in PSD format for easy editing. Simply add your own images and text, and you're ready to go.
Quality Video Training
These videos include the most up-to-date information available on each month's PLR topic. With the production values of these videos, your customers will be able to tell immediately that they're getting the best value for their money. In the videos, your customers will get step-by-step guidance on how to use each month's product. In addition, you'll get an audio series that your customers can load onto their favorite device for on-the-go use. All of these features are private label, so you can rename files as you choose.
With the PLR Sales Funnels PLR Business In A Box Membership, you'll also get sales copy for upsells, follow-up emails, a professionally designed squeeze page and much more. Join today and save almost 65% on each PLR product, every month. With this biz in a box, the hard work is done for you—simply set it up once and watch the money come in on autopilot.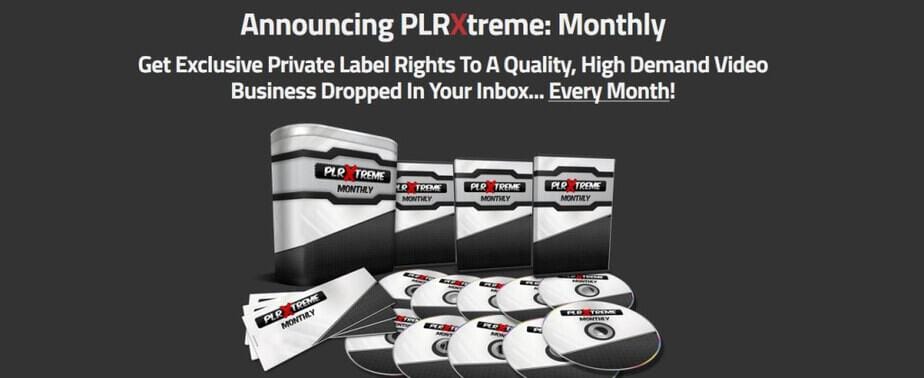 "Get Instant Access To Premium Private Label Rights Every Month"
By Edmund Loh
This monthly PLR membership site gives you access to high quality PLR Packages and it makes it easy to flood your sites with new content each and every month.
With a monthly fee of $27, a yearly fee of $197, or a two year plan at $397, you'll get benefits such as:
Keeping 100% of profits
Being able to make whatever changes you wish to make
An instant source of income
A standing as an expert in your niche
….All without creating a single product yourself.
With a membership to PLRXtreme, you're still going to have to work to be successful, but your job will be much easier because their PLR packages are all done for you, ready to upload and start profiting right away. They are all completely rebrandable with editable graphics so that you can make sure your new PLR stands out from the crowd.
What to expect from their Complete Turnkey PLR Packages?
One High Quality, HOT Demand Video Course With Private Label Rights Every Month
Professionally Written Sales Letter And Thank You Page
Presentation Slides
Video Transcripts
Private Label Rights And Other Licenses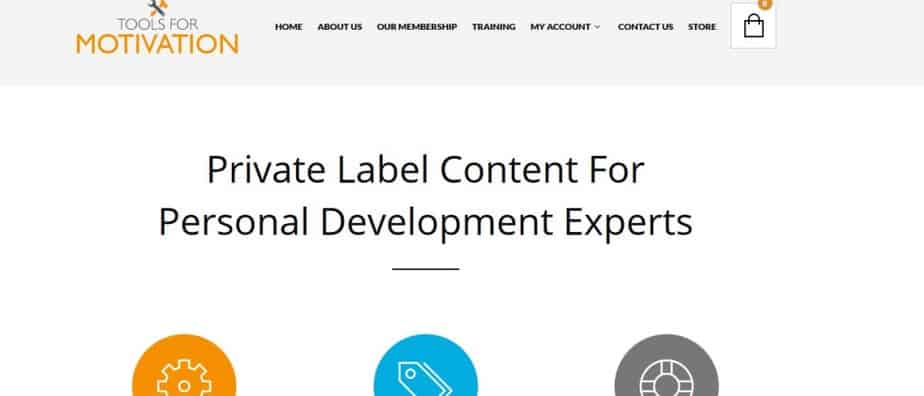 "Private Label Content For Personal Development Experts"
By Justin Popovic and Ted Payne
Brought to you by the same team who created Best Quality PLR, Tools for Motivation strives to provide the best quality PLR in the personal development niche.
Content like this is perfect for you if you are a:
Success or life coach
Blogger specializing in personal development
Corporate trainer
Personal development membership site owner
With a monthly PLR membership fee of $97 per month, you'll get valuable tools such as new self-help PLR products as soon as they come out, amazing discounts, and online business training.
With all of that and access to a top-notch support system, the only thing we want to know is…why haven't you visited Tools for Motivation PLR yet?

"Content To Power Your Business"
By
Casey Anders
When you buy Tribe Bloom PLR, you get market-specific content that you may use in your marketing efforts—all without any effort on your part. You can put your own branding, name and logo on the content to make it fit your business, or you can package it as a giveaway or email lessons.
Why You Should Choose Tribe Bloom
When you buy Tribe Bloom's health and fitness PLR you can spend more time on your lifestyle company (or on vacation) rather than spending time creating your own content. A well-written eBook can take months to create, particularly if you're inexperienced, and that doesn't even count editing and research time. With Tribe Bloom's health PLR videos and other content, you can get the stuff your customers want, without the huge commitment on your part.
Tribe Bloom's Writers
Tribe Bloom only uses the best writers in the health and fitness business, because selling poor-quality content won't help you or your customers. Writers are experts in their niches, and they put a great deal of effort and time into writing and researching the content you buy. Therefore, you get eBooks, email swipes and other content that's expertly written, accurate and informative. While other marketers pay up to $40 per page of top-notch content, you can get the same quality from Tribe Bloom for $1 per page or even less.
With Tribe Bloom's personal development PLR you can modify and edit things as you see fit, and you must list yourself or your brand as the author. Use it as web content, emails, newsletters, e-courses or whitepapers, and give it away for informative use. Use it as you see fit, and watch the profits roll in.
By Kelly and Samantha
With an All Access Perks Pass to White Label Perks, you are guaranteed to get a steady flow of creative content to use on your blog, to grow your social media presence and to build your subscriber list. On the first of every month, you'll get two packages including:
A set of serial blog posts
10 Social-friendly graphics to match the content
30 blurbs that make self-promotion easy
The content packaged as a special report
Printable workbook to accompany the content (it even includes two coloring pages for adults!)
Opt-in graphics and ecovers with editable .psd files
Three ready-to-use autoresponders
You can expect most of the content to focus on the personal development and online marketing niches. It is heavily centered on helping female entrepreneurs build a successful business or achieve a personal best. And, best of all….
All the content comes with PLR (private label rights)!
You can add to, take away from, edit and modify the content as you see fit, and you can even list your name as the author. Publish it on your business' social media profile, add your branding, or use it as an opt-in gift or a bonus for paid subscribers.
For the social-friendly images, you can repackage them and sell them with 'edit for personal usage' rights. However, you can't offer reselling or white-label rights. Despite these limitations, the White Label Perks membership offers an unbeatable value.
You have just landed in your one stop shop for Health & Lifestyle Private Label Rights (PLR) content.
By Anthea

Wellness PLR offers some of the most exciting and innovative health and wellness PLR content available anywhere online. It's not the same old stuff you're seeing in a hundred other places; it's female-focused, thoughtful, and relevant. Whether you're a lifestyle blogger, a wellness coach, or an online entrepreneur, you can use the rebrandable journals and blog posts found on Wellness PLR to build a stronger social media presence.
All Original Content
All content is created and researched by Anthea, the site's owner and administrator and one of the Internet's best private label content creators. It's not mass-produced, cookie-cutter content that's resold to others thousands of times, which means you're not forced to come up with new ways to show the same information. You'll be able to give your customers something unique!
A Focus on Women's Issues
Though most sites have a broader, non-gender-specific approach, Wellness PLR is different. The site's content is heavily female-centric, and it reflects what makes women so special and different. With a done-for-you content pack such as "Knowing Yourself" or "Simplify Your Life", you can show your female customers how to keep from becoming overwhelmed by life's everyday stresses.
Why You Should Buy From Wellness PLR
No matter which package you buy from this site, it will help you streamline your content creation process and work smarter. You won't have to spend countless hours coming up with engaging content with which to "grab" your audience, especially if writing isn't your "thing". You'll save money, too, because you won't have to pay a ghostwriter for their content development services. With these high quality PLR content packs, you can instantly position yourself as an expert in the health and wellness niche. To get started, visit Wellness PLR today.
Free: I Love You Because Journal Reusable & Rebrandable
By

Lynette Chandler



Everyone sometimes has trouble accepting and loving themselves, but the team at Thrive Anywhere PLR is here to help. With their PLR journals, rebrandable PLR planners, and tons of other personal development PLR packages, you can help your customers (or yourself) become happier overall. Here, I'll review a few of Thrive Anywhere's best products.
Sleep Journal
People have many goals, but for most of us, getting more sleep is at the top of the list. When we don't get enough sleep, we see negative effects on our weight, mental state, and overall health. With the rebrandable PLR journals you'll find here, you'll learn how to help your customers track their sleep, find patterns, and set yourself up for the perfect night's rest.
The Uncover Your Purpose Journal
It's one of the oldest questions mankind has asked: "Why am I here?" It's a tough question, because there's no universal answer that suits everyone. Finding your answer doesn't have to be difficult, though. With the Uncover Your Purpose rebrandable journals, your customers will ask these questions of themselves until they uncover their true purposes.
Wait, That's Not All!
Sure, the sleep journal and the Uncover Your Purpose journal are great, but that's not all Thrive Anywhere has to offer. With PLR coloring books, rebrandable checklists, and tons of other high quality PLR bundles, there's a lot to like here. Visit the best PLR creators at Thrive Anywhere PLR to start today!
Done-for-You Personal Development Content for Coaches, Speakers, Publishers and More.
By Alice Seba
Publish For Prosperity is a response to overwhelming demand from life coaches, personal development experts, publishers, and public speakers who wanted more valuable, usable, top-quality personal development PLR packages. Our team of PLR content creators doesn't just offer the content; they train you (and your customers) to reach new heights in online business.
Tons of Done-For-You Content
As an online marketer or life coach, you're a busy person. Believe me, I get it! Marketers like us don't have the time to spend hours creating and refining content, especially those of us who weren't born to write. With the done-for-you content found at Publish for Prosperity, you can create your own products and build a reliable, well-known online brand while conserving your time (and saving your money).
Your Personal Development Content Superstore
Whether you're trying to get more organized or training your customers to develop a success-focused mindset, the PLR content development team at Publish for Prosperity has you covered. With rebrandable checklists, rebrandable PLR planners, and loads of other high quality private label content, it's easy for you to help your subscribers become better versions of themselves.
Are you just getting started in the coaching field, or are you already an expert in the niche? No matter your standing, you can benefit from the high quality PLR content packs found here. Visit the team at Publish for Prosperity to purchase or sample some great PLR!

Done-For-You Content Goodness To Help You Blog Consistently, Engage Your Audience, Turn Readers Into Subscribers, and Become an Authority in Your Niche
By April Lemarr

As an online marketer, it's up to you to grab your audience's attention, turn site visitors into subscribers and customers, and set yourself up as a niche authority. With the high quality PLR bundles, PLR coloring books, and other rebrandable content you'll find on Niche Starter Packs, you'll have what it takes to accomplish your marketing goals.
What's So Great About Niche Starter Packs?
Content is king in the internet marketing world, but not all of us are born content creators. After all, it's impossible to be an expert in every area! However, you'll still need fresh content for your social media pages, your blog, and your customers, and that's where Niche Starter Packs comes in.
With the PLR journals, rebrandable checklists, and other high quality rebrandable content you'll find here, you can quickly build a strong social media presence and become an industry expert. It really is that simple!
Try Them Free!
One of the best things about Niche Starter Packs is that they're allowing you to sample what they're selling. For instance, they're offering the following free personal development PLR packages:
The Meal Plan & Prep for Busy People bundle, which includes a six-page rebrandable report, an opt-in page, and an e-cover, as well as much more high quality private label content.
The Business Goal Planning PLR bundle, which includes a 20-page report, an eCover template, long-tail keywords, royalty-free images, and five articles.
Not many PLR content creators allow customers to sample their content for free, and that's one of the reasons I'm recommending Niche Starter Packs. Visit them today to try or buy some done-for-you content!
Final thoughts on the best PLR websites list
Running a website can be exciting, but it can also be difficult if you don't keep your sites populated with updated, interesting and readable content. With this PLR sites list, you can find the right articles for your blogs, and you can find PDF reports that will entice customers to leave their contact information.
The above list of PLR sites is without a doubt the best source for high quality content that is completely rebrandable with private label rights and can be used as your own to help training your customers and know that you're selling them training you can be proud of.
With well-written content, you'll find it easier to get to the top of the heap–and easier to stay there. Remember to visit our new and daily updated PLR directory to get daily updates of the best PLR suppliers and latest released PLR products.
Affiliate Disclaimer:
I make money on some products and services that I talk about on this page through affiliate relationships with the merchants in question. I get a small commission on sales of those products.