Wondering How To Make A Purchase At BuyQualityPLR.com?
Check out our "How to Buy" guide below as we take you step-by-step through the buying process with easy to follow screenshots.
Have you ever made a purchase on Amazon or EBay? Well, buying things at BuyQualityPLR.com is no different. You surf around the website looking for Digital Products that catch your fancy. Add the Products to your cart.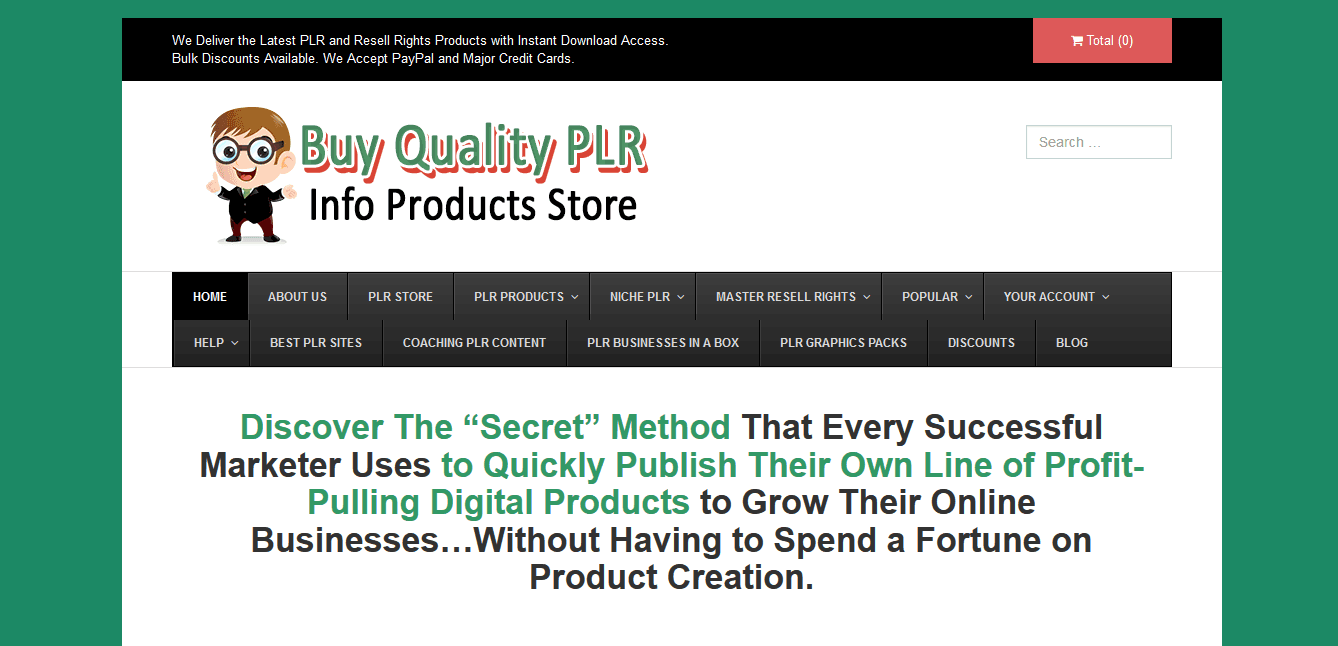 Once a product is added to cart, you can continue surfing, close the browser and come back after an hour or two and the products will still be inside your cart (considering you did not switch computers during this time).
Alternatively, if you are looking for products with Particular Resell Rights, you can head over to the PLR Store.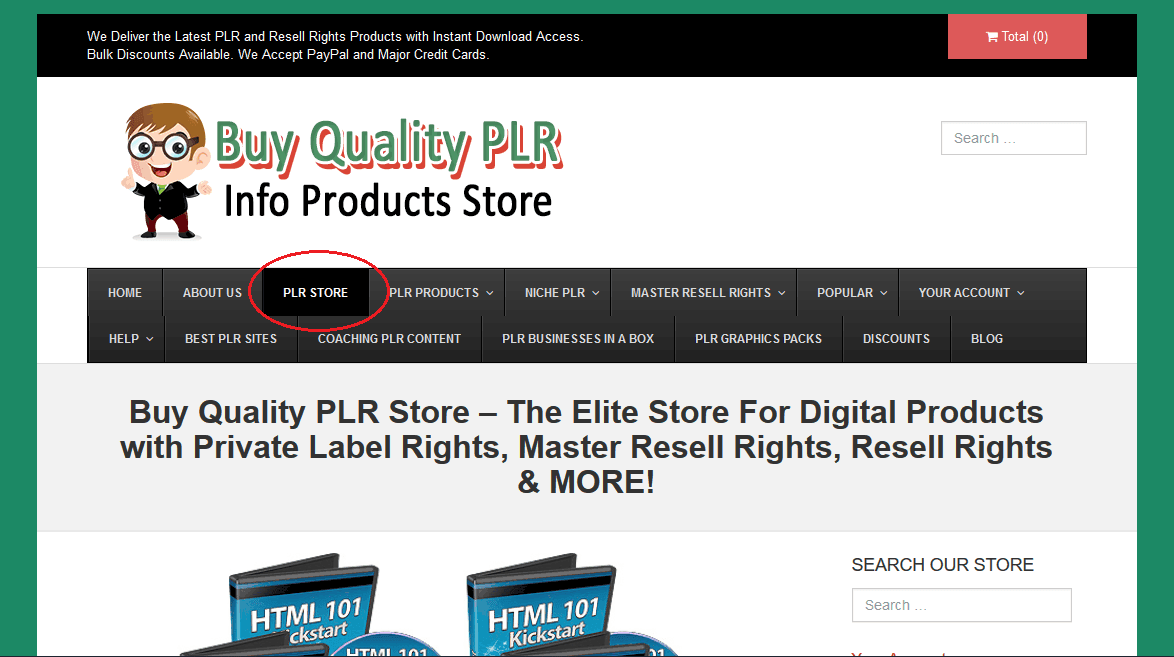 Once inside the store, scroll down to the middle of the page and you will find an entire list of Products that are divided into various categories (By license). (See the Screen Shot Below).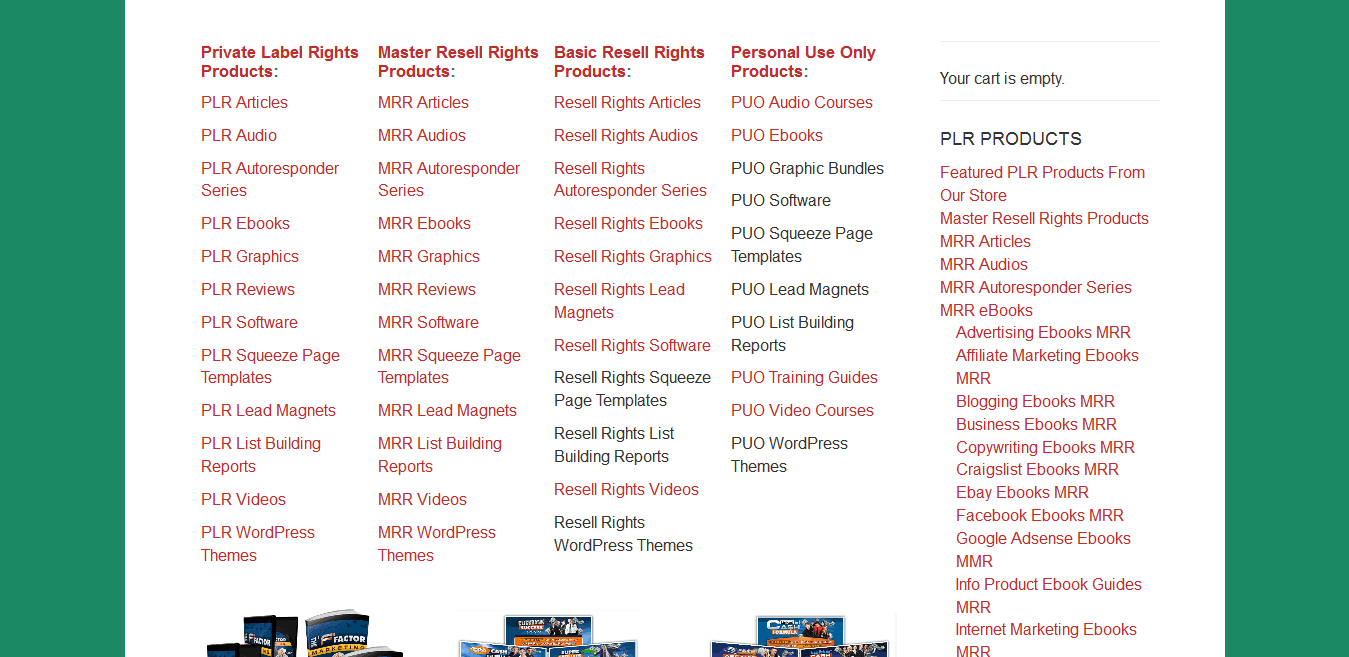 Click on the relevant category that you are interested in. For Example I Selected PLR EBooks.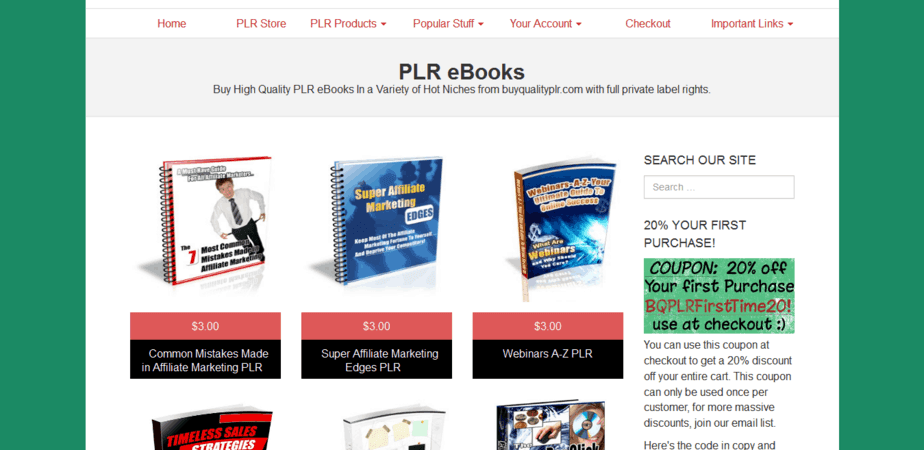 Go to individual product pages and add the products that you want to your cart. Remember to check the License Details of Individual Products Carefully before adding to cart. (See the following screenshots below – I selected Webinar A-Z PLR and Guide to Membership Websites PLR.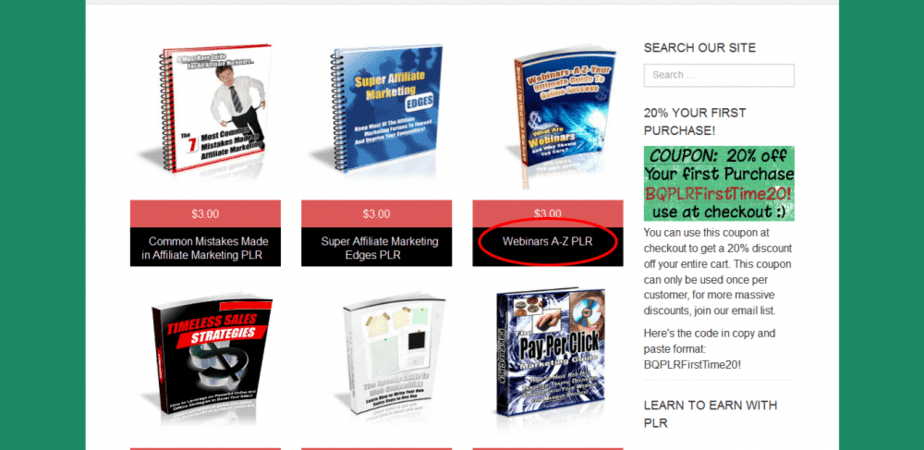 ---

---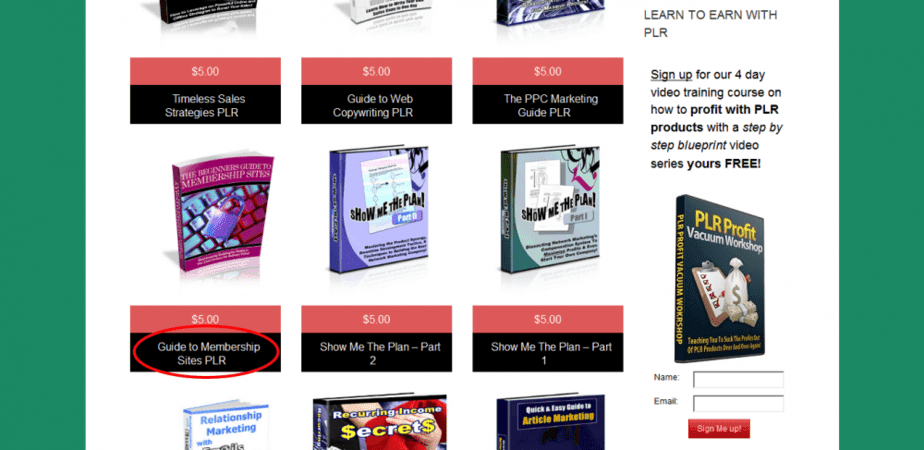 ---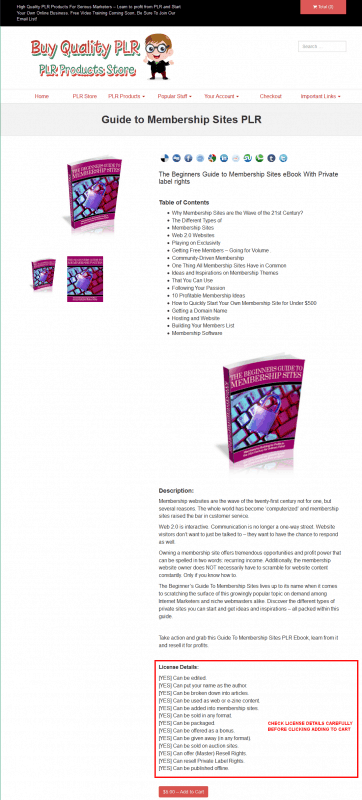 After you are satisfied with your selections, head over to the Checkout Page.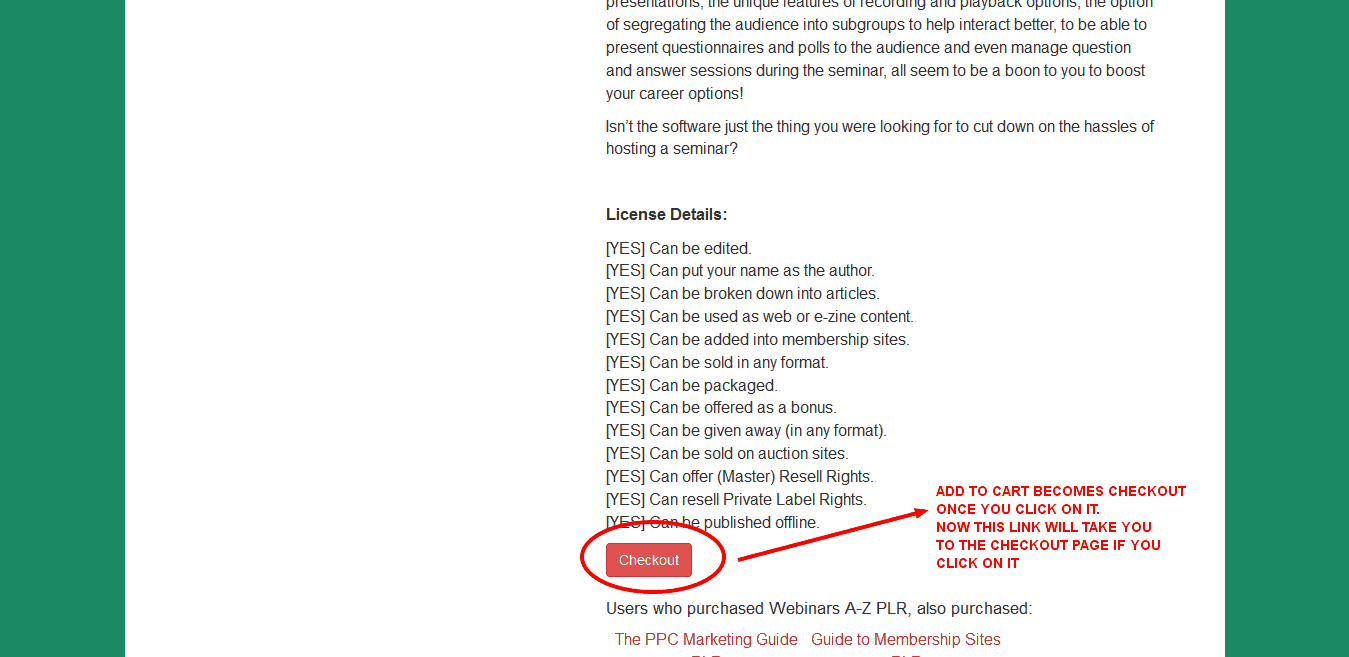 Once you add a product to cart, the Add to Cart button is replaced by a Checkout button. Clicking on this link, or the link at the Top of any page that says Total ($), will take you to the Checkout page.
Once you are inside the Checkout Page: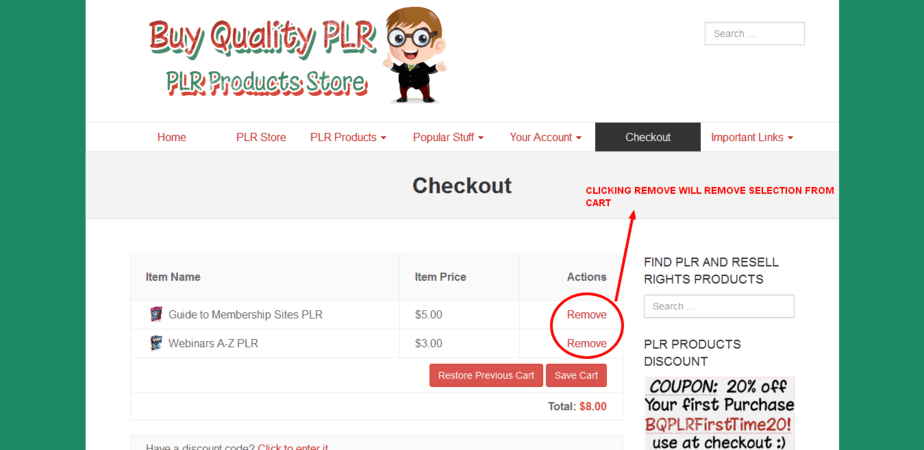 Here you can remove certain items from the cart or checkout if you are satisfied with your cart items. To remove the items, click on Remove next to the Itemsunder the Actions Tab. See the Screenshot below for example.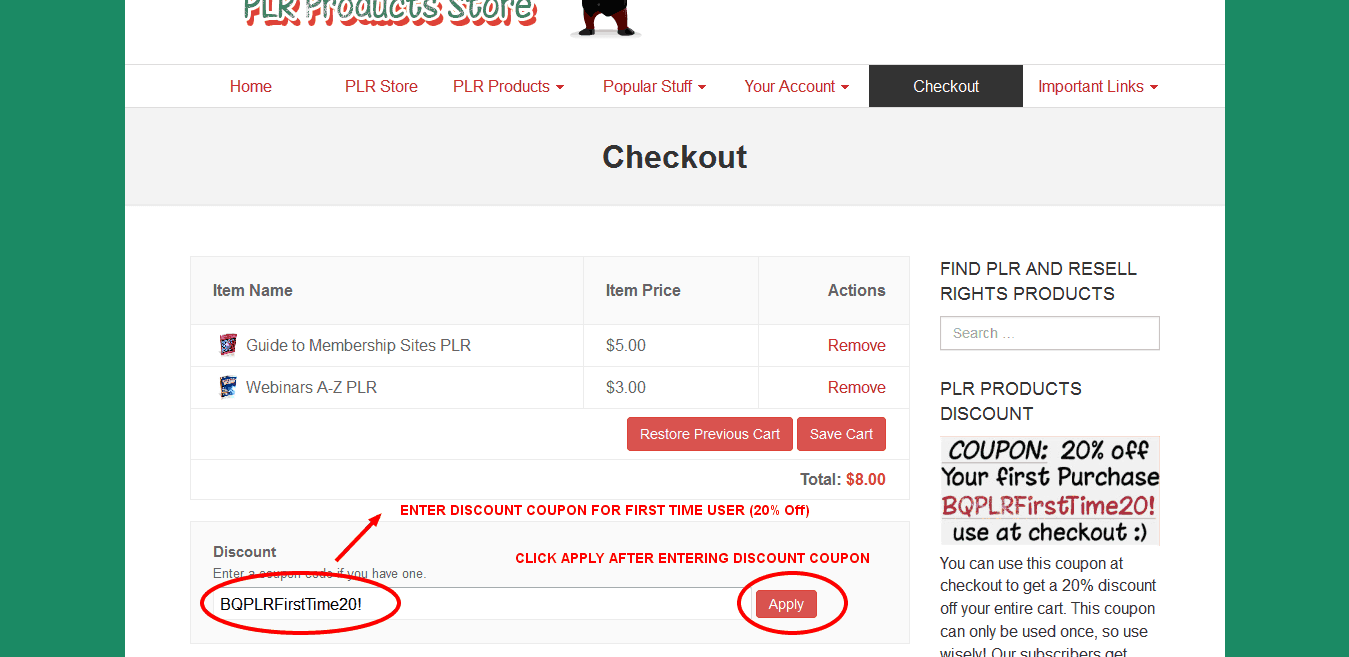 There is a Section Called "Have a Discount Code?" on this page. You can avail additional discounts by entering special codes that are mostly mailed to your registered email. If you are a first time buyer, you can use the code BQPLRFirstTime20! To get 20% off on your first purchase.
Then scroll down below and follow the on-screen instructions (See below Screen Shot)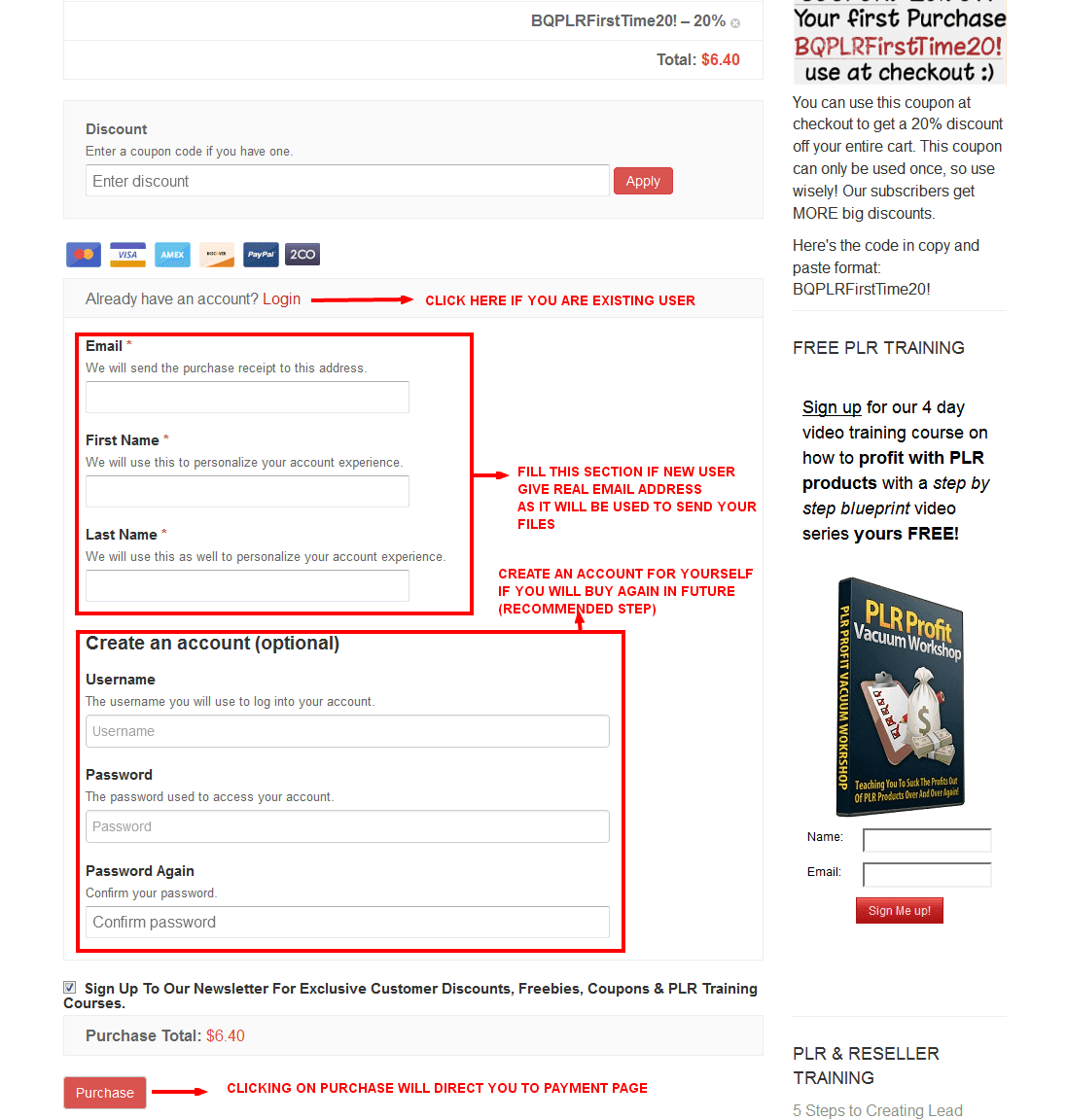 It is a secure 2checkout.com page. You will notice a Green Padlock Icon Next to the URL in the address bar. That padlock icon is a symbol of security, which means that whatever data you input in this webpage is protected and encrypted during the transmission to the server. (See below Screen shot)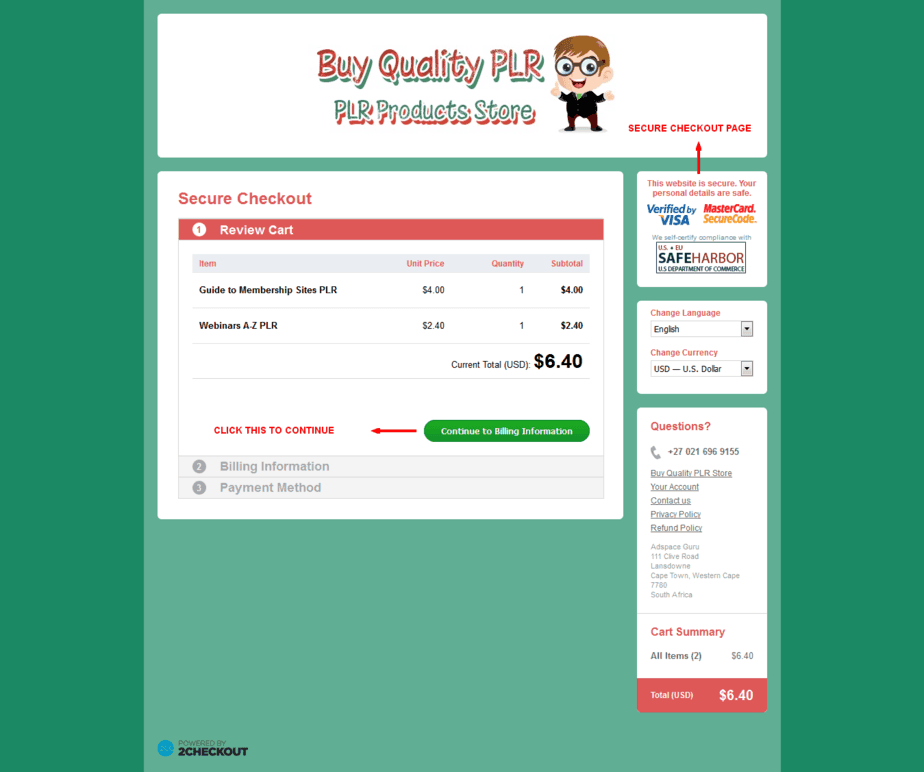 Fill the Billing Information Section Carefully (Check Screenshot) – Note: I have used demo content for the purpose of this training.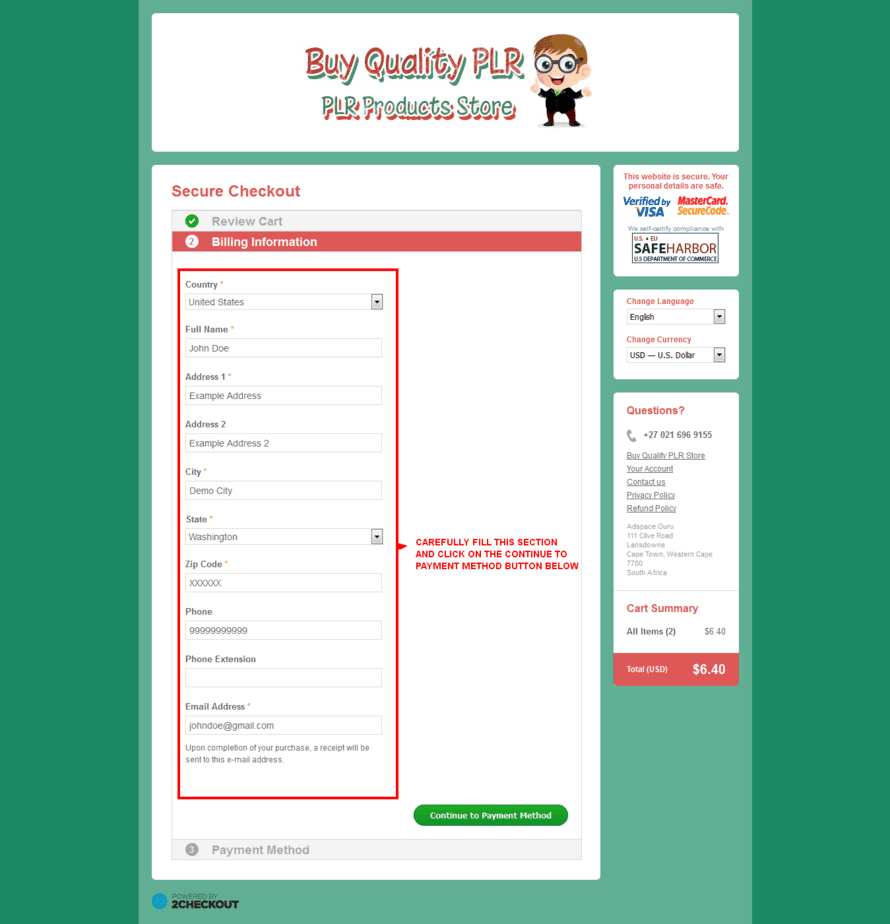 Now, in the Payment Method Section, there are two options available to you. Either you can pay through your Credit / Debit Card, or you can choose to pay via PayPal.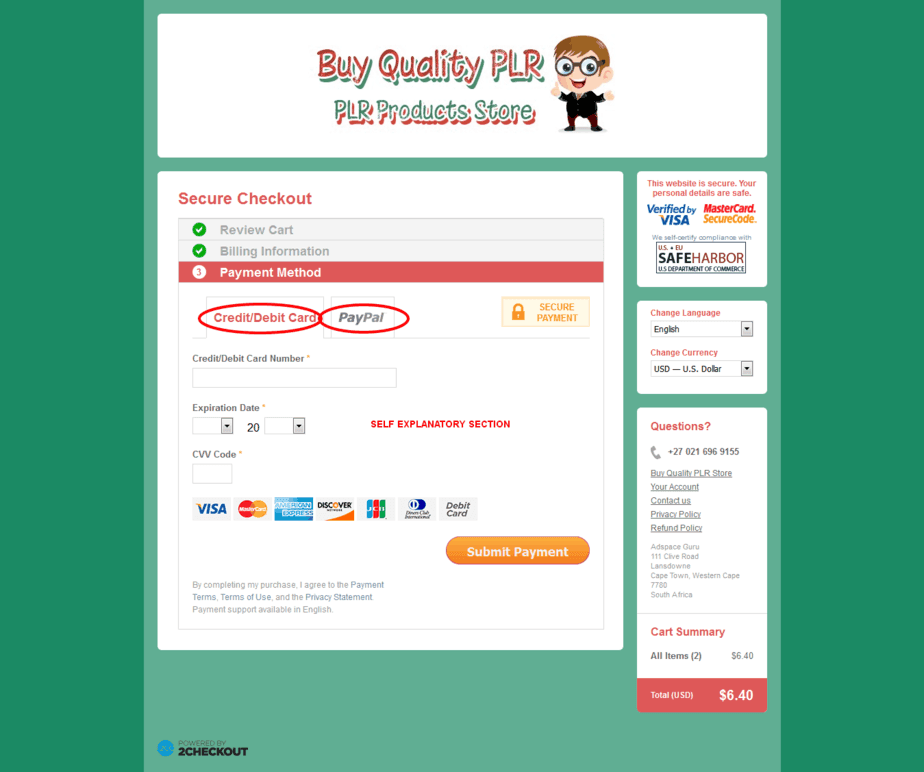 For the purpose of this training I chose to pay through PayPal. This is how the PayPal Login page will look like. (See below Screenshot)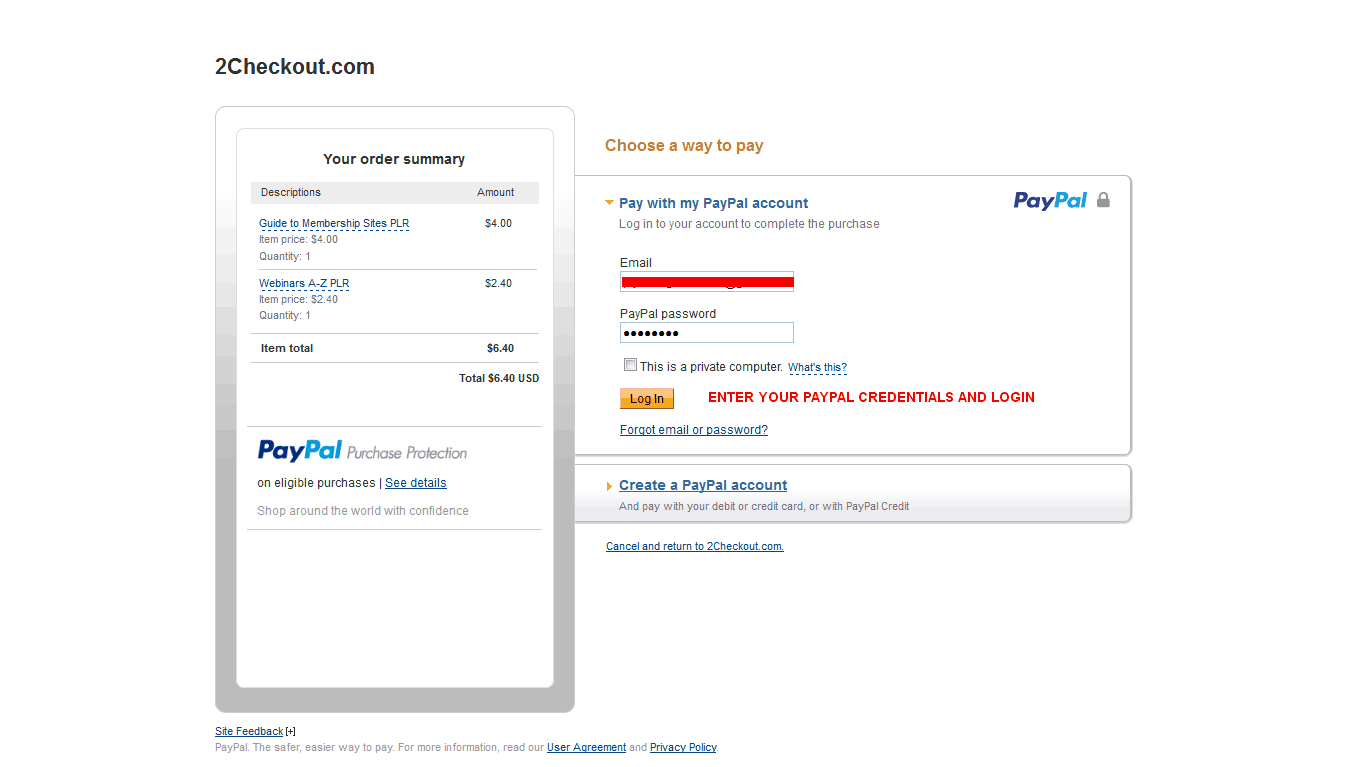 ---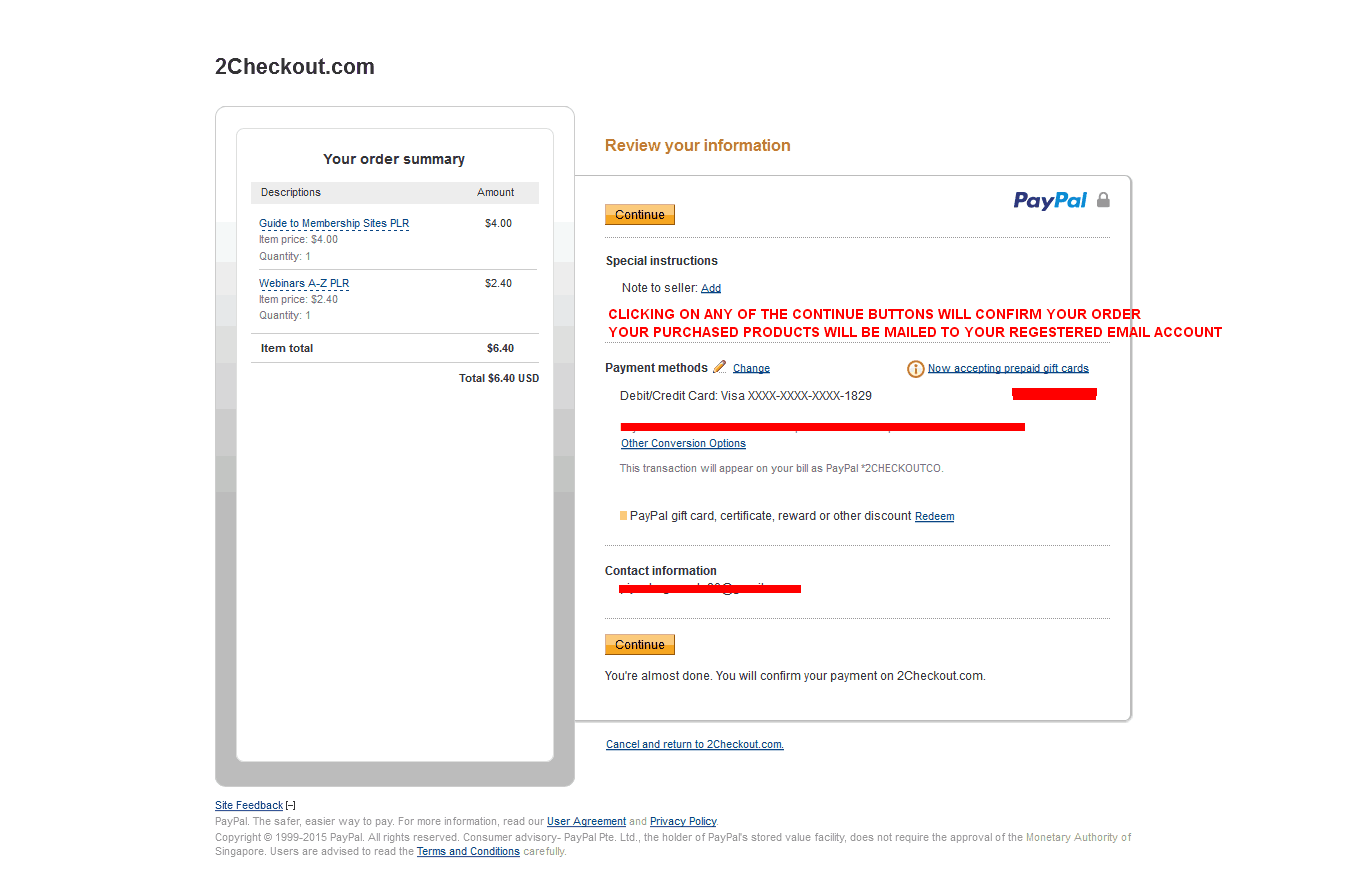 That's it. Now you can head over to your email and start using your purchased products. Come back for more if you like what we offer and do remember to tell others about your experience at BuyQualityPLR.com