Toning Arms Premium PLR Package - High quality Toning PLR product including ebook, report, articles and more. Over 36k words of done-for-you Toning PLR content that is ready to be used in your business to educate your readers. This Toning PLR content pack includes fast-action bonuses for the first 50 buyers.
#toning #toningplr #toningarms #armsplr #armsmuscles #muscle #buildingmuscle #tricepsplr #biceps #toningexercises #toningworkouts #gainingmuscle #weightlifting #tonedbody #bodytoning #pushups #planks #workouts #fitness #shoulderpress #sideplanks #stayfit #healthybody #bulkyfitness
Toning Arms Premium PLR Package – Featuring Over 36 000 Words of Done-For-You Evergreen Fitness and Exercise Content.
Attention: Fitness and Exercise Entrepreneurs
Done for You Premium Fitness PLR Product on a
EVERGREEN Topic:
Fitness and Exercise!
Dear online business owner, When it comes to top fitness and exercises searches, the Fitness is one of the most searched-for topics online.
It's safe to say that fitness has spawned an entire industry of blogs, fitness courses, and products.
This is where my premium done for you Toning Arms PLR Package comes in. Its all about teaching your customers The Secrets to Achieving Toned Arms Successfully.
Everything is done for you – from the main info product to your social media updates – its simply up to you to add your branding and firmly establish yourself in this lucrative fitness and exercise niche.
Introducing The…
Toning Arms Premium PLR Package
Featuring Over 36 000 Words of High Quality Toning Content Ready To Be Used In Your Business!
This high quality fitness PLR package covers the hugely popular fitness niche. Fitness and exercising is evergreen and will always be. This Fitness PLR content package is well-written by an experienced copywriter and comes with full private label rights so you can edit it, put your name on it, put your brand on it and sell it and use it to build your list of raving fans.
Here's everything you'll get in the Toning Arms MEGA PLR Package…
Main eBook:"The Secrets to Achieving Toned Arms"
(3,212 words, 21 pages, 8 images)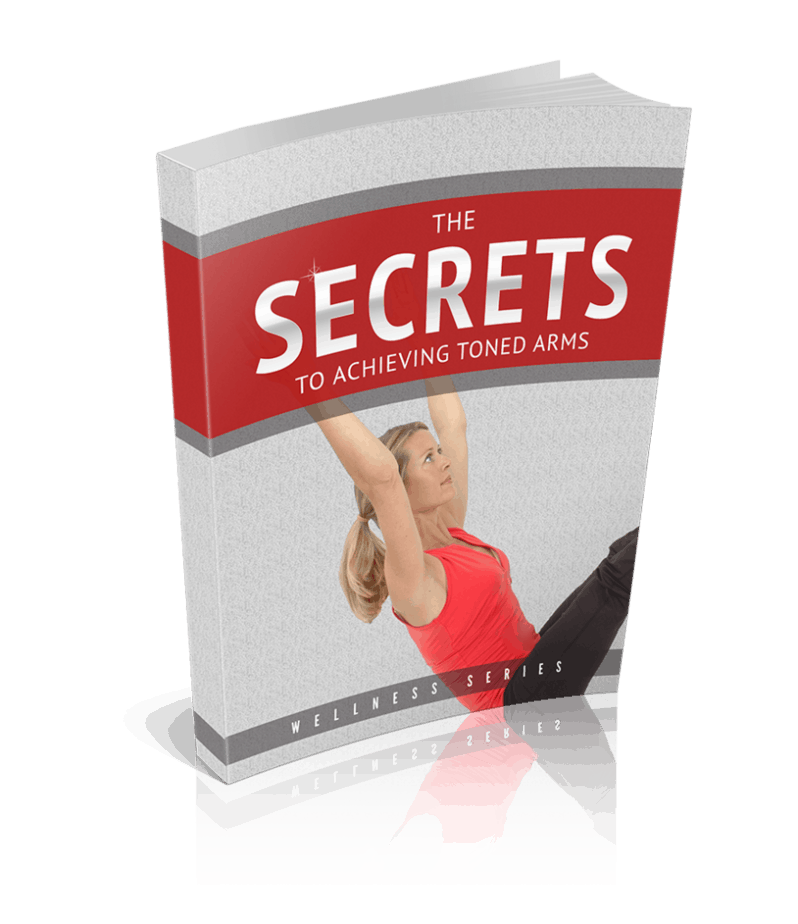 A look inside The Secrets to Achieving Toned Arms Premium PLR eBook: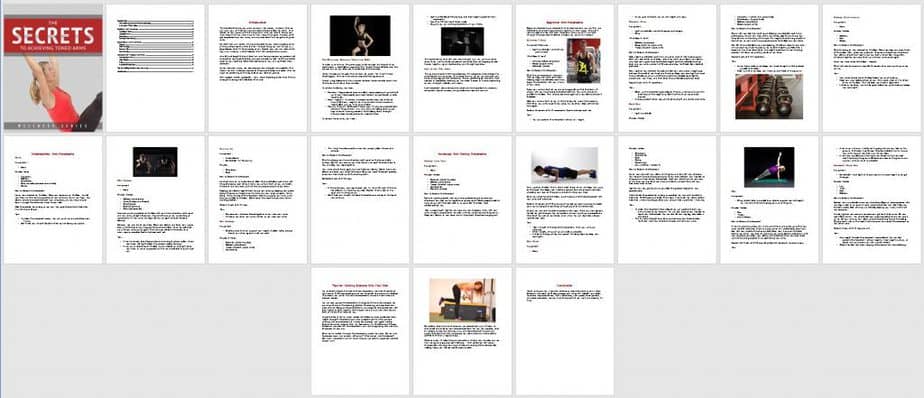 Table of Contents for The Secrets to Achieving Toned Arms PLR eBook:
Introduction……………………………………………………………………………………………………. 3
The Difference Between Toned and Bulky…………………………………………………………… 4
How to Use This Guide…………………………………………………………………………………….. 5
Beginner Arm Movements……………………………………………………………………………….. 6
Standing V Raise…………………………………………………………………………………………….. 6
Shoulder Press………………………………………………………………………………………………. 7
Bent Row……………………………………………………………………………………………………… 7
Pushup (From knees)………………………………………………………………………………………. 9
Intermediate Arm Movements……………………………………………………………………….. 10
Plank………………………………………………………………………………………………………….. 10
Pike Pushup…………………………………………………………………………………………………. 11
Reverse Fly………………………………………………………………………………………………….. 11
Box Pushups………………………………………………………………………………………………… 12
Advanced Arm Toning Movements…………………………………………………………………. 14
Pushup from Toes…………………………………………………………………………………………. 14
Side Plank……………………………………………………………………………………………………. 15
Dips……………………………………………………………………………………………………………. 16
Dumbbell Plank Row……………………………………………………………………………………… 17
Tips for Adding Exercise into Your Day…………………………………………………………….. 19
Conclusion……………………………………………………………………………………………………. 21
Sample Content for The Secrets to Achieving Toned Arms PLR eBook:
Introduction
The benefits of toning your arms are many. For women, it means that you can wave your arm without worrying about the bingo flap. You know, that section of your upper arm that hangs down when you raise it. Toning your arms means that you never have to worry about that again. Instead, you'll get compliments on your arms, and inquiries about how you got such great arms.
For both men and women, it's nice to be able to wear more revealing shirts in the summer months when it's hot – the last thing you want to wear is a long-sleeved shirt. In the summer, or any time of year, you can rock a tank top, a sun dress, or a short-sleeved shirt with confidence and pride.
And let's not forget that just about any arm toning exercise you perform will strengthen your back, shoulder, and core muscles as well. You'll have better posture, your clothing will be more flattering on you, and you'll feel more confident.
As you tone your arms, you also improve your strength and mobility. That means you may no longer experience those painful pops and clicks when you reach for something on the top shelf of your kitchen cabinet.
Many people, women specifically, worry about becoming bulky when they do strength training. Let's talk about that next.
Note: The above content is just a snippet of the ebook.
Short Report:"Top 10 Mistakes Women Make When Trying to Gain Muscle"
(1,607 words, 7 pages, 5 images)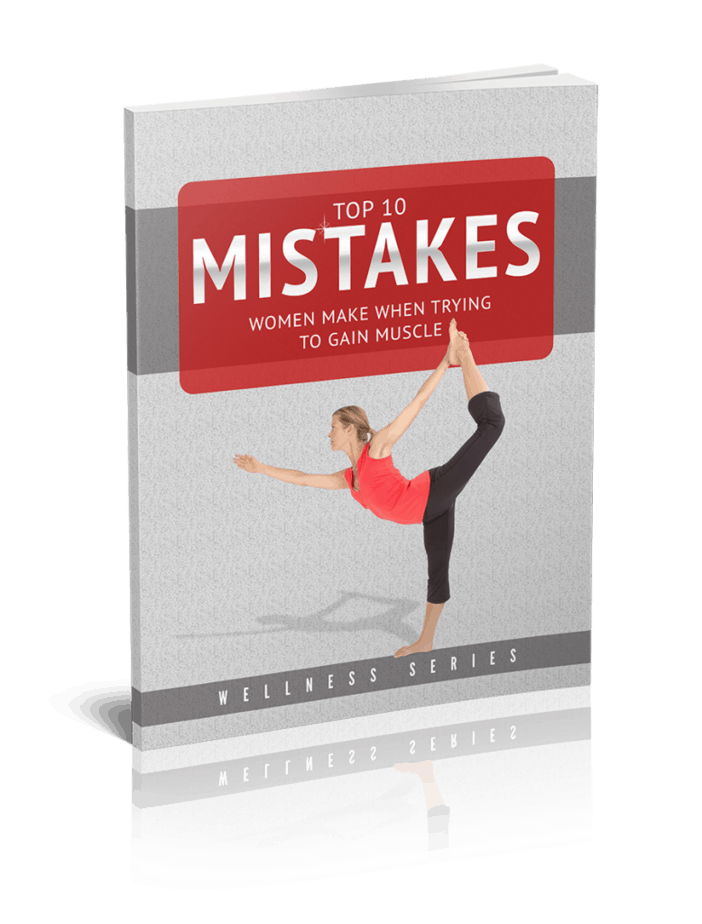 A look inside Top 10 Mistakes Women Make When Trying to Gain Muscle PLR Report:

Product Reviews:
BalanceFrom Dumbbell Set with Stand – 452 words
PROMIC Barbell Rubber 1lb to 20lb Hand Weights – 431 words
SKLZ Super Sandbag – 714 words
Tone Fitness Vinyl Kettlebell – 388 words
Tone It Up – 444 words
Product Comparison Review:
Top 5 Wrist Weights – 816 words
5 Emails/ Blog Posts:
Topic: Guide to Buying Dumbbells
Email1-Should You Choose Rubber Solid Metal or Vinyl Coated Dumbbells – 330 words
Email2-Fixed Weight vs Adjustable Weight Dumbbells – 293 words
Email3-Should You Buy a Dumbbell Rack or Stand – 264 words
Email4-Dumbbell Buying Tip Understanding Shapes and Grips – 282 words
Email5-Have You Really Found the Perfect Dumbbell Set – 294 words
Toning Arms Email Sample Content:
Fixed Weight vs. Adjustable Weight Dumbbells
Hi,
You may think that adjustable weight dumbbells are the best option.
For a lot of people they are. Simply by adding more weight to a dumbbell bar, you can always make sure you are pushing your muscles. This keeps you from reaching a plateau where your fat-burning, muscle-building results stop improving.
This is the choice for many beginner and veteran strength trainers alike. In a set, you get 2 short dumbbell grips or rods with some type of locking mechanism on the ends. You pull off the locks and slide on as much or as little weight as you like, and then lock those plates in place.
There are many different types of adjustable weight systems. Some come with a rack and you simply turn a dial to choose your desired weight, and it automatically locks that weight in place. With this type of versatile dumbbell set, multiple users can benefit from strength training, with everyone using the weight that is appropriate for them.
There are benefits of fixed weights as well. As mentioned in our last email, fixed weights often have highly visible and easily identifiable weight markings on them. They may also be color-coded. This makes for quick and easy identification, and fixed weight dumbbells don't need to be changed between repetitions or sets.
This makes them preferable to those that don't want to waste any time changing adjustable weight dumbbells. This is the primary benefit of a fixed weight system. You simply grab the weight you need to use and get to work.
This is a buying option where personal preference will benefit from trying each type of weight before sinking a lot of money into a purchase.
To your success,
YOUR NAME
High Quality Toning Arms PLR Articles:
3 Bodyweight Exercises for Toning Your Arms – 664 words
4 Diet Changes to Make If You Want to Tone Your Body – 633 words
4 Exercises to Work Out Your Biceps – 511 words
6 of the Best Sports for Toning Arms – 463 words
A Guide to Proper Form When Lifting Dumbbells – 469 words
A Guide to Tricep Exercises – 443 words
Does Swimming Provide a Good Arm Workout? – 396 words
How to Do a Bench Dip – 521 words
How to Do a Kettlebell Swing – 522 words
How to Do Lateral Raises – 450 words
How to Get Rid of Arm Flab – 583 words
How to Properly Do the Plank Exercise to Tone Your Arms and Core – 529 words
How to Tone Your Shoulders – 602 words
How to Use Resistance Bands to Tone Your Arms – 527 words
How to Work Out Your Arms Without Weights – 603 words
Kettlebells Vs. Dumbbells: Which Works Best for Toned Arms? – 407 words
Muscles of the Arm and How to Tone Them – 504 words
Weights vs Reps: The End Of This Debate Once And For All! – 579 words
What Are Hammer Curl Exercises? – 619 words
Will Lifting Weights Make Your Arms Bulky? – 472 words
Toning Arms PLR Article Sample:
6 of the Best Sports for Toning Arms
The two major muscle groups of the arms that tone and define the best are the biceps and triceps. So it makes sense the sports that work these muscles the most would also be the best ones to develop them.
Competitive Weightlifting
The sport of competitive weightlifting doesn't do much to develop the arms, or the body as a whole for that matter, as much as the train up for the events. Extensions, dips, push-ups and bench presses are all isolation movements that target the triceps, while pull-ups, chin-ups and curls isolate the biceps. Just be sure to do a good mix of each to balance them out.
Tennis
Tennis, and in reality all of the racquet sports including badminton, squash and racquetball, are great sport to work the arms overall – in fact, the whole body. Overhand moves work the arms, whereas the forearm swing works the upper chest and the backhand the shoulders. With the running back and forth, the legs get a good workout too, along with the heart due to tennis being a form or cardio training.
Bowling
Bowling balls can weigh up to 16 pounds, so bowling three lines at a time really works out your dominant arm. The danger is if you don't work your other arm too, you run the risk of developing one arm more than the other. Either bowl a few lines with your non-dominant arm just for fun or do some weightlifting with dumbbells to balance out both arms.
Golf
This game is all about upper body, including your arms and back. But because most golfers hit the ball from the same side all the time, they also run the risk of developing their dominant side more than their non-dominant. Any sport or exercise that works the other side is beneficial, including lifting dumbbells.
Swimming
Swimming is all about the arms. Moves like freestyle, breaststroke, butterfly and backstroke target the arms muscles through the action of creating resistance by pulling water back toward you to propel yourself forward. Just be sure to include moves to vary the muscles being worked to create an even toning and definition.
Rowing or Canoeing
This is another sport that is all about the arms. Putting a paddle in the water and pulling the water back to propel you forward, especially against the current, targets not only the upper arms, but also the back. Train-up can be done in a gym by using a rowing machine or actually on the water.
Any of these sports are good for building up arm muscle. However, be sure to get a good balance and build up the biceps and triceps equally as they oppose each other. If one is stronger than the other, the risk of suffering an injury goes up dramatically.
Social Media Posts & Images:
5 Shareable Social Media Toning Graphics (PLR)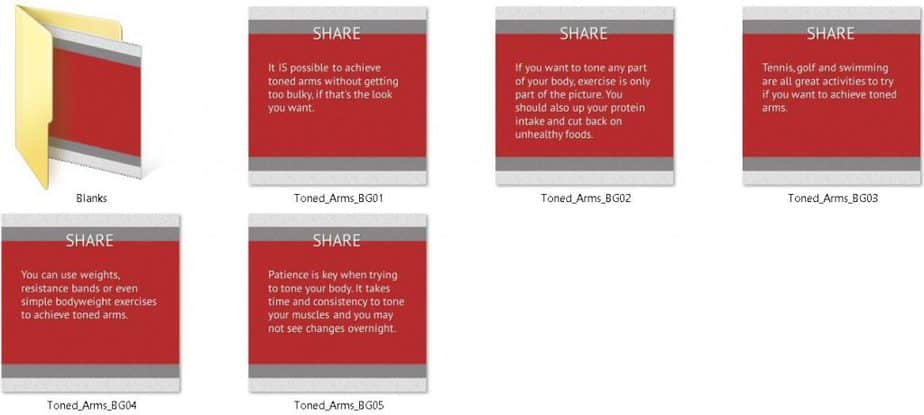 5 Shareable Social Media Inspirational Images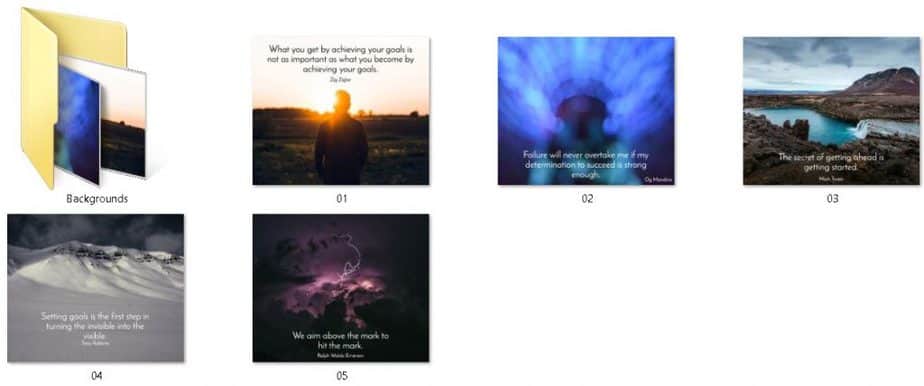 20 Social Media Posts (for sharing on Twitter or Facebook)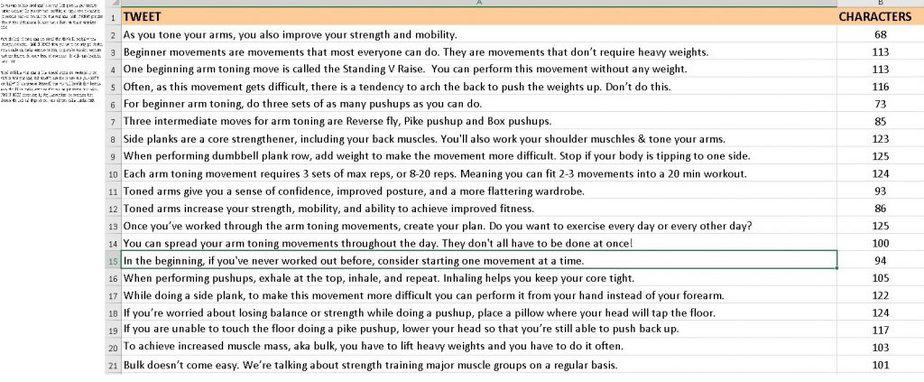 13 Royalty Free Images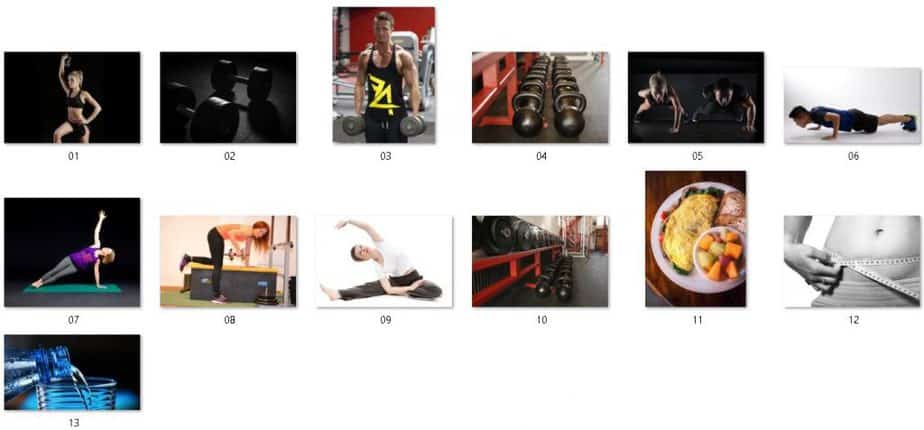 Images of All Products Reviewed

Toning Arms Keyword Research Pack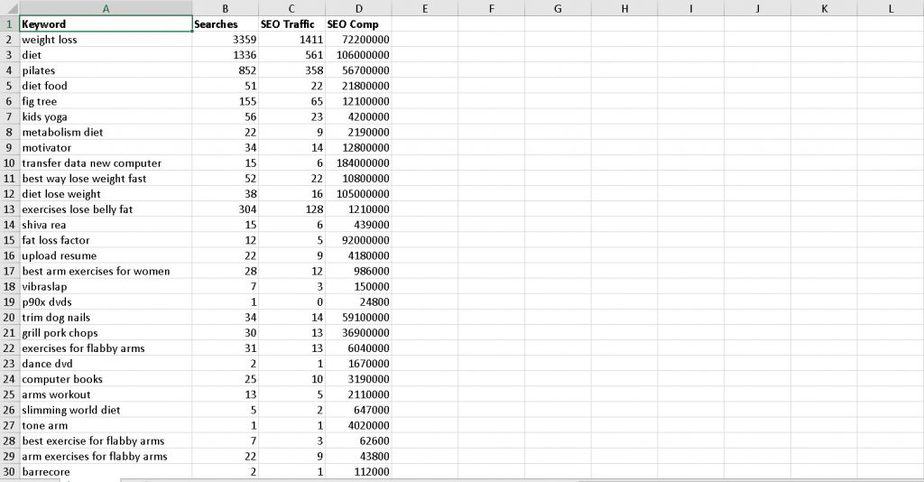 Bonuses:
5 Top Quality Summer Fitness Muscle Building Toning PLR Articles
What Exercises Should I Focus On for a Beach Body? (534 words)
Structuring Your Workout Routine for Ultimate Summer Fitness
Best Chest and Tricep Exercises for a Beach Body (560 words)
Best Shoulder, Back and Bicep Exercises for a Beach Body (579 words)
Should You Train Your Abs Daily to Get a Beach Body? (566 words)
Comes in .TXT and Word Doc format and includes PLR License.
Summer Fitness Muscle Building Toning PLR Article Sample:
Best Shoulder, Back and Bicep Exercises for a Beach Body
Most men tend to focus most of their weight training on their upper body and for good reason – they can always hide their legs with a pair of jeans or pants. This often gives rise to the quote, "He skipped legs day, bro!"
On the beach, however, you'll often be in a pair of shorts. So, it's best to train your thighs and calves so that your body is proportionate and aesthetically pleasing to the eye.
That said, training your upper body is vital too. It's what gets the attention and makes people turn heads. To have an upper body that's muscular, you absolutely must train your shoulders, back and your biceps.
In this article, we'll look at some of the best exercises you can do for each of these body parts. They'll target different parts of the muscles so that you're defined and strong at the same time.
*Shoulders
The barbell or dumbbell push press is without a doubt one of the key exercises that you'll need to do. Aim for around 7 to 8 reps. Always maintain good form and don't use more weight than you can handle.
The rotator cuff joint is very easily injured and shoulder impingements and joint problems are probably the most common issue that afflicts regular gym goers.
Besides the push press, there are other exercises like dumbbell incline rows, Arnold press, dumbbell lateral raises, etc. that are very effective too.
When training your body for the beach, having cannon ball shoulders will help create a 'separation' between your biceps and your delts. This is crucial for looking good. So, it's best to train your shoulders until they're bigger than your biceps. This will avoid the rounded look in the arms which make them appear fat even it's mostly muscle.
*Back
The coveted V-shape that bodybuilders strive for is usually achieved by working the back and lats. The back muscles are large and require several different types of compound exercise to target it.
Lat pulldowns, wide grip pull ups, bent over barbell deadlifts, seated cable rows, standing T-bar rows, dumbbell single rows, etc. are ideal for training the back.
You only need to train your back once a week since they're are recruited in a variety of exercises, whether you're training shoulders or even doing planks. So, it's wise not to overtrain them.
*Biceps
The biceps are generally small muscles when compared to the rest. While they're worked to some degree when you do exercises like lat pulldowns, if you truly want sleeve-splitting biceps, you'll need to do a few isolation exercises that specifically target them.
Barbell biceps curls, incline dumbbell hammer curls, chin ups, concentration curls, parallel pause curls, and Zottman curls are fantastic for targeting your biceps. When you have well-developed biceps, you will get attention. Society has been conditioned to associate strength with the size of one's biceps.
So, these are probably the 'showiest' muscles of the lot. Like they say, curls for the girls. Do give them the attention they deserve. Your biceps, not the girls.
Work your shoulders, back and biceps once or twice a week and gradually try to increase the weights. Always use good form and never use jerky movements just to move more weight.
Leave your ego at the door when you engage in weight training. With time, your muscles will get bigger and you'll have all the bragging rights when summer comes.
10 Cardio and Strength Training For Women PLR Articles
6 Reasons Why Walking is Great for Women (712 words)
Cardio Workouts That Women Can Do at Home (565 words)
Discover Why Overdoing Cardio Makes Women Gain Weight (844 words)
How Women Can Accelerate Fat Loss by With These 5 Cardio Tips (789 words)
What Types of Cardio are Best for Women? (751 words)
4 Principles to Toning and Sculpting a Bikini Body with Resistance Training (735 words)
Discover the Benefits of Strength Training for Women (664 words)
How Women Can Build Their Own Effective Weight Training Workout Routine (950 words)
How Women Can Use Resistance Training to Tone and Strengthen Their Upper Body (615 words)
What Type of Weight Training is Best for Women to Tone Their Butt and Legs (724 words)
Comes in .TXT and Word Doc format and includes PLR License.
Cardio and Strength Training For Women PLR Article Sample:
Discover the Benefits of Strength Training for Women
There is a quote that's often tossed around in the fitness industry – "Lifting weights doesn't make women huge. Eating cupcakes makes women huge."
While amusing, this quote is true. It's often thought that strength training also known as weight training is a man's domain and that women will get muscle-bound and manly if they did weight training. That's why you often see most women hitting the cardio machines in the gym while the men grunt away at the free weights corner.
The truth of the matter is that strength is not only for men. Weight training has many benefits for women too. It won't make you big or manly. The woman's physique and lack of testosterone prevents her from packing on massive muscle mass. It just doesn't happen without performance enhancing drugs.
Now that we've cleared up this misconception, let's see why you absolutely must start weight training as soon as you can. The benefits are just too good not to.
Strength training prevents muscle atrophy. Both women and men lose lean muscle once they reach their thirties. Every year they lose some muscle mass. Weight training will prevent this from occurring and may even reverse the process. If you don't use it, you'll lose it.
Weight training retards the aging process. As mentioned earlier, you'll lose less muscle, be stronger and healthier. A healthy body is more capable of handling the ravages of time. Women who engage in weight training often tend to look younger than their years.
Strength training increases blood flow to the muscles that are being worked. If you have thighs that are fatty or a belly that's flabby, just place your palm on these areas. You'll notice that they're generally colder than other parts of your body that are leaner.
The reason for this is blood circulation. Areas that have excess fat have lower blood circulation. Weight training will recruit the different muscle groups and your body will be forced to draw blood into these areas. Your blood circulation will improve and this indirectly leads to a loss of subcutaneous fat.
What is subcutaneous fat? It's the fat that's just under your skin. Women usually have more subcutaneous fat on their buttocks, thighs and hips. Another reason why you should get rid of this fat is because it causes the appearance of cellulite.
No lotion or brushing can get rid of cellulite. Only a clean diet and weight training can help burn off the excess fat and diminish the appearance of cellulite.
Visceral fat is a very dangerous type of fat that covers your internal organs. There are a lot of toxins in visceral fat and it's an easy type of fat to gain. Dieting will not remove visceral fat. You MUST engage in weight training and cardio activity. Over time, your body will burn off the visceral fat and you'll be less likely to get diseases and become sick.
It boosts your metabolism so that you burn more calories while at rest. You'll be less likely to gain weight easily.
As women age, they're more prone to osteoporosis. Strength training will prevent this because it stresses the bones and this will force the body to deposit more bone which in turn fights osteoporosis. Isn't weight training amazing?
By now you should know just how fantastic this form of training is. Besides the points mentioned above, working with weights will also prevent diabetes, lower your cholesterol, boost your heart health, improve your posture and balance and prevent back pain.
While all this is well and good, the one benefit of strength training that most women will love is that it will transform your body into a picture of health. Your body will become more feminine because of the tone and any curves will look better. You'll look great naked and when you're at the beach, you'll really rock that bikini.
Streng