Beginners Guide To Yoga PLR Ebook
Yoga is an important part of many lives today. Although it is considered a type of exercise, it has the potential to affect the emotional and psychological health of the individual, not just the physical state.
has been added to your cart!
have been added to your cart!
Introducing
Beginners Guide To Yoga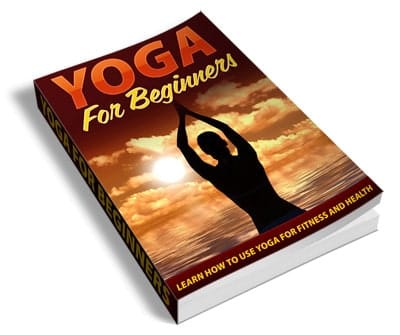 Some people resist trying yoga. This may be because they believe it's some kind of weird religious thing or that they must change their lifestyle completely.
While yoga was indeed used in years past mostly by hippies, the practice has evolved into a more mainstream system. All types of people use yoga for its ability to help the physical and mental states.
Meditation is also looked at in a similar way. There are many types of meditation. Not all meditation is about reaching "spiritual enlightenment" or using drugs and chanting.
The information contained about the spiritual side is purely for informational purposes only. Yoga isn't a religion, but it can have spiritual effects for those who practice it.
It doesn't matter if you are Jewish, Catholic, Muslim, Buddhist, Protestant, or Scientologist! No matter what type of religion you may or may not practice, yoga can benefit you without you having to change your faith in any way.
Yoga (as it is explained here) is simply a method of strengthening and toning the body while also receiving the emotional and psychological effects it can bring.
Meditation in this book is used simply as a way to boost mental clarity, reduce stress, and clear up any mental and emotional issues. It is not meant to promote any kind of spiritual agenda, although it can enhance your religious experience if you choose to use it that way.
We're going to delve a little bit into the rich history of yoga and meditation so you can learn a little about its origins. Only when you understand where it came from and why it was practiced can you truly understand why they are such remarkable tools for mental and physical health.
We'll talk about a lot of the important equipment that you may need to want for practicing yoga and meditation, from mats to bags, balls to blocks. You'll learn what each piece of equipment is used for, and also whether you really need to buy it or not.
You'll learn what yoga and meditation are and can do for you as well as their limitations. Neither is a one-size-fits-all solution for everyone, nor will they cure any and every ailment there is.
has been added to your cart!
have been added to your cart!
Package Details:
Download File Size – 35.9 MB
eBook Format – PDF,
Reading Requirements – Any PDF Reader
Number of Pages – 45
License Details:
[YES] Can be edited.
[YES] Can put your name as the author.
[YES] Can be broken down into articles.
[YES] Can be used as web or e-zine content.
[YES] Can be added into membership sites.
[YES] Can be sold in any format.
[YES] Can be packaged.
[YES] Can be offered as a bonus.
[YES] Can be given away (in any format).
[YES] Can be sold on auction sites.
[YES] Can offer (Master) Resell Rights.
[YES] Can resell Private Label Rights.
[YES] Can be published offline.
has been added to your cart!
have been added to your cart!
Share this and get 20% off!
---
TAG : health plr, health plr content, meditation plr, meditation plr content, plr health, yoga, yoga ebook, yoga plr, yoga plr ebook, yoga private label rights ebook
CATEGORY : Ebooks, Fitness PLR, Health, Health PLR, Master Resell Rights Products, Meditation PLR, MRR eBooks, PLR eBooks, Private Label Rights Products, Resell Rights Ebooks, Resell Rights Products, Spiritual PLR, Yoga PLR, Yoga PLR Ebooks