Self Care Premium PLR Package - High quality self care PLR product including report, emails, articles, bonuses and lots more. Over 28 000 words of ready-to-go Self Care PLR content that is ready to be used in your business to grow your list and educate your readers.
#selfcare #selfcareplr #healthplr #wellnessplr #selfhelpplr #selfimprovement #healthcare #healthyliving #selflove #selfcaretips #caringplr wellbeing #peptalks #improverelationships #wellbeingcontent #selfcarecontent #makingexcuses #carebetter #selfcarehabits #whatisselfcare #selfhelp #nichemarketing #plrcontentpacks
Self Care Premium PLR Package – Featuring Over 28 000 Words of Done-For-You Evergreen Self Help Content.
Attention: Self Help Marketers, Personal Development & Self Improvement Coaches

Done for You Premium Self Help PLR Product on a
EVERGREEN Topic::
Self Care!
Dear online business owner, When it comes to top Self Help searches, the Self Care niche is one of the most searched-for topics online.
It's safe to say that Self Care have spawned an entire industry of blogs, self help courses, and products.
This is where my premium done-for-you Self Care PLR Package comes in. Its all about teaching your customers The Self-Care, Self-Love Guide to Living a Better Life!
Everything is done-for-you – from the main Self Help PLR report to your social media updates – its simply up to you to add your branding and firmly establish yourself in this lucrative self help niche.
Introducing The…
Self Care Premium PLR Package
Featuring Over 28 000 Words of High Quality Self Help Content Ready To Be Used In Your Business!
This high quality Self Care PLR package covers the hugely popular self help niche. The Self Care niche is evergreen and will always be. This Self Care PLR content package is well-written by an experienced copywriter and comes with full private label rights so you can edit it, put your name on it, put your brand on it and sell it and use it to build your list of raving fans.
Here's everything you'll get in the Self Care MEGA PLR Package…
Main eBook: "The Self-Care, Self-Love Guide to Living a Better Life"
(4,189 words, 20 pages, 8 images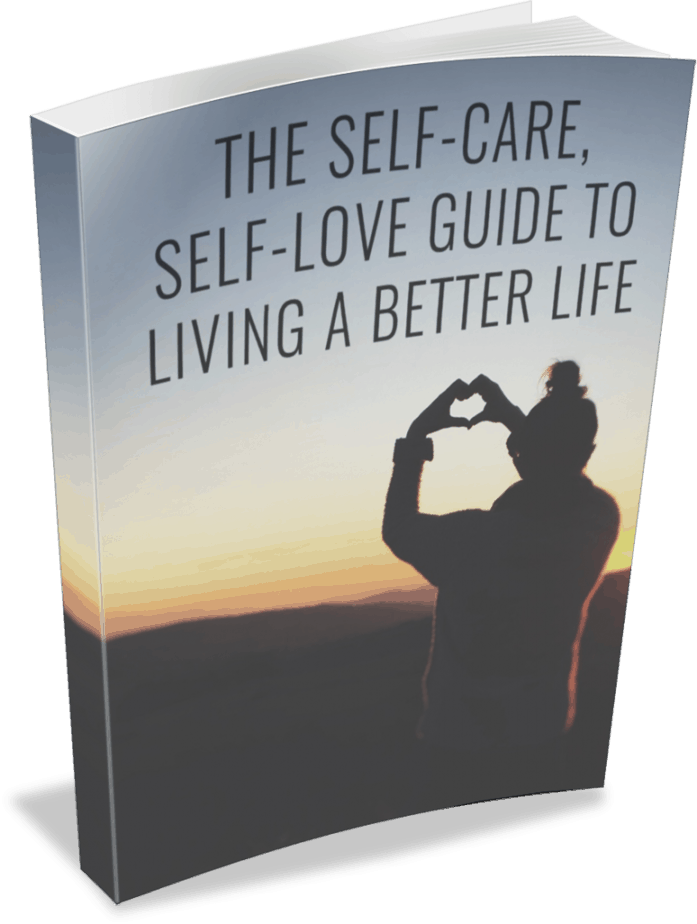 A look inside the The Self-Care, Self-Love Guide to Living a Better Life Premium PLR eBook:

Table of Contents for the The Self-Care, Self-Love Guide to Living a Better Life PLR Ebook:
Introduction………………………………………………………………………….. 3
Why You Should Embrace Self-Care………………………………………. 5
Better Life Balance and Overall Well-Being………………………………….. 5
Your Wallet Gets Fatter…………………………………………………………………….. 6
You Find out Who You Really Are……………………………………………………. 7
Your Relationships Improve……………………………………………………………. 7
You Can Do More, and Care Better for Your Loved Ones…………….. 8
Why Self-Care Is Not Selfish…………………………………………………… 9
How & Why to Put Your Own Needs First……………………………. 10
Signs You Need to Practice More Self-Care…………………………. 12
You Are a Loner……………………………………………………………………………….. 12
You Are Chronically Tired……………………………………………………………… 12
You Are Constantly Negative and Making Excuses…………………….. 12
You Don't Fix Your Own Meals………………………………………………………. 13
You Have Not Read a Book/Watched an Educational Movie in Forever………………………………………………………………………………………………. 13
You Think Exercise Is a Four-Letter Word………………………………….. 14
Defining What Self-Care Means to You……………………………….. 15
Destructive Behaviors That Mask Themselves As Self-Care. 17
Changing the Way You Talk To & Think About Yourself…….. 18
Think with Your Values in Mind……………………………………………………. 18
Learn to Accept Compliments, and Give Them to Yourself………. 18
Learn When to Say "Stop!"……………………………………………………………… 19
Give Yourself Daily and Weekly Pep-Talks…………………………………. 20
Sample Content for the The Self-Care, Self-Love Guide to Living a Better Life Premium PLR Ebook:
Introduction
The National Public Radio (NPR) network reported the self-help industry generated $10 billion in sales in 2017, and that's just in the US. Forbes tells us that sales in the self-help, self-care market will grow by about 6% per year, so the desire of Americans to better their lives in some way is not drying up anytime soon. China's self-help book industry is worth $18 billion RMB ($3 billion US). In the United Kingdom, the health and wellness market cranks out $26 billion EUR ($30 billion US). That same market produces $167 billion in the United States. Obviously, people across the globe want to improve themselves in a number of ways.
Practicing self-care means adopting lifestyle habits and routines so you embrace a preventive approach to health and well-being. You eat smart and exercise. You groom yourself regularly and challenge your mind. You develop and stick to a budget. You take time to work on your career and personal relationships.
When you take self-care seriously, you can treat the problem areas in your life. Whether you want to heal yourself financially, mentally, physically, spiritually or emotionally, you can do so when you begin taking care of yourself. Once you change bad habits to good, you can positively impact yourself in so many ways when you place your well-being at the top of your list of priorities.
Note: The above content is just a snippet of the ebook.
14 Small Acts of Self-Care Checklist :
(840 words, 5 pages)

A look inside the 14 Small Acts of Self-Care Premium PLR Checklist:

14 Small Acts of Self-Care PLR Editable Ecovers:

5 Emails/ Blog Posts:
Topic: Signs That You Need to Practice More Self-Care – 2008 words
Email #1 – Do you know the signs if you are in need of some self-care?
Email #2 – How many of these 6 signs do you exhibit?
Email #3 – Changing your signs
Email #4 – Changing your signs – Part 2
Email #5 – Burnout – the ultimate lack of self-care
Browse for more Health and Wellness PLR content packages at BuyQualityPLR.com
Self Care Email Content Sample:
Email #1 – Do you know the signs if you are in need of some self-care?
Hello, I'm glad you are here for our ecourse on self-care. Over the course of the next 5 lessons, we are going to look at some of the telltale signs that you are suffering from a lack of self-care (and what you can do about it). But first let's look at what the term self-care really means.
A recent buzzword in the circles of health and wellness, it is defined by Encylopedia.com as "the practice of activities that are necessary to sustain life and health, normally initiated and carried out by the individual for him or herself." The first thing I notice about the definition are the activities are centric around life and health. This indicates to me that these necessary activities are missing in the life of one who needs some self-care.
The second thing I noticed is that these activities are performed (or at least initiated) by the individual. Thirdly, it applies to both the male and female genders. Yes, men need self-care also, although most of them probably would not admit it.
An interesting fact is that a lack of self-care is non-discriminatory meaning it happens industry wide. On a more personal level, it happens a lot when a person is a caregiver to someone else … especially when that someone else is a close family member. The caregiver gives so much of themselves to the care of the family member, that they neglect themselves. When really that caregiver should get an adequate amount of self-care him or herself, so they can better take care of the loved one.
A lack of self-care not only can, and does, take a toll on the physical health of a person, but almost equally takes a toll on their mental health, as we will see once we look at the signs that self-care is needed.
That is all for now. In the next lesson, we start looking at the signs that self-care may be lacking or non-existent. See you then!
High Quality Self Care PLR Articles:
4 Things That Seem Like Self Care But are Actually Bad for You – 389 words
7 Easy Self Care Habits – 424 words
How to Make Time for Yourself in Life – 418 words
How to Practice Self Care at Work – 405 words
What is Self Care and Why is it So Important? – 407 words
Self Care PLR Article Sample:
7 Easy Self Care Habits
Self care should be a top priority for everyone, not least if you're currently recovering or trying to get over an illness or other problem. Here are eight of the easiest self care habits which will make looking after yourself easier at the hardest of times.
Do something different
By changing something mundane, you can help yourself to feel revitalized and more energetic. For example, buy a different brand of one of your favorite foods. Take a different cycle route to work, or drive down a different road on your way home.
Unplug your electronics
You can make a small change by just unplugging all your electronics for 30 minutes. You don't have to spend the entire day without your phone, but just taking a break for a few minutes each day can have lots of benefits and will help you make time for relaxation.
Take deep breaths
If you don't often remember to sit back and breathe a few times, consider sticking up some post it notes where you normally spend your time. You can fix reminders to your computer at the office, on the fridge and even on the dashboard of your car.
Make a small diet change
Commit to drinking just one extra glass of water per day (even if it's your only glass of water for the day), or promise yourself a healthy breakfast one day per week. If you're grabbing a second coffee by 10am, try to cut down, either by cutting out the excess caffeine altogether, or using substitutes to help break the addiction.
Do something nice for someone
Doing something small yet kind for another person can immediately boost your self esteem, confidence and overall positivity levels. Even just holding a door open to hear a 'thank you', or helping someone in need with some spare change can help you feel better.
Take yourself on a date
Not everybody feels in the mood to go out by themselves, but if you feel in the mood to do something, take yourself somewhere interesting. This could be a museum in your home town or nearby that you have never visited before, or maybe a movie has recently come out and you'd like to see it.
Ask for help when you need it
Although this involves other people helping you out, it's all part of the self care process. Recognising when you need help and having the courage to ask for it will ensure that you maintain a healthier and more positive outlook.
Social Media Posts and Images:
5 Shareable Social Media Graphics (PLR)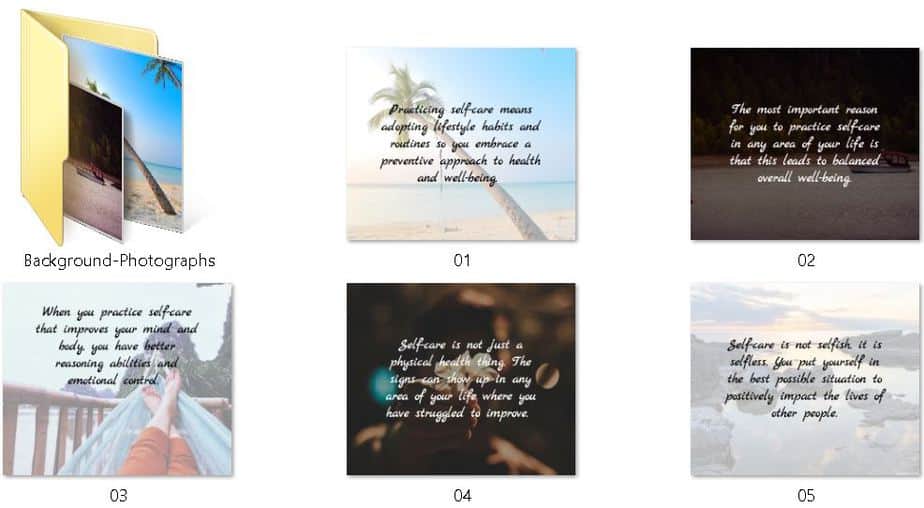 15 Social Media Posts (for sharing on Twitter or Facebook)

8 Royalty Free Images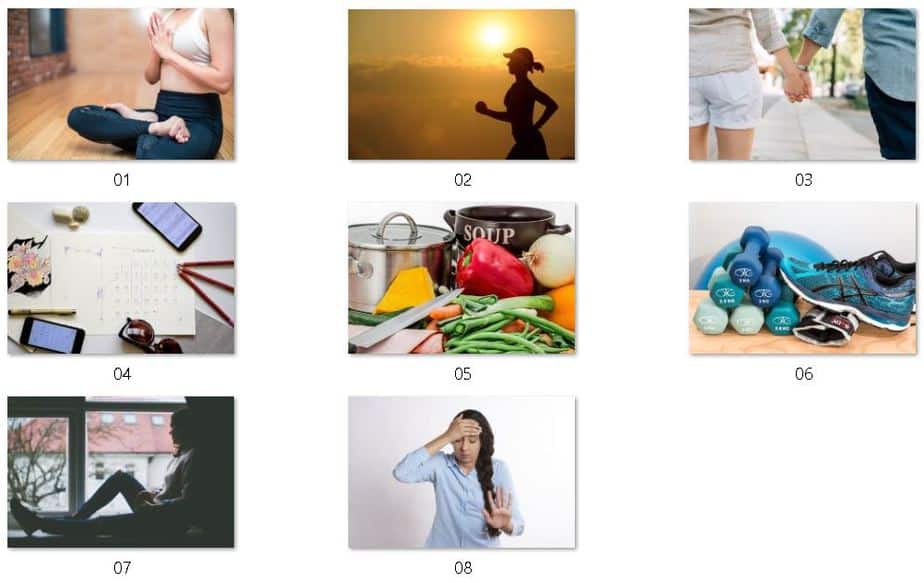 Bonuses:
Self-Care Ideas List (20 Ways to Practice Self-Care) – 453 words
Enjoying Life PLR Email Course – 5871 words
Enjoying Life PLR eCourse Outline:
1.Six ways to add laughter to your life
2.Dealing with jealousy
3.How to get the most out of gratitude journaling
4.Six ways to help others and increase your non-material wealth
5.The joy of simple pleasures
6.Tips for making the most of the relationship with our children
7.Tips for making the most of your relationship with your friends
8.Tips for making the most of your relationship with your parents
9.Tips for making the most of your relationship with your partner
10.Tips for making the most of your relationship with your work colleagues
This PLR Email Course is available in .TXT and Word Doc format and includes a PLR license.
Enjoying Life PLR Email Sample Content:
Subject: Six ways to add laughter to your life
Dear [Name],
There are many things in life that we must be serious about. Although it is good to stay focused on the important things, we should also make time to simply have a good laugh. Laughing burns calories, bonds you to your loved ones, and relieves stress. What more could you want in an activity that is so fun and refreshing? Here are six ideas on ways to add laughter to your everyday life.
Go to Karaoke Night
Whether or not you can sing, attend a karaoke night at a local pub. If you can sing, it will be fun and you will surely get a few moments of laughter. If you are a terrible singer, even better. Openly mock yourself. Quietly find humor in the others whose voices are not their strong point either. There are always a few.
Watch a Funny Movie
Sometimes all it takes to de-stress is to watch someone else being funny. Put on a good comedy. Choose one with your favorite silly actors, and enjoy. You can also find funny short movies on YouTube.
Make a Prank Call
This is only applicable to a close friend, of course, but if you want to have a really good laugh… make a prank call. If you have been blessed with the ability to disguise your voice, call your friend up and act as though you are an obnoxious salesman. As immature as this sounds, you and your friend will both probably get a laugh out of the ordeal that you will never forget.
Play a Practical Joke
Another one to use on a good friend who shares your sense of humor… playing a practical joke tops the list of easy laughs. Whether you choose to set several hidden alarm clocks in their room, or switch the salt and sugar temporarily, give them a reason to remember you. Other ideas include dropping a fake spider over their shoulder, changing their cell phone setting to a foreign language, or placing bubble wrap in between their toilet bowl and the toilet seat when you visit their home.
Ask Your Children to Make Some Jokes
If you have little ones, or friends with little ones, ask them to be the comedian for the evening. Sometimes children say the funniest things. Even when their jokes fall flat, there is something humorous about a little one trying to get a laugh out of the adults.
Find Humor When There Seems to Be None
One of the most important things to do is to search for the humorous moments. When you lock yourself out of your car, remember what a funny story it will be in the future, and start to point out the funny details to yourself and your family. When things seem to be going wrong, think of an interesting and hilarious way to tell your story to someone at a later time. This can change a stressful moment into a great one in an instant.
There are many ways to add laughter to your life. Use these ideas as a springboard to your own list of raucous laugh-inducers. You will feel your stress melt away as the laughs increase on a daily basis.
Most of us have fallen for the green-eyed monster at some time in our lives. We will talk about how to deal with jealousy next time.
10 Happiness PLR Articles and Tweets
1.Do You Need Money to Be Happy? – 531 words
2.Don't Sweat the Small Stuff – 528 words
3.Enjoying the Simple Pleasures in Life – 579 words
4.How Happy Are You? Questions to Ask Yourself – 517 words
5.Seven Mantras to Increase Your Happiness – 546 words
6.The Link between Food and Happiness – 518 words
7.The Link between Friends and Happiness – 586 words
8.The Link between Hormones and Happiness – 527 words
9.The Link between Personality and Happiness – 546 words
10.Why Living in the Moment Makes You Happier – 535 words
Include 10 Tweets for social posting.
These articles are available in .TXT format and includes a PLR license.
Happiness PLR Article Sample:
Don't Sweat the Small Stuff
We have all heard that we shouldn't sweat the small stuff. Letting oneself get stressed out over the little things in life is one of the biggest ways to bring unnecessary grief into life's path. We can avoid a lot of negative feelings, and even health problems, simply by learning not to let the little things get to us.
Focus on the Big Picture
When something small happens that makes you want to rage, compare the moment's significance to everything else going on in your own life, and in the world around you. You may have spilled your cake batter on the floor an hour before your guests are due to arrive. Are your friends still going to love you and enjoy the evening even if you don't have a freshly baked cake for them? If so, maybe you should put your energy somewhere other than berating yourself for this small mistake.
Remember That We All Make Mistakes
When something small threatens to destroy your attitude and positive outlook, think about the fact that everyone makes mistakes. Whether it is yourself or someone else who caused the situation that feels like a train wreck, keep in mind that mistakes are a normal part of life that happen to everyone. Don't let one bad moment take you by surprise.
Forgive Others
It can be hard to forgive someone else when it feels like they have brought you extra work and stress. When someone rear ends your vehicle, you may be tempted to lash out at them verbally. However, stop and think about how it may feel to be in their situation. Don't act and feel as though you have never made a mistake, but choose empathy.
Forgive Yourself
Forgiving others can be a simple matter in comparison to forgiving ourselves. There are many moments that we treat ourselves worse than we would ever allow a friend to treat us.
When you are having a difficult time forgiving yourself, think of how you would handle a similar mistake made by a good friend. Stop and think before bullying yourself, and consider seeking professional help if you can't stop a cascade of negative thoughts every time you fall short of perfection.
Ask Yourself If It Will Matter in Ten Years
We all have problems, and generally at the time, any problem seems big. Perception is not always the truth, though, and it is up to us to put our situation into perspective so that we can properly deal with whatever comes our way.
When something negative happens in your life, ask yourself if it will matter in ten years. If it won't, let it go. If someone gives you the middle finger in traffic, you may be tempted to lose your cool, but it is simply not worth it. Save your emotions for things that are life changing and deserve your full attention.
When something goes wrong, you have two choices. You can slip into a rage, or let it go. Making the choice not to sweat the small stuff will bring you life-changing happiness, and you will be thankful for your own shift in perspective.
Peace and Solitude In Your Life PLR Report – 3112 words
This Report is available in .TXT and Word Doc format and includes a PLR license.
Peace and Solitude In Your Life PLR Report Sample Content:
Ways of Adding Peace and Solitude to Your Daily Life
In the midst of a busy, hustle-bustle day, you may yearn for some peace and quiet. The phone is ringing off the hook. People are knocking on your door. Partner, children, and boss are all clamoring for your attention. If one more person asks you to do something for them, you just know you're going to snap. It's on days like this you simply want to get away from it all.
The odd thing is, however, that even though there's so much going on in everyone's lives, they rarely take the time to get away from the noise, the unending activity, or demands on their attention. It's no wonder people are feeling stressed and burned out. They don't take the time to sit in silence.
This report will outline some ways of adding peace and solitude to your daily life when it seems like all you want to do is yell, "Stop the world, I'm getting off!"
Many people aren't even aware of how to be quiet any longer. They don't know how to spend time in their own presence without music or the television playing in the background. Some of them rarely get outdoors to enjoy the beauty of the world around them. They simply keep their nose to the grind stone and watch the world pass them by.
Understanding Why Times of Peace and Solitude Are Important
Why would anyone want to take time out of their busy schedule to get by themselves? What could they hope to accomplish? How could time spent in peace and solitude affect their lives? The answers may surprise you.
Perspective
Allowing yourself some time each day to reflect on the days that have passed will give you a new perspective on things. Pay attention to how much of your time you work and how much time is devoted to having a healthy relationship with those around you. You may find you're spending too much time in one of those endeavors and not enough in the other.
Since you've taken some time to reflect, you're now able to see the balance you seek may not be there. If you know there's no balance, you can choose to make changes in your life or leave things as they are. Which relationships are nurturing and which ones are dragging you down?
What about your career or what you do to earn a living? Have you set goals for where you'd like your career to go? Are you working toward those goals or have you become stagnated by the status quo and are simply trying to get by? How you answer any of these questions can greatly affect your life, what you do with it, and any changes you may choose to make.
Simplifying All Aspects of Your Life PLR Report – 5302 words
Report: Simplifying All Aspects of Your Life
Getting Your Priorities Right
The Power of Being Well-Organized
The Art of Delegation
Automation That Will Save You Time
Taking Control of Your Finances
Tips for Saying No
How to Let Go of Toxic People
Ways to Use Social Media Effectively
This Report is available in .TXT and Word Doc format and includes a PLR license.
Report: Simplifying All Aspects of Your Life Sample Content:
There is no doubt that for many people, life is simply too overwhelming. Everyone is given the same 24 hours in a day, but everything you do takes time.
To fit it all in, it's imperative to prioritize, organize, and delegate. We live in a hectic and complex world. It's natural to want to get a lot done and to be able to point to your accomplishments. However, if you don't slow down and set some goals for your life, personally and work wise, things won't go as planned and will feel a lot more complicated.
Getting Your Priorities Right
When you want to simplify your life, the first thing that must happen is to set your priorities. This works for both your personal life and your work life. Whether it's a large project or a small one doesn't matter. Knowing how to choose where to start, how to organize it, and what's most important is essential to your success.
List Every Task You Need to Do
When you have things to do, it's essential to know what you are doing at any given time in the day. Listing out all the tasks you need to do on any given day is an excellent way to figure out how to organize each task and get it done the right way. Think of this just like Marie Kondo's method of organizing your bedroom. You need to be able to see everything you have before you can organize it and classify it.
Put Each Task in the Right Category
Try to put each task into a category that lets you know what it's for: personal or work. Then also identify whether this task is important, urgent, or something else. This is going to help you identify tasks that you can let someone else do, as well as identify tasks that you're doing that you can simply let go.
Move Urgent Tasks to the Top
When you notice that some of the tasks are urgent, put them up at the top. For some people, it helps to separate work from personal, but others prefer to just list tasks in the order by which they'll take care of them. You can make two lists, or you can put it all in one if you have correctly identified whether it's urgent or not.
Determine the Value of the Task
One of the things you must look at for each task is its value. This is easier to identify if it's a work thing. You know that putting an item that people can buy up for sale is going to make you money, so it has a high value. But you also know that taking your child to piano lessons is a high value task.
Know the Effort the Task Will Take
This is another important thing to note when you are organizing your tasks. It also helps to look at effort versus value to help classify a task. How long does something really take you to do? How much money does it cost you to outsource it? Identify all the resources any one task takes – whether it's you, someone else, money, or a product that helps with it (like maybe to do this task you have to use specialized software that is expensive to buy and hard to understand). In the last case, after studying the situation you may determine to outsource, for example.
For more Self Help PLR, click here.
Grab All of the Above at a BIG Discount Today!
Wait! I Forgot to mention…BONUSES!!
For the first 50 buyers of this Self Care Premium PLR Package, if you grab this PLR deal right now, you'll also get these FAST-ACTION BONUSES for a limited time only!
Bonus 1
5 High Quality Self Care During Menopause PLR Articles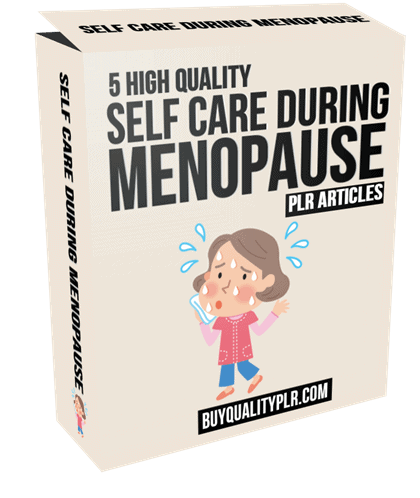 Here are the titles of the 5 Self Care During Menopause Articles:
8 Menopause Skin Care Tips (591 words)
Bone Health and How It's Affected During Menopause (597 words)
Focusing on Heart Health When Going Through Menopause (582 words)
Keeping Your Mind Active During Menopause (527 words)
Weight Management and Menopause: What You MUST Know! (668 words)
Bonus 2
Happiness Through Self-Care Sales Funnel with Master Resell Rights