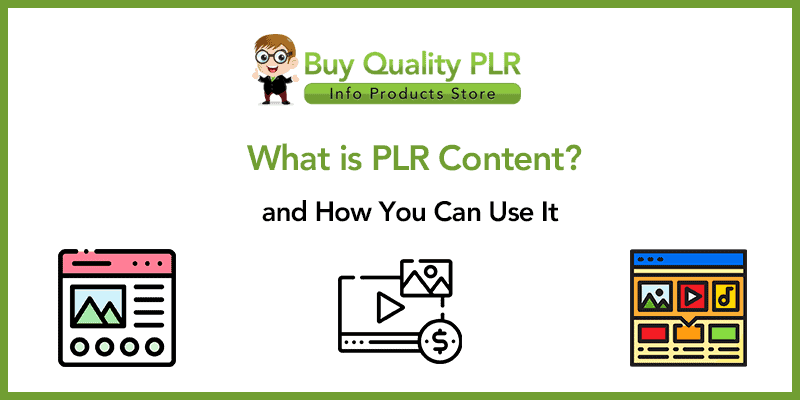 What is PLR Content, and How You Can Use It For Online Marketing
in
Affiliate Marketing, Blogging, Content Marketing, Digital Products, Internet Marketing, Lead Generation, Lead Magnets, List Building, Niche Marketing, PLR Content, Private Label Rights, Using PLR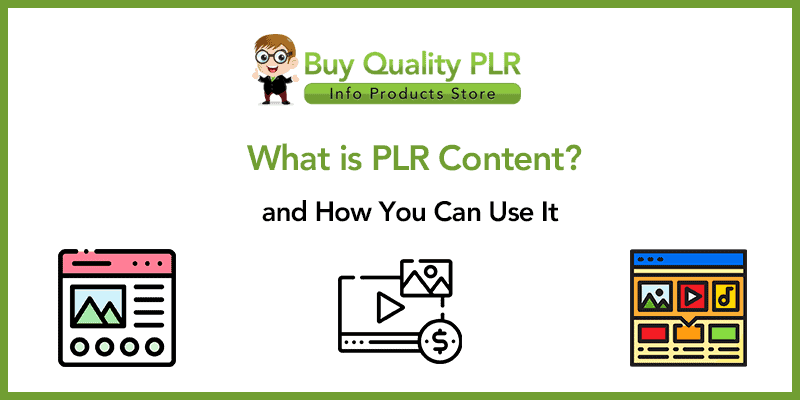 If you're just getting into the world of web content, or you lack the ability to create the great content your brand deserves, PLR is a great solution. In this guide, you'll learn what PLR means and how you can use it to build and grow your online business.
What Does PLR Stand For?
PLR is an acronym for private label rights; it's sometimes referred to as done-for-you or white label content. In simple terms, PLR means that the seller will let you use the content on your site or in your company as-is.
Most PLR sellers also give you the rights to edit and the rebrand the PLR content as you wish and sell it under your name and branding. They won't take the credit for it; in fact, most PLR sellers prohibit buyers from using their business name at all when reselling. PLR licensing differs from product to product and it's very important to read and understand your PLR license terms before buying.
These stipulations may run contrary to everything you've ever heard about plagiarism, but there's a notable difference: here, the retailer is selling you the right to use the video, article, or other type of content. Some sellers prohibit buyers from reselling the rights, while others require that changes be made before the content is sold again. If you're following the seller's terms, you're okay.
What Are PLR Articles?
PLR articles are pieces of content, typically 300-2000 words long. They come with a PLR or private label rights license, and these licenses have specific terms. Articles come in .txt or Word format, but the format you receive may vary depending on the package selected.
At Buy Quality PLR, you'll see the PLR article's title, topic, and file format at the bottom of the sales page. These articles are great for use on blogs, in autoresponders, for product creation, article and social media marketing, video creation, and much more. Their uses are only limited by your creativity! For more information about using PLR article content effectively – click here.
What are PLR Ebooks?
A PLR eBook is a digital book with a private label rights license, which means you can rework, rebrand, and sell the eBook as your own. They're typically more than 2000 words long and in Word format. The Premium PLR eBooks you find on Buy Quality PLR are usually over 10,000 words and include editable PSD covers. When selling PLR ebooks, you sell it in PDF format so that your customer cannot edit it. This means that your PLR license is non-transferable and the eBook is then sold with a personal use license (for learning purposes only).
Different eBooks have varying license terms, so it's important to read those terms before committing to buy. Most marketers use PLR eBooks as a squeeze page offer, in return for email list signups. However, they can also be sold for profit. You might even find PLR ebooks that allow you to sell in with a PLR license. This is very scarce and the quality of these unrestricted PLR eBooks are usually a lot lower than the quality of Premium non-transferable PLR eBooks.
Now that you've learned what PLR is, let's discuss some of the most common ways it's used in internet marketing…
Reworking It for Submission to Online Directories
Rewriting is one of the biggest benefits of PLR content, and with a few tweaks, it's easy to post fresh content to article directories and include links to your affiliate pages, blogs, and websites. Link building is a crucial component of a successful marketing plan, and PLR makes it easy. You can make your PLR unique by rewriting it yourself, or spinning your PLR with a content spinner. Remember, Google prefers unique content. So to give Google what it prefers, You can edit the content with your insights, add related videos and relevant images, and spin the PLR content. These are recommended tips for using PLR for traffic and get SEO traction from your PLR marketing contents. Important to note, lots of PLR licensing terms do not allow posting to article directories, so read your PLR license carefully to avoid issues.
Building an Email List
Building your list is critical. In order to start building an email list using PLR, you need to be offering something valuable (PLR digital product) your audience really wants or needs. To grow your list, offer a high quality lead magnet, like a report or ebook, and give it to your visitor in exchange for their email address and the permission to be able to email them. Building your email list is one of the most important things you need to do to be successful in any online business. The sooner you start, the better.
Use As a Bonus Item
PLR content makes a great gift with purchase or signup incentive. Ask site visitors to subscribe to your feed, and in return for that subscription, they'll get tons of useful content on a range of important topics. You can also use PLR products as a bonus to affiliate offers you're promoting, thus ethically bribing your visitors to buy through your affiliate links and increasing your affiliate conversion rates. This is a great tactic for affiliate marketers and is proven to increase affiliate sales.
Write an eBook
If you have PLR content, making an eBook is a great way to make money online without the hassle of writing it yourself. Simply assemble a collection of articles on the same topic, and you'll have an eBook to sell on your blog or website. You can add high quality PLR articles to make your ebook more meaty, without having to write a single word. Just make sure the PLR articles you're using make sense, helps your readers and is well written.
Creating Niche Websites
With access to great PLR content, it's easy to create niche websites. Define your target market, look for fresh, relevant content, and market products that solve readers' problems.
You can go even further as to create websites using PLR content, and then flipping the site with content, domain and hosting. Visit a site like Flippa.com to see how much people are selling and buying ready-made websites for. The more your website is earning, the more you can sell it for. There are even some sites that are sold without any revenue being made, because people know the niche of the site is profitable and can see profit potential. We have a free WordPress video course that we give to our subscribers as a free gift, be sure to join our email list if you want to learn to setup a WordPress website step by step.
Easy Site Updates
For many online marketers, creating new site and blog content is one of the most difficult things to do. You can only recycle old material so many times before it's time to find some new content. With private label rights, bloggers and site owners can easily come up with something new. Many marketers prefer to use PLR as a idea generator, then create completely unique content out of the PLR they purchased. This definitely speeds up the unique content writing process for many.
Growing Your Business
As a buyer of PLR content, you'll have instant access to rebrandable PLR eBooks, articles, blog posts, autoresponder emails, brandable coaching course content, checklists, and more. With this great white label material, you can generate targeted site traffic and maximize the growth of your business. Just remember to plan how you will use PLR before buying it, this way you'll avoid letting your PLR collect digital dust on your hard drive. In order to be successful with PLR, you have to put it to use and take action.
Becoming a Guest Writer
Though it's not necessary to do a lot of writing with PLR content, it does make it easier to post on ezines, blogs that allow guest posts, and social media. When links are included with these posts, the content can help you build a bigger online presence. Some people allow you to submit guest posts for free, and other charge you for guest posts. In order to use PLR as guest posts, you need to make the content unique else the webmaster of the site will reject it. This is because most quality guest posting sites only accept unique guest posts. Posting on social media can be done as is, and if you're posting with good related images and hashtags, you have a chance to get good traffic to your social posts.
Now that you've learned the PLR definition, and some ideas to putting your PLR contents to good use. Use the knowledge you've learned today and start planning how you will use PLR content in your business. With high-quality content from Buy Quality PLR, it's easy.