Walking Fitness Premium PLR Package - High quality walking for fitness PLR product including report, emails, articles and lots more. Over 50k words of ready-to-go walking PLR content that you can use to grow your business and educate your audience. This PLR Walking Fitness Content Pack includes fast-action bonuses for the first 50 buyers.
#walking #walkingplr #walkingfitness #walkingtips #walkingbenefits #walkingbenefits #fitnessplr #walkingprogram #walkingshoes #walkinggear #plrarticles #walkingworkout #walkingworkoutplan #workouts #walkingforfitness #loseweight #getinshape #cardiohealth #mentalenergy #walkinggear #bonedensity #articlecontent #plrreports #plrleadmagnet
Walking Fitness Premium PLR Product Package – Featuring Over 50 000 Words of Done-For-You Evergreen Fitness Content.
Attention: Health, Fitness & Wellness Entrepreneurs
Done for You Premium Fitness PLR Product on a EVERGREEN Topic:
Walking Fitness!
Dear online business owner, When it comes to top fitness searches, the walking niche is one of the most searched-for topics online.
It's safe to say that walking has spawned an entire industry of blogs, fitness courses and products.
This is where my premium done-for-you Walking Fitness PLR Package comes in. It's all about teaching your customers 10,000 Steps a Day to Fitness. Your Walking Workout Plan.
Everything is done-for-you – from the main Walking Fitness PLR info product to your social media updates – it's simply up to you to add your branding and firmly establish yourself in this lucrative fitness and walking niche. This Fitness eBook PLR package features over 50 000 words of professionally written walking fitness PLR content that is well researched and ready to be used in your business.
Introducing The
Walking Fitness Premium PLR Package
Featuring Over 50 000 Words of High Quality Fitness Content Ready To Be Used In Your Business!
This high quality guide to walking fitness PLR package covers the hugely popular fitness niche. Walking Fitness is evergreen and will always be. This PLR walking fitness content package is well-written by an experienced copywriter and comes with full private label rights so you can edit it, put your name on it, put your brand on it and sell it or use it to build your list of raving fans.
Here's everything you'll get in the Walking Fitness MEGA PLR Package…
Main report:"10,000 Steps a Day to Fitness (Your Walking Workout Plan)
(4,789 words, 7 images)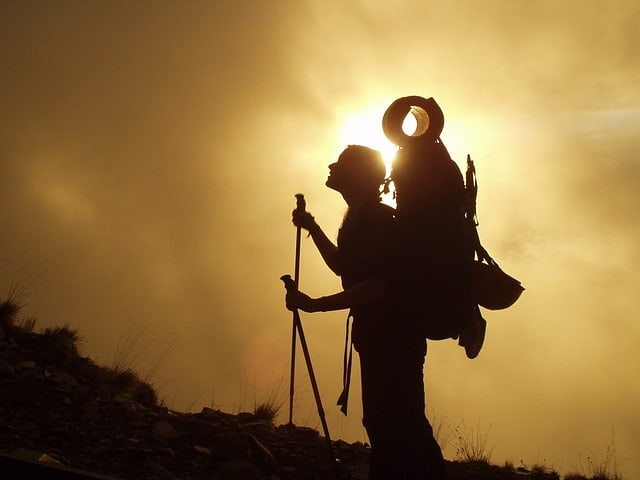 A look inside the 10,000 Steps a Day to Fitness Premium PLR eBook:

Table of Contents for the 10,000 Steps a Day to Fitness PLR eBook:
Introduction: The Surprising Benefits of Walking……………….. 2
Bone Density Improvements from Walking………………………………….. 2
Walking for Weight Loss…………………………………………………………………… 3
How Does Walking Improve Mobility and Flexibility?………………… 3
More Mental Energy and a Brighter Disposition………………………….. 3
Better Sleep, Cancer Reduction, Improved Cardio Health and More……………………………………………………………………………………………………… 4
More Good News!……………………………………………………………………………….. 4
How Walking Can Help You Lose Weight and Get In Shape….. 5
Pace Matters……………………………………………………………………………………….. 5
Add Oomph to Your Walk…………………………………………………………………. 6
Get Off The Beaten Path……………………………………………………………………. 6
How Long And How Far Do You Have To Walk To Lose Weight?.. 7
Getting Started with a Walking Fitness Plan…………………………. 8
Types of Walking to Investigate and Consider……………………………… 9
Shopping Trips and Your New Fitness Walking Gear………………… 10
Walking Alone or With Friends?…………………………………………………… 11
Tracking Your Progress………………………………………………………. 12
Pedometers and Activity Trackers……………………………………………….. 12
Journaling…………………………………………………………………………………………. 13
Sample Walking For Fitness Plan………………………………………… 14
Sample Content for 10,000 Steps a Day to Fitness PLR eBook:
Introduction: The Surprising Benefits of Walking
When it comes to exercise you might be surprised to learn how powerful walking can be. Walking not only increases your heart rate and cardiovascular fitness, it also improves your bone density and strength. This particular benefit is increased when you walk on uneven surfaces like trails or gravel paths.
Walking has mental and emotional benefits as well, and can help you reach your weight loss goals. Let's take an in-depth look at how fantastic a walking program can be for you and what 10,000 steps a day really looks like.
Bone Density Improvements from Walking
Did you know that without exercise, after the age of 40 your bone mass decreases by about 5% a year regardless of gender or ethnicity? That bone loss leads to debilitating diseases like osteoporosis.
Osteoporosis is "a disease in which bones become fragile and more likely to fracture. Usually the bone loses density, which measures the amount of calcium and minerals in the bone." (National Library of Medicine)
According to The Sport Journal, in the U.S., it has been estimated that by 2025 the number of hip fractures attributed to osteoporosis will double to nearly 2.6 million. And while women account for the majority of osteoporosis diagnosis and bone breaks, men account for 29% of the 2 million fractures that occur each year in the U.S.
It's all pretty scary. You don't want to break a hip or wrist, especially not when you're older and your recovery time can take months, if not years. The good news is that if we go back to the very first sentence in this section, you'll see that there's hope.
Walking is a weight-bearing exercise. That means that you're putting the weight of your body into each movement. Weight-bearing exercises actually slow down the bone density loss and delay or prevent osteoporosis. Now, you can't replace bone density but you can stop or dramatically reduce bone loss, and a good walk each day is a great way to get started.
Additionally, if you walk on uneven surfaces and you keep your eyes looking forward (rather than constantly focused on the ground) you'll improve your posture and your joint mobility and flexibility.
Note: The above content is just a snippet of the ebook.
Checklist: Start A Walking Fitness Program –
200 words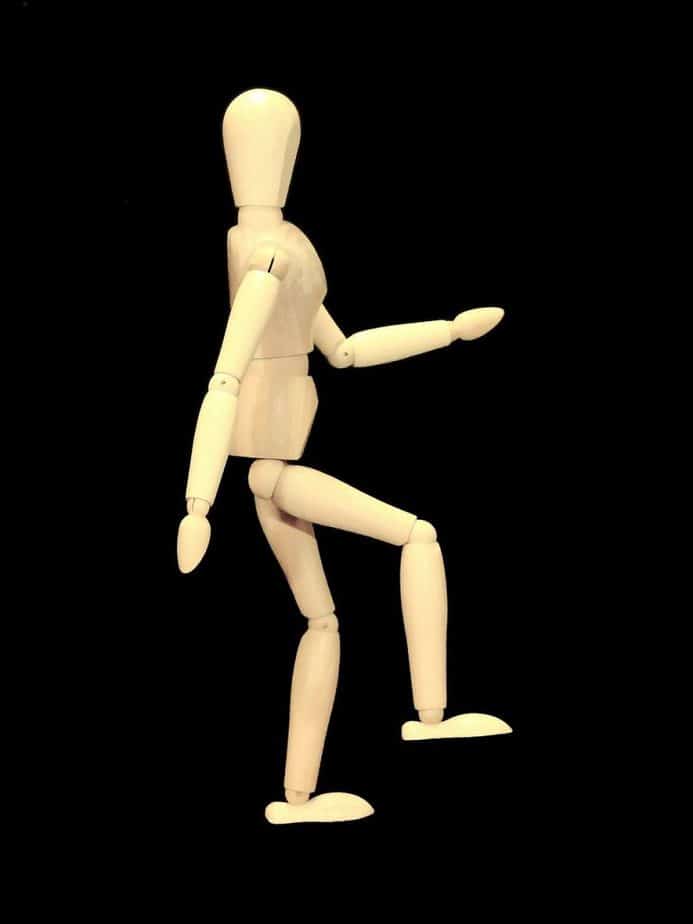 Product Reviews:
Apple iPod Nano – 401 words
Apple iPod Shuffle – 459 words
Nike+ FuelBand Se SportBand – 417 words
Omron Hj-113 Pocket Pedometer – 422 words
Omron HJ-203 Pedometer – 474 words
Polar Loop Activity Tracker – 419 words
Real Nordic Walking Poles – 434 words
Reebok Thumblock Wrist Weights – 410 words
Smart Health Walking FIT Heart Rate Watch – 416 words
UP24 by Jawbone – 426 words
High Quality Walking Fitness PLR Articles:
4 Walking Mistakes to Avoid – 400 words
A Guide to Healthy Walking Technique – 499 words
A Guide to Walking and Blood Pressure – 457 words
Combining Walking With Other Exercise – What Works Best for Weight Loss? – 409 words
How Fast Should You Walk for Fitness? – 433 words
How Fast Should You Walk to Burn Fat? – 426 words
How Many Calories Do You Burn Walking? – 459 words
How to Avoid Bulky Legs While On a Walking Fitness Program – 426 words
How to Breathe Properly When Walking – 424 words
How to Choose the Best Walking Shoes for You – 474 words
How to Get Your Family Involved in a Walking Fitness Plan – 456 words
How to Make Time to Walk More Each Day – 450 words
How to Make Walking A Habit – 411 words
How to Make Walking More Fun – 434 words
How to Track Your Walking Fitness Progress – 413 words
How to Walk Off Weight – 460 words
How Walking More Helps Prevent Diabetes – 446 words
How Walking Reduces the Risk of Heart Attack – 539 words
Walking Vs. Running for Overall Health and Fitness – 438 words
What's the Best Time of Day to Walk for Fitness? – 413 words
Walking Fitness PLR Article Sample:
How Many Calories Do You Burn Walking?
The number of calories while walking varies from person to person. You may walk the same route at the same speed with a friend who weighs about the same and is of similar age, and one of you will burn more calories than the other. Why is that?
The Other Variable
Besides weight, age speed and distance, the other variable is fitness level. If one of you is more fit than the other, the one that is most fit will have a higher basal metabolic rate (BMR), meaning that person naturally burns more calories at rest. While you can't directly control your BMR, you can increase it by improving your fitness level; this is where walking comes in.
Know Your BMR
Regardless if you are walking to lose weight or improve fitness, you have to know your BMR as a starting point. An online search for "Basal Metabolic Rate Calculator" brings up a host of options. Pick one and enter your information – height, weight and age (and sedentary, if it asks for fitness level). The results are the number of calories your body needs each day to maintain your current weight at your current fitness level.
For example, a female weighing 120 pounds, 30 years old and 5 foot 4 inches tall needs to eat 1700 calories per day to maintain her current weight. To lose a pound of weight per week, she has to burn 2400 calories per day.
Calories Burned Walking
So how far and fast does she have to walk to burn the additional 500 calories per day? On average, our example walking 3 mph for an hour burns 200 calories. And because speed is a factor, it makes sense that if she walked at a faster rate, she would have covered a greater distance over the same amount of time and would have burned even more calories. Having walked at 3.5 mph, would have burned an additional 50 calories.
Now before you think you are going to have to walk 2.5 hours per day, don't forget that household chores also burn calories, so they factor into your 500 calories per day burned. For example, 30 minutes each of daily activities, such as showering, making beds, doing dishes and laundry, burn over 400 calories. Add in your hour walk and you are at 600 calories burned for the day.
Sometimes all it takes is to add in an hour of brisk walking per day – walking with a purpose – to get the extra calorie burn you need to lose weight. As you become more fit, and your basal metabolic rate increases, so will the number of calories burned at the same activity level. So strap on your walking shoes and go for a walk!
Browse for more fitness PLR article packs at BuyQualityPLR.com
Social Media Posts & Images:
5 Shareable Social Media Inspirational Images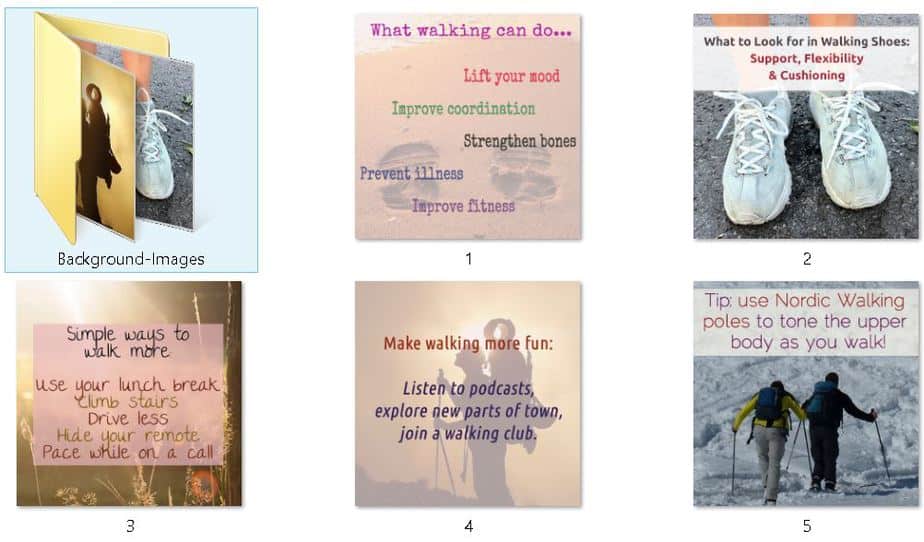 20 Social Media Posts (for sharing on Twitter or Facebook)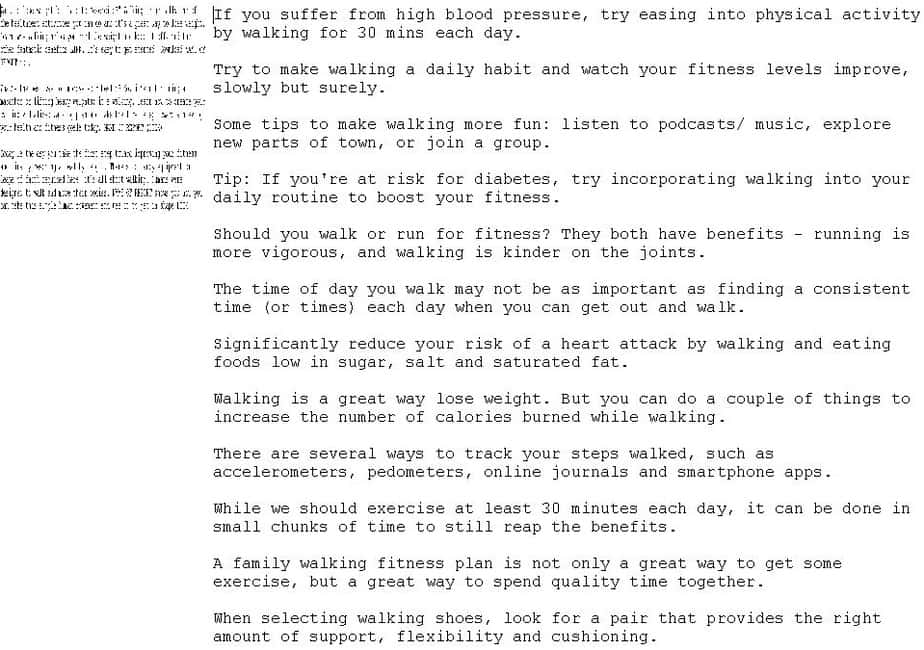 Images of All Products Reviewed

Walking Fitness Keyword Research Pack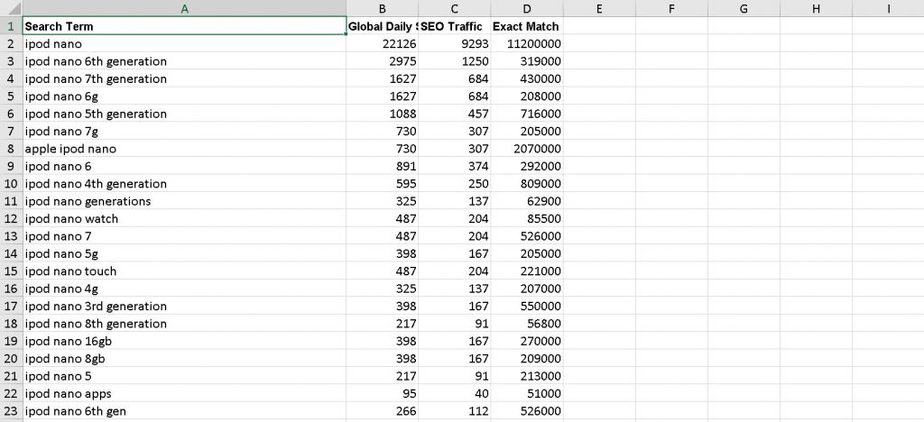 Bonuses:
10 Top Quality Walking PLR Articles and Tweets
1.Finding the Right Footwear – 484 words
2.How to Track Your Progress – 467 words
3.Nine Tips for Making Walking More Fun – 555 words
4.Setting SMART Walking Goals – 464 words
5.Speed Walking and Power Walking – Tips for Beginners – 490 words
6.The Many Benefits of Walking – 700 words
7.Tips for Walking in Inclement Weather – 701 words
8.Tips on How to Fit Walking into Your Daily Schedule – 629 words
9.Walking for Charity – 522 words
10.Walking to Lose Weight – 673 words
Includes 10 tweets for social posting.
These articles are available in .TXT format and includes a PLR license.
Top Quality Walking PLR Article Sample:
How to Track Your Progress
When you are truly committed to something, the best way to succeed is by making goals and then measuring and tracking your progress toward reaching those goals. Most life coaches love the saying, "If you fail to plan, you're planning to fail." And, whether you like it or not, that's the truth. If you want to succeed in your walking plans to improve your health goals, then track your progress.
Let's look at some different ways that you can track your walking progress.
* Buy a Pedometer – There are many different types of pedometers out there. You can get one for about ten bucks nowadays. A pedometer counts your steps for you so that you can simply wear it all day or when you are exercising to ensure you are getting as far as you want to get each day.
* Write in Your Calendar / Planner – A low-tech way (unless you use an online calendar) is to simply write down in your calendar how far you walked each day. That way you can ensure you're hitting your daily goals, which will also ensure you reach your long-term goals. Even if you are using an electronic means of tracking, sometimes it's more motivating to see your calendar filled with walking data.
* Join an Accountability Group – On Facebook and other social media platforms, there are numerous support and accountability groups for walkers that you can join. You can tell the group your goals and sometimes find a mentor that will hold you accountable in your walking goals.
* Get a Fun Tracker Like Fitbit – Fitbit.com offers not only an app that is essentially a pedometer, but also more features such as joining with others to track your walking, sharing your walking, and meeting up with others who love walking.
* Get Fun Personal Training Software – Need even more motivation to track your progress? A fun app that can help you stay motivated is called Endomondo. You can sign up for free, and it's like having a personal trainer in your pocket each day while you're also keeping track of your progress.
Link – https://www.endomondo.com/
* MapMyWalk – This is an app that tracks your walking progress. However, it's even more than that because you can find walking trails in cities across the world that you might want to try. Plus, you can keep track of your time and distance with the app.
Link – https://www.mapmywalk.com/app/
Tracking walking progress is essential to ensuring your success with walking for health issues. The only real way to be sure you are doing what you have set as your goal is to double-check your progress using any of these methods. If you write it down and look at it regularly, it will motivate you to do more.
15 Getting Started on Walking for Exercise PLR Articles
Try These 5 Tips to Forge A Proper Walking Technique – 498 words
Try These Support and Motivation Resources for Your Fitness Walking – 457 words
Use These 5 Tips to Increase Your Speed and Walk Faster – 471 words
Walking on The Treadmill-Here Are The Basics – 469 words
5 Things To Consider When Creating Your Own Walking Training Plan – 622 words
5 Walking Mistakes Youre Making and How to Avoid Them – 540 words
Choosing the Right Walking Shoes-What To Consider – 526 words
Get Started On Walking for Fitness With These 3 Simple Tips – 494 words
Getting Started With Race Walking – 473 words
Heres How Walking Helps You Lose Weight – 456 words
Nordic walking-How To Get Started – 478 words
Power Walking-Getting Started – 508 words
Take Your Walking Program to the Next Level With These 5 Ideas – 577 words
Talking A Walk For Exercise-Heres What You Need To Get Started – 478 words
These 3 Powerful Benefits of Walking Will Surprise You – 454 words
These articles are available in .TXT format and includes a PLR license.
Getting Started on Walking for Exercise PLR Article Sample:
Choosing the Right Walking Shoes-What To Consider
The better your walking shoes the more comfortable you'll be. In fact, your shoe choice can make a big difference in your fitness walking experience. Choose wisely and you'll avoid injury and you'll recover more quickly. You'll be fresh and ready to walk again the next day. Here are a few savvy tips to help you choose the right walking shoes.
#1 Know your foot shape and size.
Your foot is very unique, almost like a finger print there isn't another foot exactly like it. However, there are three basic foot types. They include:
* Flat Feet
* High Arches
* Neutral Arches
Your arch style generally affects the way your foot meets the ground. For example, if you have flat feet then your feet will likely hit the ground on the inside of your foot. You'll under pronate. If you have high arches then your foot will strike on the outside of your foot or over pronate.
You can tell by looking at the bottom of your shoes. If they're worn on the inside or outside edges then you likely have an over or under pronating foot strike. Walking shoes are designed to help your foot have a neutral foot strike. This creates less impact and stress on your bones, joints and muscles.
If you have wide feet then you'll want to buy shoes designed for wide feet. And the same holds true for narrow feet. Finally, make sure the shoe is the right size. This often means buying a half size bigger than you normally wear. Your feet will swell and spread out as you walk. You don't want your toes bumping against the end of your shoe by the end of your walk.
#2 Shoe Type/Walking Type
Different types of walking require different types of shoes. For example, if you're going to be walking on trails or hiking then you're going to want shoes that are designed to navigate trails. They'll likely have more rugged soles for traction. Ultimately you want to make sure your walking shoes are lightweight.
You also want them to be flexible. Rigged soles are best left for hiking boots. And you also want them to be relatively flat. Many running shoes have a thick heel to cushion heel strike. This isn't necessary for walking and can negatively affect your foot strike.
#3 Trying Them On
Shop for walking shoes at the end of the day. Your feet are larger at the end of the day. This way you'll be sure you're buying shoes that won't be too small or tight. Also try your walking shoes on with the socks you'll be wearing. This is important. You want to be able to feel where your shoes will rub and make sure they don't cause blisters.
When you try on your shoes be sure to walk around the store in them. This is important because you want to get a good feel for them. Look for places where they are tight, loose or where they rub. Walking is great for your health and vitality. Start your walking program with a good walking shoe.
15 Using The Treadmill PLR Articles
Walking For Fitness
7 Important Accessories Your Treadmill Should Have – 569 words
Answer These 4 Questions To Determine How Often Should You Run – 470 words
Determine If A Manual Foldable Walking Treadmill Is Right For You – 453 words
Find Daily Motivation To Run With These Fun Ideas – 522 words
How Does The iFit Live Technology For Treadmills Work – 448 words
How To Choose A Gym Quality Treadmill On A Budget – 429 words
How To Keep your treadmill in tip top shape – 451 words
How To Make Your Treadmill Running More Effective – 530 words
How To Set Up a home gym in a small space – 526 words
How To Step Up Your Fitness Routine With The Precor 9.33 Premium Series Treadmill – 456 words
The Fitness BFT50 Walking Treadmill Makes Walking A Simple And Easy Fitness Program – 494 words
These Are The Benefits You Get From Working out at home – 512 words
These Are The Three Features Your Treadmill Must Have, And Three You Can Do Without – 492 words
Treadmill Reviews-The Sole F83 Treadmill (2009-2010 Model) – 505 words
These articles are available in .TXT format and includes a PLR license.
Using The Treadmill PLR Article Sample:
Find Daily Motivation To Run With These Fun Ideas(plus a review of the NordicTrack A2750 Pro)
It takes great discipline to get on a treadmill every day and work out. You know there are health and fitness benefits to working out. Yet sometimes it's just not enough. Sometimes you need a little extra push to motivate you. Consider these three suggestions to find motivation to run.
#1 Music
Many people find that music is the key. Turn it on while you're getting ready to run. Find music that makes you feel good. Or look for music that has a heart pumping beat. There are many podcasts created specifically for runners. One such podcast is PodRunner. You can find PodRunner and other podcasts at iTunes. They're free!
Handy MP3 players are now small enough to fit into your pocket. You can also buy an armband for the larger music players.
#2 Competition.
Sign up for a race and you'll suddenly have the motivation to run. You'll want to train to not only finish the race but to finish it well.
You can also compete with your friends online or off. Run together or simply compete to see who can log the most miles in a week or month.
#3 Make it Easy.
One of the simplest ways to make running easy is to buy a treadmill for your home. You don't need to pack a gym bag, pay a membership or worry about the weather. You can run any time you want to. And if you buy one of the new technologically advanced treadmills they come with so many cool gadgets you may never get off your treadmill.
NordicTrack A2750 Pro
One of the newest and most advanced treadmills is the NordicTrack A2750 Pro. This treadmill has so many cool features it makes running entertaining.
For example, the NordicTrack A2750 Pro integrates with the iFit program. This program enables you to have custom designed workout programs by Jillian Michaels. You can also integrate it with the Google Maps workouts and run on a course you've designed yourself. Or choose a course designed by someone else. You can run through the streets of Paris or the mountains of Vermont. You can run on the beach or through your favorite shopping district. You can also run famous race courses including marathons.
This treadmill also has a touch screen display and a port for your iPod and an advanced sound system so you can blast your motivational music without distortion. Of course it also offers the standard expected from a quality treadmill including a powerful yet quiet motor, cushioned support and an incline that climbs to 12 degrees. You can choose from 22 programmed workouts too.
With the right treadmill, you might have all the motivation you ever need. The NordicTrack A2750 Pro may be the answer to your treadmill dreams. And you might be surprised at the price. Runner's World Magazine called it the "Biggest Bang for the Buck." If you're in the market for a treadmill and you know you struggle with motivation, check out the NordicTrack. It's great technology at a good price.
Walking and Heart Health PLR Pack 
Walking and Heart Health PLR Articles:
Fitness Tips for Heart Healthy Kids – 476 words
Getting the Kids Excited about Eating Healthy – 487 words
Heart Disease – 506 words
Heart Health Tips for Men – 500 words
Heart Healthy Nutrients for Athletes – 475 words
Heart Healthy Tips for the Elderly – 481 words
Heart Healthy Tips for Women – 502 words
Heart Screening – 431 words
How to Make a Heart Healthy Home – 434 words
The Importance of Cardio Exercise – 435 words
These articles are available in .TXT format and includes a PLR license.
Walking and Heart Health PLR Article Sample:
Heart Disease – An Overview
Heart disease remains the leading cause of death in the nation. While some cases of heart disease may have a family history behind it, there is much that we can do to prevent heart disease in the future.
A basic understanding of heart disease is a good place to start.
Coronary Heart Disease
When the small blood vessels of the heart become clogged, it causes narrowing of these blood vessels. Plaque will build up and cause what is known as hardening of the arteries.
When fatty materials begin to deposit into the arteries, it becomes difficult for blood and oxygen to reach the heart through those pathways. The end result is that the heart cannot receive vital blood and oxygen and a heart attack may occur.
While many factors such as family history go into coronary heart disease, there are also ways to prevent or diminish the chances of this illness. Since heart disease is the number one cause of death in both women and men, learning as much as you can about preventative measures is a wise and healthy choice.
Symptoms
Some symptoms that you should be aware of when it comes to the health of your heart may be noticeable, while other symptoms are subtle. In either case, if you have any kind of symptom, a visit with your doctor is imperative.
* Shortness of breath – Shortness of breath could develop from anything from heart disease to asthma. If you are short of breath, do not hesitate to visit your physician. You may be able to ward off something more serious in the future. Do not take it for granted that you are just getting on in years. Visit your doctor.
* Dizziness or fainting – Dizziness or fainting are symptoms that something is amiss in your body. If you have both dizziness and fainting and shortness of breath, this warrants an immediate visit to your physician. Do not put it off.
* Pressure – Pressure associated with heart disease is a tell-tale sign of something wrong. Pressure in your chest or in your arm, neck, and shoulders could be indicative of heart disease.
* Fatigue – Sometimes we view fatigue as something that will go away on its own. However, if you have fatigue, it could be your body warning you that something is going wrong somewhere down the road. You may be able to ward it off if you act early enough.
Visiting Your Doctor
If you have any or all of the symptoms listed above, a regular check-up will not hurt you. It is better to be wrong and say something than to be right and saying nothing. Your doctor has many ways of evaluating you:
* An electrocardiogram
* An echocardiogram
* A Heart stress test
* A Heart CT scan
These are just a few of the many things available.
Once the diagnostic tests are complete, your physician can properly treat your particular situation. However, as with any other disease, act early to prevent a worsening situation later.
10-Day Ecourse Walking Your Way to Fitness – 3449 words
Walking Your Way to Fitness PLR Report – 4580 words
Browse for more fitness PLR ebook packages at BuyQualityPLR.com
Grab All of the Above at a BIG Discount Today!
Wait! I Forgot to mention…BONUSES!!
For the first 50 buyers of this Walking Fitness Premium PLR Package, if you grab this PLR deal right now, you'll also get these FAST-ACTION BONUSES for a limited time only!
Bonus 1
10 Top Quality Warm Weather Fitness PLR Articles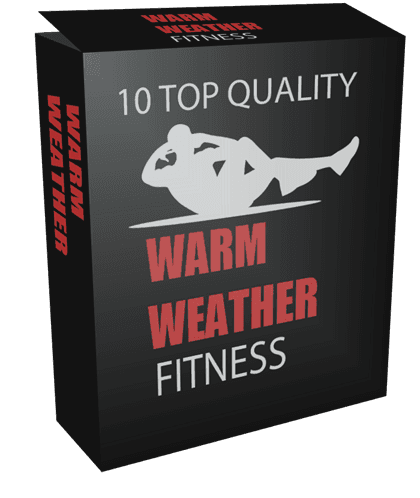 Here are the titles of the 10 Quality Warm Weather Fitness PLR Articles:

Fitness Activities for Your Kids This Summer
Get Fit with Summer Games
Get in Shape with Bike Riding
Health and Fitness Tips for Summer
Summer Fitness – Hiking and Walking
Riding Your Way to Summer Fitness on Horseback
Fun Family Fitness – Kayaking!
Rock Climbing for Fitness – What You Should Know
Fun Summer Activities That Keep You Fit
Swimming for Fitness This Summer
Bonus 2
Top Quality Beginners Guide to Walking PLR Report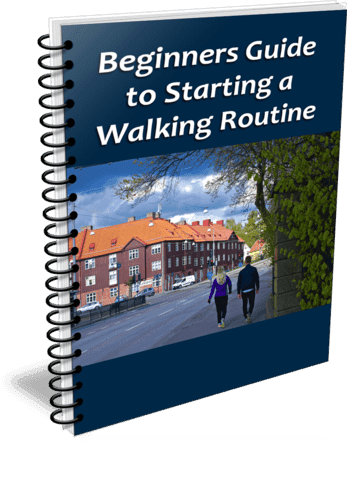 Here Are The Titles Of The Product Name The Top Quality Beginners Guide to Walking PLR Report

•The health benefits of walking
•Walking while pregnant
•Getting the right shoes
•Necessary equipment
•Walking safety
•Tracking your progress
•Mixing it up
Bonus 3
Top Quality Walking PLR Email eCourse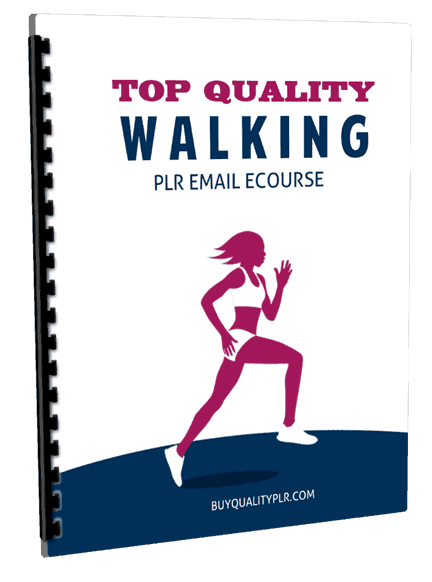 Package Details:
10 Walking Email Messages (Text Format)
Download File Size – 195 KB
Bonus 4
The Running Manual Sales Funnel with Master Resell Rights