Running Your First Race Premium PLR Package- High quality Running a Marathon PLR product including ebook, report, emails, articles and lots more. Over 36k words of ready-to-go running PLR content that you can use to grow your business and educate your audience. This PLR Running Your First Race Content Pack includes fast-action bonuses for the first 50 buyers.
#running #runningplr #runningfitness #runningtips #runningbenefits #marathon #marathonplr #runningprogram #runninginjuries #runningshoes #runningarace #runningmarathon #runningtraining #myfirstrun #blogcontent #listbuilding #healthandfitness
Running Your First Race Premium PLR Product Package – Featuring Over 36 000 Words of Done-For-You Evergreen Fitness Content.
Attention: Health, Fitness & Wellness Entrepreneurs
Done for You Premium Fitness PLR Product on a EVERGREEN Topic:
Fitness Training!
Dear online business owner, When it comes to top fitness searches, the running niche is one of the most searched-for topics online.
It's safe to say that running has spawned an entire industry of blogs, fitness courses and products.
This is where my premium done-for-you Running Your First Race PLR Package comes in. It's all about teaching your customers A Practical Guide to Help You Smash Your 5K, 10K, Half Marathon or Marathon.
Everything is done-for-you – from the main Running Fitness PLR info product to your social media updates – it's simply up to you to add your branding and firmly establish yourself in this lucrative fitness and running training niche. This Fitness eBook PLR package features over 36 000 words of professionally written running a race PLR content that is well researched and ready to be used in your business.
Introducing The
Running Your First Race Premium PLR Package
Featuring Over 36 000 Words of High Quality Fitness Content Ready To Be Used In Your Business!
This high quality guide to running your first race PLR package covers the hugely popular fitness niche. Running Training is evergreen and will always be. This training for a marathon PLR content package is well-written by an experienced copywriter and comes with full private label rights so you can edit it, put your name on it, put your brand on it and sell it or use it to build your list of raving fans.
Here's everything you'll get in the Running Your First Race MEGA PLR Package…
Main eBook:"Training for Your 1st Race – A Practical Guide to Help You Smash Your 5K, 10K, Half Marathon or Marathon"
(5,787 words, 22 pages, 9 images)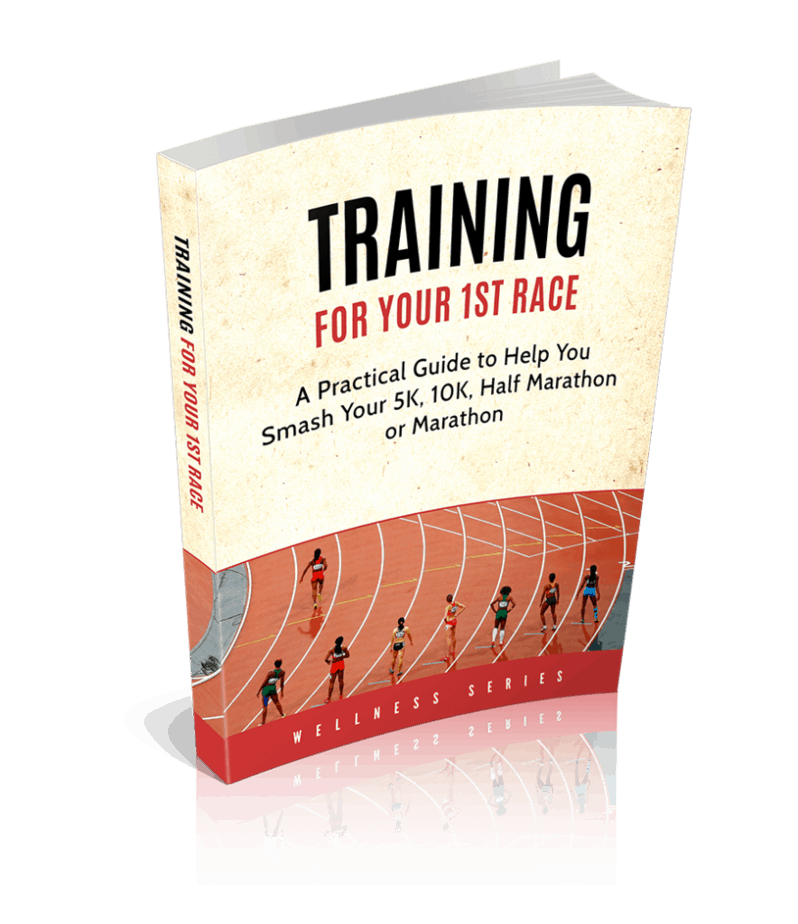 A look inside the Training for Your 1st Race Premium PLR eBook:

Table of Contents for the Training for Your 1st Race PLR eBook:
Introduction……………………………………………………………………………………………………. 3
Which Race is Right for You?…………………………………………………………………………….. 5
Couch Potato to 5K…………………………………………………………………………………………. 5
First Race Considerations…………………………………………………………………………………. 6
Realistic Goals……………………………………………………………………………………………….. 7
Planning in Advance………………………………………………………………………………………… 8
First-Timer Prep Time……………………………………………………………………………………… 8
Weekly Training Distances That Will Prepare You for Each Race……………………………….. 8
Gear…………………………………………………………………………………………………………….. 9
Where to Run………………………………………………………………………………………………. 10
Should You Consider Fund-Raising?………………………………………………………………….. 10
Getting the Most Out of Your Training…………………………………………………………….. 11
Diet, Diet, Diet……………………………………………………………………………………………… 11
Popular Training Apps……………………………………………………………………………………. 11
Sleep Is Important………………………………………………………………………………………… 12
Remember That You Are an Adult……………………………………………………………………. 12
Dealing with Injury………………………………………………………………………………………… 13
Nutrition & Hydration During Your Race………………………………………………………….. 14
Tapering & Preparing for the Big Day………………………………………………………………. 16
Prepping Your Clothing………………………………………………………………………………….. 16
What is Tapering?…………………………………………………………………………………………. 17
Race Day Tips………………………………………………………………………………………………… 18
Recovering from Your Race…………………………………………………………………………….. 19
Example Training Plans…………………………………………………………………………………… 20
For All Races………………………………………………………………………………………………… 20
– 5K Training Plan…………………………………………………………………………………………. 20
– 10K Training Plan……………………………………………………………………………………….. 20
– Half Marathon Training Plan…………………………………………………………………………. 21
– Full Marathon Training Plan………………………………………………………………………….. 21
Important Points………………………………………………………………………………………….. 22
Sample Content for Training for Your 1st Race PLR eBook:
Introduction
In 2015 more than 17 million adults finished a running event in the US. Of course, that number is much higher, since not every race sends its participants' info to RunningUSA.org, the compiler of this data. Of those runners whose data was collected, 57% were female and 43% male. That distribution follows the trend over the past 5 years that shows women are more inclined to sign up for, compete in and finish some type of running event than men.
What type of events are the most popular?
The 5K, 10K, half marathon and full marathons are far and away the most participated in among running races. This is probably because those are the types of races which are most frequently offered as well. The trend over the past 5 years of women dominating the amateur running scene is one of the reasons the 5K has become the most popular race.
In 2015 a full 45% of the finishers in all running races tracked came from a 5K event. The half marathon was the next most popular to enter and finish, followed by a 10K and a full marathon.
Let's take a look at the UK and elsewhere around the globe. Jens Jakob Andersen, of the Copenhagen Business School, has done some global running research. He shows that while running in the UK is down slightly, almost imperceptibly from 2014 to 2015, running around the world has increased substantially. Globally, 13% more runners participated in a marathon last year than the previous year.
In Russia there was an incredible 300% increase of participants year to year, while China (260%) and the Philippines (212%) also showed significant increases. The female versus male ratio which has been changing the last few years is present in the UK and elsewhere, and not just the United States. This seems to be more of a re-balancing than any trend that needs to be studied too hard.
Note: The above content is just a snippet of the ebook.
Short Report:"Top 10 Tips for Preventing Running Injuries"
(1,731 words, 7 pages, 5 images)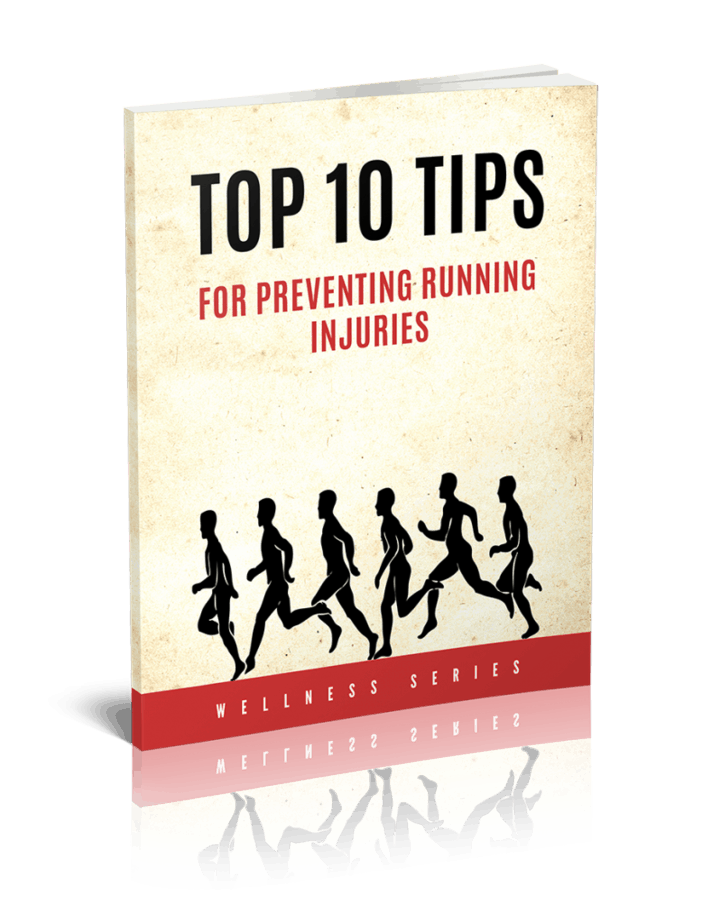 A look inside the Top 10 Tips for Preventing Running Injuries PLR Report:

Product Reviews:
ASICS Men's GEL Venture 5 Running Shoe – 650 words
"Eat and Run: My Unlikely Journey to Ultramarathon Greatness" by Scott Jurek – 698 words
Complete Mobility Kit – 578 words
Eazymate Fashion Running Belt – 593 words
Garmin Vivoactive HR GPS Smart Watch – 914 words
Product Comparison Review:
Top 5 Running Watches – 1761 words
5 Emails/ Blog Posts:
Topic: The Absolute Beginner's Guide to Running
Email1-Beginning Runners Should Start Slow But What Does That Really Mean – 271 words
Email2-What Part of the Day Is Best for Buying Running Shoes – 287 words
Email3-New Runner Tip Learn Proper Form First – 279 words
Email4-New Runner Tip Get a Partner – 282 words
Email5-New Runners Record Everything But Dont Obsess Over the Results – 304 words
Running Your First Race Email Sample Content:
Beginning Runners Should Start Slow|But What Does That Really Mean?
Hi,
If you hear that a beginning runner should "start off slow" one more time, your head is going to explode!
You know this. You understand that you are a beginning runner, so you will not be qualifying for the Boston Marathon a week after you start running. Since this is common sense, why do you hear it preached over and over again to people who are just beginning a running practice?
The answer is because it is so extremely important.
Almost everyone that attempts any type of physical activity after being sedentary overestimates their abilities. You decide you are going to start running for health reasons, you get mentally charged up, and you can't wait to begin.
Even though you tell yourself you're going to start slow, your positive energy and enthusiasm can get you into trouble. Remember, however far or fast you run the very first time out is okay. It took you a while to get your body out of shape, and it is going to take some time to become healthy once again.
You should not feel embarrassed or underwhelmed if you do not run very far when you are first beginning. This isn't about distance or speed. You are running probably to produce some sort of positive health result. That means that you honor the process, which begins with you running consistently and on a regular schedule, but starting off with shorter distances at first.
This may even include alternating periods of walking and running when you first start out.
To your success,
YOUR NAME
High Quality Running Your First Race PLR Articles:
3 Reasons Why Signing Up to a Race is the Best Way to Improve Your Running – 425 words
4 Things You Need to Do on Race Day – 464 words
4 Tips for Good Running Form – 493 words
4 Ways to Improve Your Running Without Running More – 402 words
5 Tips for the Perfect Taper Before a Race – 419 words
6 Fund-Raising Tips for Charity Races – 464 words
6 Tips for Women to Stay Safe When Running Alone – 451 words
8 Easy Recovery Meals After a Long Run – 428 words
Different Types of Training Runs: Easy, Long Run, Tempo & Fartlek – 456 words
Do Runners Improve with Age? – 427 words
Gaining Weight While Training for a Marathon? Here's Why – 756 words
How Long Does It Take to Train for Different Races? – 440 words
How to Avoid Chafing When Running Long Distances – 445 words
How to Deal with Injuries on a Race Training Plan – 458 words
How to Practice Your Long Run Nutrition & Hydration – 533 words
How to Use a Foam Roller to Stretch After Running – 404 words
How Training for (and Running) Races Affects Your Immune System – 431 words
What Should You Eat the Day Before a Long Race? – 503 words
Why You Should Run Your Long Runs Slowly – 434 words
Why You Should Use a Training Plan for Your Upcoming Race – 475 words
Running Your First Race PLR Article Sample:
4 Things You Need to Do on Race Day
Race day is tough as it is, but it can be even tougher if certain things are not heeded that day. Here are four things to think about that many seasoned long distance runners consider key to their performances:
Eat light before the race
Many runners eat twice before the starting gun goes off. Upon rising, they will have a 200-calorie carb-based snack, like a slice of whole-wheat toast and 2 teaspoons of peanut butter, or oatmeal, 1% milk and half a banana.
Then an hour before the race starts, they will eat again – like a quick 200-calorie energy bar. In both cases, they go for the carbs. Your body has "fasted" during the night so you want to carb-load before the race. You want to have as much glycogen as possible that your body can use for fuel before it turns to using fat (and slow down your pace time).
Wear familiar gear
Race day is not the time to debut a new pair of high-tech running shoes or even a new running outfit. Either could rub you the wrong way making the race anywhere from miserable to not being able to finish due to intense pain. If you are going to wear something new, be sure you have tested it first on one of your long races to ensure fit and resistance to skin chafing. Speaking of clothes, don't wear anything cotton to include underwear. Go instead for any of the newer moisture-wicking fabrics.
Eat/drink during the race
Most people do not have enough glycogen storage capacity to complete a full long race of at least two hours. To carry you through to the end (or at least farther down the road), eat a high carb energy bar mid-way to delay the burning of fat. A couple hundred calories may be all you need to sustain you to the end.
Water is the catalyst necessary for your body to keep your muscles working. Even a 2% to 3% loss of body weight due to water loss is enough to alter your pace negatively. A good rule of thumb is to bypass the first water station (because everybody is already stopping there) and choose one further down the road that is less crowded. You'll be able to grab something faster without impacting your time. Keep hitting the water stations as you progress along the race.
Maintain your pace
With everyone starting off faster than they should, it is easy to get caught up with keeping up with the group. Don't do it; run your own race by keeping to your pace time. Steady wins every time!
Use this advice as a guideline to four important things you should do prior to and during a race. They can make a difference in your performance.
Browse for more fitness PLR article packs at BuyQualityPLR.com
Social Media Posts & Images:
5 Shareable Social Media Graphics (PLR)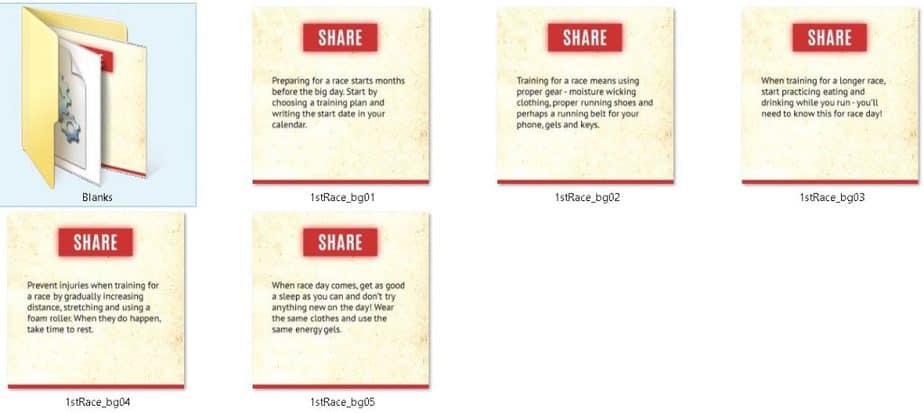 5 Shareable Social Media Inspirational Images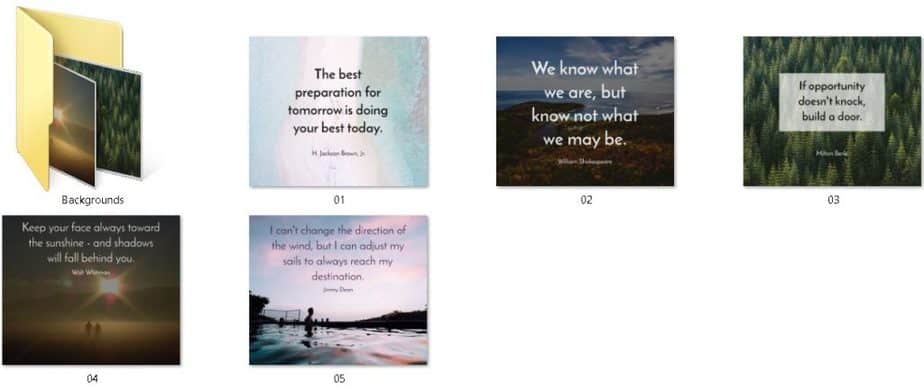 20 Social Media Posts (for sharing on Twitter or Facebook)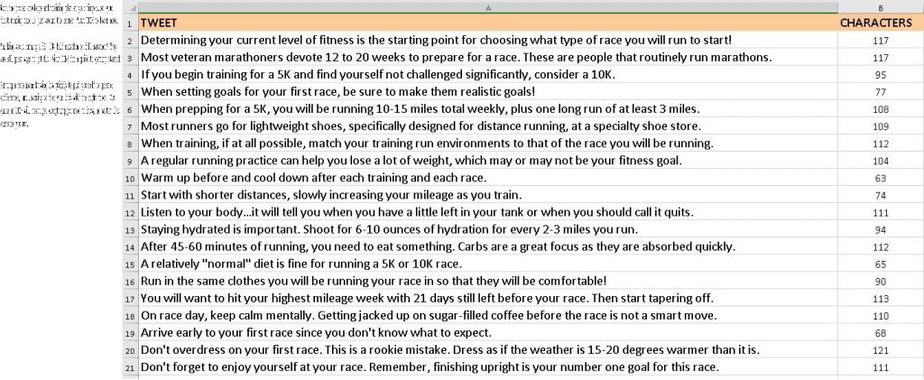 14 Royalty Free Images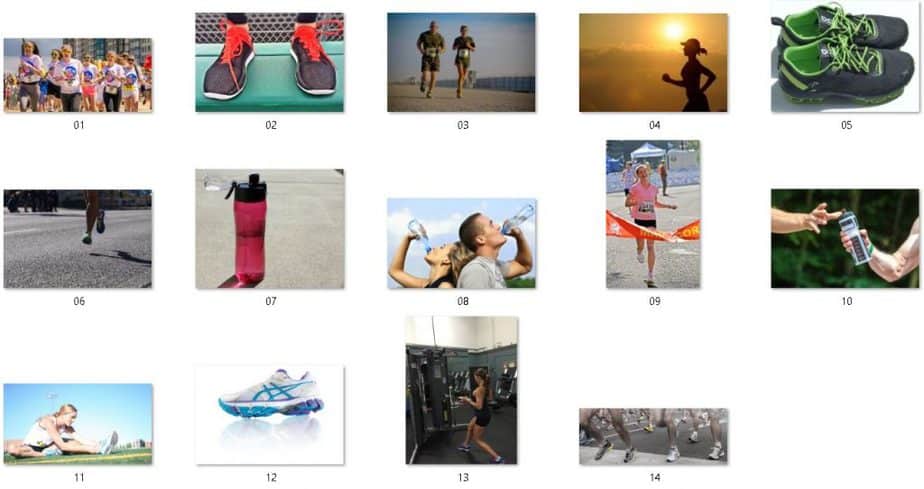 Images of All Products Reviewed

Running Your First Race Keyword Research Pack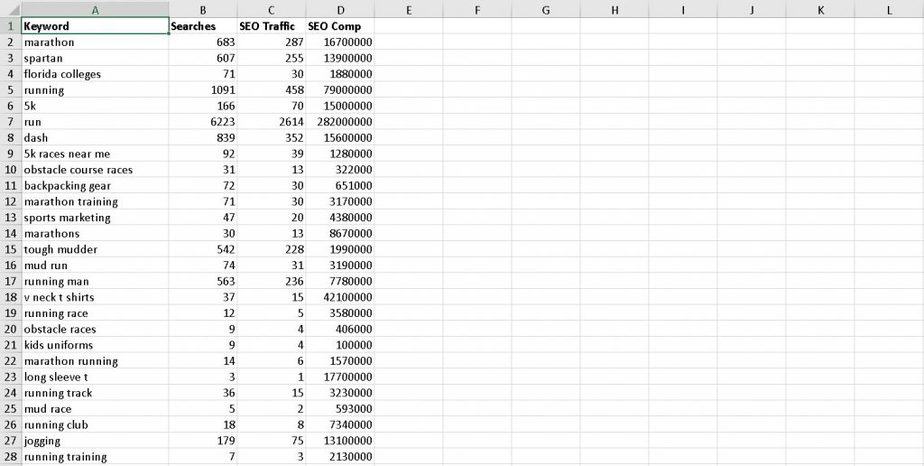 Bonuses:
New Runners PLR Checklist
Checklist for New Runners PLR (468 Words)
Comes in Word Doc and PDF Format.
Checklist for New Runners PLR Article Sample:
The New Runner's Checklist
Are you just getting started with running as a form of exercise, or to produce a specific health benefit? If so, good for you. Running is an exercise that just about everyone can perform, and it produces better health in a number of ways. You can run at your own speed, and don't have to compare yourself to others. Beginning runners can benefit from fewer injuries, better performance and a better overall experience when they remember the following tips.
☐ Remember the runner's rule, "Cotton Is Rotten." This means no cotton socks or clothes. Stick with "technical fabrics" instead, including nylon, Lycra and polyester.
☐ Practice the "Cinderella rule" when dressing up for a run. Everything should feel "just right", not too tight, not too loose.
☐ When running outside, imagine it is 15 to 20 degrees hotter than it actually is. This will keep you from overdressing.
☐ If you are just starting out, don't "beat yourself up" mentally about your performance. Continue to run regularly, and you will run longer and faster eventually.
☐ Trade in your shoes every 500 miles. Around mile 400 or 450, purchase a new set of shoes and start breaking them in.
☐ Don't forget the sunscreen. This includes not just lotions to protect against the damage of the sun's rays, but possibly a hat, sunglasses and long sleeves and pants.
☐ Stay hydrated. If you run in an organized race, hydration will probably be provided. This is not the case when you are training, so get a good water bottle.
☐ Purchase your running shoes in the evening. Your feet swell throughout the day, and are larger in the evening than in the morning. Purchasing running shoes in this way means your shoes will not become too tight when you run, which prevents injuries.
☐ Before a half marathon, marathon or a longer distance run, taper down your distance and frequency. With 21 days to go before race day, gradually run less, for better performance and fewer injuries.
☐ As you run more and more you are going to need more calories and carbohydrates in your diet.
☐ Running a a 5K or 10K race doesn't necessarily require a lot of hydration, or any eating, during the race.
☐ When running a half marathon or marathon, hydrate first around the 5K mark, and eat something after you have been running for approximately 45 minutes.
☐ Warm up before running by stretching, and cool down after by walking for 10 to 15 minutes.
☐ An ice bath once you return home after a long run is a good way to help your body, and your muscles, cool down and return to normal.
☐ If at all possible, get your race packet before the day of the event.
Guidelines for Running for Health and Fitness PLR Report (7468 Words)
Comes in .TXT, Word Doc and PDF Formats. Includes PLR License.
Table Of Contents for the Guidelines for Running for Health and Fitness PLR Report:
Over the next twenty pages you'll discover…
The benefits of running – including a better sex life!
How to find your reason for running
How to get and stay motivated to run
How to track your runs, and why it's important
If barefoot or minimalist running is right for you
How to sign up for your first race
Why you may choose to run on a treadmill
How to find the perfect shoes for your feet
New running apparel choices to consider
How to calculate your MHR or Maximum Heart Rate
How to set your personal running goals
What type of running is best for you
How to get off the couch and start running pain free
How to increase your speed
What to do before and after your run
How to stay hydrated
How to prevent the most common running injuries
How to take your running program to the next level
10 Top Quality Running for Beginners PLR Articles V2
Running for Beginners PLR Article Titles:
How Many Calories Are Burned Running? – 556 words
Running Program For Beginners – 568 words
The Pros and Cons of Treadmill Running – 554 words
Treadmill Running Tips Make Indoor Running Safe and Fun – 541 words
Top Five Running Tips For Beginners and Practiced Runners Alike – 519 words
Five More Running Tips For Beginners and Practiced Runners Alike – 501 words
How To Choose The Perfect Pair Of Running Shoes – 631 words
How To Choose Your New Adidas Running Shoes – 406 words
Running Gear Suggestions for All Seasons – 724 words
Tips For Buying Nike Running Shoes – 590 words
Comes in .TXT format and includes PLR License.
10 Top Quality Running for Beginners PLR Article Sample:
How To Choose The Perfect Pair Of Running Shoes
One of the first purchases new runners typically make are running shoes.  It's a pivotal moment where you go from thinking about running to actually taking steps to do it.  That being said, not any old running shoes will do.  To train successfully, without injury or pain, it's important to choose the right shoes for your feet and running style.
Four primary types of running shoes
There are four main types of running shoes.  Each is designed for a different type of running.  They include:
* Motion-control shoes
* Stability shoes
* Cushioned shoes
* Lightweight training shoes
Motion control shoes are rigid shoes designed to offer maximum stability.  They're a good shoe if you have flat feet, are on the heavy side, or tend to run on the inside of your feet.
Stability shoes offer a blend of support and cushioning.  They offer support on the inside of the shoe and are designed for normal weight people who don't need a lot of motion control.
Cushioned shoes offer the least support along the inside of the shoe however they, as the name implies, offer the most cushioning.  If you run on the outside of your feet, underpronate, or have high arches then these may be the right shoes for you.
Lightweight training shoes are designed for experienced long distance runners.  If you're just getting into running these won't be for you – yet.
So which shoe is right for you?
Shoes are designed to situate your foot into the optimal running position.  This means your foot is neutral, hitting the ground without rolling to the outside or the inside of your foot, also known as overpronating and underpronating.  The better your foot positioning, the less likely you are to receive injuries, the better you'll feel and the longer you'll be able to run.  Improper foot positioning can cause joint injuries, muscle strains and sprains, and blisters.
There are essentially three foot types which often dictate your foot position when you run.  Take a look at your foot.  Do you have a flat foot or very little arch?  Do you have a normal arch or a high arch?  If you're unsure, one way to find out is to take a look at the shoes you wear the most.  Where do you see the most wear?
If you have a low arch, chances are you're going to find the most wear along the inside edge of your shoe from your heel to your toes.  This is because the arch isn't there to keep your foot stable and you'll roll to the inside when you run.  The best shoe for a flat footed person would be motion control or stability shoes.
Normal feet typically do best in a stability shoe.  Your shoes will show wear on the outer edge of the heel, under the ball of your foot, and at the front of your sole.
Finally, if you have a high arch then your foot is likely underpronating meaning you're arch is so high it is almost pushing your foot outward.  This will be demonstrated by wear and tear on the outside edge of your shoe.  The best shoe for you will likely be a cushioned shoe to give your foot a bit more motion.
Knowing your foot type is a great start to finding the right running shoe for you.  If you can find a shoe store that will give you a personal gait analysis, they'll watch you run and then be able to tell you the best shoe options, that is ideal.  However, in lieu of a gait analysis a little time trying on a variety of shoes designed for your foot type ensures you'll find the right shoe to run without injury.
Browse for more running PLR articles at BuyQualityPLR.com
Grab All of the Above at a BIG Discount Today!
Wait! I Forgot to mention…BONUSES!!
For the first 50 buyers of this Running Your First Race Premium PLR Package, if you grab this PLR deal right now, you'll also get these FAST-ACTION BONUSES for a limited time only!
Bonus 1
Running The Mile PLR eBook and Squeeze Page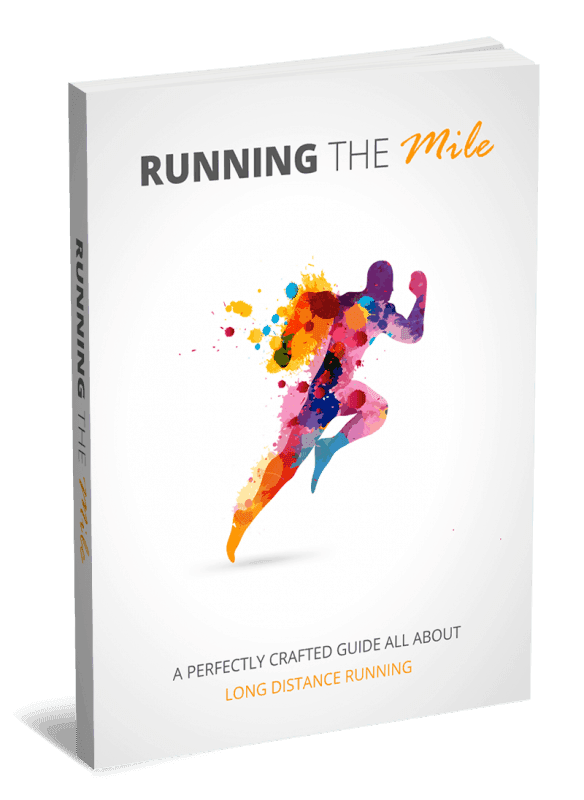 Package Details:
Ebook
Source File
Covers
Opt-in Page
Total File Download Size:
5.70 Megabytes (MB)
Bonus 2
9 Unrestricted Running PLR Articles Pack