Profits Vault V1 - SUPER Premium PLR Blowout - Grab A Very SCARCE and LIMITED PLR License To The Entire 1,000+ Page Profits Vault V1 Package Consisting of Over 242 000 Words
#emailcome #emailmarketing #emailmarketingtricks #emailmarketinginsights #emailmarketingstrategies #emailmarketingideas #emailmarketingtips #emailsubscribers #mailinglist #listbuilding #emailcopywriting #businessthroughemail #emailmarketingplr #websitetraffic #trafficstrategy #traffictips #traffictricks #trafficideas #targetedtraffic #referraltraffic #seotraffic #trafficplr #websitetrafficplr #profitablepackage #profitablepackagetips #profitablepackageideas #profitablepackageguide #pickaniche #selectatopic #salesfunnelplanning #backendoffers #bonuses #bonusestips #bonusesideas #couponscodes #bonusessecrets #typesofbonuses #bonusesuggestions #usingbonuses #businessbonuses #conversions #boostyourconversions #gettingmoresubscribers #boostyourprofits #targetmarket #salescopy #highconvertingheadlines #conversionstracking #conversionstesting #conversionmastery #conversionsecrets #conversionideas #ideas #goodideas #guidetoideas #brainstorming #brainstormingsessions #brainstormingtrick #ideamastery #ideastips #ideassecrets #ideassuggestions #ideasmethods #ideashacks #ideastemplates #ideasshortcuts #ideasresources #ideageneration #ideavalidation #ideaimplementation #ideasplr #nicheideas #businessideas #membershipsite# membershipcontent #membershipsitecontent #membershipsitetips #membershipsiteideas #membershipsitecontent #membershipsitecreators #membershipsitemodel #profitablemembershipsite #membershipsitestrategy
Profits Vault V1 – SUPER Premium PLR Blowout (242 000 Words)
Grab A Very SCARCE and LIMITED PLR License To The Entire 1,000+ Page Profits Vault V1 Package Consisting of Over 242 000 Words
This is Truly One of The Highest Quality PLR Licensing Opportunities You'll Find Online and We're Limiting It To 50 Licenses ONLY
PLR Content of this quality only comes around once in a while, and even then, they come so fast and within hours they're gone for good.
If the content is this Premium PLR blowout fits your niche…
………..Don't wait, grab it ASAP, you will not be sorry.
Hey There, It's Mozie here,
PLR Deals like this do not come around often.
Personally when I see them, I grab them without hesitation because high quality PLR content is scarce without having to break the bank.
The PLR Courses and Content you'll find in this blowout deal is the kind of content you can sell for $97, $297 and more if positioned correctly.
I'm going to be honest with you, I did not develop this content myself. I bought a license to be able to sell you a PLR license to it.
This content was developed by the "KING OF PLR", that's what I call him, because he is the one who started the PLR industry 20 years ago.
Jimmy is very well known around the web for developing some of the HIGHEST QUALITY PLR You'll find online.
And unlike most PLR sellers, his content is not oversold and licensing is VERY LIMITED.
So that's why I bought it, to make it available to you as I did not want you to miss out on it, plus I love offering Premium PLR content on BuyQualityPLR.com.
This PLR content blowout that you're going to get today is $2000 worth of premium PLR content for a tiny fraction of the cost.
It's my way of saying thank you for all the continued support over the years, I really do appreciate it.
If I had to put this PLR package into words…
This would be my description…
The BEST PLR Content Package Out There Created By The KING OF PLR! (The Guy Who Started It All)
This is not your average content, where you have to edit and rewrite half of it before it's ready-to-go.
This is the kind of content that's written by supreme copywriters and ready-to-go as is.
The only things you'll probably want to do is:
Add your name and branding
Add links to your own products or affiliate offers
Set prices and set it up for sale
Here's some REALISTIC ideas of how to can profit with it and use it to grow your business knowing you're using SUPREME PLR Content…
Edit the content, while using it to create your own profitable info-products like Courses, Video Courses, eBooks.
Break up some content and create elite List Building lead magnets. Your list will love you for providing them with premium content. Then upsell them more content as courses.
Transform the content into CDs, MP3 courses to help other learn. Charge premium prices your content.
Need coaching content? This package is perfect for adding fresh coaching content to your membership or as courses/modules for your coaching program. And your students will love you for it!
Host a webinar. Use the content in this package as a starting point for a webinar or teleseminar. This would include both free calls to use as lead generators to sell other offers, or as featured paid events to generate revenue.
Turn the content into an email course, and educate your list with premium content.
This content is sooo good, you'll probably land up reading it, and learning so much from it because it's not written as PLR.
There's real coaches using this content as their coaching content in their business.
There's so much more you can do with it, above is just some of the ideas for profiting with it…
3 Reasons to grab this deal RIGHT NOW
This content would cost you a fortune
Having an experienced copywriter develop one of the products in this blowout would cost you easily over $500. All the products in this package could easily cost you $15 000 to have Ghostwritten.
Limited PLR licenses available. 
We're only going to sell 50 PLR licenses to this package to protect the content from being over-sold.
Multiple Income Streams For You
This package can be transformed into multiple income streams for years to come. The content in this package is highly in-demand and evergreen, the quality is amazing and the possibilities only limited by your imagination.
There's tons of PLR sites out there. And thousands of PLR deals.
But only 1 package that offers CRAZY VALUE FOR MONEY and DELIVERS EXCELLENT QUALITY…
….and you're currently on the that package page! So congrats!
I hope you're as hyped up as I am about this MONSTER PLR package…
…Because without further ado, I'm going to show you exactly what you're getting with this limited licensing PLR deal
has been added to your cart!
have been added to your cart!
Introducing The…
PLR Profits Vault V1 – Premium PLR Content Blowout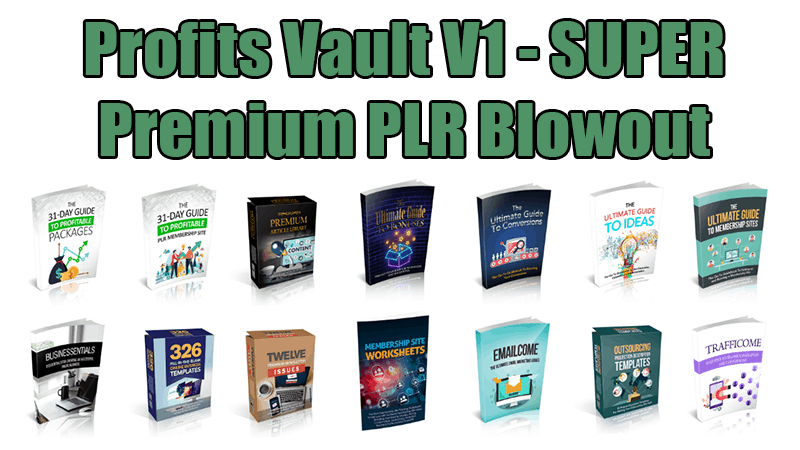 The content includes over 1000 pages and over 242 000 words of high quality content that you can feel proud to use in your business.
Here's what you're getting in this incredible PLR licensing opportunity:
31-DAY COURSES WITH BONUSES
Course #1:  The 31-Day Guide To Profitable Packages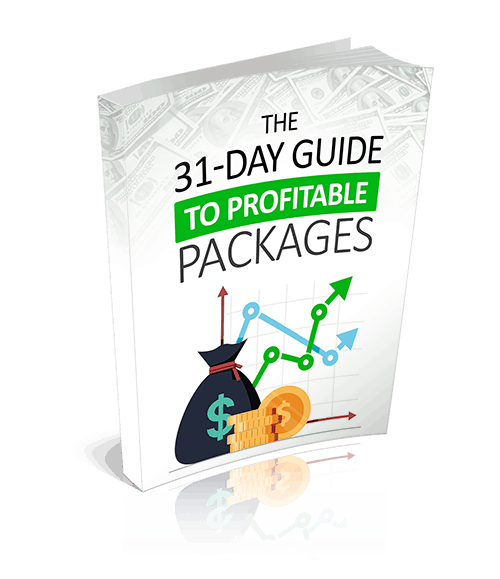 Page Count: 107 pages
Word Count: 23,000 words
This guide takes you from where you are today (no site, no content, maybe not even an idea) to getting your first package up and ready to take orders in about a month. Each day you'll get a lesson on how to complete some part of the task, plus you'll get an action step. If you follow the steps outlined in this guide, you'll be ready to start taking orders in 31 days!
Let's take a look inside this The 31-Day Guide To Profitable Packages:

Sample Content for the 31-Day Guide To Profitable Packages:
When a lot of people think about creating a package of materials to sell, they get overwhelmed. Create one piece of content… sure. But what about creating 10, 20 or more pieces in a mixed bag of reports, courses, worksheets, templates, checklists and more?
Overwhelm City!
Until now…
That's because you're about to walk through a step-by-step 31-day guide for creating your own profitable package by using private label rights content. It's the easiest and most cost-effective way to create a lot of content… FAST. And if you use the tips you're about to discover, you'll end up with a very unique, high-value package!
So, without further ado, let's jump in and get to work…
Day 1: Pick a Niche
First things first: before you can start planning a single piece of content for your profitable package, you need to know who you'll be selling this package to. In other words, what niche?
You may already have a niche in mind. Maybe you're already working in this niche. If so, great! But if not, then please review this lesson carefully and follow the steps below in order to pick your niche.
This step is actually composed of two major steps:
Create a list of potential niches.
Research these niches to find out which ones are profitable.
Let's start with that first step…
Step 1: Create a List of Potential Niches
If you don't already have some potential niches in mind, then your first step is to develop a list. Here's how:
Brainstorm Potential Niches
Here you think about your own hobbies and challenges. List everything you can think of, from losing weight to scuba diving to restoring cars to back pain (and absolutely everything in between). Think about:
Your favorite things to do.
Biggest problems.
Tasks you wish were easier.
Where you spend your disposable income.
Places you like to visit (vacation).
Things you like to do on vacation.
Things you like to read about (books, blogs, etc.).
DIY jobs that you know how to do.
Things people ask you for advice about.
And similar topics – list everything you can think of, and then move onto the next step…
Pay Attention to Discover Niches
Now look around to come up with other niche ideas. This includes:
Looking at your friends' and family members' hobbies and challenges.
Taking note of what's popular on social media.
Watching/reading the news for ideas.
Next…
Use Keyword Tools
Still another way to get ideas is by using a keyword tool (like MarketSamurai.com, KeywordTracker.com, or your favorite tool). The idea here is to enter a partial search and see what sort of niche ideas come up.
Plus you also get "The Profit-Maximizing Bonus Pack…

Inside the bonus pack, you get five accessories that make it faster and easier for you to create an awesome package that your audience is sure to love.
Here's what you get:
Bonus 1: Sales Letter Template
Bonus 2: The Profitable Packages Checklist
Bonus 3: How to Create an Effective Lead Magnet
Bonus 4: 50 Templates You Can Use to Create High-Converting Titles
Bonus 5: 40 Really Clever Ways to Use PLR Content
Let's take a look inside this The 31-Day Guide To Profitable Packages Bonuses: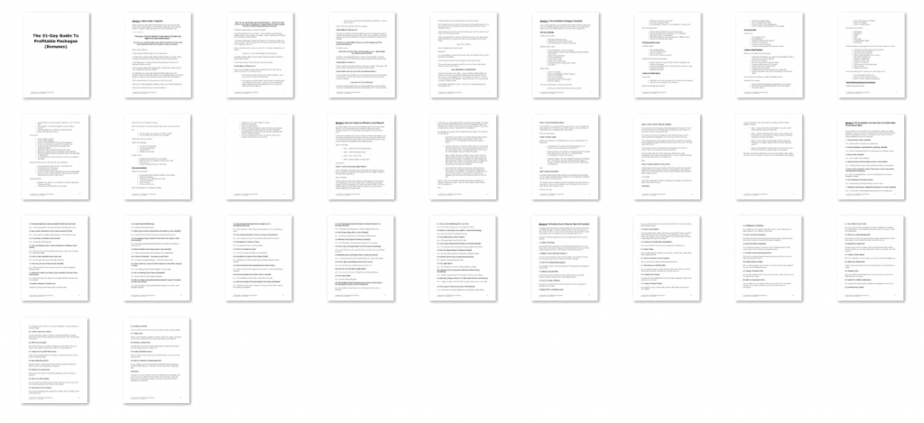 Plus you get a professional sales letter for the product so you can be up and running fast. 
Just format to match your site design, insert your payment button and you're ready to start taking orders!
Course #2: The 31-Day Guide To A Profitable PLR Membership Site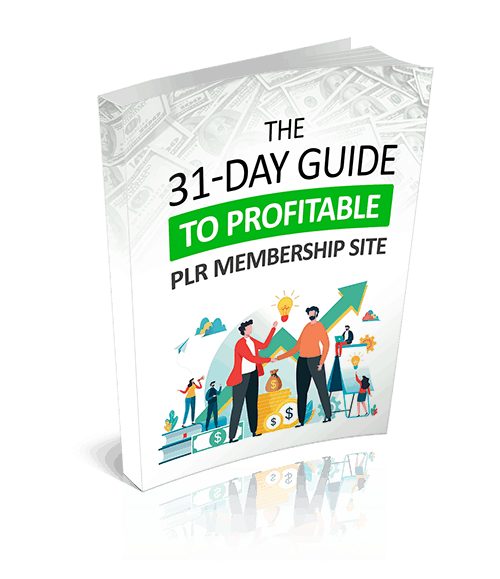 Page Count: 88 pages
Word Count: 23,000 words
This guide takes you from where you are today (no site, no content, maybe not even an idea) to getting your first PLR membership site up and ready to take orders in about a month. Each day you'll get a lesson on how to complete some part of the task, plus you'll get an action step. If you follow the steps outlined in this guide, your site will be ready to go at the end of 31 days!
Let's take a look inside this The Guide To A Profitable PLR Membership Site:


Sample Content for the Guide To A Profitable PLR Membership Site:
Welcome to the 31 Day Startup Guide for a Profitable Membership Site!
Just as the name promises, you're about to discover what to do for each of the next 31 days in order to get a PLR membership site up and running. You'll go from "scratch" to "ready to take orders" during this time-frame, and you'll do it all in a series of bite-size steps so you won't get overwhelmed.
So, with that in mind, let's get started…
Day 1: Select a Niche and Profitable Topic
First things first: you need to decide which niche you'll cater to and what topic. Let's start with the niche…
The key here is that you need to select a big, profitable niche market. The bigger the market is overall, the more marketers there will be in the niche – and that means more people for you to sell your PLR to.
You'll want to look for niches inside the bigger, evergreen markets such as:
Weight loss.
Health and fitness.
Relationships/dating/marriage.
Jobs/career.
Business and marketing.
Make money online.
Finance/investing.
Hobbies (e.g., golf, car restoration, hunting, etc.).
And similar profitable and large markets.
Then what you'll want to do is pick a smaller niche within this market. For example, you might pick health and fitness, and then focus on bodybuilding. If you've never dabbled in your chosen niche before, then be sure to do your market research to confirm it's going to be profitable. (This means checking that people are already buying plenty of products in the niche.)
NOTE: At this point you don't want to narrow down too much further, because you want to appeal to a relatively larger market. If you construct your materials the right way, then your buyers will be able to "niche-ify" your content to suit their needs. For example, your buyers could turn a report on bodybuilding into a report for women who want to lift weights.
Once you pick the niche, then you need to pick the topic. To do this, find out what topics are already really popular in your niche. If end users (aka consumers) are buying infoproducts like crazy on a specific topic, then you can bet marketers will want to get their hands-on PLR content on the same topic!
To that end, go to marketplaces like Amazon.com, ClickBank.com and JVZoo.com to see what topics in your niche are bestsellers.  You do this by running a search for your niche keywords (such as "bodybuilding" or "dog training").  You'll also want to check to see which topics have multiple competitors, as that's a sign that the topic is popular and profitable.
The second step is to check out what other PLR sellers in your niche have on offer. You may find that there are a lot of competing PLR vendors on a topic. This isn't a bad thing, as it shows the topic is indeed profitable. The key is that you need to separate yourself from these others sellers (which you'll learn how to do later in this guide).
Alternatively, you may find that you don't have much competition on a particular topic. If end users are buying a topic like crazy but there are few to none PLR vendors creating products on that same topic, that's a potential unexploited niche for you to pursue. Be the first to enter the market with that particular topic, and you'll dominate it!
Depending on what sort of site you're setting up, you may select multiple popular topics around which you'll create PLR content. For example, if you're setting up a traffic generation site, you may select topics such as Facebook marketing, SEO for Google, guest blogging, JV marketing, and more. You'd then create reports or other PLR content on these topics to deliver to your members over time.
TODAY'S TASK:Your task for today is to brainstorm markets, pick a profitable niche within that overall market, and then pick a popular topic within the niche. The more research you do at this step, the more confident you'll be in your decisions! (But don't overdo it and go into analysis paralysis – do your research and make your decision in one day, and then move on.)
 Plus you also get "The Profit-Maximizing Bonus Pack"…

Inside the bonus pack, you get five accessories to help you make the most of your PLR membership site. Here's what you get:
Bonus 1:  The 3-Step System For Getting Free Traffic From Other PLR Sellers
Bonus 2:  5 PLR Membership Site Specific Strategies To Keep Members Spending
Bonus 3:  5 Reasons Why People Won't Join Your Membership Site (And How To Make Sure They Will)
Bonus 4:  How To Out-Sell Your Competition By Doing What They Do Better Than They Do It
Bonus 5: The Best Way To Get New Members To Join Your PLR Membership Site
Let's take a look inside this The Guide To A Profitable PLR Membership Site Bonuses:


Plus you get a professional sales letter for the product so you can be up and running fast.

Just format to match your site design, insert your payment button and you're ready to start taking orders!
Premium Article Library
20 SUPER Premium Articles (Over 10 000 Words of High Quality Content)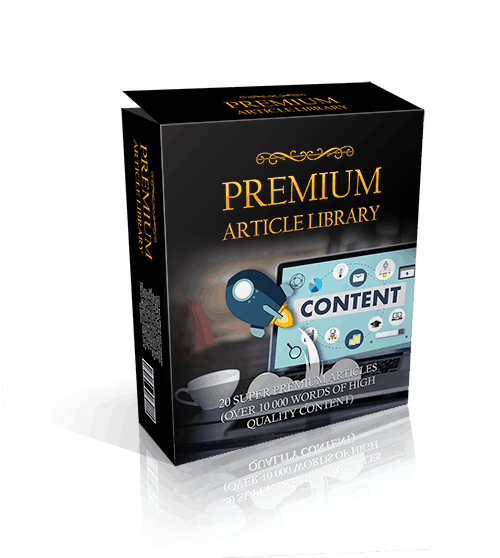 Page Count: 47 pages
Word Count: 10,000 words
This package of 20 high-quality articles includes eight how-to articles, eight list articles, and 4 FAQ-style articles. Here's what's included:
How to Create a Course Your Customers Will Really Love
How to Write a Compelling Sales Letter
How to Monetize Your Blog
How to Start Guest Blogging
How to Get More Visibility in Google
How to Start a Profitable Affiliate Program
How to Build a Responsive Mailing List
How to Promote Backend Offers Throughout Your Sales Funnel
7 Current Marketing Trends That Are Happening Right Now
10 Surefire Ways to Get Targeted Traffic
6 Types of Products Every Infoproduct Creator Ought to Have in Their Sales Funnel
8 Types of Lead Magnets You Can Use to Attract the Right Audience and Build Your List
7 Ways to Increase Profits (backend, upsell/cross-sell, etc.)
Five Places to Purchase a Highly Effective Paid Ad
7 Essential Social Media Platforms
10 Types of Videos You Should be Sharing With Your Market
Your Content Marketing Questions Answered: The Content Marketing FAQ
How to Create an In-Demand Product: The Product Creation FAQ
The Infoproduct Marketer's Social Media Marketing FAQ
Hands-Free Income: The Outsourcing FAQ
A look inside the Premium Quality PLR Articles Pack:

Sample Content for the Article Library Premium PLR Article:
How to Create a Course Your Customers Will Really Love
Whether you're talking about a text-based course or a video course, customers tend to love these types of products.  And you'll love selling them, since the high perceived value means you can charge more for a course versus other infoproduct formats (such as ebooks).
So, with that in mind, check out these three steps for creating courses your customers will love…
Step 1: Do Your Market Research
The first thing you need to do is figure out what your audience wants. A good way to do this is to find out what they're already buying. You can check:
com to see what sort of video courses they're buying.
Marketplaces like Amazon and ClickBank to see what sort of infoproducts they're buying in your niche.
Websites in your niche to see what they're selling.
Paid advertisements (such as sponsored ads) to see what they're promoting.
Look for bestsellers and multiple vendors selling similar topics – these are both signs that a particular topic is "hot" in your niche right now.
Select a topic that looks like it will sell well, and then move to the next step…
Step 2: Decide What to Include
Next, you need to decide what to include in your course and start creating your outline. To do this, take two steps:
Think up all the sub-topics, steps, tips, examples, mistakes, etc. you'd like to include in your course.
Find out what similar infoproducts. Use this information for inspiration – do NOT copy.
NOTE: While you may choose a topic that others have done before, and you may even look to similar products for inspiration, your goal is to create something fresh. This means:
Sharing unique information such as case studies, personal stories and personal examples.
Sharing information in a new way, such as turning a step-by-step formula into an acronym/formula. (E.G., "AIDA" (attention, interest, desire, action) is an acronym that describes a copywriting formula – you can create your own acronym-based formula around a step by step process.)
Next step…
Step 3: Develop Your Course
Once you know what all information you want to include, then organize it into a step-by-step format. If you're delivering the course in parts, then create equal-sized modules. (E.G., you might create a 12-module course and deliver one lesson/module per week for three months.)
Keep these tips in mind:
Use a light, conversational tone. Look at this article as an example.
Add relevant stories to keep people engaged. For example, what problems did you have when you first started with this niche topics? What mistakes did you make?
Add value to your course. Offer worksheets, checklists, templates, swipes, planners and cheat sheets to help people take action on what they just learned.
Proof and polish. If you have errors in your course, people will judge the information as a whole to be low-quality. If needed, hire someone to proof and fact-check your course.
Insert backend offers. Promote related products and services inside your course.
As always, you can outsource this entire task to a freelance writer (or video editor) to produce a polished end result.
Conclusion
You can easily turn these premium PLR articles into a course, premium offer or even a residual income offer, so you can educate people with great content and charge top dollars for your coaching content! These articles are not your usual crappy PLR. They are high quality articles developed by a PLR veteran.
Each of these articles is between 500-600 words in length and are perfect to load "as is" to autoresponder sequences, blogs, courses, membership sites and other content publications.   
EMAILCOME:  The Guides To Email Marketing
Premium PLR Course about Email Marketing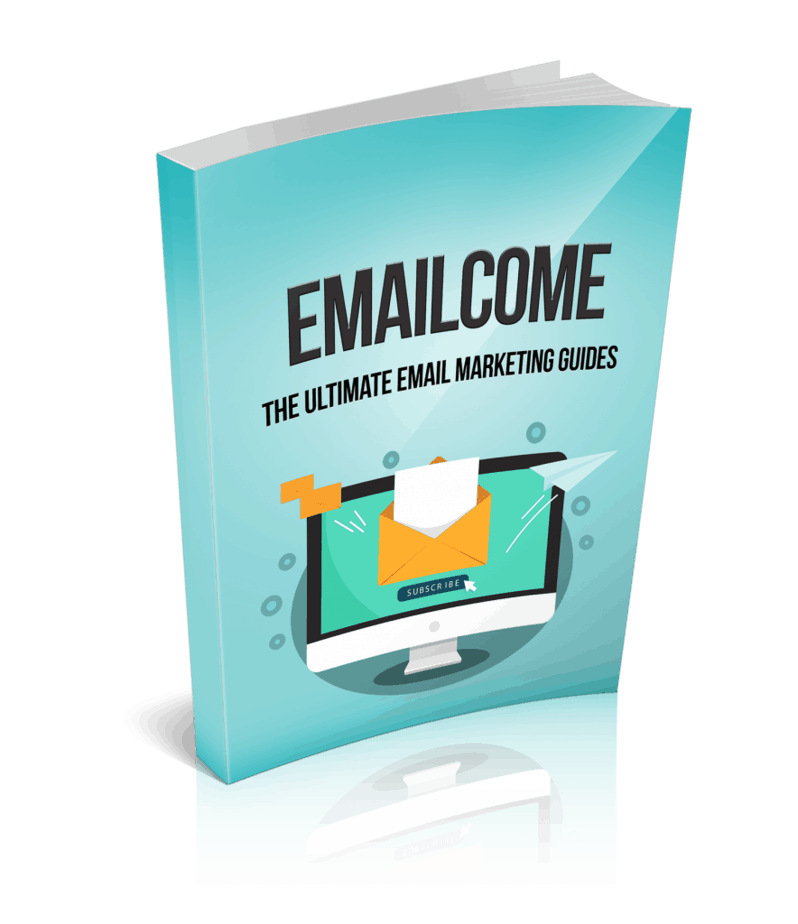 Page Count: 120 pages
Word Count: 29,000 words
Introducing "Emailcome: How to Reach More People and Do More Business" – a set of 12 guides that show you what's really working right now to create and grow a profitable mailing list. Each of these guides is jam-packed with 17 of my best tips, tricks and keys to online success.
Here's what you get:
Guide 1: The Guide To Campaign Strategy:  17 Keys To Creating A Profitable Promotional Calendar
Guide 2: The Guide To Getting Subscribers: 17 Best Practices For Building Your List Every Single Day
Guide 3: The Guide To Ideation:  17 Places To Look For Inspiration And Ideas To Write About (That Your Subscribers Will Respond To)
Guide 4: The Guide To Open Rates:  17 Ideas For Ensuring When Subscribers Check Their Email They Read Yours
Guide 5: The Guide To Getting Attention:  17 Ways To Create Subject Lines That Stand Out In The Inbox
Guide 6: The Guide To Crafting Messages:  17 Essential Elements Of Effective Email Copywriting
Guide 7: The Guide To Getting Clicks:  17 Things You Can Do Get People To Leave Their Inbox To Go To Your Site
Guide 8: The Guide To Segmentation: 17 Tips, Ideas, Examples and Insights For Getting The Right Message To The Right Audience
Guide 9: The Guide To Follow-Ups:  17 Suggestions For Your Own Set It And Forget It Sales
Guide 10: The Guide To Reader Loyalty:  17 Ways To Make People Love You And Your Business Through Email
Guide 11: The Guide To Deliverability:  17 Checks You Must Make Before You Hit Send (Or Your Email May Never Arrive)
Guide 12: The Guide To Analytics:  17 Insights For Interpreting, Improving And Increasing Your Results With Every Email You Send
Let's take a look inside this Emailcome Premium Email Marketing PLR Guides:

Sample Content for the Emailcome Premium Email Marketing PLR Guides:
Guide 1: The Guide To Campaign Strategy 17 Keys To Creating A Profitable Promotional Calendar
So, you're going to build an email list… now what?
Some marketers just wing it, meaning they decide what they're going to send to their subscribers at the moment they sit down to craft an email. Failing to plan an email ahead of time won't hurt if you do it once in a blue moon. Truth is, however, the most successful email marketers plan their promotional calendar well ahead of time, anywhere from six months to a year in advance. And these are the folks that tend to have the most profitable lists.
So, with that in mind, you're about to discover how to plan out your own profitable promotional calendar. Read on…
Determine Your Goals
The first thing you need to do is decide on the primary and secondary goals for your mailing list. You'll define these goal in this order:
Define the overall goals for your mailing list as a whole. Note: you'll have different goals for each segment of your list. E.G., the goal of your prospect list is to get people to buy their first offer, while the goal of a customer list is to get repeat buys.
Define the goal for EACH sequence you intend to create.
Define the specific goal for EACH email you intend to create.
That way, you'll know that each email supports the goal of each sequence, and each sequence you create supports the overall goal for your mailing list.
For example, your overall mailing list goal might be to make $X amount of money by promoting your offers as well as your partners' offers.
To support this goal, you plan on sending an email sequence for each offer you want to promote.
You then plan how each individual email will help you sell more of a particular offer.
So, start by writing down your goals. Then check out this next idea…
7 Types of Email Sequences That Work
There are plenty of different sequences you can use to grow your relationship with your list and promote offers. Check out these popular types of sequences:
Onboarding. Here's where you send an initial sequence of emails to new customers to remind them of the benefits of the product they purchase, to show them how to get the most out of it, and to encourage them to start using it.
Indoctrination. This is a welcome series that you send to new subscribers to let them know what your business is about and how you can help them.
Ascension. This is the series you send immediately after a purchase to persuade a buyer to purchase more offers from you.
Special promos/sales sequences. This includes sequences for things like launch week specials, flash sales, holiday sales and similar events.
Fear-Logic-Gain. This is a three-part sales sequence, where each email appeals to a different emotion or rationale.
Objection handling. Here's where you raise and handle common objections (one objection per email).
Social proof sequence. This series is all about sharing case studies, testimonials and other proof.
Next…
10 Questions to Ask Before Creating a Promotional Calendar
You've defined your goals and you know the different types of sequences that can help you achieve your goals. Now it's time to plan out your promotional calendar for at least the next six months.
Answer these questions:
Which of your own products will you promote?
How many emails will you send for each offer? (Be specific.)
Which of your partners' products will you promote?
How many emails will you send for each partner offer?
When will you promote each offer listed above? (E.G., a new launch needs to be promoted during that specific week, whereas an existing offer can fit anywhere into your calendar.)
What sort of sales/promos will you promote? Be specific.
Will you have any sequences tied to specific dates, such as a holiday sale?
Of the offers that aren't tied to any specific date, is there a logical place they should fit into your calendar? For example, if you're promoting a fat-loss guide that's called "Get Ready for Bikini Season," then it makes sense to promote it a couple months before summer. Or if you're promoting something like a stop smoking guide, then it makes sense to make a big promotional push during the New Year when people are making resolutions.
Which of the above can go into your autoresponder, and which will need to be live broadcasts?
How will your indoctrination and onboarding sequences fit into the above?
Once you answer these questions, then you'll be able to plan a calendar that's designed to generate as many sales as possible.
Now read on to get more tips for refining your calendar…
Balance Autoresponder Messages With Live Broadcasts
Be aware of what sort of autoresponder messages your list is receiving when you send them live broadcasts. You need to balance these so that your audience doesn't become inundated with messages.
For example, you might segment your list so that those who are receiving onboarding messages every couple days aren't also hit with your live broadcasts. (Note: this is only temporary for a couple weeks – once someone is done with the onboarding sequence, then they can receive all your other emails too.)
Create Consistency/Continuity
When you're creating your emails and sequences, be sure everything about them matches the rest of your business. Your lead pages, lead magnets, blog posts, social media posts, products and everything else should all have a consistent message and overall feel (e.g., same writing voice).
TIP: If you're outsourcing some of this content, then tweak it as a needed to create a consistent message and voice. Whenever possible, hire the same writer to create all your content to help maintain consistency.
Here's the next set of ideas…
8 Questions to Ask Yourself When Creating an Email