Diet and Weight Loss Mistakes Premium PLR Package - High quality Diet and Weight Loss PLR product including ebook, emails, articles & lots more. Over 38k words of ready-to-go diet and weight loss PLR content that is well written and ready to be used in your business to educate your readers. This diet and weight loss PLR content package includes fast-action bonuses for the first 50 buyers.
#dieting #dietingtips #weightloss #dietrecipes #mealplanning #dietingbenefits #dietingplr #dietplr #weightloss #eatinghabits #healthyeating #dietmistakes #plrrecipes #dietmistakes #weightlossmistakes #plrhealth #diet #weightloss #plrcontent #nichecontent #plrproduct
Diet and Weight Loss Mistakes Premium PLR Package – Featuring Over 38 000 Words of Done-For-You Evergreen Diet and Fitness Content.
Attention: Health, Fitness and Wellness Entrepreneurs
Done for You Premium Health/Diet PLR Product on a
EVERGREEN Topic:
Diet and Weight Loss!
Dear online business owner, When it comes to top Diet and Weight Loss searches, the Diet and Weight Loss is one of the most searched-for topics online.
It's safe to say that Diet and Weight Loss have spawned an entire industry of blogs, health and diet courses, and products.
This is where my premium done for you Diet and Weight Loss Mistakes PLR Package comes in. Its all about teaching your customers about the 20 Diet & Weight Loss Mistakes to Avoid.
Everything is done for you – from the main Diet PLR info product to your social media updates – its simply up to you to add your branding and firmly establish yourself in this lucrative health and wellness niche.
Introducing The…
Diet and Weight Loss Mistakes Premium PLR Package
Featuring Over 38 000 Words of High Quality Diet and Weight Loss Content Ready To Be Used In Your Business!
This high quality Diet and Weight Loss Mistakes PLR package covers the hugely popular health and wellness niche. Health and wellness is evergreen and will always be. This Diet and Weight Loss Mistakes PLR content package is well-written by an experienced copywriter and comes with full private label rights so you can edit it, put your name on it, put your brand on it and sell it and use it to build your list of raving fans.
Here's everything you'll get in the Diet and Weight Loss Mistakes MEGA PLR Package…
Main eBook:"20 Diet & Weight Loss Mistakes to Avoid"
(4,636 words, 23 pages, 11 images)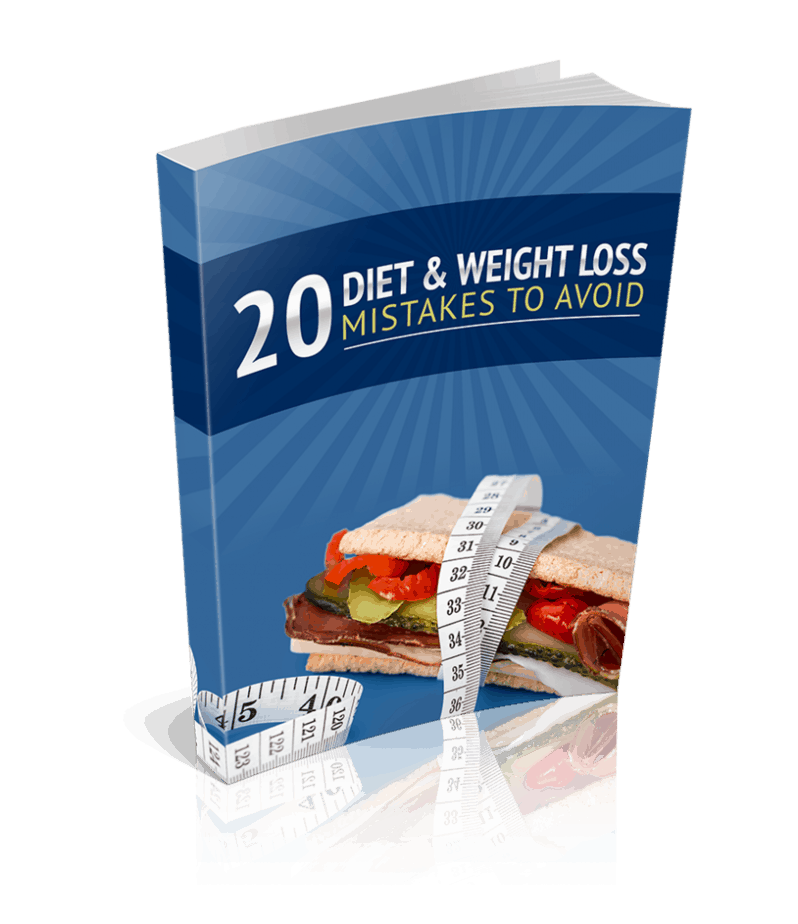 A look inside the 20 Diet & Weight Loss Mistakes to Avoid Premium PLR eBook: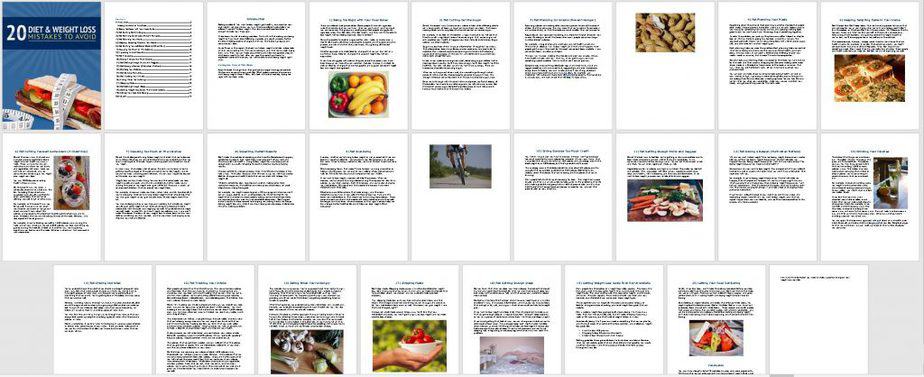 Table of Contents for the 20 Diet & Weight Loss Mistakes to Avoid PLR eBook:
Introduction…………………………………………………………………………. 3
Making the Most of This Book……………………………………… 3
1) Being Too Rigid with Your Food Rules…………………………………….. 4
2) Not Cutting Out the Sugar…………………………………….. 5
3) Not Planning for Snacks (Prevent Hunger)…………………………………….. 6
4) Not Planning Your Meals…………………………………….. 7
5) Keeping Tempting Items in Your Home……………………………………… 8
6) Not Cutting Yourself Some Slack (A Cheat Day)…………………………………….. 9
7) Focusing Too Much on The Calories…………………………………….. 10
8) Expecting Instant Results…………………………………….. 11
9) Not Exercising……………………………………… 12
10) Giving Exercise Too Much Credit…………………………………….. 13
11) Not Getting Enough Fruits and Veggies…………………………………….. 14
12) Not Having a Reason (Motivation Matters)…………………………………….. 15
13) Drinking Your Calories…………………………………….. 16
14) Not Staying Hydrated……………………………………… 17
15) Not Tracking Your Intake……………………………………… 18
16) Eating When You're Hungry……………………………………… 19
17) Skipping Meals…………………………………….. 20
18) Not Getting Enough Sleep……………………………………… 21
19) Setting Weight Loss Goals That Are Unrealistic……………………………………… 22
20) Letting Your Food Get Boring……………………………………… 23
Conclusion……………………………………… 23
Sample Content for 20 Diet & Weight Loss Mistakes to Avoid PLR eBook:
Not Cutting Yourself Some Slack (A Cheat Day)
One of the many ways that diet and nutrition experts recommend losing weight is to eat healthy six days a week. Those six days may be very restrictive days where you eat fruits and vegetables with every meal, you don't eat any added fat, and you consume zero added sugar. You might even weigh your food.
You are 100% focused on eating healthy those six days.
On the seventh day, you enjoy a scheduled cheat day or a free day. The key to making these cheat days successful is to actually use them to enjoy some foods that you're not allowing yourself to eat on other days.
For example, on the seventh day you let yourself have pizza or you enjoy your favorite ice cream or you go out to eat and don't worry about the calories or ingredients. It's important to embrace the cheat days and to enjoy the foods that you are not eating the rest of the week. However, it is also important to not go crazy.
For example, if you're limiting yourself to 1,500 calories a day during the week and on your cheat day you eat 5,000 calories, you lose everything you gained during the week. Or, to look at it another way, you're gaining everything you lost during the week.  So enjoy a cheat day, but approach it with moderation.
Note: The above content is just a snippet of the ebook.
Short Report:"Top 5 Exercise Mistakes That'll Hinder Your Weight Loss"
(1,654 words, 8 pages, 5 images)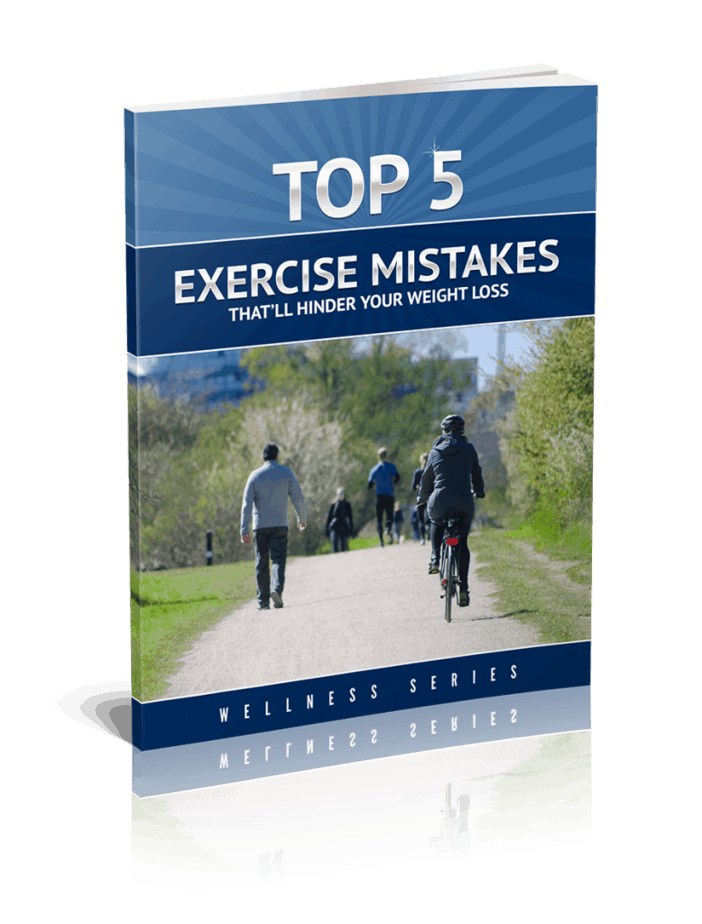 A look inside the Top 5 Exercise Mistakes That'll Hinder Your Weight Loss PLR Report: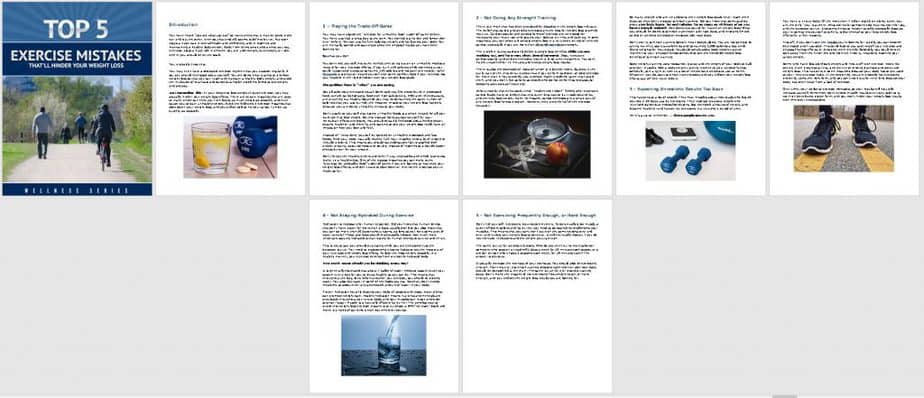 Product Reviews:
"Bright Line Eating: The Science of Living Happy, Thin & Free" by Susan Peirce Thompson – 465 words
Magic Bullet Blender (Small) – 418 words
Ozeri Pronto Digital Multifunction Kitchen and Food Scale – 411 words
Spiralizer 5-Blade Vegetable Slicer – 410 words
Withings Body Cardio Scale – 442 words
Product Comparison Review:
Top 5 Juicers – 1261 words
5 Emails/ Blog Posts:
Topic: How to Lose Weight Without Depriving Yourself
Email1-Top 9 Tips for Losing Weight Without Depriving Yourself – 275 words
Email2-Healthy Weight Loss Without Deprivation Tips 2 and 3 – 312 words
Email3-Healthy Weight Loss Without Deprivation Tips 4 and 5 – 280 words
Email4-Healthy Weight Loss Without Deprivation Tips 6 and 7 – 272 words
Email5-Healthy Weight Loss Without Deprivation Tips 8 and 9 – 356 words
Diet and Weight Loss Mistakes Email Sample Content:
Healthy Weight Loss Without Deprivation Tips #8 and #9
Hi,
Tip #8 – Follow through, make no excuses.
A lot of people say money is the root of all evil. This is not true. The real saying they are referring to states that, "The love of money is the root of all evil." The same mistake is made with the advice that, "Knowledge is power." Knowledge can be very powerful, but only when you take action.
Following through on your desire to lose weight by taking smart action is necessary for you to become the person you want to be. Once you start on your path, you need to continue to follow through with whatever plan you developed. When you see yourself rationalizing or justifying poor behavior that can sabotage your weight loss plan, be honest with yourself. Remind yourself why you are doing this, accept no excuses, and continue to follow through. The hard work will be worth it.
Tip #9 – Be ready to make mistakes, and learn from them.
Get ready to fail, because you will. You will make mistakes along the way to achieving the weight loss you desire. This is not a knock on you personally, it is just a fact. Human beings are far from perfect. This means that you are going to make mistakes.
If mistakes are inevitable, as they are in life in any endeavor, why not embrace them?
Learn from them. Dissect them. Turn them inside out and look at every aspect of your failure. What happened? Why did it happen? Did you put yourself in a position that made it difficult to succeed?
The worst thing you can do when you make a mistake in any aspect of your life is to get down on yourself. When you embrace failure and learn from it you dramatically minimize the chances that you will make the same mistake again. You also keep from beating yourself up emotionally, and feeling like your weight loss journey is all about sacrifice, instead about learning from your mistakes to help create the body and health you desire.
To your success,
YOUR NAME
High Quality Diet and Weight Loss Mistakes PLR Articles:
6 Mistakes People Make with Their Diet That Stop Them Losing Weight – 646 words
Can Cutting Carbs Really Lead to Weight Loss? – 520 words
Can You Eat Too Much Protein If You're Trying to Lose Weight? – 623 words
Could Avoiding Snacks Stop You Losing Weight? – 402 words
HIIT vs. Endurance Cardio Which Works Best for Weight Loss Success? – 584 words
How Many Calories Are You Drinking Every Day? – 663 words
How to Deal with Weight Loss Setbacks – 624 words
How to Set Realistic Expectations for Weight Loss – 546 words
How to Stop Using Food as a Reward – 647 words
Is it a Good Idea to Switch Meals for Juices When Trying to Lose Weight? – 682 words
What is a Healthy Rate to Lose Weight? (And Why You Shouldn't Try to Lose It Quicker!) – 537 words
Whey vs. Hemp Protein: Which is Best for You? – 541 words
Why Choosing  Low Fat And Diet Food Might Not Help You Lose Weight – 432 words
Why Cutting Fat Out of Your Diet Doesn't Lead to Weight Loss – 727 words
Why Depriving Yourself Wont Lead to Weight Loss – 634 words
Why Does Weight Loss Slow Down After the First Couple of Weeks? – 712 words
Why Focusing on Weight Loss Over Fat Loss is a Mistake – 628 words
Why Obsessing Over Numbers on a Scale is a Mistake – 485 words
Why Starving Your Body is a Mistake if You Want to Lose Weight – 517 words
Why You Should Never Rely on Crash Diets for Weight Loss – 531 words
Diet and Weight Loss Mistakes PLR Article Sample:
6 Mistakes People Make with Their Diet That Stop Them Losing Weight
Are you dieting but cannot seem to shake off as much weight as you want? If so, chances are you are probably sabotaging yourself despite your hard work. Making the wrong dieting choices can see you take in more calories than you think. So, what is the right way of dieting? Well, a good place to start would be knowing what not to do. Check out this list of 6 mistakes people make with their diet that stop them from losing weight.
#1: Skipping Meals
Most dieters think that skipping a meal helps to cut back the number of calories taken in during the course of the day. The truth however is that skipping a meal leaves you hungry thereby setting you up to eat more later on. Therefore, it is essential that you make it a point to eat at least 3 meals a day even when on a diet. Just make sure the meals are healthy and low in calories.
#2: Eating Too Much of Healthy Foods
While this may sound strange, eating copious amounts of healthy foods can actually serve to up your calorie intake. Just because a certain type of food is considered healthy does not mean that it has zero calories. So, while a serving of salad is healthier than a plate of chips, that does not give you the license to eat as much salad as you want. Keep in mind that portion control is still necessary even when you are eating healthy foods to lose weight.
#3: Taking Supper Early
Unless you are an early sleeper, it is wise to avoid having your supper well before bedtime. Eating early and then spending the next 5 or so hours awake will see your body use up all the fuel from the ingested food and then demand for more. The recommendation by dieticians is to eat no less than 2 to 3 hours before you turn in for the night. This will lessen the chances of you being hit by nightly hunger pangs that will cause you to break your diet.
#4: Avoiding Snacks at All Cost
Contrary to popular belief, snacking in between meals does not automatically sabotage one's diet. In fact, if done right, snacking can work to help a dieter drop more pounds.
Having a snack in between meals will fill up your stomach consequently causing you to eat smaller amounts during mealtimes. As a result, you reach the end of the day having consumed fewer calories than you would have without snacking. However, you should be very careful to not overdo it with the snacking, as that can easily ruin a good diet plan. A smart move would be having a light snack such as a serving of non-fat yoghurt or a handful of strawberries 3 hours after or before a meal.
#5: Eating Fast
The best of laid out diets can easily be destroyed with the simple act of eating too fast. Slow eating sends the signal of fullness much faster than fast eating. For this reason, eating fast poses the risk of overeating. So, regardless of how busy you are, make sure to set aside enough time for eating.
#6: Drinking Too Many Calories
While dieters obsess over their calorie intake, they often tend to overlook the calories that are ingested through drinks. Coffee, smoothies, juices, tea, sodas, and even alcohol all have significant calories that can contribute to weight gain if overlooked. This is why it is important to factor in the drinks you normally take when creating a weight loss diet.
While there is no such thing as a perfect diet with sure-proof results, knowing what to avoid when dieting can get you one step closer to enjoying a successful weight loss. Therefore, stop making these mistakes and you will find no reason to complain about lackluster results from your weight loss diet.
Social Media Posts & Images:
5 Shareable Social Media Graphics (PLR)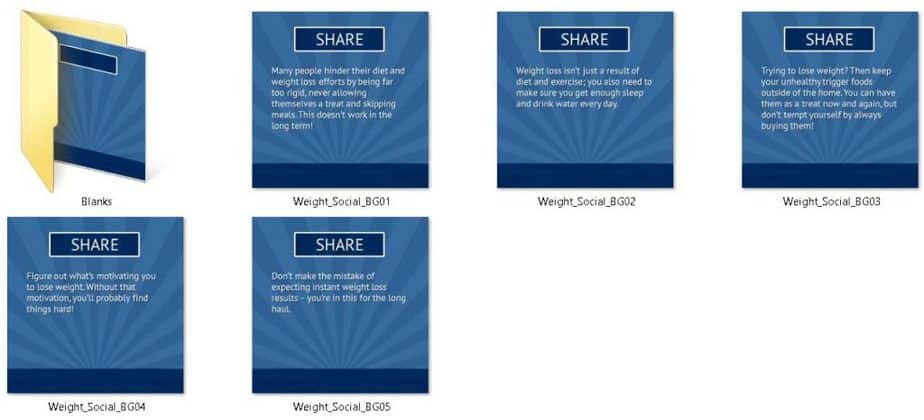 5 Shareable Social Media Inspirational Images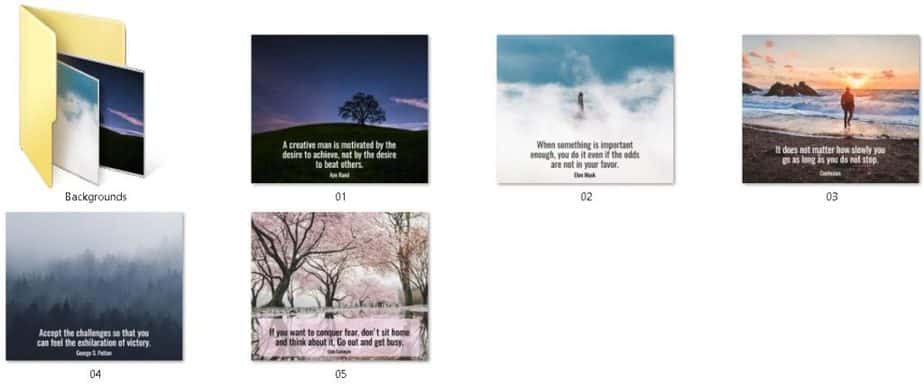 20 Social Media Posts (for sharing on Twitter or Facebook)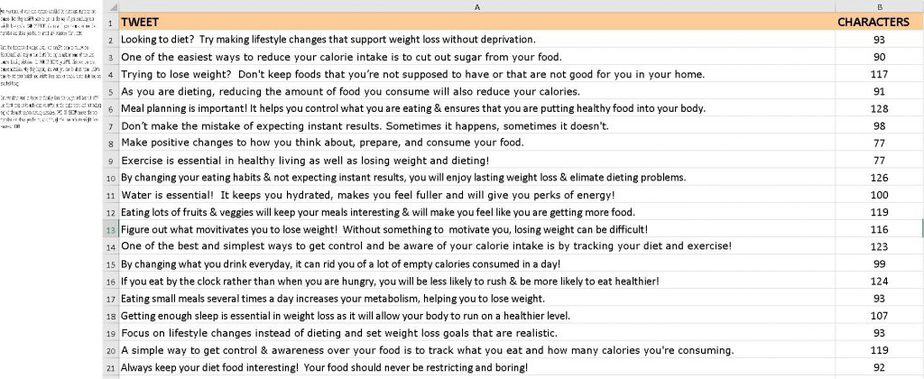 16 Royalty Free Images

Images of All Products Reviewed

Diet and Weight Loss Mistakes Keyword Research Pack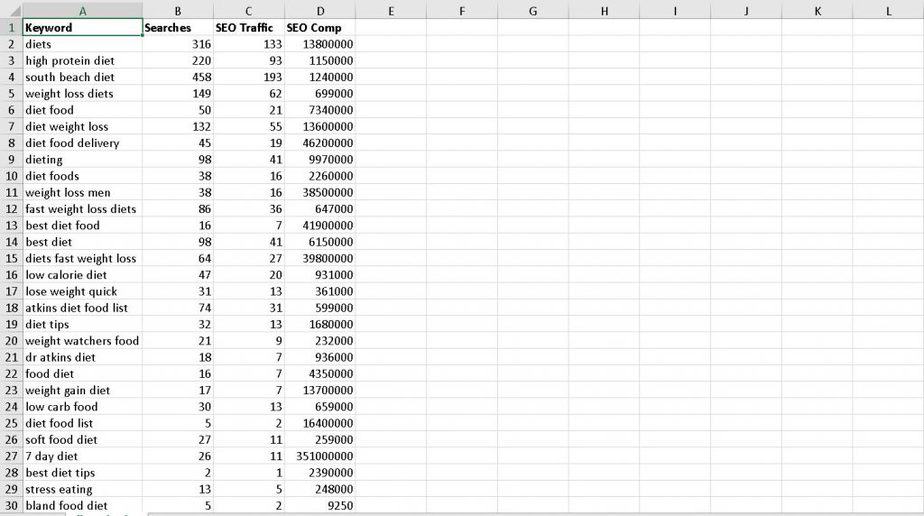 Bonuses:
Adopting Dairy Free Living PLR Report (9654 Words)
Includes:
PLR Report in Word Doc and .TXT formats
eCover and Flat cover in PNG formats, PLR License
Adopting Dairy Free Living PLR Report Article Sample:
When you were a child, your mom probably told you to drink your milk for strong bones and teeth. In general, milk is good for babies; however, as you age, you don't need the milk itself. You only need the nutritious things found in it. Dairy related illnesses and conditions have become more common for both children and adults. Whether due to a health concern — dairy allergy, lactose intolerance, high cholesterol, or for another reason — ethical, environmental, or religious, you may feel the need to adopt dairy-free living.
Once you decide to give dairy-free living a try, it's important to stick with it. In the big scheme of things, learning to live without milk and dairy products is a minor inconvenience. Change can be difficult in the beginning, but following this guide will help you get a good start to dairy-free living. The more you learn and work towards your goal, the easier it gets. You might be surprised how much your health improves within just a few weeks.
So, how and where do you start going dairy-free? The best place to start is with the basic terms and concepts so you don't get overwhelmed. Learn what it means to be dairy-free and how you can begin making the transition without feeling deprived.
Defining Dairy and Dairy-free
It may seem simple, but the first thing you'll need to know is what dairy really is. It's not as obvious as you may think. Dairy is a broad term which refers to cows' (or other mammals') milk and its derivatives, including milk-based food products such as cheese, yogurt, butter, and sour cream, cream, yogurt, etc. Dairy also refers to the lesser recognized by-products of milk, which include the proteins (like casein) as well as the fats and sugars (like lactose). To sum it up, anything that has milk, a milk-based product, or a milk by-product in the ingredients contains dairy.
People who follow a dairy-free eating plan eliminate all three sources of milk (dairy) from their diet. A dairy-free lifestyle is milk-free, lactose-free, and casein-free.
In your daily life, it's easy to identify and remember some obvious sources of dairy like a snack of milk and cookies, a bowl of pudding with milk in the ingredients, or cheese and crackers. You may not be as aware of the buttermilk in your breakfast biscuit or dinner salad's ranch dressing, the skimmed milk (and sodium caseinate) in the whipped topping on your pie, or the modified whey (whey protein) in your boxed Beef Stroganoff dinner.
The by-products of milk, in parentheses above, are even harder to recognize. They can be found in the skim milk solids and casein used in some processed foods.
Living a dairy-free lifestyle means, you must be knowledgeable, diligent in reading labels, and consistent when finding out about the ingredients in foods.
Reasons to Eliminate Dairy
You might be surprised at the amount of dairy products you consume. It may be found in everything from a glass of milk in the morning, cheese on our burgers, cottage cheese and yogurt for snacks, and so much more. In fact, humans don't really need the nutrition that comes from processed cows' milk. Most of the nutrients, like calcium, can be found in plant-based sources. These types are lower in fat as well, another of the benefits of going dairy-free.
There are many reasons someone turns to a dairy-free lifestyle. Dairy has been a big part of many people's lives but for some they may need or want to eliminate it from their diet.
5 Common Weight Loss Mistakes PLR Articles
Cardio-ing Yourself to Death? There's an Easier Way to Lose Weight! (525 words)
Can Nature Teach You About Weight Loss? (577 words)
Is Resistance Training Missing from Your Weight Loss Regimen? (562 words)
Are You Eating Your Workouts Away? (547 words)
6 Mistakes That Are Sabotaging Your Weight Loss Goals (704 words)
5 Common Weight Loss Mistakes PLR Article Sample:
6 Mistakes That Are Sabotaging Your Weight Loss Goals
When it comes to losing weight, knowing what to do is just as important as knowing what not to do. Very often, even the best of intentions are undone by improper actions.
Millions of people all around the world struggle with weight loss. In fact, it is one of the most daunting challenges on the planet with a slew of obstacles that will constantly pop up to stumble you.
Knowing the terrain and doing what matters when it matters is of paramount importance to succeeding and seeing positive results, and ultimately, reaching your dream body.
This article will highlight 6 of the most common mistakes made by those trying to lose weight. Avoid making them and you'll steer clear of most of the pitfalls that trap the masses and prevent them from reaching their goals.
Weighing yourself once every two or 3 weeks is fine. Weighing yourself daily is NOT. Too many people judge their progress by looking at the numbers on a scale. They obsess over the numbers daily, failing to realize that weight can fluctuate daily due to a myriad of reasons from water retention to the food you ate.
You may have lost 2 pounds of fat and gained 2 pounds of lean muscle. This is fantastic. Yet, if all you looked at are the numbers on the scale, you'd see no difference. This can be highly discouraging.
Treat the scale as a general reference point. Do NOT obsess over the numbers. Use photos to track your progress. Everyone has a smart phone these days. Use it. Photos will track your progress much better than a scale.
Are you at a daily caloric deficit of about 500 calories? This is THE cornerstone of all weight loss. You cannot lose weight if your caloric consumption is at a surplus.
You MUST expend more calories than you consume. All the exercise in the world will not help you lose weight if you're eating more calories than you burn.
Not all calories are made equal
Common sense will tell you that 200 calories that come from broccoli will be much more beneficial than 200 calories that come from a candy bar. The way your body responds to the calories will be different.
The candy bar will cause your insulin levels to spike and promote fat storage, whereas the broccoli will be fiber that helps to get rid of more fat in your body. So, do your best to eat clean and you can indulge in your favorite foods once every 3 or 4 days.
Starving yourself is not the answer, even though so many women try it. By drastically cutting your calories, you'll make your metabolic rate sluggish and burn fewer calories.
While you may lose a couple of pounds initially, your body will panic and go into 'starvation mode' where it stubbornly clings on to it's fat stores for future needs. So, don't try to rush things. A caloric deficit of 500-600 calories will do just fine.
Is your workout regimen balanced?
Cardio alone is not the answer. You also need resistance training and spend a few minutes each day stretching. Too many people only focus on one style of exercise. You need both. The cardio will improve your cardiovascular health and put your body in fat burning mode.
The resistance training will make you stronger and retain and build lean muscle which will boost your basal metabolic rate and accelerate calorie burning while you're at rest.
If your body is suffering from inflammation, your cells will not be responding well to your efforts. You MUST clean up your diet and reduce the inflammation in your body.
The same applies for stress. Stress causes the body to release cortisol and through a series of processes within the body, it indirectly makes losing weight an uphill battle. So, do de-stress often.
Keep these 6 pointers in mind and your weight loss journey will not be fraught with setbacks and a lack of progress. You'll lose weight consistently and see a huge difference in 60 to 90 days.
Give yourself time to lose the weight. Don't rush it. Real change takes time.
5 Diet Changes For Weight Loss PLR Articles
Will Cutting Your Carbs Help You Shed the Pounds? (596 words)
Intermittent Fasting: Yay or Nay? (580 words)
2 Diet Tips That Will Accelerate Your Weight Loss (596 words)
Is it What You Eat or is it What's Eating You? (551 words)
Should You Eat Six Times a Day Like They Tell You To? (533 words)
5 Diet Changes For Weight Loss PLR Article Sample:
2 Diet Tips That Will Accelerate Your Weight Loss
The success or failure of your weight loss journey is directly linked to your diet. While exercise will help you to shed the excess weight, ultimately it's your eating plan that decides if the weight actually comes off.
If you're at a daily caloric deficit of about 500 calories, you will lose weight. If you're training 4 hours a day and giving it your best, but your calorie intake is at a surplus, you'll not lose a single pound. You might gain weight though.
While you'll become fitter and stronger, your weight will remain the same. This is one reason why so many people who exercise get confused. They know that their stamina and strength has gone up, but the weight on the scale has not gone down.
Most of the time, they're either eating too many calories or at maintenance level. You must be at a caloric deficit to see weight loss. This is the cornerstone of all weight loss.
That said, if you're at a caloric deficit, there are two tips that can help you to lose the excess weight even faster. Let's look at what they are.
Increase Your Fiber Intake
Fiber refers to vegetables such as broccoli, collard greens, beetroot, carrots and so on. When your diet consists of a lot of fiber, you will feel 'full' faster when eating. The fiber takes up space in your stomach and your hunger is sated.
The fiber is also calorie negative. What that means is that your body burns as much calories as the vegetab