4 Week Fitness Premium PLR Package - High quality 4 Week Fitness PLR product including ebook, report, emails, articles and lots more. Over 42k words of ready-to-go fitness PLR content that you can use to grow your business and educate your audience. This PLR 4 Week Fitness Content Pack includes fast-action bonuses for the first 50 buyers.
#fitnessplr #fitnesscontent #fitnesstips #fitnessplan #wellbeingplr #keepfit #workoutplr #plrproduct #trainingplan #strengthtraining #workoutplr #exerciseplr #fitnesstraining #exercise #gymplr  #exercising #fitness #selfcare #fitnessplans #cardioplans #cardioprograms #fitnessprograms #strengthtraining #cardioplr #exerciseplr #fitnessplanning #diet #dietlifestyle #fitnesslifestyle #privatelabelcontent #plrcontentpacks #plrstore #bestplr #premiumplr #readymadecontent #dfyarticles #premiumplrebooks #premiumplrcontent
4 Week Fitness Premium PLR Product Package – Featuring Over 42 000 Words of Done-For-You Evergreen Fitness Content.
Attention: Health, Fitness & Wellness Entrepreneurs
Done for You Premium Fitness PLR Product on a EVERGREEN Topic:
Fitness Plans!
Dear online business owner, When it comes to top fitness searches, the fitness niche is one of the most searched-for topics online.
It's safe to say that fitness has spawned an entire industry of blogs, fitness courses and products.
This is where my premium done-for-you 4 Week Fitness Plan PLR Package comes in. It's all about teaching your customers everything there is to know about the The 4 Week Fitness Plan.
Everything is done-for-you – from the main PLR Fitness info product to your social media updates – it's simply up to you to add your branding and firmly establish yourself in this lucrative fitness niche. This Fitness eBook PLR package features over 42 000 words of professionally written 4 Week Fitness PLR content that is well researched and ready to be used in your business.
Introducing The
4 Week Fitness Premium PLR Package
Featuring Over 42 000 Words of High Quality Fitness Content Ready To Be Used In Your Business!
This high quality 4 Week Fitness PLR package covers the hugely popular fitness niche. Fitness is evergreen and will always be. This 4 Week Fitness plan PLR content package is well-written by an experienced copywriter and comes with full private label rights so you can edit it, put your name on it, put your brand on it and sell it or use it to build your list of raving fans.
Here's everything you'll get in the 4 Week Fitness MEGA PLR Package…
Main eBook:"The 4 Week Fitness Plan"
(4,637 words, 5 images)

A look inside The 4 Week Fitness Plan Premium PLR eBook:

Table of Contents for The 4 Week Fitness Plan  PLR eBook:
Getting Ready for Your New Fitness Plan……………………………… 2
The Three Pillar Approach……………………………………………………………….. 2
The First Pillar of Fitness – Your Cardio Plan……………………….. 4
I Hate Running!…………………………………………………………………………………… 4
What Can You Do?………………………………………………………………………………. 4
Start Where You Can………………………………………………………………………….. 5
Creating Your Cardio Program………………………………………………………… 5
Start slowly!………………………………………………………………………………………… 5
Tips for Success………………………………………………………………………………….. 6
The Second Pillar of Fitness – Your Strength Training Plan…. 8
Types of Strength Training to Consider…………………………………………. 8
How to Get Started…………………………………………………………………………… 10
Creating Your Strength Training Program………………………………….. 11
Start Small…………………………………………………………………………………………. 11
Your Changing Nutritional Needs…………………………………………………. 11
The Third Pillar of Fitness – Your Diet – Minor Lifestyle Changes Make a Huge Difference………………………………………… 12
Protein………………………………………………………………………………………………. 12
Carbs………………………………………………………………………………………………….. 13
5 Lifestyle Changes to Make Today………………………………………………. 13
Pulling It All Together…………………………………………………………. 15
The End of the Month………………………………………………………………………. 17
Sample Content for The 4 Week Fitness Plan PLR eBook:
Getting Ready for Your New Fitness Plan
You're ready to change your life. You want to get into better physical shape and lose weight. Maybe this isn't your first rodeo. Perhaps you've tried to exercise before and it just didn't work for you. There are many reasons why people struggle with fitness.
One of the most common reasons is that they don't have a structured program that works for them. Another reason is that they don't have realistic goals. It's easy to set huge goals and then just give up when they are more difficult to achieve than you thought. And perhaps you just didn't choose a fitness program that made you feel excited or motivated.
That's about to change. This four week fitness plan is designed to help you set realistic goals and choose exercises that make you smile. If you're not enjoying yourself, at least a little bit, then you're not as likely to follow through.
Note: The above content is just a snippet of the ebook.
Short Report:"Top 10 Fitness Goals
(1657 words, 7 Pages, Word doc)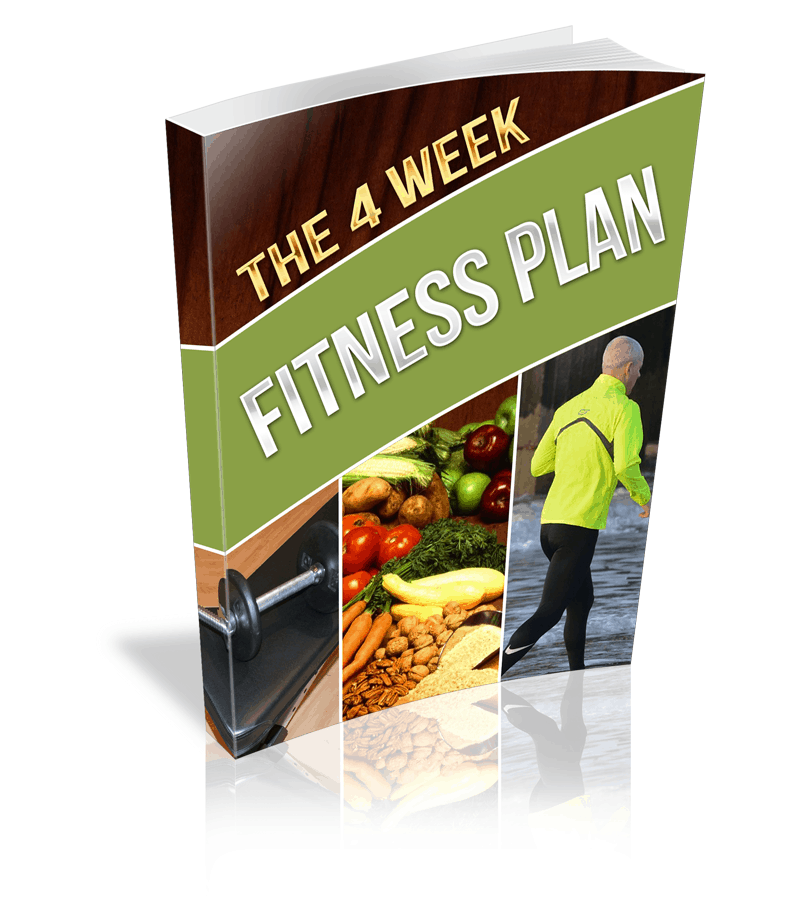 A look inside the Top 10 Fitness Goals PLR Report:

Checklist: Your 4 Week Fitness Plan
(277 words)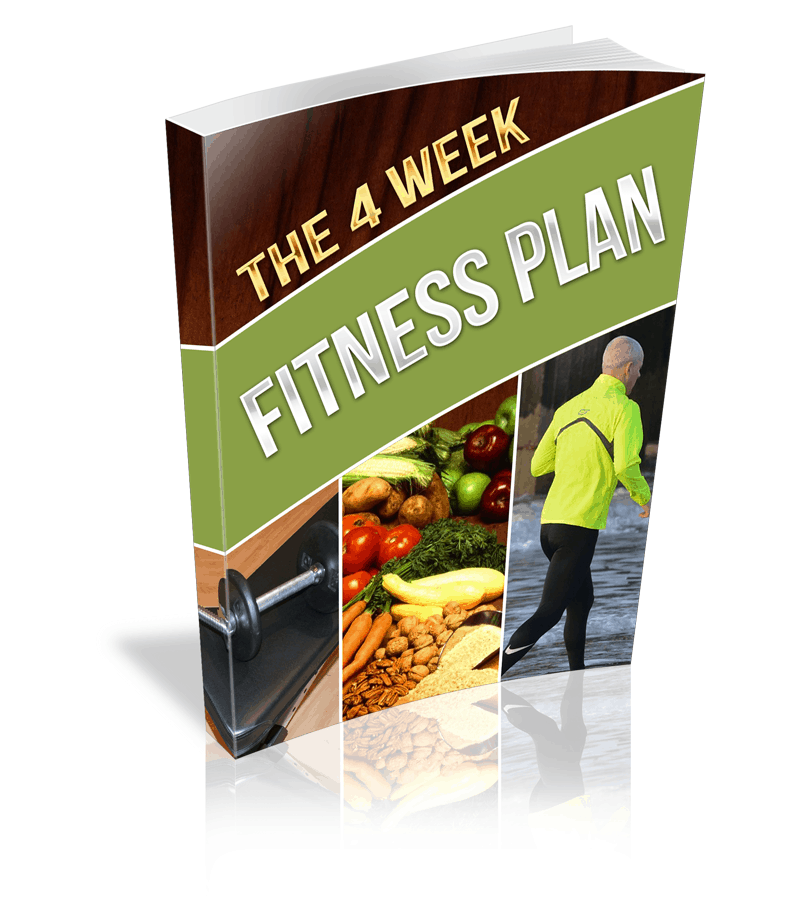 Your 4 Week Fitness Plan PLR Editable Ecovers::

Product Reviews:
Concept2 Model D Indoor Rowing Machine – 427 words
Exerpeutic Folding Magnetic Upright Bike – 442 words
SPRI Xertube Resistance Bands – 420 words
The FlipBelt – 439 words
The Samsung Gear Fit – 402 words
The Soleus Unisex SF002-001 Go Fitness Band – 403 words
The Step Original Health Club Step Aerobic Trainer – 400 words
The Wahoo TICKR Heart Rate Monitor – 417 words
Valeo Medicine Ball – 432 words
Weslo Cadence G 5.9 Treadmill – 433 words
High Quality 4 Week Fitness PLR Articles:
5 Places to Find Support to Help You Stick to Your Exercise Goals – 533 words
Can a Low Carb Diet Help You Lose Weight Quickly (and Healthily)? – 462 words
Can You Train for a 5K in 4 Weeks? – 479 words
How Long Does It Take to Train for a Marathon? – 460 words
How Many Times a Week Should You Exercise for Best Results? – 490 words
How Much Does Exercise Really Help You Lose Weight? – 407 words
How Much Weight Loss Is Healthy in a Week? – 455 words
How Quickly Can You Improve Your Fitness? – 472 words
How to Cook Healthful Meals with Whole Foods, Even If You Have a Busy Schedule – 446 words
How to Get More from Every Cardio Workout – 495 words
How to Incorporate a Little Fast Food into a Healthy Diet Plan – 403 words
How to Motivate Yourself to Exercise Each Day – 541 words
How to Recognize Your Unhealthy Eating Triggers – 437 words
How to Reduce Your Injury Risk At the Gym – 500 words
Is Hypnosis an Effective Weight Loss Treatment? – 413 words
Side Effects of Losing Weight Too Rapidly – 433 words
The Benefits of Challenging Yourself to Master 100 Situps – 444 words
Top 5 Ideas for More Active Social Outings – 496 words
Why You Should Consider Eliminating Sugar for Fast Weight Loss – 510 words
Why You Should Eat More Protein for Better Fitness Results – 455 words
4 Week Fitness PLR Article Sample:
How Many Times a Week Should You Exercise for Best Results?
We all have different results that we expect to achieve. Different results require different training routines. For example, let's look at strength training.
Building Strength
If your goal is to build strength, 4 days per week will help get you to goal. Strength training involves performing multiple sets using heavy weights which can fatigue your nervous system more so than other types of workouts. Just be sure to have a day of rest or light cardio in-between your strength training sessions.
Losing Weight
On the other hand, if you are trying to lose weight, training 3 days per week is adequate. Fat burning routines usually involve the whole body and lots of large muscle group movement resulting in huge energy expenditures. You need a day in-between each training day to build back up your energy reserves and to allow your muscles to repair themselves.
Weight Maintenance
Exercising for weight maintenance requires somewhat of a different strategy since most likely your focus will be on still burning a large number of calories per session, but at a lesser intensity level than you would do for weight loss. Cardio training an hour per day, six days per week fills this bill; rest on the seventh day. Your cardio schedule should look something like training 30 to 45 minutes every other day mixed with at least 30 minutes of strength training per day on two of your non-cardio days.
Staying Healthy
There is also one other type of results that we must address – just staying healthy. Getting exercise regularly is a big part to reducing your risk for certain diseases including cancer, heart disease and diabetes. The American Cancer Society recommends getting at least 45 to 50 minutes of exercise per day, five days per week to help lower the risk of cancer. The American College of Sports Medicine recommends people under the age of 65 do moderately intense cardio training 30 minutes per day, five days per week to keep their heart healthy.
Many people have the conception that their exercise sessions have to be done in one block of time, thus preventing many people from exercising due to that lack of time. Nothing could be further from the truth. Multiple studies have shown that exercising in three 10-minute blocks per day is just as effective (and in some cases more effective) than doing it in one 30-minute session.
And don't forget to incorporate exercising into your daily routine. Parking at the far end of the parking lot and walking the rest of the way to work or to the grocery store counts as exercise. So does taking the stairs instead of the elevator as well as getting off one or two stops away from your normal public transportation stop and walking in rest of the way. The point is you can make several small minor changes to your daily routine, all that count toward your daily exercise goal.  Now get going!
Browse for more fitness PLR content packs at BuyQualityPLR.com
Social Media Posts & Images:
5 Shareable Social Media Graphics (PLR)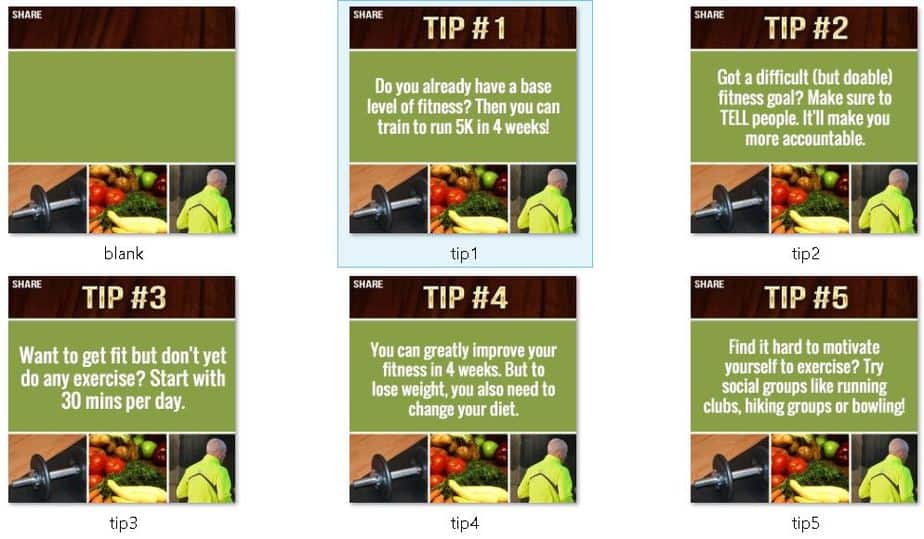 5 Shareable Social Media Inspirational Images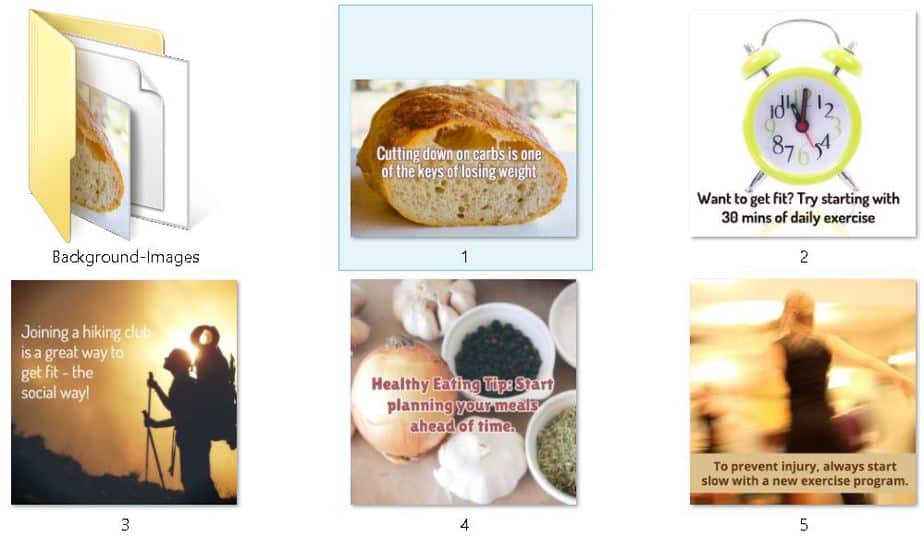 20 Social Media Posts (for sharing on Twitter or Facebook)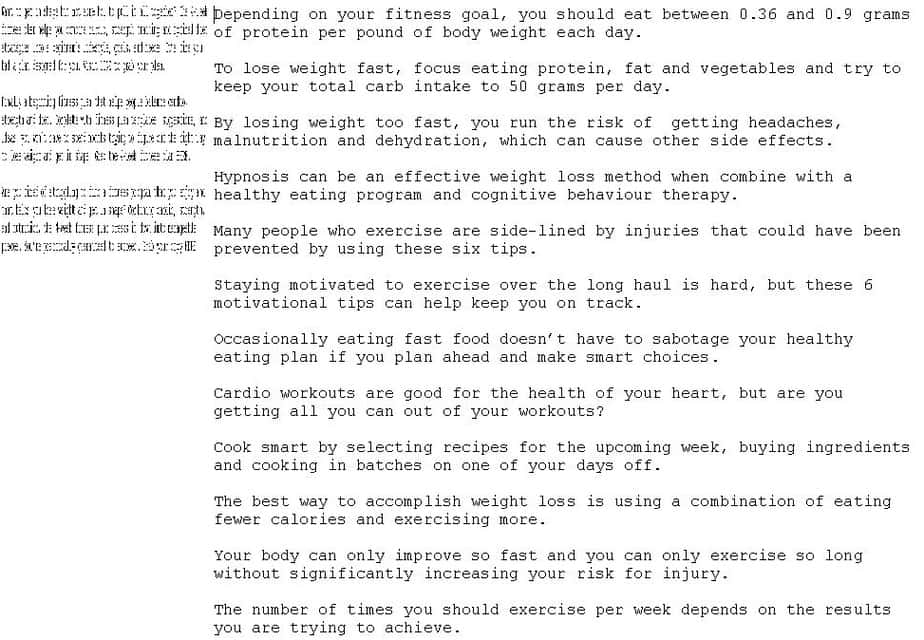 Images of All Products Reviewed

4 Week Fitness Keyword Research Pack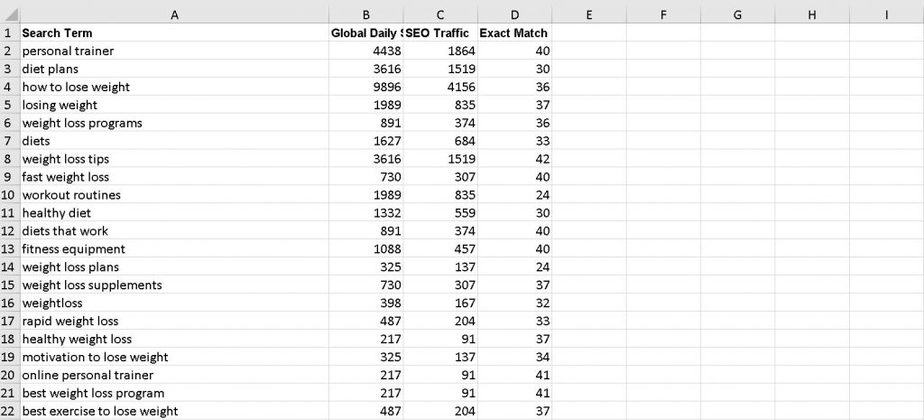 Bonuses:
5 Fitness Routines For Weight Loss PLR Articles
Is Exercise Really That Important for Your Weight Loss Journey? (662 words)
4 Training Mistakes People Make When Trying to Lose Weight (662 words)
Are You Killing Yourself with High Intensity Training? (639 words)
How Often Should Your Exercise to Lose Weight (677 words)
How to Structure a Training Program to Lose Weight (567 words)
These articles are available in .TXT and Word Doc format and includes a PLR license
Fitness Routines For Weight Loss PLR Article Sample:
How Often Should Your Exercise to Lose Weight?
This is a very tough question to answer because individuals vary. There are several factors that one needs to look at before deciding how often they should exercise. In this article, we'll look at the different factors to take note of and you'll be able to decide what is right for you.
Before proceeding, it's important to know that when you're trying to lose weight, your diet is infinitely more important than your training. If you were at a caloric deficit and ate clean and all you did was go walking three times a week, you'd still lose weight.
Many people have done it and have been successful in their weight loss journey. Your weight is directly linked to your diet. Exercise is indirectly linked. Understanding this is of paramount importance.
If you're about 10 to 20 pounds overweight, exercising 5 to 6 times a week will not be a problem, because your body can handle it. You'll see relatively fast progress fitness-wise and your weight will drop if you're eating right.
However, if you're morbidly obese, every exercise session will seem arduous. Your joints will hurt. You'll need to exert more, and every workout will seem torturous.
For people in the second group, exercising three to four times a week will suffice. Even if all you do is a 20 to 30-minute walk, that will be enough.
Since you'll be at a caloric deficit, the exercise will boost your metabolism a little and help to burn more calories. Over time, as you lose more weight, you'll find that the workouts get easier.
You can move better and for longer without getting as tired. You'll be able to exercise more often without struggling.
It's very common to lose weight for a while and suddenly notice that no matter what you do, your weight is not coming down. Your diet is on point and you're training hard, but the pounds are just not melting away.
This is known as a plateau – and it's perfectly normal. Your body is adjusting to the new weight and doing what it needs to do. Once it has adapted, the weight will start dropping again.
The key points to note here is that you should NEVER cut your calories too drastically. Aiming for a 500 to 600 calorie deficit is more than sufficient. If you cut your calories by too much, you'll hit a weight loss plateau.
The same applies to your training too. Sometimes, your training regimen may be too harsh. Your body is sore and exhausted. It needs rest. Taking a 3 to 4-day break will allow your body to recover and you may notice that your weight starts dropping again.
There's no need to worry about gaining weight during the break because you'll be at a caloric deficit. So, you'll not be adding on any additional pounds.
Last but not least, time is always a factor. The excuse that you don't have time to exercise could very well be true if you're a busy mom or you're working two jobs, etc. Time constraints are a problem that you'll need to work around.
If all you have is 15 minutes a day, a quick high intensity session will help you. 2 or 3 times a week will be enough to get your body in calorie burning mode. As long as your diet is on point, your weight will come off.
To conclude, if you train to the best of your ability and watch your diet and caloric intake, you will lose weight. Do not compare yourself to others. Your only competition is the person you see in the mirror.
If you stay the course, what seems impossible today will be your warm up one day in future. Stay committed. Stay strong
10 Top Quality Exercise PLR Articles
Why You Should Enlist in a Fitness Boot Camp – 446 words
Running – A Low-Cost Way to Become and Stay Fit – 503 words
Personal Fitness Trainer versus Health Club Membership – 465 words
New Fitness Gadgets – 533 words
Kickbox Your Way to a Great Body – 491 words
Jukari Makes Working Out Exciting – 401 words
Hoopilates – A Hot New Workout – 419 words
Get Into Shape with Spinning Classes – 448 words
Zumba Latin Dance – A Healthy Addiction – 388 words
Barefoot Running – The Newest Trend – 456 words
These articles are available in .TXT format and includes a PLR license
Top Quality Exercise PLR Article Sample:
Hoopilates – A Hot New Workout
Every so often a new workout or fitness program is developed. Some of them are fun and provide great results. One such program is called Hoopilates. A combination of hooping and Pilates, it's a hot new workout you can enjoy and benefit from.
Hooping 101
Hooping is artistic movement or dance with hoops. The hoops can range anywhere from a few inches in diameter to a few feet. Most commonly the hoop is about the size of a hula hoop. While commonly a lightweight plastic, the hoops can be made from metal or wood as well.
Hoops can be rotated around the waist, hips, thighs, neck, arms and legs. While hooping has likely been around for centuries, it wasn't until the 1950s that the hula hoop was invented and sold in stores. The trend took off and has been adapted for many performance, enjoyment, and fitness uses.
Pilates 101
Pilates was developed by Joseph Pilates. Born in Germany in 1883, Joseph created the exercise system to strengthen the core muscles. The traditional form of Pilates uses apparatus to guide and control the body's movements. Pilates has been adopted and adapted by trainers around the world. Many instructors now train with and without the use of the machines.
You can find Pilates programs in just about every major city around the world. It's an intense program that requires focus and concentration. However, users swear by the results and the benefits of Pilates.
Hoopilates
Hoopilates is a combination of Pilates and hooping. It was developed by a Pilates instructor from Brooklyn named Jen Bleier. After hosting a class in a New York park, the fitness program quickly caught on. Jen Bleier also combined the mind-body awareness that is present in other fitness programs like Yoga.
A typical class begins with a waist hooping warm up. The warm up is then followed by a series of both seated and standing Pilates exercises and stretches. You'll use arm hooping intervals throughout the course as well.
While you don't need to bring your own hoop, you certainly can. You should, however, bring your own yoga mat. Classes are held in Prospect Park and they're free, although a ten-dollar donation is requested for first timers. Says Bleier on her website, "Tricks will be taught. Hoops will be dropped. Successes–little and big–will be wildly celebrated by all."
If you don't live in New York, no worries. Hoopilates will likely be coming to a fitness studio or gym near you.
15 Top Quality Fitness and Exercise Tips PLR Articles
How To Maximize Working Out With Your Pet – 533 words
Looking for Fitness Programs for your Specialty Group-Start with the list below. – 510 words
What is Cy-Yo all about – 502 words
What is YogaFit, and how can you get started – 484 words
What Should You Consider Before Hiring a Fitness Trainer – 473 words
Yogilates-What you need to know about this latest fitness trend. – 427 words
10 Effective Fitness Activities You Must Try Out This Year – 526 words
Are You Ready For A Personal Trainer – 425 words
Beat Sitting Disease with These 6 Simple Tips – 498 words
Crossfit-Understanding its benefits and how you can get started. – 416 words
Dancing for Fitness-What You Need To Know – 541 words
Functional Fitness-What is it and who are its benefits – 421 words
Group Personal Training-An effective way to meet your fitness goals or not – 511 words
How To Become More Accountable For Your Fitness Goals – 521 words
How To Integrate Strength Exercises In Your Daily Fitness Routine – 414 words
These articles are available in .TXT format and includes a PLR license
Top Quality Fitness and Exercise Tips PLR Article Sample:
Are You Ready For A Personal Trainer?
Fitness experts and enthusiasts predict that this will be the year of the personal trainer. More and more people are trying to lose weight and get in shape. An expert can help you reach your goals. Additionally, personal trainers can specialize to help specific groups of people reach their goals. If you're striving to lose weight, get in shape, and improve your life then it may be time for a personal trainer.
Reasons to Hire a Personal Trainer
There are many benefits to hiring a personal trainer. They can help motivate you. They may have specialized knowledge or they may be able to help you reach specific goals. Additionally, a personal trainer may be able to help you focus in on proper form and technique. This helps you prevent injury and get the most benefit from any exercise or movement.
Specialty Needs
If you have specialty needs then a personal trainer is an exceptional idea. For example, children and senior citizens both benefit from specialty fitness knowledge. Pregnant women do too. But you don't have to be going through a life stage to have a specialty need.
For example, if you're training for a competitive event or milestone a personal trainer can help you maximize your workouts for maximum benefit.
Optimal Weight Loss
A personal trainer can provide you with the instruction and guidance you need to achieve your weight loss goals more quickly. Instead of guessing about what to do and how to workout, a trainer can tell you. You skip the mistakes and get right to the success. Additionally, many personal trainers are also certified nutritionists. They know how to fuel your body properly.
Motivation Galore
If you've reached a plateau then a personal trainer can help you push beyond it. And if you're just not feeling it, and everyone goes through those periods, then a personal trainer can help you feel recharged and reinvigorated. Of course the right personal trainer makes all the difference.
How to Find The Right Trainer for Your Needs
Many gyms offer personal trainers on an hourly basis. You can also find specialty trainers in your area simply by doing a quick online search. Ask friends and family members too.
Spend time searching for someone you trust. Make sure they have the proper certification and are CPR certified. Give them a "test run" to make sure you're compatible. Personal trainers are people too. They have their own ideas, methods, and personalities. Find one that fits your needs for the best results.
Guidelines for Running for Health and Fitness PLR Report – 7468 words
Available in .TXT and Word Doc format.
Grab All of the Above at a BIG Discount Today!
Wait! I Forgot to mention…BONUSES!!
For the first 50 buyers of this 4 Week Fitness Premium PLR Package, if you grab this PLR deal right now, you'll also get these FAST-ACTION BONUSES for a limited time only!
Bonus 1
Exercises Flat Abs PLR Newsletter eCourse