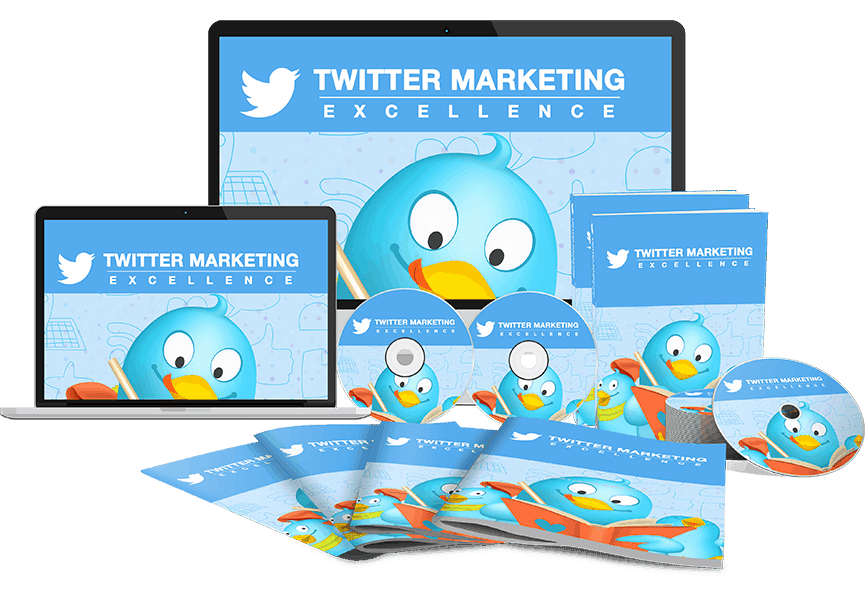 Twitter Marketing Excellence Sales Funnel with Master Resell Rights
in
Complete Sales Funnels , Internet Marketing , Internet Marketing Ebooks MRR , Internet Marketing Videos MRR , Master Resell Rights Products , Master Resell Rights Sales Funnels , MRR eBooks , MRR Lead Magnets , MRR List Building Reports , MRR Videos - Master Resell Rights Videos , Resell Rights Ebooks , Resell Rights Products , Resell Rights Sales Funnels , Resell Rights Videos , Sales Funnels , Social Media , Social Media Marketing , Traffic Ebooks MRR
Choose Your Desired Option(s)
has been added to your cart!
have been added to your cart!
#TwitterMarketingExcellence #TwitterMarketing #Twitter #SocialMediaMarketing #SocialMedia
Twitter Marketing Excellence Sales Funnel with Master Resell Rights
Step-By-Step Strategy For Generating As Much FREE TRAFFIC As You Want Using Twitter… Even If you've tried Twitter before and failed miserably…
You can start seeing traffic flowing within minutes
It's easier to find targeted traffic sources
You can see what's working and what's not without putting in a lot of effort and time
You can begin to profit within days or even hours in some cases… NOT weeks or months!
Unless you've been living under a rock, there's no doubt you've heard of Twitter.
If you're like most marketers, you've probably even tried to use Twitter a time or two and failed to see the type of results that you had hoped for…
Let me know if this sounds familiar?
You created a Twitter account sometime in the past 5 years…
At first, you Tweeted regularly, but you weren't really sure what to Tweet.
Most of the Tweets you posted probably didn't get shared and were maybe even a bit promotional in nature…
You first year, you grabbed a handful of followers, but nothing that really made a difference in your business.
…and, at this point, you've either completely gone silent on Twitter, or you're still seeing similar results (or a lack of results, depending on how you want to look at it) …
Does that mean Twitter doesn't work for generating traffic?
Of course not.
You've seen others that are KILLING it and generating tons of FREE traffic with Twitter, and you know that if you could just get a piece of the action, you could change your online business for the better…
Why Twitter Is a HUGE Opportunity
RIGHT NOW…
It doesn't matter what type of business you're in, if you're not using Twitter to drive traffic and build your online authority, you're missing the boat…
Twitter traffic is…
Targeted and Engaged– People are on Twitter and part of conversations that they are interested in… If you can engage people interested in what you're offering, you can profit like crazy
Fast – You can begin getting traffic within minutes of posting…
FREE – Although Twitter does have a paid platform, you can generate thousands of visitors for free… no paying for clicks or impressions… 100% FREE traffic…
Twitter is big and getting bigger.
Right now, Twitter has over ONE BILLION registered users and over 316 MILLION of those users are active every month.
Twitter is a household name and recognizable by almost everyone…
Not only is there a HUGE opportunity to drive hordes of targeted traffic, you can begin seeing results right away.
Without spending money on clicks or expensive banner advertisement or investing a ton of time…
And just like other social media site like Facebook and Instagram, with Twitter, you can quickly find yourself going "viral" and getting thousands upon thousands of visits literally overnight…
To Succeed With Twitter, There Are Many Things You Must Consider…
You can't just open an account and assume people are going to start following you and ultimately visiting your website.
With Twitter, to be successful, you must understand the psychology behind why people have joined Twitter in the first place.
Although it doesn't take long to create a successful Twitter strategy that can generate as much traffic as you could ever want…
…Most People NEVER Generate Much…  If Any… Traffic With Twitter…
…because they don't spend the time to really understand how to set things up and maximize their results with Twitter.
There is a simple formula to success with Twitter, but almost EVERYONE does it wrong.
You see…
…The Key to Success with Twitter is the details.
If you know how to properly setup your Twitter profile up and integrate it into your online strategy, the results can be huge…
But you can't just open an account, cross your fingers, and think you're going to get rich overnight…
You need to follow a system for generating massive traffic with Twitter.
If You Do Things Right With Twitter  You Will See This…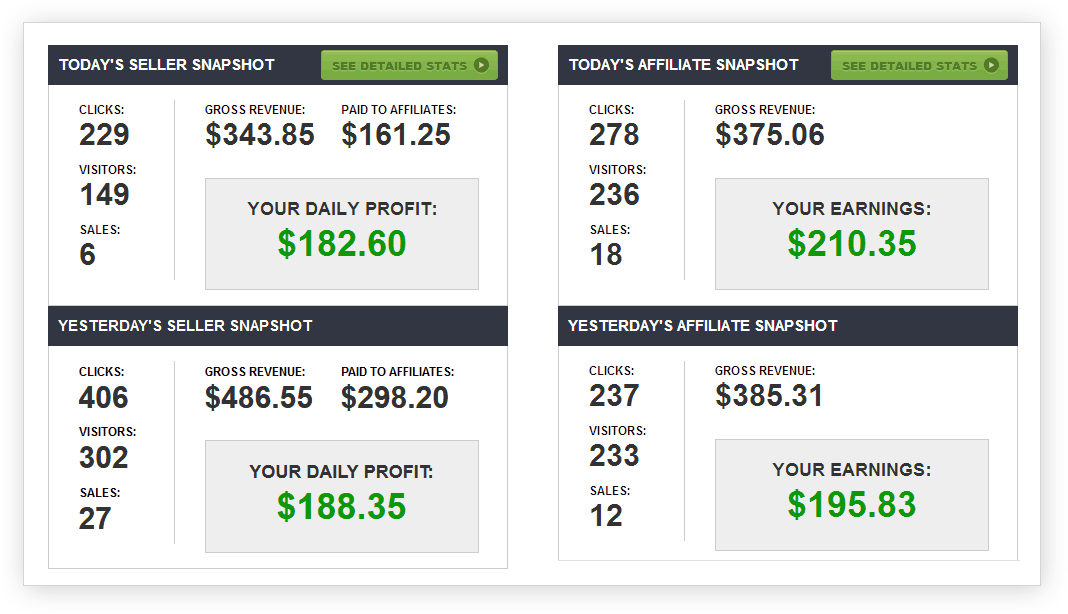 If You Do Things Wrong With Twitter You'll  Continue To See This…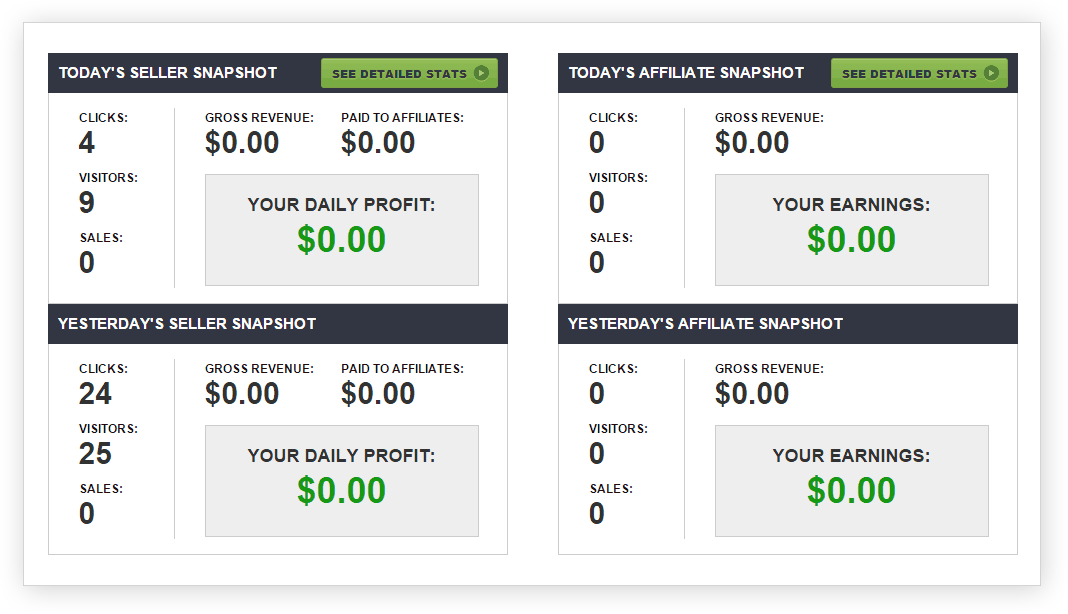 Which would you prefer?
Today you'll have the opportunity to plug-in to a system that will take you by the hand and show how to go from ZERO to BIG SUCCESS with Twitter…
Introducing…
Twitter Marketing Excellence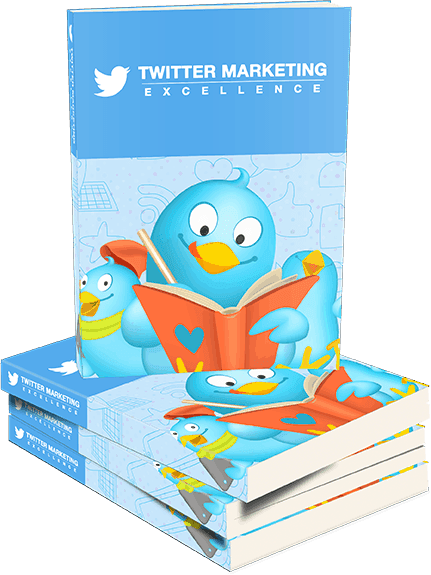 Inside This Step-By-Step Guide, You'll Discover…
Why Twitter is one of the fastest and easiest ways to generate thousands of targeted visits to your website
The foolproof way to avoid failure with Twitter by creating a strategy that maximizes your efforts and guarantees success…
How to quickly generate content that your target customers are looking for – This means more sharing, more engagement, more traffic, and ultimately more money in your pocket!
Growth hacking 101 – How to spot trends and generate tens of thousands of FREE visitors literally overnight
The right people to follow to get the best results from your Twitter marketing plan… Use the wrong "follow" strategy and you'll fail like 90% of most marketers…
How to work smarter, not harder by using four FREE tools that make it easy to plug-in and start generating massive traffic from DAY #1…
How reacting to the ______________ can quickly generate as much traffic as you can ever want… Almost EVERYONE does this wrong… if you do this correctly, it will make you SIX FIGURES…
Hashtagging the right way… Most marketers use hashtags incorrectly and it literally KILLs their Twitter
marketing strategy… You'll learn a unique method of hashtagging that can quickly generate hordes of traffic…
Don't have anything of your own to share? No problem… You'll discover how to find content that generates shares, followers, and traffic in ANY NICHE…
How to overcome ___________… If you don't do this, you will never see the results you're looking for on Twitter…
The sneaky method you can begin using TODAY to get well-known, key-influencers joining conversations that you begin even if no one knows you and you have no authority in your market…
How to legally steal the authority of others and use it get high-quality followers that will eventually become subscribers and customers in any market…
By using _______________ events, you can quickly draw in thousands or even tens of thousands of followers overnight…
Although not necessary to see results, this simple and incredibly inexpensive paid method can jumpstart your Twitter campaign and help you see results even faster…
This is the most complete, up-to-date guide for profiting with Instagram available online today, but is it for you?
It doesn't matter what type of business you're in, if you're not using Twitter to drive traffic and build your online authority, you're missing the boat…
Twitter traffic is…
Who Should Get Twitter Marketing Excellence?
Twitter Marketing will help anyone looking to see success online generate tons of free, targeted traffic…
It's perfect for…
Bloggers
Affiliate Marketers
CPA Marketers
Product Owners
Coaches
Entrepreneurs
Non-profits
And Much More…
"This Sounds Like What I Need To Generate Tons Of FREE TRAFFIC… How Much?"
It's hard to put a price on getting as much TARGETED traffic as you could want…
After all, if you were going to purchase paid traffic, you'd easily pay as much as $1 per click… or even more.
That means, you could find yourself paying $1,000 or more for 1,000 targeted visitors per month.
When you learn how to use the power of Twitter to generate traffic, you can generate 1,000s of targeted visits to your website at NO COST.
Not only can generating hordes of free traffic save you thousands of dollars, but targeted Twitter traffic can easily stuff your pockets with hundreds of dollars per day in profits.
I initially planned to release this step-by-step eBook for $97…
At this price, you'd be able to quickly make your money back and then some, but I don't want price to hold anyone back from this extremely valuable information.
For a limited time, you won't pay anywhere near $97.
In fact, today you won't even pay $47…
If you take action today, you can get access to the Twitter Marketing Excellence eBook for just $9.
And this just keeps getting better…
When You Take Action Today, You'll Also  Get These Fast Action Bonuses…
Fast Action Bonus #1 – Twitter Cheat Sheet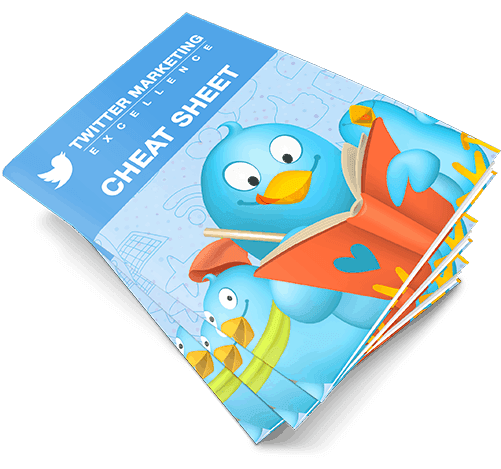 This cheat sheet is a handy checklist that you can print out and use to easily take action at every step of the process.
It breaks up the whole training into easy-to-follow steps so that you can make sure you have every single piece of advice taught in the training at your fingertips. This helps you to track your progress and will help you meet your income goals faster than you thought possible…
Fast Action Bonus #2 – Twitter Mindmap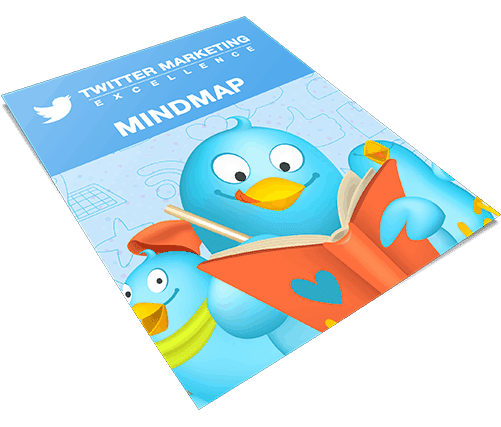 Some people learn better by looking at a mind map. This mind map gives you an overview of every step you need to apply. You can also print it out for quick reference any time you need it!
Fast Action Bonus #3 -Twitter Resources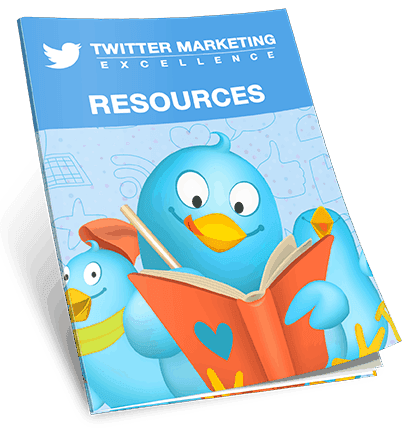 The Resource Guide gives you a quick point of reference to all of the resources mentioned throughout the training.
This makes it easy to stay on track and see results even faster!
But please… hold on, because I'm about to make this REALLY easy for you…
has been added to your cart!
have been added to your cart!
Discover How To Start Generating FREE TRAFFIC Even Faster With The Twitter Marketing Excellence Video Course…
Thanks for your purchase of the Twitter Marketing Excellence Ebook.
With what you learn inside, you'll be able to start generating FREE traffic with Twitter and seeing great results, but what if you could get going even faster?
What if you could take what you'll learn inside the Ebook to the next level and get even more traffic and make even more money with Twitter?
The good news is, you can…
For a limited time, you can get access to the Twitter Marketing Excellence Video training course that will give you the upper hand when it comes to using Twitter to generate massive traffic and ultimately leads and sales online…
This is an exclusive, customer-only offer to upgrade…
Why You Need To Upgrade To The Video Version Of Twitter Marketing Excellence…
Did you know that many people learn MUCH faster by watching something being done rather than just reading about how to do it?
How do you learn best?
A majority of the population learns better and retains information MUCH faster from watching a video than be reading the text version of something…
Although driving tons of high-quality traffic with Twitter is a formula that anyone can learn, it's the little details that make the difference between getting results as soon as today… and complete and total failure…
It all starts with planning your first Twitter campaign and getting things setup… Do things correctly, and you'll have more traffic than you know what to do with…
But, if you miss any of these details or do things the wrong way, and you could find yourself missing out on traffic…
…or worse…
…you could even end up getting your account BANNED.
That's why you need to make sure you do every step correctly… every single detail, so you don't find yourself spinning your wheels…
With The Video Upgrade To Twitter Marketing Excellence You Will…
Get things setup the right way and start seeing results within hours of getting started…
Stay focused and accountable to following through and seeing results…
Start generating more traffic FASTER than you ever thought possible…
With The Twitter Marketing Excellence Video Training Course You Get 10 Step-by-Step Videos That Will Take You From Getting Started To Getting MASSIVE Traffic…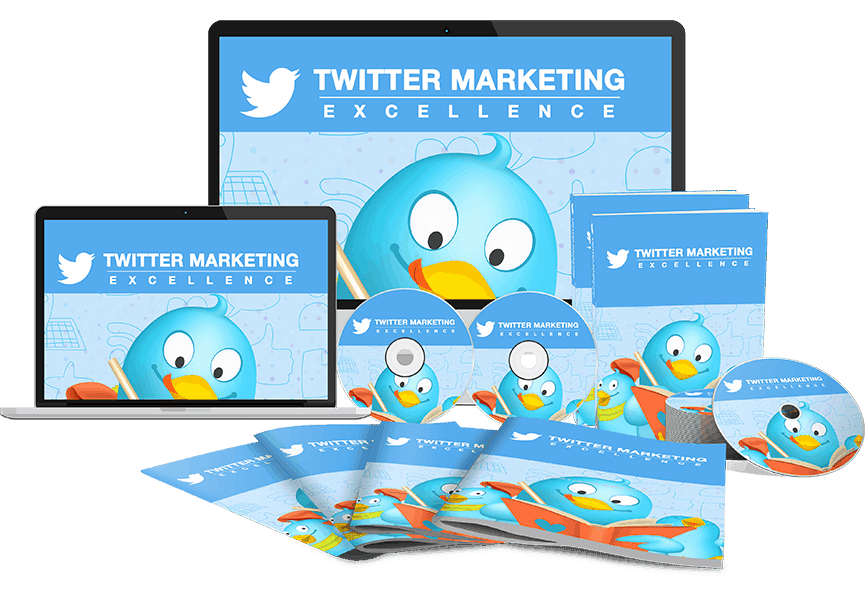 Are you ready to get faster results and begin getting more FREE traffic than you ever thought possible?
If the answer is "YES," click the link below…
has been added to your cart!
have been added to your cart!
Of course, you're probably wondering how much this is going to set you back, right?
The good news is…
If You Act Now, You Can Upgrade To The Twitter Marketing Excellence Video Course For Over 75% Off The Normal Price…
When you consider this is like having a Twitter expert sit down next to you and SHOWING you how to generate tons of FREE traffic with Twitter, this upgrade is priceless…
Not only will you avoid many of the most common mistakes that people make, you'll see results FASTER and get better results with this exclusive video training.
If you're one of those people that learns better from seeing someone DO something rather than reading about it, you need to get this upgrade today…
The normal price for the Twitter Marketing Excellence Video Course is only $197…
But, you won't pay anything near that today.
In fact, you won't even pay $97 for this special upgrade.
As a valued customer, you get the limited opportunity to upgrade to the Twitter Marketing Excellence Video Course for the low, one-time investment of just $47.
That's over 75% OFF the normal price of this training…
But, it's about to get a little sweeter…
You'll Also Get This Exclusive Fast Action Bonus…
Fast Action Bonus – High-Quality MP3s Of The Entire Twitter Marketing Excellence Video Course

Don't have time to watch videos? I am also providing you with 10 MP3's that you can use to while you're on the go…
Listen to them in the car, at home, or even at the office and you'll be killing it and driving HORDES of traffic with Twitter in no time!
Here's the best part about all of this…
has been added to your cart!
have been added to your cart!
Here's a Sample Video So That You Know What To Expect From These Videos
has been added to your cart!
have been added to your cart!
Package Details:
Module 1 – Training Guide
Module 2 – Cheat Sheet
Module 3 – MindMap
Module 4 – Resource Report
Module 5 – Sales Letter And Thank You Page
Module 6 – Sales Video
Module 7 – Legal Pages
Module 8 – Graphics
Module 9 – Articles
Module 10 – Banners
Module 11 – Promotional Email Swipes
Advance Video Course:
Module 1 – Training Videos
Module 2 – PowerPointSlides
Module 3 – Voiceover
Module 4 – Upsell Salespage
Module 5 – LegalPages
Module 6 – SalesVideo
Module 7 – Affiliate Page
Module 8 – Promotion Email Swipes
Module 9 – Squeeze Page
Module 10 – Giveaway Report
Module 11 – Graphics
Total File Download Size:
260 Megabytes (MB)
Master Resell Rights License:
[YES] Can be packaged
[YES] You Can Use This Product Yourself
[YES] Can be sold as it is not less than $7 price tag!
[YES] Can pass on the Resell Rights privilege to your customers.
[YES] Can Add This Product to a Membership Site or Bundled Within a Product Package as a Bonus.
[YES] Can be used to create audio/webinar/video products
[YES] Can Give Away The Product (NOT The Source Code Files) To Your Subscribers, Members or Customers as a Bonus or Gift.
[YES] Can change sales page and/or graphics
[YES] Can be added to paid membership sites
[YES] Can sell master resale rights
[NO] Add to a free membership sites
[NO] You can't just pass away the product to anyone
[NO] Contents of the product can be edited, modified or altered.
Share this and get 20% off!
Related Products That May Interest You