Tshirt Profits 101 PLR Lead Magnet Kit - includes 2000 words tshirt profits 101 report, HTML squeeze page and 5 PLR autoresponder emails (2400 words) that is ready to be used to build your email list and follow-up with your new subscribers.
#tshirt #tshirtprofits #profitsplr #profits #profitsniche #tshirtdesigns #tshirtsales #tshirtstyles #tshirtcompanies #brandingplr #marketing #tshirtmarketing #onlinebusiness #onlinemarketing #socialmedia #leadmagnet #autoresponders #reportplr #emails #productcreation #teespring #skreened #shirtmarketing #tshirts #nichemarketing #homebusiness
Tshirt Profits 101 PLR Lead Magnet Kit
How Would You Like To Own Your Own High Converting Tshirt Profits 101 PLR Lead Magnet with Ready-to-go Squeeze Page So You Can Start Building Your List In The Online Marketing Niche?
This Is Your Chance To Grab A Completely Done-For-You Tshirt Profits 101 PLR Lead Magnet That You Can Setup And Start Sending Traffic To In Order To Build Your Biggest Business Asset…Your Email List!
Introducing The…
Tshirt Profits 101 PLR Lead Magnet Kit
A High Quality Lead Magnet With Private Label Rights Consisting of 2099 words that includes a done-for-you HTML Squeeze Page and 5 Ready-to-go Autoresponder Follow-up Emails.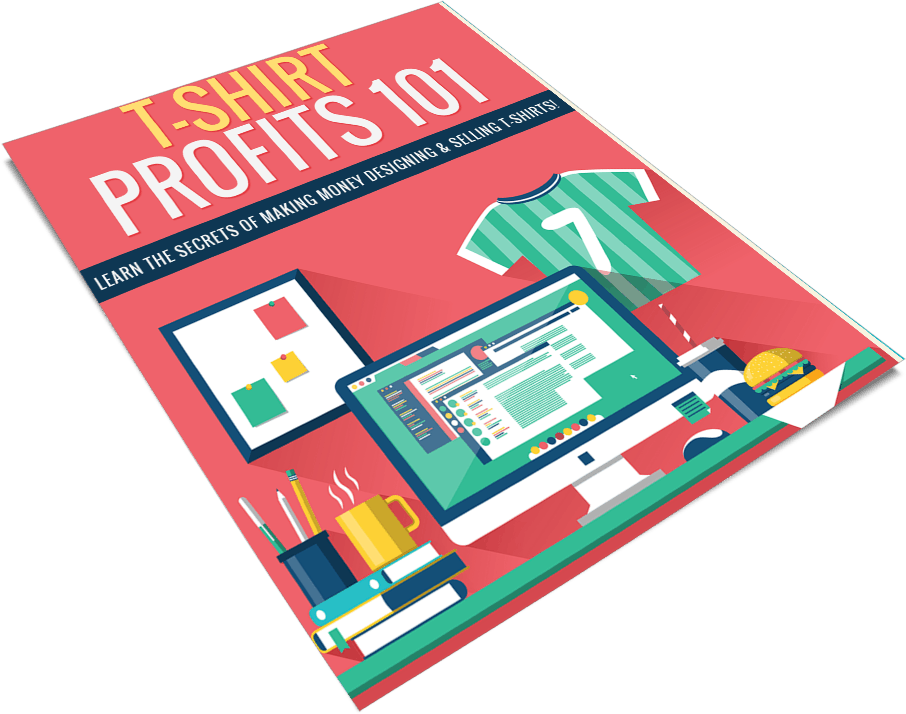 Screenshot Inside the Tshirt Profits 101 PLR Lead Magnet Report: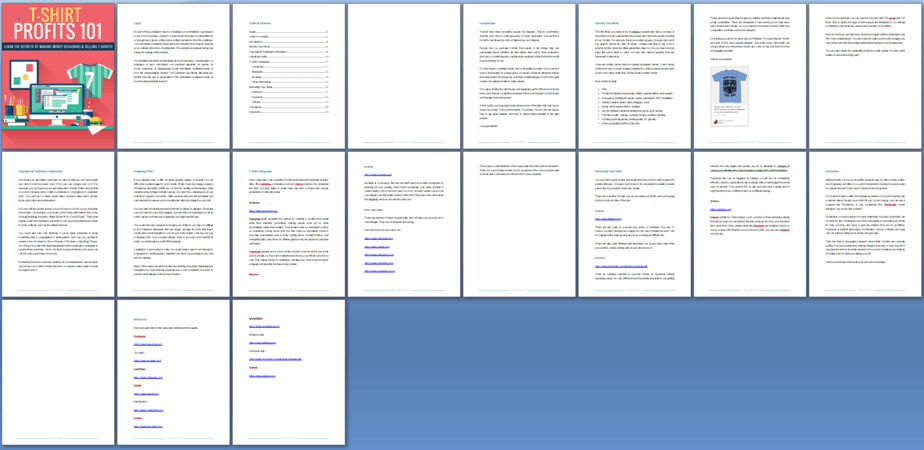 Table of Contents 
Legal………………………………………………………………………………………….. 2
Table of Contents………………………………………………………………………….. 3
Introduction………………………………………………………………………………….. 5
Identify Your Niche………………………………………………………………………… 6
Copyright & Trademark Information………………………………………………….. 9
Designing Shirts…………………………………………………………………………. 10
T-Shirt Companies………………………………………………………………………. 11
TeeSpring………………………………………………………………………………. 11
Skreened………………………………………………………………………………… 12
Society6…………………………………………………………………………………. 12
Other Alternatives…………………………………………………………………….. 12
Marketing Your Shirts…………………………………………………………………… 14
Pinterest…………………………………………………………………………………. 14
Facebook……………………………………………………………………………….. 14
Wanelo…………………………………………………………………………………… 15
Conclusion…………………………………………………………………………………. 16
Resources…………………………………………………………………………………. 18
Sample Of The Content Inside The Tshirt Profits 101 PLR Lead Magnet:
Introduction
T-shirts have been incredibly popular for decades. They're comfortable, durable, and come in a dizzying array of colors and styles. You can find a t-shirt for just about any kind of interest you can imagine.
People love to purchase t-shirts that speak of the things they are passionate about. Whether it's their family, their hobby, their profession, their pet, or something else, people enjoy wearing t-shirts that let the world know what they're into.
For this reason, creating t-shirts can be incredibly lucrative. If you can find a topic that speaks to a large group of people, create an attractive design that really works for that group, and then put that design in front of the right people, it is almost certain to make money.
Of course, finding the right topics and designing well to fit that niche is the tricky part. It takes a significant amount of time and research to find topics and designs that will succeed.
In this guide, you're going to learn about some of the tricks the pros use to make big money in the t-shirt market. You'll learn how to find hot topics, how to get great designs, and how to market those designs to the right people.
Let's get started.
Identify Your Niche
The first thing you need to do is choose a passionate niche, but keep in mind that not every passionate niche would have fans who would be willing to buy t-shirts. For example, there are certain groups of people who don't buy graphic t-shirts as often as others. College kids tend to buy a lot of graphic t-shirts, while the older generation does not. So you must not only keep the niche itself in mind, but also the market (people) that are interested in that niche.
There are certain niches that are virtually evergreen niches. These niches will tend to have a much greater potential for profit, because people have proven over many years they will buy shirts in these niches.
Such niches include:
Pets
Family & Romance (especially children, grandchildren and couples)
Emergency & Medical Careers (nurse, paramedic, EMT, firefighter)
Artistic Careers (writer, artist, designer, chef)
Nerdy Stuff (science fiction, fantasy)
Sports (football, baseball, basketball, soccer, golf, racing)
Hobbies (crafts, cooking, camping, fishing, hunting, reading)
Gaming (console games, tablet games, PC games)
Retro (especially stuff from the 80s)
These are a few good ideas to get you started, but these markets are also pretty competitive. There are thousands of new shirts put on sale every day in these exact niches. So if you want to find topics that are a little less competitive, it will take a bit more research.
One thing you can do is check pins on Pinterest. Try searching for "t-shirt" and look at the most popular designs. See what colors and styles are being pinned, and what those niches are. Look for the pins that have the most repins and likes.
You'll also be getting a high converting squeeze page that you can use to build your list!
Screenshot of the HTML Squeeze Page Included: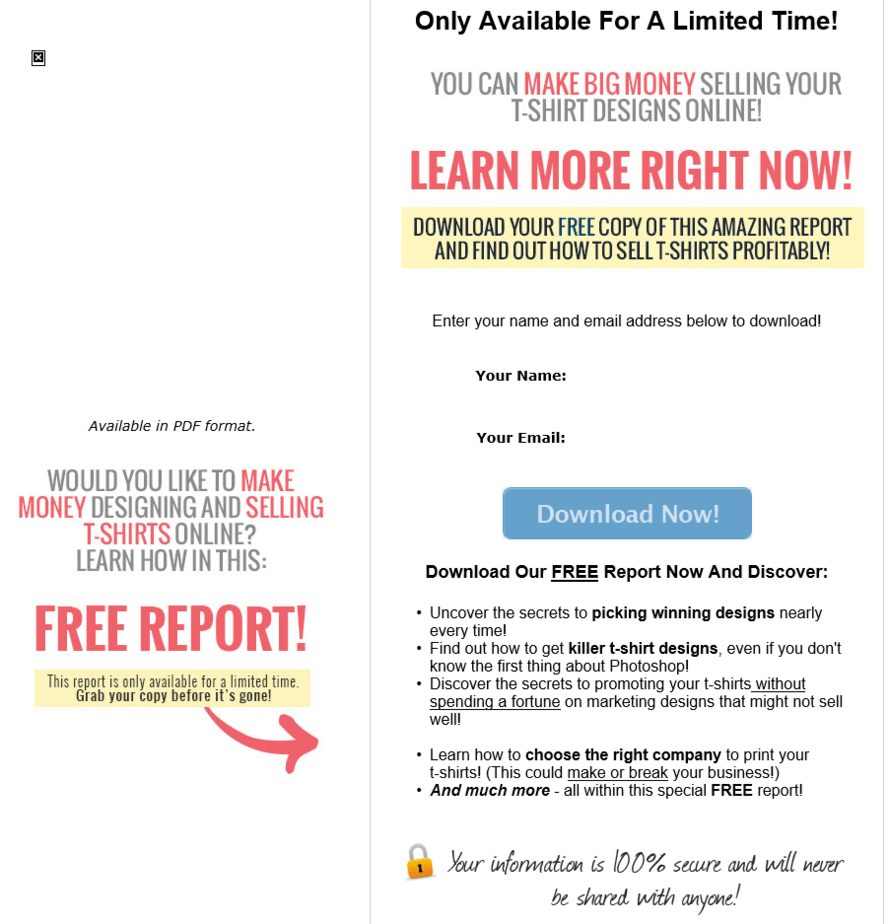 You'll also be getting 5 done-for-you PLR follow-up emails that you can pop into your Autoresponder and start sending to your new subscribers immediately after they join your email list!
Sample of these Tshirt Profits 101 PLR follow-up Autoresponder Messages:
Subject: Are T-Shirts Still Profitable?
Many people seem to think that a recent glut of competition in the t-shirt selling market has made it more difficult to make money, but is that really true? Is there so much competition that no one can make money selling shirts anymore?
Absolutely not!
T-shirt selling is still incredibly profitable, but there are quite a few factors that will affect how much profit you can make with it.
First of all, you can't just throw up a bunch of designs and hope something sticks. It's extremely important to do something to promote your shirts, or you'll find that you've just wasted time (and potentially money if you paid a designer to create your shirts for you) by not doing any research first.
Even if you're certain a particular idea will be profitable, it's a good idea to do some research first. See if anything similar already exists, and if so, whether it seems to be selling well. Find out a little about the target market. If they are older individuals, they may not be as willing to buy a graphic t-shirt as a younger market, for example. You want to choose a market that has a passion for the topic AND is likely willing to buy t-shirts.
Another way to test profitability of a design is to run a small test ad on Facebook. See if you get any sales during that test period. If not, it might be a good idea to change the design or try a different market.
Remember that some markets actually ARE saturated, and sellers are seeing a lot of buyer fatigue. For example, the market for shirts meant for husbands and wives has been absolutely flooded, and buyers already have a large number of such shirts. It's a lot harder to get sales in a market where the average user has already bought several shirts and doesn't see a need to buy another one.
Other markets have hardly been touched at all, perhaps because very few sellers have thought of them, or because it doesn't seem like that market would be likely to buy shirts. If you find one of these markets, you can always run a short test ad to see if such a market would be profitable.
It can be tricky to find a market that isn't already flooded, but it's certainly possible. We'll look more at choosing markets for your t-shirts in another lesson.
This was the first of a series of lessons on the subject of t-shirt selling. Tomorrow, we are going to take a look at some of the different t-shirt companies, and which one might be the best fit for you.
See you then!
These 5 tshirt profits 101 PLR emails have a total word count of: 2400 words
Don't miss out on this chance to grab YOUR OWN rebrandable Tshirt Profits 101 PLR Lead Magnet that is done-for-you and ready for you to insert your affiliate links to start building your list and earning affiliate commissions.
Grab it now for a very low price of only $4.99!
 Package Details:
– 1 Lead Magnet Report (PDF, DOC),
Report Word Count: 2099 words
– 5 Part Autoresponder Email Messages (TXT)
Autoresponder Email Messages Word Count: 2400 words
– 1 Squeeze Page (HTML)
– File Size: 4MB
PLR License Terms:
PERMISSIONS: What Can You Do With These Materials?
[YES] Can be sold
[YES] Can be used for personal use
[YES] Can be packaged with other products
[YES] Can modify/change the sales letter
[YES] Can modify/change the main product
[YES] Can modify/change the graphics and ecover
[YES] Can be added into paid membership websites
[YES] Can put your name on the sales letter
[YES] Can be offered as a bonus
[YES] Can be used to build a list
[YES] Can print/publish offline
[YES] You Can Rebrand, Rename, Redesign The Product and Create New Graphics to Call It Your Own.
[YES] You Can Add This Product to a Membership Site or Bundled Within a Product Package as a Bonus.
What You CANNOT Do With These Materials?
1 – You CANNOT sell this product as your own PLR or in your PLR store.
2 – You CANNOT submit any of the content provided by Buy Quality PLR to reprint article directories or other websites which accept reprint content even if you have edited or reworded the content.
Why? Because many article directories won't take PLR articles. If everyone started submitting similarly written articles to these directories it wouldn't be fair for the directory owners, their users or our members. Be fair to everyone involved and don't do it, even if you feel you've edited or reworded the article.
3 – You CANNOT sell this product with a PLR, MRR or Resell Rights License.
has been added to your cart!
have been added to your cart!
Share this and get 20% off!
Related Products That May Interest You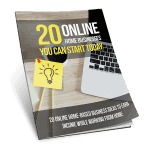 This Online Home Businesses PLR Ebook content was written by an experienced USA Writer and consists of over 10 00 words of premium home biz ideas content.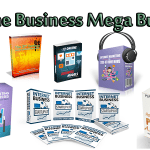 Home Business Mega Bundle - In this Home Business MEGA package you'll get 22 reseller products mixed with PLR products and master resell rights products and all products are heavily…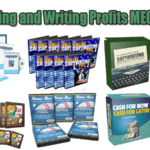 Copywriting and Writing Profits Mega Bundle - In this Copywriting and Writing Profits MEGA package you'll get 21 reseller products mixed with PLR products and master resell rights products and…
---
TAG : plr t shirts business content, t shirt business plr, t shirt business plr lead magnet, t shirt business plr report, Tshirt Companies PLR, Tshirt Designs PLR, Tshirt Profits 101 PLR Autoresponder Messages, Tshirt Profits 101 PLR Guides, Tshirt Profits 101 PLR Report, Tshirt Profits PLR, Tshirt Profits PLR Guides, Tshirt Profits PLR Lead Magnet, Tshirt Profits PLR List Building, Tshirt Profits PLR Tips, Tshirt Styles PLR
CATEGORY : Business, Business PLR, Business PLR eBooks, Dropshipping PLR, eBay PLR, eCommerce, eCommerce PLR, Entrepreneur PLR, Fashion PLR, Home Business PLR, Home Business PLR Ebooks, Lead Magnets, Make Money Online, Make Money Online PLR Ebooks, Make Money PLR, Niche Marketing PLR, Niche Marketing PLR Ebooks, Offline Marketing PLR, Online Business PLR, Passive Income PLR, PLR Autoresponder Series, PLR eBooks, PLR eCourses, PLR Lead Magnets, PLR List Building Reports, PLR List Building Reports, PLR Minisite Templates, PLR Newsletters, PLR Squeeze Page Templates, PLR Templates, Pre Written Autoresponder Messages, Private Label Rights Products, Product Launch PLR Ebooks, Products with Squeeze Pages, Reports, Resell Rights Autoresponder Series, Resell Rights Ebooks, Resell Rights Lead Magnets, Resell Rights List Building Reports, Resell Rights Minisite Templates, Resell Rights Products, Resell Rights Squeeze Page Templates, Sales Funnels, Sales Funnels PLR, Templates