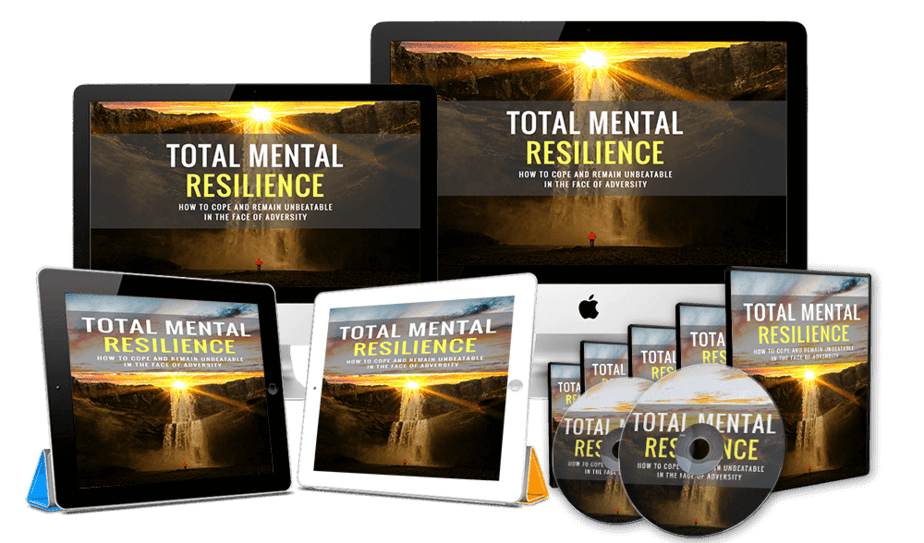 Total Mental Resilience Sales Funnel with Master Resell Rights
in
Complete Sales Funnels , Lead Magnets , Master Resell Rights Products , MRR eBooks , MRR Lead Magnets , MRR Videos - Master Resell Rights Videos , Products with Sales Pages , Resell Rights Ebooks , Resell Rights Lead Magnets , Resell Rights Products , Resell Rights Sales Funnels , Resell Rights Videos , Self Help Ebooks MRR , Self Help MRR Videos , Self Improvement
Choose Your Desired Option(s)
has been added to your cart!
have been added to your cart!
#totalmentalresilience #mentalresilience #mentalresiliencetips #mentalresilienceideas #resilientspirit #buildingresilience #dangersofwithering #resilientspirit #mentalhealth #reducestress #reduceanxiety #strongrelationships #confidence
Total Mental Resilience Sales Funnel with Master Resell Rights
A Little Known Blueprint Reveals the Secret to Coping with Setbacks and Emerging Victorious
Discover the Keys to Adapting to Challenging Circumstances
Do you crumble when you experience failure?
Do setbacks and challenges put you down, shatter your confidence, and decimate your will to soldier on with life?
The truth is, you will always face setbacks in life like:
A failed relationship
Health challenges
Workplace challenges
Natural disasters
Daily disappointments
If you don't learn how to face them head-on they can destroy your ability to focus, to be productive, and your close relationships.
Similarly, you might start having low moods, anxiety, and even depression.
All these negative side effects create more failure and disappointment which creates a vicious cycle.
Soon, your motivation to improve your life and achieve your dreams runs out.
It becomes very difficult for you to envision a bright future and you sink even further into defeat, depression, and despair.
Honestly, it is not easy to bounce back from negative life experiences quickly and victoriously.
But, it is not impossible for you to handle the pressures of life successfully.
Why You Need To Build Your Resilience
Unfortunately, most of the common advice about building resilience and overcoming life's obstacles is not helpful.
Often, friends and family will admonish you to just "suck it up" or "be more resilient."
Yet, we all know that this advice is not complete.
It leaves out the most crucial ingredient: the "how."
What you probably don't know is that there are little-known techniques and practices that can supercharge your ability to build resilience and a strong spirit.
Luckily for you, they are extremely easy to master and apply.
In fact, you can implement them now and start seeing your mental strength improve.
Bounce Back From Setbacks
Today, you'll learn how to increase your resilience and deal with every obstacle that life throws your way.
For many years, I was just like you.
Mistakes crippled me.
Every setback felt like the end of my life.
I spent so much time going over my past failures and I felt like I was an irredeemable screw-up.
I was stuck, anxious, and depressed.
My career was going nowhere, my relationships were failing and my health was poor.
I had zero motivation and I was slowly losing the will to live.
One lucky day, I got tired of being shoved around by every little curveball that life there my way.
I decided to study the lives of people who had bounced back from terrible setbacks and gone on to be happy and successful.
Additionally, I studied what philosophers and mental health experts had to say about surviving and thriving after a major setback or failure.
When I started applying my new-found knowledge, my life turned around for the best.
I was able to handle all of life's pressures and even use them to my advantage.
Even when I messed up or faced rejection, I refused to see myself as a victim.
My self-esteem and confidence skyrocketed.
I revived my dying relationships and improved my health.
I had a new zeal for life and I was ready to face my future knowing that I could achieve all my dreams.
Today, I want to share with you the discovery that changed my life.
These secret principles and practices will teach you how to face life's challenges courageously.
It's time for you to stop being beaten down by setbacks and start winning in life.
The Secret To Unshakeable Mental Strength
Introducing…..
Total Mental Resilience
How to Cope and Remain Unbeatable in The Face of Adversity.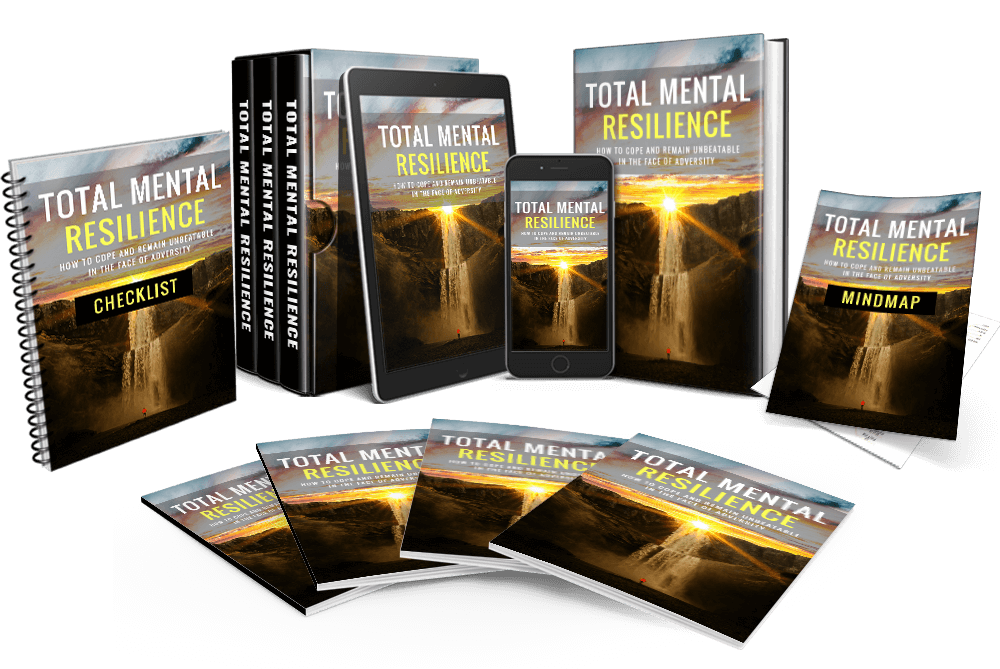 'Total Mental Resilience' is the ultimate guide for those who want to build their resilience and become unbeatable in the face of life's challenges. Most importantly, this blueprint will help you to deal with any obstacle that comes your way and emerge victorious!
This research-backed guide will teach you everything you need to know about building a strong spirit and cope with adversity.
Follow the steps taught in this powerful guide and you'll start noticing changes IMMEDIATELY.
If you are tired of being beaten down by every obstacle or challenge that life throws at you…
If you want to take on life courageously,
Then you owe it to yourself and everyone around you to learn the simple but powerful steps taught in 'Total Mental Resilience.'
The Powerful Practices That You'll Learn In This Life-Changing Guide
Here are some of the things that you will discover in this life-transforming program:
The one fact about life (and resilience) that most people don't know.
How to use adversity as a stepping stone to future success.
3 reasons why adversity is inevitable and how to come it.
Why you should embrace challenges instead of avoiding them.
3 little known facts about adversity and how you can use them to your advantage.
6 rich and famous people who were molded in the furnace of adversity and what you can learn from them.
The surprising benefits of being strong in the face of life's obstacles.
Why lack of resilience could literally cost you your life.
How to exude confidence and tranquility even in the worst situations.
6 dangers of withering under life's pressures and how to avoid them.
How to build an unbreakable spirit that will help you take on life with courage.
The quickest, easiest way to start seeing challenges as opportunities.
Struggling to build your resilience? Avoid the common obstacles mentioned in Chapter 7.
The little known 'upward social comparison' phenomenon that prevents you from being resilient.
The one statement that you should never ever make in life.
How to bounce back after a setback and build resilience.
… Plus many more powerful practices and techniques!
Who Is This For?
This the ultimate guide for those who want to:
Build a strong and resilient spirit
Face all challenges with confidence
Improve their mental health
Go after their dreams
Let go of their past failures
Reduce stress and anxiety
Increase their motivation
Create strong relationships
Feel proud of themselves
Here's The Good News:
Instead of charging this life-changing program at a ridiculous price, I am offering you a discount if you act right now:
For Only
$47.00
$9.99
has been added to your cart!
have been added to your cart!
The reason behind this discount is because I want to help as many people like you to bounce back after facing adversity and build total mental resilience. More importantly, I want you to start being more resilient-TODAY!
If you've read up to this page you're….
Serious about increasing your resilience and facing the future boldly!
You're just a step away from being more resilient.
But Wait, That's Not All…
If you get Total Mental Resilience right now, you will get these bonuses:
Bonus #1 – Complete Check List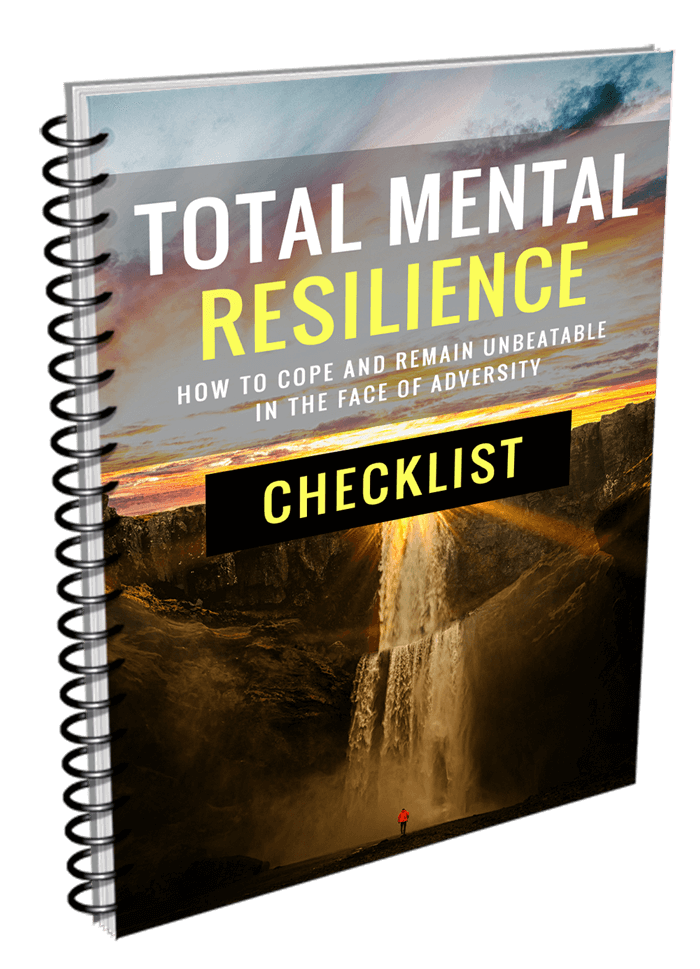 This checklist contains a step-by-step action plan for you to make sure you get the full benefits of Total Mental Resilience.
By simply breaking one huge topic into easily digestible chunks, you get absolute clarity inclusive of easy-to-follow action steps!
Bonus #2 – Comprehensive Mind Map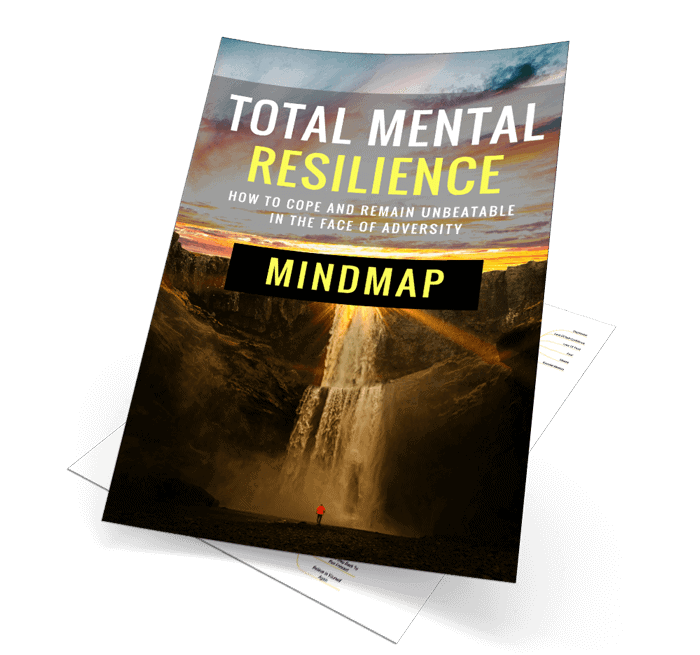 This mind map is perfect for 'visual' learners. It outlines everything you are going to discover throughout the entire course.
With just a glance, you will have a clear picture of what to expect and absorb so much more than reading through Total Mental Resilience by pages!
has been added to your cart!
have been added to your cart!
You've taken an important step in your life-changing journey!
Thank you and congratulations on purchasing Total Mental Resilience.
I believe all the strategies revealed inside this guide will help you increase your resilience and lead a fulfilled life.
But, before you read your copy of Total Mental Resilience…
I want to offer you a ONE-TIME opportunity to speed-up your transformational journey.
It is an amazing offer that will compliment your new life-changing program…
Introducing…
Total Mental Resilience Video Upgrade!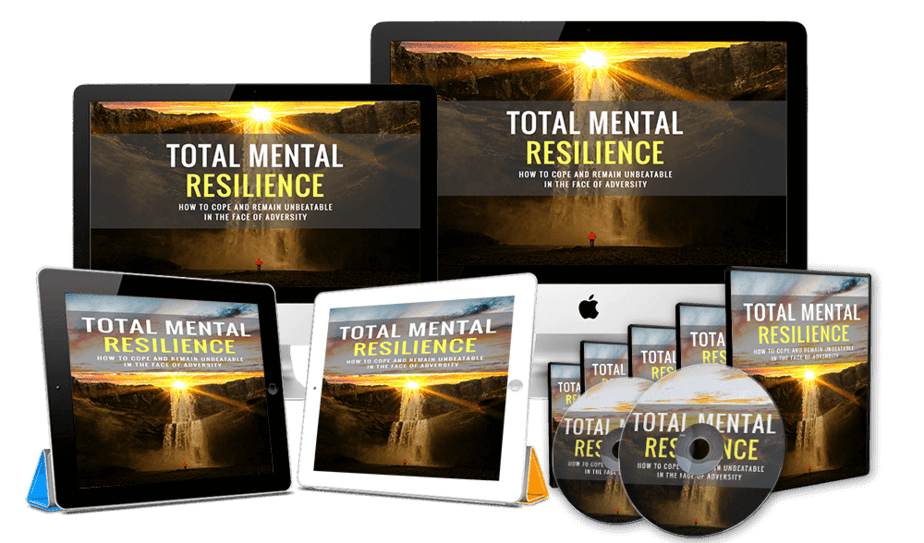 The perfect companion to your Total Mental Resilience blueprint.
Instead of reading the book from cover to cover…
Why not unlock all the secrets in Total Mental Resilience under one sitting?
By watching these videos, you can learn faster than by reading the ebook as you have a voice and visuals to help you understand better…
…allowing you to remember what you've learned from this life-changing blueprint…
So you can shortcut your way to achieve the mental strength you deserve.
Here's Why You Should Get This Upgrade
Discover the secrets revealed inside Total Mental Resilience with more clarity so you can easily implement the action steps.
Speed up your transformational journey by going through the course as you know watching a video is faster and more fun than reading.
Remember more of what you learned so you can get more results in less time.
Absorb what you learn faster from this course without any distraction.
Experience personal guidance as you have a voice that speaks to you, guides you, and grabs your attention with visual graphics.
Here Are The Things You Will Get Inside This Video Upgrade:
You Get 10 Premium Quality Videos of Total Mental Resilience.
Video 1: Introduction.
Video 2: The Trainer Called Adversity.
Video 3:  Critical Facts About Adversity.
Video 4: Even the Rich Cries.
Video 5: Why You Should Stand During Periods of Adversity.
Video 6: Dangers of Withering Under Pressure.
Video 7: How to Build a Resilient Spirit.
Video 8: Common Obstacles to Building Resilience.
Video 9: Finish Strong!
Video 10: Final Words.
So How Much For This Upgrade?
I could easily charge you $497 for the video upgrade considering the amount of value you will get from this offer.
However, I'm not going to charge you THAT MUCH…
Because I want to help you transform your life and experience true happiness.
And I believe Total Mental Resilience video upgrade can help you achieve them in the shortest amount of time — compared to just reading the book alone.
Instead of paying $497 to get this video course…
You can get instant access to
Total Mental Resilience Video Upgrade for
for ONLY
$9.99!
has been added to your cart!
have been added to your cart!
Here's a Sample Video So That You Know What To Expect From These Videos
Package Details:
Module 1 – Ebook
Module 2 – Checklist
Module 3 – Mindmap
Module 4 – Sales Page
Module 5 – VSL
Module 6 – Lead Magnet
Module 7 – Landing Page
Module 8 – Emails
Module 9 – Graphics Pack
Module 10 – MP3 files
Advance Video Course:
Module 1 – Videos
Module 2 – Upsell Page
Module 3 – VSL
Module 4 – Slides
Module 5 – Transcripts
Module 6 – Audios
Total File Download Size:
278 Megabytes (MB)
Master Resell Rights License:
[YES] Can be sold
[YES] Can be used for personal use
[YES] Can be packaged with other products
[YES] Can modify/change the sales letter
[YES] Can be added into paid membership websites
[YES] Can put your name on the sales letter
[YES] Can be offered as a bonus
[YES] Can be used to build a list
[YES] Can print/publish offline
[YES] Can convey and sell Personal Use Rights
[YES] Can convey and sell Resale Rights
[YES] Can convey and sell Master Resale Rights
[NO] Can modify/change the main product
[NO] Can modify/change the graphics and ecover
[NO] Can be given away for free
[NO] Can be added to free membership websites
[NO] Can convey and sell Private Label Rights
Share this and get 20% off!
Related Products That May Interest You