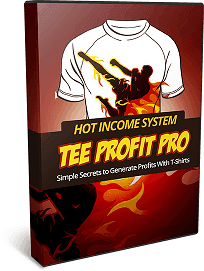 Choose Your Desired Option(s)
has been added to your cart!
have been added to your cart!
Tee Profit Pro Training Videos With Master Resell Rights
Finally Uncover How To Capitalize On The Hot T-Shirt Marketing Trend Using These Simple Strategies!
You can start selling shirts in a few hours!
has been added to your cart!
have been added to your cart!
Make Money Sell T-Shirts You Love
Another cool part about this business model is that you can choose to only create shirts with sayings that you love! You don't have to sell t-shirts for things you don't like. Some people have made money selling shirts related to players on their favorite sports teams, their favorite TV shows, their professions, etc. Even if you don't like a certain team, TV show, or political standing, but they give you a chance to make good money selling shirts you could do that! If you have a creative mind or know somone with a creative mind you can cash in on this venture!
No Technical Skills Needed
As we will reveal to you inside this Tee Profit Pro course you do not need to be a Photoshop or graphic design expert! You don't even have to be an artist! If you can point and click your mouse, you can create winning t-shirt designs quickly. When you need a more attractive shirt design you could always partner up with a friend, or outsource your deigns for very little money.
Rest assured if you are able to read this page, than you are able to profit by selling shirts online. You just need to be able to click your mouse to design these simple shirts from scratch.
I have an excellent course here that helps you generate solid income selling t-shirts.
Introducing…
The Tee Profit Pro Training Course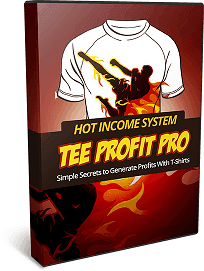 Inside this 10 video course you will get in depth training on all of the proven methods to get real income from selling easy to create t-shirts to hungry audiences! Here is a taste of what you will find in each video:
Video 1: Introduction To Profiting With T-Shirts
You will get a good overview of this business model including real life examples of people profiting by selling t-shirts.
Videos 2: Why should you pursue this business model?
See more case studies and gain a firmer grasp of this profitable business model.
Video 3: What t-shirt websites should you sell on?
Learn the top t-shirt websites you should be selling on including the up and coming shirt websites as well.
Video 4: Finding Your Niche & Audience
Quickly discover how you can find hot trends that you can capitalize on, and sell shirts to. Understand the audience you are targeting. Also learn how you can uncover hot trends.
Video 5: Places To Get Shirt Ideas
You will discover some cool websites you can go to quickly get shirt designs. Half the battle of profiting with t-shirts is having a quality design in place.
Video 6: Facebook Campaigns
Discover one of the quickest and easiest ways to get traffic to your t-shirt designs.
Video 7: Other Sources of T-Shirt Traffic
There are many other ways to get traffic besides with Facebook. You will learn about the other traffic methods inside this video.
Video 8: Designing Your T-Shirts
Learn some quick and easy ideas for designing your t-shirts including what free software to use.
Video 9: Outsourcing Your Designs
Set this business on true autopilot by outsourcing the majority of the process!
Video 10: Posting Your T-Shirt Design Online
Learn how to setup your first t-shirt for sale from start to finish!
Video 11: Scaling Up
Scale this business so you can have multiple winning designs that pull in multiple streams of income for yourself.
has been added to your cart!
have been added to your cart!
Bonus #1: PDF Notes of Training
To help you quickly grasp this training I am also including the PDF notes as well. These are taken from the videos, but gives you a unique perspective on this training.
Write a description for your own bonus here if you like.
The bottom line is that if you want a fun, simple way to make money from your computer than this product is for you. So let me ask you this:
What Is This Tee Profit Pro Course Worth To You?
If you could make an extra $125 per week with this, that is an extra $6,500 in the next year! I am sure you would say this is pretty valuable!
The good news is that we aren't even going to make you pay $6,500 for this one of a kind training.
Now, the good news is that you don't need to even pay $125 or even $97 for this course (though it's certainly worth it). Because if you act now, you'll get everything you see on this page for just $27 – and when this course starts getting you hands free, passive income, you can count on recouping your investment.
has been added to your cart!
have been added to your cart!
Here's a Sample Video So That You Know What To Expect From These Tee Profit Pro Videos:
has been added to your cart!
have been added to your cart!
Package Details:
Audios Mp3s
MP4 Videos
Flash Videos
WMV Video
Screenshots
Salespage
Total File Download Size:
665 Megabytes (MB)
Master Resell Rights License:
[YES] Product may be sold separately
[YES] Product may be bundled with other products (May sell 3 courses in one firesale.)
[YES] Product can be a bonus for another product (Minimum $47 price.)
[YES] Can be added to paid membership sites (Must be at least $9/Mo. or $97/Year.)
[YES] Can add bonuses to the Product for sale
[YES] Can be sold as a physical product
[YES] Can be sold as a digital product
[YES] You may put your own name on the sales letter
[YES] You may rename the Product
[YES] You may edit the sales material
[YES] You may edit the content of the product
[YES] You may use the source code/material to create new products
[YES] Can translate the course into other languages
[YES] Can sell Resale Rights
[YES] Can sell Master Resale Rights
[NO] You may use the name(s) of the author/creator/seller of the Product
[NO] Can be added to free membership sites
[NO] Can be given away for free
[NO] Can sell Private Label Rights
Share this and get 20% off!
Related Products That May Interest You