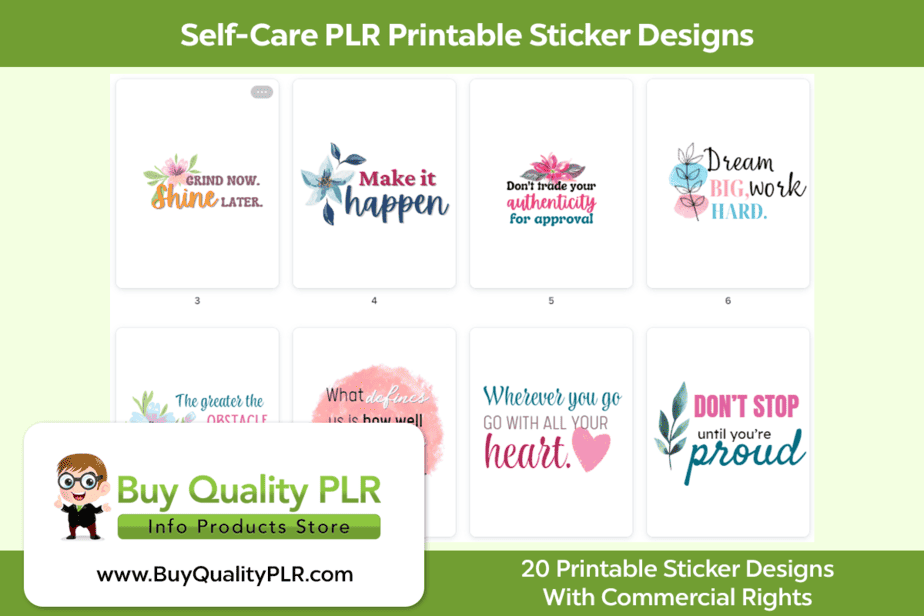 Choose Your Desired Option(s)
has been added to your cart!
have been added to your cart!
#selfcareplr #printablestickerdesigns #stickers #plrstickers #stickerprintables #canvastickers #stickertemplates #graphics #plrgraphics #canvaprintables #selfcareprintable #selfcarestickers #selfcaregraphics #plrprintables #lowcontentplr #printondemand #doneforyou #publish #publishing #selfpublish #buyqualityplr #designs #sticker #graphic #commercialuse #commercialuserights
The Self-Care PLR Printable Sticker Designs Pack – Includes Canva Printable Sticker Graphics With Commercial Use Rights
The Self-Care PLR Printable Sticker Templates provide you with 20 Printable Canva Sticker Templates. All files are easy to edit via Canva and publish so that you can create new unique products and PLR printables that you can sell for profit on your low-content publishing store or use these templates for your own designs.
Introducing The…
Self-Care PLR Printable Sticker Designs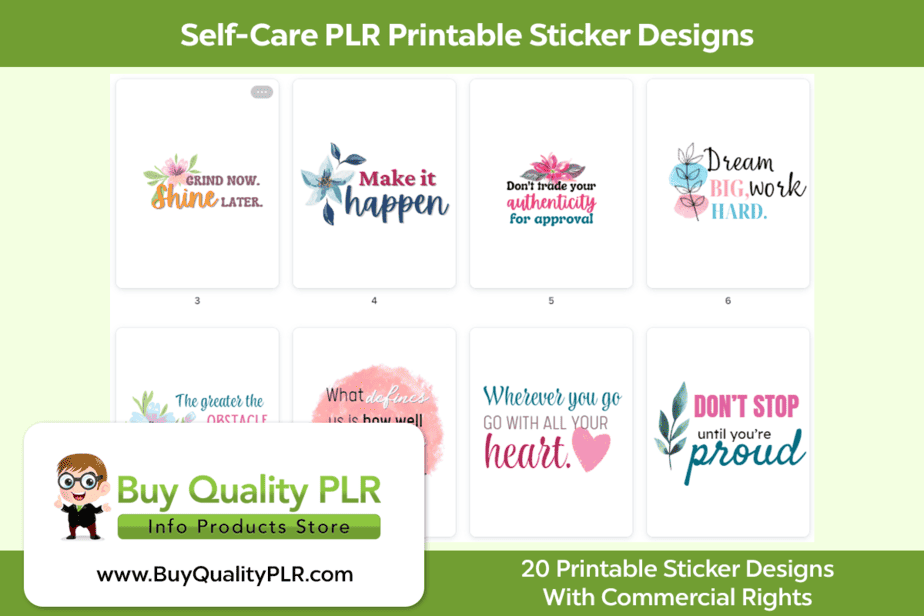 Here's exactly what you're getting in this Self-Care PLR Printable Sticker Designs Pack:
Are you ready to infuse your self-care journey with creativity and visual inspiration?
Look no further!
Our Self-Care PLR Printable Designs offer a collection of beautiful and customizable stickers that will enhance your self-care practice and add a touch of joy to your daily routine.
With these versatile sticker designs, you have the power to create a personalized self-care experience that reflects your unique style and preferences.
Whether you're decorating your journal, planner, or self-care tools, our stickers will elevate your self-care routine to new heights.
What makes our Self-Care PLR Printable Stickers pack a game-changer?
Diverse and Inspirational Designs: Our sticker designs cover a wide range of self-care themes, from relaxation and mindfulness to positive affirmations and self-love. Each design is carefully crafted to inspire and uplift you, making your self-care moments even more meaningful.
Customizable and Personalized: With our PLR license, you can easily customize the sticker designs to align with your individual style or branding. Add your own text, modify colors, and make the stickers uniquely yours.
Printable Convenience: Our printable sticker designs offer convenience and flexibility. Simply print the designs on sticker paper, cut them out, and enjoy the freedom to use them whenever and wherever you need a dose of self-care inspiration.
Versatile Application: The sticker designs are perfect for decorating various self-care essentials, including journals, planners, vision boards, gratitude cards, and more. Let your creativity flow as you personalize your self-care tools with these beautiful stickers.
Empowering Self-Care Reminders: Each sticker design serves as a gentle reminder to prioritize self-care and nurture your well-being. Use them as visual cues to create intentional self-care habits and keep self-care at the forefront of your mind.
Elevate your self-care routine and create a visual sanctuary of inspiration and self-love.
Invest in our Self-Care PLR Printable Stickers today and let your self-care journey shine.
You Get:
20 Self-Care Sticker PLR Printable Templates
Editable Canva Templates Link
Commercial Use License
Here Are All of The Sticker Graphics You'll Be Getting:
The Self-Care PLR Printable Sticker Templates is just for you if you're looking for printable stickers that can be used to create your own unique printables and profit! Perfect for you if you have a publishing business and are looking for new products or printables.
Click the button below to purchase this product!
has been added to your cart!
have been added to your cart!
Your Package Details:
20 Individual Printable Sticker Graphics In Canva, PNG, PDF, And PowerPoint Format
Total File Download Size – 31.8 MB
Here are the Licence Terms:
What You Can Do:
You can sell this product in a non-editable format like PDF to sell to your customer for personal use.
You can sell this product as a physical product.
You can use this product to build an email list.
You can edit the product and brand it with your name and company branding.
You can resell the product as your own.
You can include the product in a bundle or package.
What You Cannot Do:
You cannot sell this product with PLR or resell rights. This license is for you only.
You cannot sell this product with its editable source files.
Please set a fair price when you sell and do not give the product away for free unless you're using it to build an email list
Share this and get 20% off!
Related Products That May Interest You