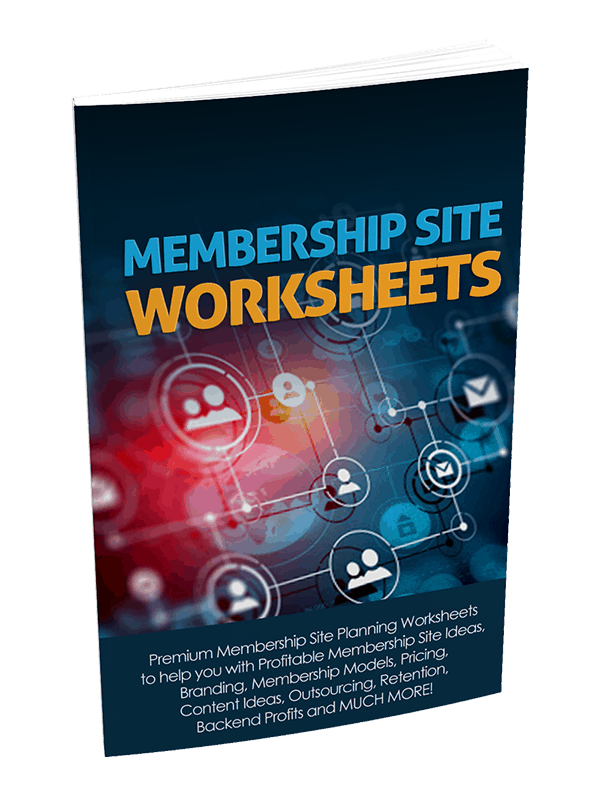 Membership Site Premium PLR Worksheets 10k Words
in
Branding PLR , Business , Business Coaching PLR , Business Coaching PLR Ebooks , Business PLR , Business PLR eBooks , Coaching , Content Marketing , Content Marketing PLR , Copywriting PLR , Copywriting PLR Ebooks , Entrepreneur PLR , Entrepreneur PLR Ebooks , Featured PLR Products From Our Store , Home Business PLR , Home Business PLR Ebooks , Info Product Creation PLR , Internet Marketing , Internet Marketing Checklists , Internet Marketing PLR , Internet Marketing PLR eBooks , List Building , List Building PLR , Make Money Online , Make Money Online PLR Ebooks , Make Money PLR , Marketing PLR , Marketing PLR Ebooks , Membership Sites , Membership Sites PLR , Membership Sites PLR Ebooks , Niche Marketing PLR Ebooks , Online Business PLR , Online Marketing PLR Ebooks , PLR Cheat Sheets , PLR Checklists , PLR eBooks , Premium PLR , Premium PLR eBooks , Premium White Label Brandable PLR Coaching Courses , Private Label Rights Products , Products with Sales Pages , Top Sellers , Work At Home PLR , Work At Home PLR Ebook , Writing PLR
Choose Your Desired Option(s)
has been added to your cart!
have been added to your cart!
#membershipsite #membershipsiteworksheet #membershipsitetips #membershipsiteideas #membershipsitecontent #membershipsitecreators #membershipsitemodel #profitablemembershipsite #membershipsitestrategy #membershipsiteplr #successfulmembership #membershipsites #membershipprofits #profitablemembership #memorablebrand #membershipsitemodels #profitablepricing #kindsofcontent #useplr #outsourcing #plrworksheets #membershipretention #memberretention #surefireprofits #backendoffers #membershipsiteprofits #plrmemberships #membershipplr #membershipsitesplr
Membership Site Premium PLR Worksheets 10k Words
You Probably Already Have Enough Information to Start and Run a Successful Membership – Now It's Time to Take Action so You Can Start Seeing Profitable Results…
And Here's the Absolute Easiest Way to Start Getting Those Awesome Results…
There comes a certain point in every process where the information-collecting ends and the take-action steps begin. This is certainly true when it comes to something as important as setting up and/or running a profitable membership site.
But you know what?
It's easy to get sidelined when you start taking action. You often waste time trying to figure out exactly what steps you need to take. You end up poring over your training materials again and again, trying to pick out the action steps you need to take. And sometimes you just get overwhelmed by it all. You forget things.
It's not just you. Everyone does it. That's why so many professionals always have worksheets and similar tools always at their fingertips to guide their steps.  Because no matter how many times someone has completed a process, a good worksheet will make that process faster, easier and better.
I know you're a smart professional too. That's why this whole idea of using worksheets appeals to you so much. You know that good tools like worksheets cut the learning curve and make if faster and easier to grow your business. And that's why you're going to love this set of 10 membership site worksheets…
Introducing Membership Site Premium PLR Worksheets – Now You Too Can Shortcut the Process and Take the Guesswork Out of Setting Up and Growing a Profitable Membership Site! (10 159 words)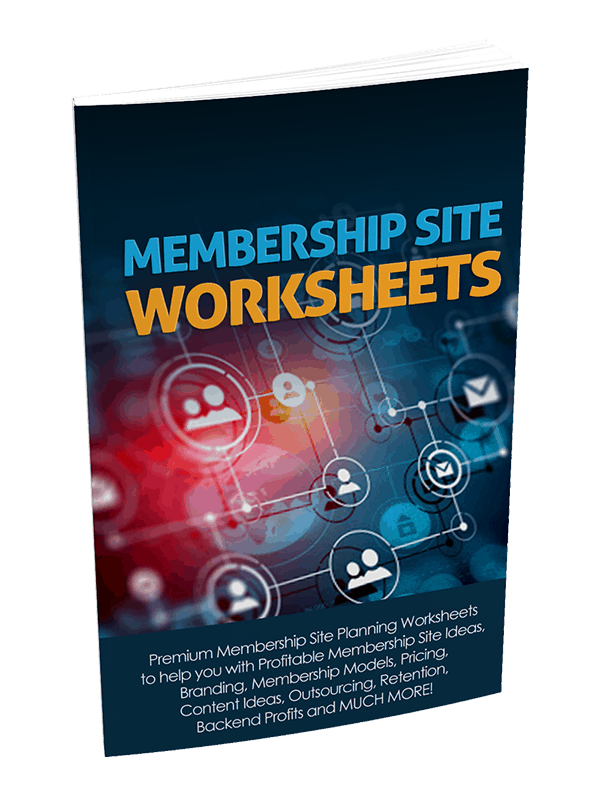 Whether this is your first time setting up a membership site or you're a pro with several sites under your belt, you're sure to find these worksheets invaluable. They'll help you focus on the most important steps, make the right decisions, and get your site up, running and profitable faster and easier than you ever thought possible!
Let's take a closer look at what each of these 10 worksheets will do for you…


Worksheet 1: How to Find a Profitable Membership Site Idea
When you're getting ready to start a membership site, your very first task is to pick out a profitable niche and topic. In order to do that, you need to take two steps:
Brainstorm ideas.
Research those ideas to see what's profitable.
By the time you fill out these worksheets, you'll know what topic you're going to teach inside your profitable membership site!
Worksheet 2: Creating a Memorable Brand
One of the things that's going to set your membership site apart from competing infoproducts is your brand.  That's why you need to spend some time creating a memorable brand that creates "top of mind awareness" and gets prospects clicking on your order button. This worksheet shows you how to do it!
Worksheet 3: Choosing a Membership Site Model
Once you've decided the topic for your membership site, then your next step is to determine these two things:
What membership model you'll use to create your site/deliver the content.
Whether you'll have a membership with different levels/tiers.
This worksheet will walk you through these steps so that you make the best and most profitable decisions!
Worksheet 4: The Profitable Pricing Worksheet
Another important step you'll need to take when setting up your membership site is to decide how much to charge. Charge the wrong price, and you'll experience one or more unwanted consequences such as:
A low conversion rate (which could be due to either prices that are too high or too low).
A high refund rate, especially if the expectation you created with your pricing doesn't match the quantity of quality of your content.
Generally leaving money on the table, if you charge too little.
You can avoid all of these issues by picking the right price, and that's exactly what this worksheet will help you do!
Worksheet 5: Deciding What Kind of Content to Include
The goal for this worksheet is to decide exactly what sort of membership content and bonuses will thrill your customers and keep them paying their membership fees over the long term. In other words, if you choose the right content, then you'll be able to pull more profits from your site. This worksheet will walk you through the process so you end up with in-demand, high-quality content!
Worksheet 6: Deciding Whether to DIY, Use PLR, or Outsource Content
When you get to the point where you need to decide how to create your content, you have multiple options.  These options include:
Do it yourself.
Outsource the task to a freelancer.
Use PLR content (which you tweak yourself or with the help of a freelancer).
So, which option should you choose? To find out, just answer the questions in this worksheet, and you'll instantly know the best option to fit your needs. (Hint: the answer might surprise you!)
Worksheet 7: Outsourcing Worksheet  for Membership Site Creators
creating your membership content isn't the only task you need to complete in order to set up your site. You also need to do things like set up the actual website, create a sales letter and more. You can outsource all of these tasks or even just some of them.
So, how do you decide what to outsource? And how do you find and hire competent freelancers?  That's what this worksheet will help you do – and it's easier and more affordable than you think!
Worksheet 8: The Member Retention Worksheet
You want to do everything possible to ensure your members stay members over the long term. Not only does this increase your front-end revenue as members continue to pay their monthly membership fees, but it also boosts your backend revenue when these members buy your backend offers!
That's why member retention is so important – and this worksheet and checklist will show you the steps you need to take to boost retention (and profits)!
Worksheet 9: The "Surefire Profits" Backend Offer Worksheet
Th real profits lay hidden in the backend of your membership site, which is why you need to plan what you'll sell and how you'll sell it.  This worksheet walks through those steps so you can create as much profit on the backend as possible.
Worksheet 10: Planning Your Member-Acquisition Strategy
It's no secret that one of the keys to a successful membership site is that you need — (wait for it) — paying members. To that end, this worksheet takes you through the steps of planning a profitable member-acquisition strategy.
You can see this is the perfect set of worksheets you need to start and grow your membership site.
You also get professionally designer eCover graphics with PSD files:

And you'll get sales page content so you can setup your new membership site PLR worksheets and get them ready for sale ASAP.
So now you're wondering
How Much Is It?
Just $27.00 for a lifetime PLR license
If this set of worksheets helps you get just one new member to your site, it more than pays for itself (and every extra sale after that is just gravy). But you can bet these worksheets will teach you how to get and keep more members to your site than that!
This is a great deal, so act now to get your PLR license to this course at the lowest price possible…
And we'll only be selling 100 copies, so grab your copy while it's still available!
has been added to your cart!
have been added to your cart!
Package Details:
Membership Site Worksheets – eCover Graphics
Membership Site Worksheets – Content Word Doc (10 159 words)
Membership Site Worksheets – Salesletter Word Doc
Membership Site Worksheets – PLR License
Total File Download Size:
16.4 Megabytes (MB)
PLR License Terms:
PERMISSIONS: What Can You Do With These Materials?
Sell the content basically as it is (with some minor tweaks to make it "yours").
If you are going to claim copyright to anything created with this content, then you must substantially change at 75% of the content to distinguish yourself from other licensees.
Break up the content into small portions to sell as individual reports for $10-$20 each.
Bundle the content with other existing content to create larger products for $47-$97 each.
Setup your own membership site with the content and generate monthly residual payments!
Take the content and convert it into a multiple-week "eclass" that you charge $297-$497 to access!
Use the content to create a "physical" product that you sell for premium prices!
Convert it to audios, videos, membership site content and more.
Excerpt and / or edit portions of the content to give away for free as blog posts, reports, etc. to use as lead magnets, incentives and more!
Create your own original product from it, set it up at a site and "flip" the site for megabucks!
RESTRICTIONS: What Can't You Do With These Materials?
To protect the value of these products, you may not pass on the rights to your customers. This means that your customers may not have PLR rights or reprint / resell rights passed on to them.
You may not pass on any kind of licensing (PLR, reprint / resell, etc.) to ANY offer created from ANY PORTION OF this content that would allow additional people to sell or give away any portion of the content contained in this package.
You may not offer 100% commission to affiliates selling your version / copy of this product. The maximum affiliate commission you may pay out for offers created that include parts of this content is 75%.
You are not permitted to give the complete materials away in their current state for free – they must be sold. They must be excerpted and / or edited to be given away, unless otherwise noted. Example: You ARE permitted to excerpt portions of content for blog posts, lead magnets, etc.
You may not add this content to any part of an existing customer order that would not require them to make an additional purchase. (IE You cannot add it to a package, membership site, etc. that customers have ALREADY paid for.)
Share this and get 20% off!
Related Products That May Interest You