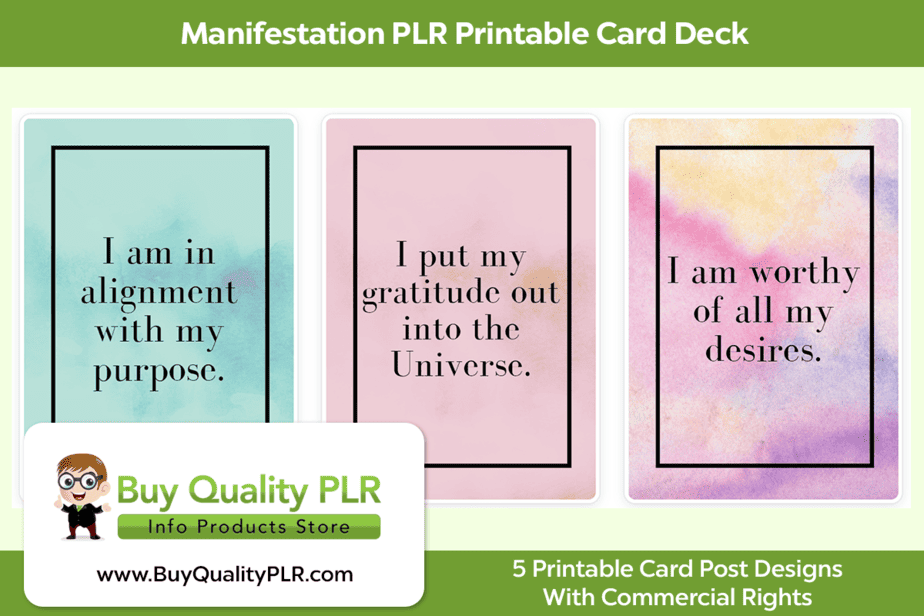 Choose Your Desired Option(s)
has been added to your cart!
have been added to your cart!
#manifestationplrprintablecarddeck #manifestationplr #printablecarddeck #manifestationcards #manifestationprintables #canvaprintables #commercialuse #commercialuserights #publish #publishing #canvatemplates #canvaedtiable #cards #cardtemplates #cardprintables #buyqualityplr #printondemand #doneforyou #graphics #plrcards #printablecards #cardpack #cardprintable #plrprintables #lowcontentplr
The Manifestation PLR Printable Card Deck Pack – Includes Canva Printable Card Designs With Commercial Use Rights
The Manifestation PLR Printable Cards provide you with 5 Printable Card Pages. All files are easy to edit via Canva and publish so that you can create new unique products and PLR printables that you can sell for profit on your low-content publishing store or use these templates for your own designs.
Introducing The…
Manifestation PLR Printable Card Deck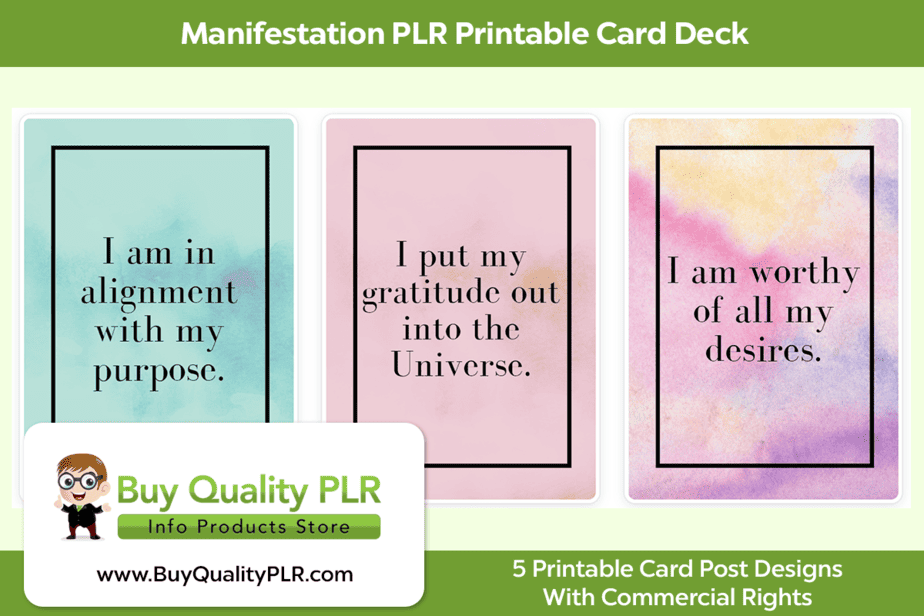 Here's exactly what you're getting in this Manifestation PLR Printable Card Pack:
Are you looking for a unique and engaging way to share manifestation and personal development teachings with your audience? Manifestation PLR Printable Card Deck offers a creative and interactive solution. This comprehensive package provides you with a beautifully designed card deck that you can print, customize, and use for various purposes, such as workshops, coaching sessions, or personal reflection.
Here are the key features and benefits of Manifestation PLR Printable Card Pack:
Inspirational Card Designs:
The package includes a set of visually stunning card designs that are focused on manifestation and personal development themes. Each card features an inspiring message, thought-provoking affirmation, or empowering quote to uplift and motivate your audience. The designs are carefully crafted to resonate with individuals on their journey towards manifesting their dreams and living a fulfilling life.
Printable and Customizable:
With Manifestation PLR Printable Card Deck, you have the flexibility to print the cards in the comfort of your own home or through a professional printing service. The cards are provided in a high-resolution format, allowing you to produce high-quality prints. Additionally, you can customize the cards by adding your branding elements, personal messages, or additional prompts to make them uniquely yours.
Versatile Usage:
This card deck can be used in various settings and situations. Whether you're conducting a manifestation workshop, coaching session, or self-reflection exercise, these cards serve as valuable tools for introspection, inspiration, and guidance. They can also be used as prompts for journaling, daily affirmations, or as conversation starters in group settings.
Engage Your Audience:
The combination of visually appealing designs and empowering messages creates a powerful impact and facilitates a deeper connection with your audience. These cards serve as reminders of their manifestation journey and provide them with daily doses of inspiration and motivation.
Commercial Use Rights:
One of the advantages of this PLR (Private Label Rights) product is that it comes with commercial use rights. This means that you can not only use the card deck for your personal purposes but also offer it as a product or service to your audience. You have the freedom to customize, brand, and sell the card deck, allowing you to monetize your manifestation and personal development efforts.
Don't miss out on the opportunity to enhance your manifestation teachings and engage your audience with Manifestation PLR Printable Card Deck. This unique and versatile tool will elevate your workshops, coaching sessions, or personal reflection exercises by providing an interactive and visually appealing experience. Unlock the power of manifestation and personal development with this captivating card deck. Get your hands on this package today and inspire others on their journey to manifest their dreams.
5 Card PLR Printable Designs
Editable Canva Templates Link
Commercial Use License
Here Are All of The Manifestation Cards You'll Be Getting:
The Manifestation PLR Printable Cards is just for you if you're looking for printable card templates that can be used to create your own unique printables and profit! Perfect for you if you have a publishing business and are looking for new products or printables.
Click the button below to purchase this product!
has been added to your cart!
have been added to your cart!
Your Package Details:
5 Individual Printable Instagram Graphics In Canva, PNG, PDF, And PowerPoint Format
Total File Download Size – 45.6 MB
Here are the Licence Terms:
What You Can Do:
You can sell this product in a non-editable format like PDF to sell to your customer for personal use.
You can sell this product as a physical product.
You can use this product to build an email list.
You can edit the product and brand it with your name and company branding.
You can resell the product as your own.
You can include the product in a bundle or package.
What You Cannot Do:
You cannot sell this product with PLR or resell rights. This license is for you only.
You cannot sell this product with its editable source files.
Set a fair price when you sell and do not give the product away for free unless you're using it to build an email list
Share this and get 20% off!
Related Products That May Interest You