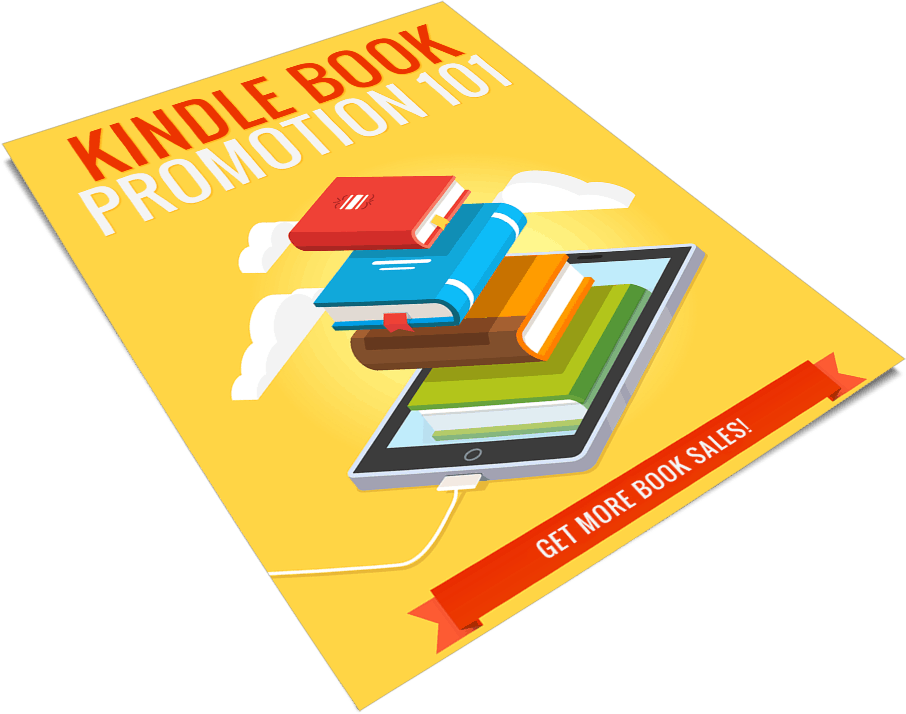 Kindle Book Promotion 101 PLR Lead Magnet Kit
in
Amazon PLR , Blogging PLR , Blogging PLR Ebooks , Business Coaching PLR , Business PLR , Business PLR eBooks , Content Marketing PLR , Content Marketing PLR eBooks , Facebook PLR , Home Business PLR , Home Business PLR Ebooks , Internet Marketing PLR , Internet Marketing PLR eBooks , List Building PLR , List Building PLR Ebooks , Make Money PLR , Marketing PLR , Niche Marketing PLR , Niche Marketing PLR Ebooks , Online Business PLR , Online Marketing PLR Ebooks , Paid Advertising PLR , PLR Autoresponder Series , PLR eBooks , PLR eCourses , PLR Lead Magnets , PLR List Building Reports , PLR List Building Reports , PLR Minisite Templates , PLR Newsletters , PLR Squeeze Page Templates , PLR Templates , Pre Written Autoresponder Messages , Pricing PLR , Private Label Rights Products , Products with Squeeze Pages , Resell Rights Autoresponder Series , Resell Rights Lead Magnets , Resell Rights List Building Reports , Resell Rights Minisite Templates , Resell Rights Products , Resell Rights Squeeze Page Templates , Sales Funnels PLR , Social Media PLR , Templates , Templates PLR , Traffic PLR , Work At Home PLR , Work At Home PLR Ebook
Choose Your Desired Option(s)
has been added to your cart!
have been added to your cart!
#kindleplr #kindlebook #kindletips #kindleguides #kindlepromotions #kindlereviews #kindlesites #kindleadvertising #facebookplr #facebookgroups #facebookads #socialmedia #kindleprograms #kdpplr #amazonplr #pricematching #emailsplr #autorespondersplr #plrreport #leadmagnet #bookpublishing #bookmarketing
Kindle Book Promotion 101 PLR Lead Magnet Kit
How Would You Like To Own Your Own High Converting Kindle Book Promotion 101 PLR Lead Magnet with Ready-to-go Squeeze Page So You Can Start Building Your List In The Online Marketing PLR Niche?
This Is Your Chance To Grab A Completely Done-For-You Kindle Book Promotion 101 PLR Lead Magnet That You Can Setup And Start Sending Traffic To In Order To Build Your Biggest Business Asset…Your Email List!
Introducing The…
Kindle Book Promotion 101 PLR Lead Magnet Kit
A High Quality Lead Magnet With Private Label Rights Consisting of 2839 words that includes a done-for-you HTML Squeeze Page and 5 Ready-to-go Autoresponder Follow-up Emails.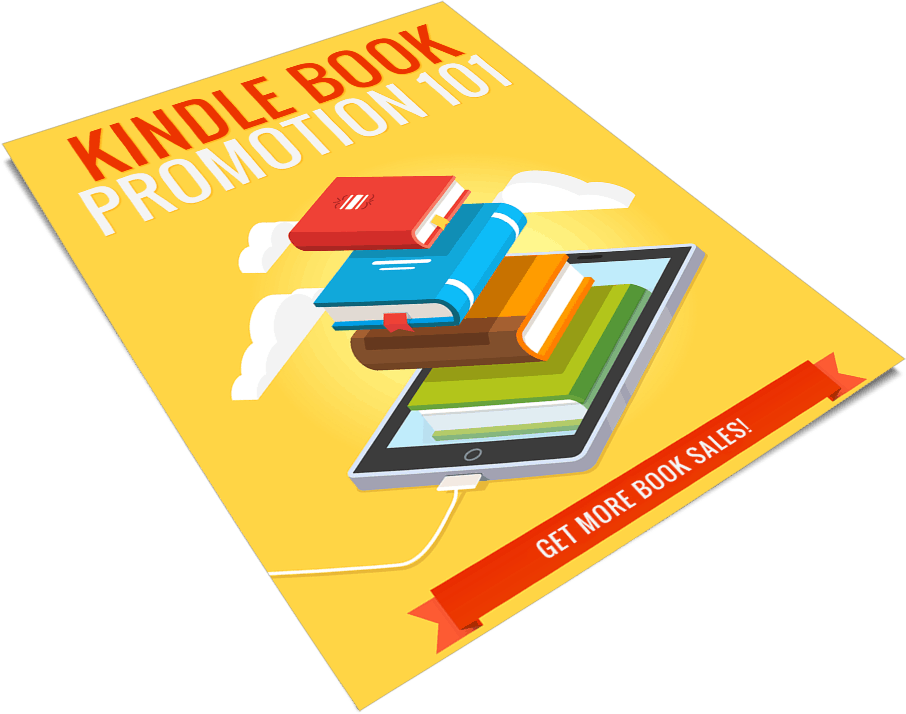 Screenshot Inside the Kindle Book Promotion 101 PLR Lead Magnet Report: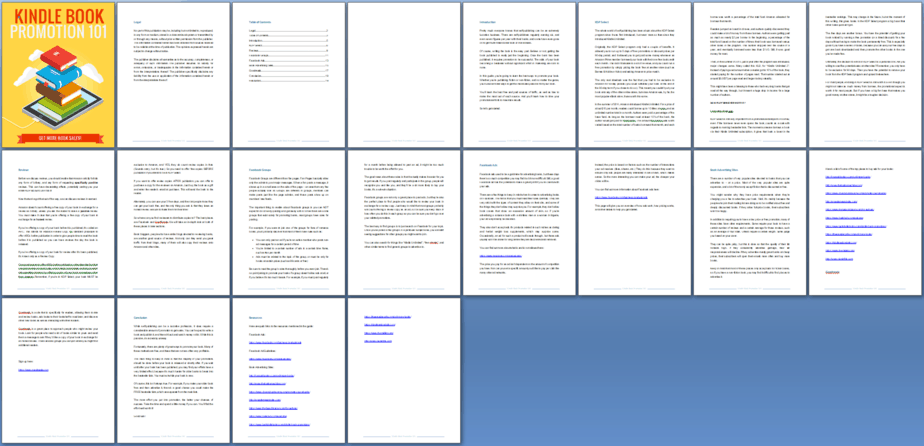 Table of Contents 
Legal………………………………………………………………………………………….. 2
Table of Contents………………………………………………………………………….. 3
Introduction………………………………………………………………………………….. 5
KDP Select………………………………………………………………………………….. 6
Reviews……………………………………………………………………………………… 9
Facebook Groups………………………………………………………………………… 11
Facebook Ads…………………………………………………………………………….. 13
Book Advertising Sites…………………………………………………………………. 15
Goodreads…………………………………………………………………………………. 17
Conclusion…………………………………………………………………………………. 18
Resources…………………………………………………………………………………. 19
Sample Of The Content Inside The Kindle Book Promotion 101 PLR Lead Magnet:
Introduction
Pretty much everyone knows that self-publishing can be an extremely lucrative business. There are self-publishers regularly earning six, and even seven figures per year with their books, and some have even gone on to get multi-million dollar book or movie deals.
Of course, writing the book is the easy part. Believe or not, getting the book published is really just the beginning. Once the book has been published, it requires promotion to be successful. The odds of your book becoming a bestseller without significant effort in marketing are slim to none.
In this guide, you're going to learn the best ways to promote your book. Whether you're publishing fiction or non-fiction, and no matter the genre, you'll uncover killer ways to get the most sales possible from your book.
You'll learn the best free and paid sources of traffic, as well as how to make the most out of each source. And you'll learn how to time your promotional efforts to maximize results.
So let's get started.
KDP Select
The whole world of self-publishing has been abuzz about the KDP Select program since it was first introduced, but never more so than since they introduced Kindle Unlimited.
Originally, the KDP Select program only had a couple of benefits. It allowed you to run up to 5 days of free promotions or discount prices per 90-day period, and it allowed you to get paid some money whenever an Amazon Prime member borrowed your book with their one free book credit each month. This didn't translate to a lot of revenue, and you could run a free promotion by simply pricing the book free at another store (such as Barnes & Noble or Kobo) and asking Amazon to price match.
The only real drawback was the fact that you had to be exclusive to Amazon for 90-day periods (you could withdraw your book at the end of the 90-day term if you chose to do so). This meant you couldn't put your book onto any of the other online stores, but since Amazon was, by far, the most popular eBook store, it was worth it to some.
In the summer of 2014, Amazon introduced Kindle Unlimited. For a price of about $10 per month, readers could borrow up to 10 titles at once, and an unlimited number total in a month. Authors were paid a percentage of the base fund. As long as the borrower read at least 10% of the book, the author would get paid for that borrow. The amount the borrow was worth varied based on the total number of books borrowed that month, and each borrow was worth a percentage of the total fund Amazon allocated for borrows that month.
You'll also be getting a high converting squeeze page that you can use to build your list!
Screenshot of the HTML Squeeze Page Included: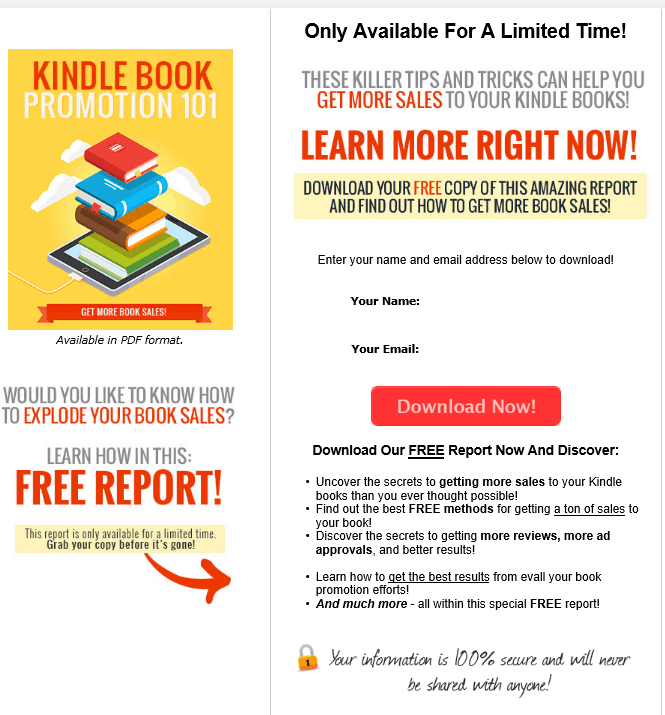 You'll also be getting 5 done-for-you PLR follow-up emails that you can pop into your Autoresponder and start sending to your new subscribers immediately after they join your email list!
Sample of these Kindle Book Promotion 101 PLR follow-up Autoresponder Messages:
Subject: Is Promotion Really Important For Books?
If you have self-published a book, or even if you're just thinking about it, one thing you absolutely need to know is that promotion is critical.
In the early days of self-publishing eBooks, it was possible to make decent money without promoting your book. There was a lot less competition, so as long as you had good keywords in your book's title and description and you used the right keywords when you submitted the book to Amazon or other booksellers, you could get sales.
Those were the glory days of self-publishing. Superstars like Amanda Hocking and John Locke made a lot of money with their books, but even then they had to do some promotion to get attention for their books.
Even those who weren't superstars often made good money with their books, even without a lot of promotion.
These days, it's not so simple.
With a massive influx of competition in nearly every imaginable market, it's more important than ever to focus on promoting your book.
Of course, promoting a book isn't always as easy as it sounds. Some books (such as erotica) have very few options in the way of promotional opportunities. Non-fiction is a lot trickier to advertise than fiction, because there are a lot fewer advertising sites that accept non-fiction books.
Most authors don't even know how to go about advertising their books. They may even have to outsource the formatting of their book and the design of their book cover because they aren't technically proficient enough to do it themselves.
So what are you supposed to do if you have a book published and you have absolutely no idea how to go about promoting it?
Over the next few days, we're going to take a look at some of the best methods for promoting your book. You'll learn about some free methods and paid methods for promoting your book, as well as the best ways to take advantage of those methods for maximum profitability.
Be sure you look for a new email from me every day for the next few days. Each one will cover a different promotional method, and we'll really delve deep into some of the ways you can get more sales. The more sales you get, the higher you'll reach on the bestseller lists, which will eventually lead to even more sales.
Our next lesson is going to focus on using Facebook ads to promote your books. You'll learn how to get your ad approved, which ads perform best, how to get the best price per click, and more. So be sure you look for tomorrow's email.
See you then!
These 5 kindle book promotion 101 PLR emails have a total word count of: 2700 words
has been added to your cart!
have been added to your cart!
Don't miss out on this chance to grab YOUR OWN rebrandable Kindle Book Promotion 101 PLR Lead Magnet that is done-for-you and ready for you to insert your affiliate links to start building your list and earning affiliate commissions.
Grab it now for a very low price of only $4.99!
 Package Details:
– 1 Lead Magnet Report (PDF, DOC),
Report Word Count: 2839 words
– 5 Part Autoresponder Email Messages (TXT)
Autoresponder Email Messages Word Count: 2700 words
– 1 Squeeze Page (HTML)
– File Size: 4MB
PLR License Terms:
PERMISSIONS: What Can You Do With These Materials?
[YES] Can be sold
[YES] Can be used for personal use
[YES] Can be packaged with other products
[YES] Can modify/change the sales letter
[YES] Can modify/change the main product
[YES] Can modify/change the graphics and ecover
[YES] Can be added into paid membership websites
[YES] Can put your name on the sales letter
[YES] Can be offered as a bonus
[YES] Can be used to build a list
[YES] Can print/publish offline
[YES] You Can Rebrand, Rename, Redesign The Product and Create New Graphics to Call It Your Own.
[YES] You Can Add This Product to a Membership Site or Bundled Within a Product Package as a Bonus.
What You CANNOT Do With These Materials?
1 – You CANNOT sell this product as your own PLR or in your PLR store.
2 – You CANNOT submit any of the content provided by Buy Quality PLR to reprint article directories or other websites which accept reprint content even if you have edited or reworded the content.
Why? Because many article directories won't take PLR articles. If everyone started submitting similarly written articles to these directories it wouldn't be fair for the directory owners, their users or our members. Be fair to everyone involved and don't do it, even if you feel you've edited or reworded the article.
3 – You CANNOT sell this product with a PLR, MRR or Resell Rights License.
Share this and get 20% off!
Related Products That May Interest You