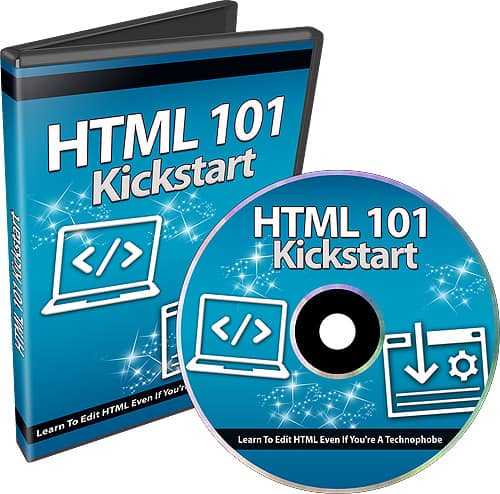 HTML 101 Toolkit PLR Videos
in
Blogging , Blogging PLR Videos , Coaching , Internet Marketing , Internet Marketing PLR , Internet Marketing PLR Videos , Internet Marketing Videos MRR , Marketing PLR , Niche Blogging PLR Videos , PLR Videos , Private Label Rights Products , Products with Sales Pages , Resell Rights Products , Resell Rights Videos , SEO PLR Videos , Techie PLR Videos , Video Courses , Web Design PLR , Website Flipping PLR Videos , WordPress PLR Videos , WordPress Videos MRR
Choose Your Desired Option(s)
has been added to your cart!
have been added to your cart!
#html #webdesign #htmlbasics htmwebsites #htmltraining
HTML 101 Toolkit PLR Video Course
A high quality html basics PLR rebrandable video course that comes with a reseller toolkit – see packing details below.

Finally, Learn the Basics of HTML Code So That You Can Edit HTML Easily – Even If You're ATechnoPhobe.
has been added to your cart!
have been added to your cart!
Who is this PLR Video Course Perfect For?
Internet Marketing Coaches
Book Marketers
Affiliate Marketers
Digital Product Resellers
Email Marketers
Membership Site Owners
Marketers looking for Editable Video Guides and Tutorials with Private Label Rights
Newbie marketers looking to learn from it
Online businesses looking to grow
Serious Marketers
And many other ways!
The fact is that people love learning from videos and video training in highly in-demand because people prefer learning from videos.
has been added to your cart!
have been added to your cart!
Introducing The HTML 101 Toolkit PLR Video Course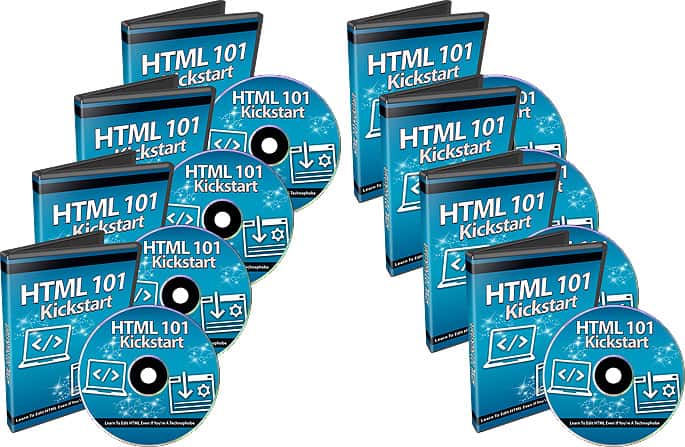 Video #1: Introduction to HTML
In this particular video we are going to give you a quick overview of the video course itself. This way you know exactly what to expect. You'll also learn the basics of how HTML is structured, and by the end of this video you should fully understand why HTML is a lot easier to code, giving you the confidence you need to move forward.
Video #2: Hacking without knowing code
In this particular video we will be covering the best WYSIWYG Editor. The reason being is that before I teach you some basic HTML code, I want you to be able to know-how to use these user-friendly editors. This will build your confidence, which you can take forward into learning basic code.
I'm also going to show you a super easy trick to hack your way around without needing to know HTML.
Video #3: Open and Close Tags
In this particular video you will learn the basic open and close tags. By understanding this concept and how HTML is structured, it will make more sense as you begin to dive in head-first.
Video #4: Headings
The first HTML code that we are going to start with is going to be heading, simply because you will be utilizing this within just about every single webpage that you edit or create. We'll talk about different sizes of headings and how to differentiate between them.
Video #5: Break tags
Once you have gotten your feet wet with headings, it's time to move on to break tags. Breaktags allow you to break up your lines.
This comes in particularly handy when trying to add line space between images or even text. In fact,when I look back on editing basic HTML, I realize that this is one of the most widely used tags you can learn.
Video #6: Basic formatting
Let's move onto basic text formatting, which consists of italicizing, bolding, underlining, aligning, and simply making your text look good.
Video #7: Lists
There are two main types of lists – ordered lists and unordered lists, a.k.a. bulleted lists. So, in this particular video I'm going to walk you through step-by-step as we begin to create these from scratch. By the end of this particular video you should be confident enough to create your list.
Video #8: Image Tags
Another widely used tag is the image tag. You can call an image at any location with that, be it on someone else's website or even your own. Checking an image is another very important HTML code because you are likely to run into it very frequently. You can also make your images search engine friendly by utilizing what we call alt tags. More on that in this particular video.
Video #9: Hyperlinks
One of the most common tags that you will run into is the hyperlink. This is a link that you create that will link to an internal link within your site or to an external link on a different website. This allows you to send a visitor to a different website. Once you conquer the hyperlink then you should feel more confident simply because you can use these tags within WordPress or any other content management platform,and anything that reads HTML.
By the end of the video course you should feel confident enough that you can go out into the world and edit existing websites without having to hire an expensive coder.
Grab this video course now so you don't ever have to worry about whether you can get past technical webpage roadblocks again!
has been added to your cart!
have been added to your cart!
Here's The Sales Video You'll Be Getting With This PLR Video Course:
Here's a Sample Video So That You Know What To Expect From These PLR Videos
This Private Label Rights Video Course comes with an entire business in a box reseller package that you can use, rebrand and resell at your wish.
has been added to your cart!
have been added to your cart!
Download Package Details:
10 640X360 MP4 Flash Videos
10 1280X720 MP4 Videos
10 MP3 Voice-overs
10 PowerPoint Slides
Sales Video in MP4 Format
Sales-letter in DOC, HTML and PDF Format
Editable Graphics: Covers, Flat Cover, Header, Footer, Button (Images and PSD)
Total File Download Size:
326 Megabytes (MB)
Private Label Rights License:
Legal Disclaimer: This license is Non – Transferrable; meaning you cannot give these same rights away. If you want to sell rights to your customers; pay close attention to the license below. We closely
monitor vendors that sell the product and take legal violations seriously.
DO NOT Change this license…violations will be obvious will be prosecuted under the DMCA federal law. You cannot give the product away for free, even to your list…
What You Can do:
[YES] Can Sell This Product
[YES] Can Be Packaged with Paid Products. 5 PRODUCTS MAXIMUM CAN BE BUNDLED
[YES] Can Be Offered as a bonus to Paid Product
[YES] Can Be Added to monthly Paid MEMBERSHIP or Training SITES If you have a membership site where people pay a onetime fee to get into download 100's of products, then you cannot include resell rights this product in that bundle.
[YES] Can Put Your Name on the Sales Page
[YES] Can Sell Resale Rights (Does not relate to PLR, meaning your customers can resell the video as is…)
[YES] You can stamp your name on the videos, but you cannot sell PLR.
What You Can't Do:
You CANNOT Give your customers the AVI files or 1280x720HD MP4 files
You CANNOT Give Transcripts
You CANNOT Offer In Firesales
You CANNOT Offer in Dimesales
You CANNOT Offer These Videos in Firesales if there are more than 5 products.
You CANNOT Sell Master Resale Rights to videos as is.
You CANNOT Give away resell rights for free
You CANNOT Give away videos for free
You CANNOT Claim Original Copyright
Repeat: You CANNOT Sell Private Label Rights
Share this and get 20% off!
Related Products That May Interest You