Fit As You Travel Premium PLR Package - High quality fitness travel PLR product including ebook, report, articles and lots more. Over 36 000 words of done-for-you fitness while traveling PLR content ready to be used to grow your business and educate your audience about the fitness niche. This traveling fitness PLR package includes fast-action bonuses for the first 50 buyers.
#fit #fitplr #travel #travelplr #fitnessplr #exerciseplr #workoutplr #healthplr #fitnesscontent #fitnessproduct #travelfitness #vacationfitness #travelplr #simplediet #weightgain #plrebook #premiumplr #travel #vacation #well-being
Fit As You Travel Premium PLR Package Premium PLR Package – Featuring Over 36 000 Words of Done-For-You Evergreen Fitness and Exercise Content.
Attention: Health, Fitness and Wellness Entrepreneurs
Done for You Premium Fitness PLR Product on a
EVERGREEN Topic:
Travel Fitness!
Dear online business owner, When it comes to top fitness and exercises searches, the Travel Fitness is one of the most searched-for topics online.
It's safe to say that fitness while traveling has spawned an entire industry of blogs, fitness courses, and products.
This is where my premium done for you Fit As You Travel PLR Package comes in. Its all about teaching your customers how to Avoid Vacation Weight Gain With Simple Diet & Exercise Tips".
Everything is done for you – from the main exercise PLR info product to your social media updates – its simply up to you to add your branding and firmly establish yourself in this lucrative fitness niche.
Introducing The…
Fit As You Travel Premium PLR Package
Featuring Over 36 000 Words of High Quality Fit As You Travel Content Ready To Be Used In Your Business!
This big Keeping Fit When You Travel PLR package covers the hugely popular fitness niche. Fitness and exercising is evergreen and will always be. This Travel Fitness PLR content package is well-written by an experienced copywriter and comes with full private label rights so you can edit it, put your name on it, put your brand on it and sell it and use it to build your list of raving fans.
has been added to your cart!
have been added to your cart!
Here's everything you'll get in the Fit As You Travel MEGA PLR Package…
Main eBook:"Keeping Fit When You Travel: Avoid Vacation Weight Gain With Simple Diet & Exercise Tips"
(4,071 words, 20 pages, 9 images)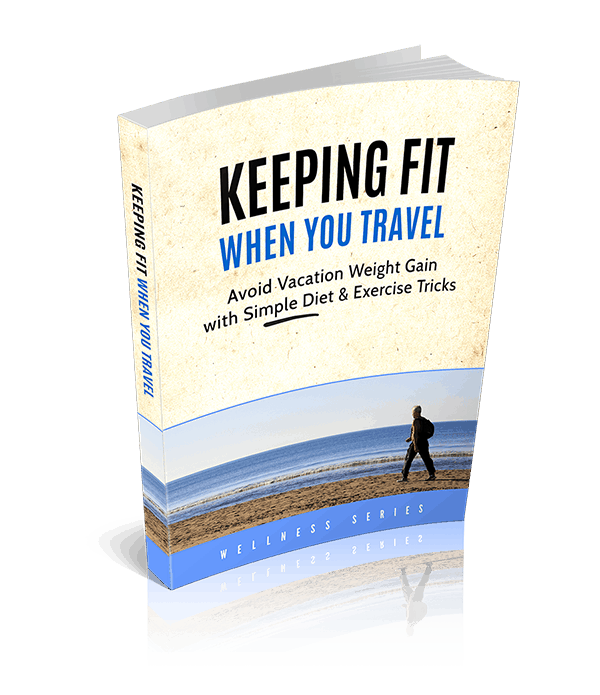 A look inside the Keeping Fit When You Travel Premium PLR eBook: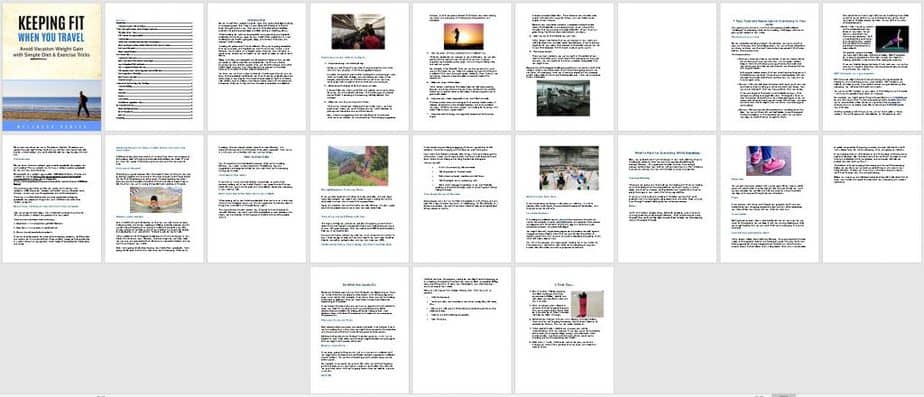 Table of Contents for the Keeping Fit When You Travel PLR eBook:
Introduction…………………………………………………………………. 3
When you exercise while traveling it………………………………………………….. 4
7 Tips, Tools and Resources for Exercising in Your Hotel……………………. 7
The basics always work………………………………………………. 7
HIIT Workouts are a great option………………………………………………. 8
Workout apps………………………………………………. 9
Stream your workout in your room from your computer ……………………9
Check out the gym or fitness facility before you make your reservation…… 9
Make use of the pool……………………………………………… 10
Choose a good location………………………………………………. 10
How to Stay Safe………………………………………………. 11
Work Out in Your Hotel……………………………………………… 11
Don't Work Out in The Hotel Gym Late at Night……………………………………………… 11
Stay On Populated Trails and Roads………………………………………………. 12
Take A Map and Cell Phone with You………………………………………………. 12
Tell Someone Where You're Going and When You'll Be Back………………………………………………. 12
Take Group Classes If Possible………………………………………………. 13
Don't Exercise After Dark………………………………………………. 13
Learn the Customs………………………………………………. 13
What to Pack for Exercising While Traveling………………………………………………. 15
Workout Clothing………………………………………………. 15
Shoes………………………………………………. 15
Jump rope………………………………………………. 16
Music………………………………………………. 16
Water bottle………………………………………………. 16
Local Climate Appropriate Attire………………………………………………. 16
Do What the Locals Do………………………………………………. 18
Find Local Trails and Parks………………………………………………. 18
Discover Local Gyms………………………………………………. 18
Don't Sit……………………………………………… 18
5 Final Tips………………………………………………….. 20
Sample Content for the Keeping Fit When You Travel PLR eBook:
When you exercise while traveling it…
Improves energy and blasts jet lag.
Jet lag is a real thing. It's your body trying to adapt to a new time zone and your circadian rhythms struggling to adjust.
It is often hindered by dehydration (we forget to drink enough water when we travel), lack of sleep, and not moving your body. If you exercise, perhaps even on that first full day you're on your trip, you'll adapt more quickly to the new time zone and schedule.
Diminishes the impact of all that restaurant food.
Exercise helps your body use the fat and calories you're consuming. Sure, you can and probably will enjoy that hamburger and fries for dinner. Great. Exercising in the morning will help alleviate the damage.
Helps you stay busy during down times.
What do you do between meetings? If you're like many, you head back to your room, you sit on the bed and you watch television or perhaps you hop online and surf the Internet.
Now, no one is suggesting that you miss Game of Thrones even when you're on vacation or a business trip. What is being suggested, however, is that you spend some of that time in your room moving your body and exercising. It's more productive, positive, and beneficial.
Lets you enjoy and tour a community in a different way.
While you absolutely can exercise in your hotel room, you can also get out of that room and see the city that you're in. Exercise supports you to explore parks, enjoy new running or hiking trails, and visit new gyms.
For example, if you CrossFit, then you can be a guest at any gym around the world. You can meet new people and see how their gym is different than yours (and get a good workout). If you trail run, you can hop on mapmyrun.com and look up popular trails in the community.
Helps you enjoy better sleep.
We've already mentioned that sleep helps you feel more positive, focused, and productive during your trips. You'll just have a better time if you've gotten some quality sleep. Exercise supports you to get quality sleep.
Improves your mood (especially if you don't like to travel).
It's been proven time and time again that exercise boosts mood. It releases endorphins, natural mood boosters, and puts a smile on your face. Whether you're on vacation or traveling for business, who doesn't like to be in a good mood?
Improves mental energy and cognition (important for business trips).
Exercise increases blood flow. This is because your muscles need oxygen to break down sugar for energy, and your blood carries oxygen to your tissues.
Because your circulation system is a complete system this also means that blood flow is increasing to your brain, not just the muscles that you're using. Increased blood flow to your brain is a good thing! You'll have more mental clarity and focus.
Gets you out of the hotel (if you want to).
We've already mentioned that you can exercise in your room and we'll talk about how and offer some tips. However, if you're itching to get out of your room, then exercise is the perfect excuse. You can try out the hotel pool, hit the nearby trails, or go to a gym.
Can be convenient.
There are many workouts you can do right in the comfort of your room or the hotel's gym, which means that exercising can be quick and easy. You can readily fit it into any available time pocket that you might have.
Because one of the biggest challenges is getting in a quick and worthwhile workout while in your hotel room, that's where we're going to start. You now know why exercising when you travel is so important and awesome, so let's take a look at how to get those benefits even when you're confined to your hotel room.
Note: The above content is just a snippet of the ebook.
Short Report:"10 Exercises You Can Do While Lying Down"
(1,618 words, 7 pages, 5 images)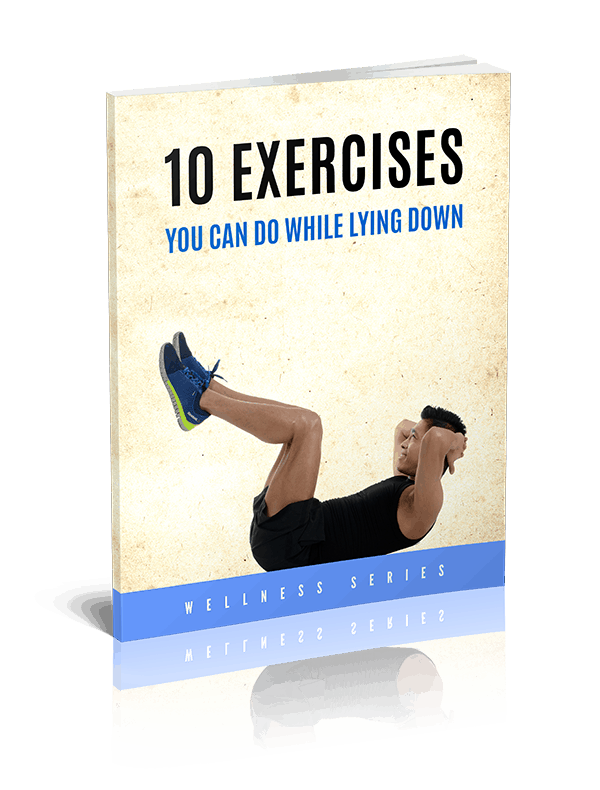 A look inside the 10 Exercises You Can Do While Lying Down PLR Report:
has been added to your cart!
have been added to your cart!
Product Reviews:
"ChiWalking: Fitness Walking for Lifelong Health and Energy" by Danny Dreyer and Katherine Dreyer – 637 words
Gaiam Foldable Yoga Mat – 623 words
Limm Exercise Resistance Loop Bands – 635 words
KNOTTY BODY Massage Therapy Balls – 544 words
New Balance Men's MX608V4 Training Shoe – 527 words
Product Comparison Review:
Top 5 Fitness Belts – 1326 words
5 Emails/ Blog Posts:
Topic: How to Get Back Into a Healthy Routine Post-Vacation
Email1-Planning A Healthy Post Vacation Add 1 Zero Day at Home – 308 words
Email2-PostVacation Exercise Take It Slow and Easy – 301 words
Email3-The Secret To a StressFree PostVacation – 289 words
Email4-PostVacation Health Tip Planning The Return Journey – 272 words
Email5-The Benefit of Vacationing In Your Own Time Zone – 269 words
Fit As You Travel Email Sample Content:
Planning A Healthy Post-Vacation – Add 1 "Zero Day" at Home
Hi,
Vacations are great.
Everyone agrees on that point. They give you a chance to unwind and de-stress, forget about work and your financial obligations, and just focus on having a good time with the ones you love.
Then why do they tire you out so much?
You know the feeling. You get back from vacation tired, beaten and worn down. Then you have to unpack. You barely have enough time to grab a few hours' shuteye before you have to jump right back in the rat race again, and head off to your mind-numbing job.
In many cases, you feel worst after your vacation than you did when you left your normal workaday routine.
This is because too many people spend all of their time planning their vacation, and zero time planning their post-vacation. You want to return from your vacation healthy, happy and refreshed. What you absolutely don't want is to return to work tired, stressed out and grumpy.
How do you do this?
Plan a "zero day" at home after your vacation, and before you get back to your regular routine. Hikers and backpackers use the term "zero day" to refer to a day free of hiking. This allows their minds and bodies to recuperate and refresh, and gives their muscles a rest.
You should do the same thing after any vacation. If you have 7 days of vacation coming up, plan on spending 6 of them getting to and from your vacation destination, and enjoying your time off. Your 7th day should be a bumper day, where you do nothing but rest and relax at home.
This provides a healthy post-vacation 24 hour period where you can mentally and physically prepare for getting back to your daily routine.
To your success,
*YOUR NAME*
High Quality Fit As You Travel PLR Articles:
3 Healthy Road Trip Snack Ideas – 430 words
3 Tips for Exercising in a Colder Climate Than You're Used To – 420 words
3 Tips for Staying Fit While on Vacation – 451 words
3 Tips for Sticking to Your Health and Fitness Goals While Traveling – 549 words
3 Upper Body Exercises That Don't Require Any Equipment – 411 words
4 Core Exercises That Don't Require Any Equipment – 497 words
4 Essential Items to Pack If You Want to Stay Fit on Your Travels – 429 words
4 Lower Body Exercises That Don't Require Any Equipment – 406 words
5 Beach Exercises You Can Do on Vacation – 668 words
6 Tips for Exercising in a Hotter Climate Than You're Used To – 488 words
7 Strength Training Wall Workout Ideas – 971 words
Can Some Time Off Help Boost Your Fitness? – 523 words
Do Activity Trackers Actually Help People Exercise More? – 528 words
How Much of a Break from Exercise Can You Have Before Losing Fitness? – 461 words
How Much Weight do People Typically Gain on Vacation? – 447 words
How Sightseeing on Foot Helps You Stay Fit on Vacation – 419 words
How to Stick to a Healthy Diet on Vacation – 428 words
How to Turn a Park into an Outdoor Gym – 549 words
How to Use Your Hotel's Pool to Keep Fit on Vacation – 417 words
Should You Exercise with Jet Lag? – 454 words
has been added to your cart!
have been added to your cart!
Fit As You Travel PLR Article Sample:
3 Healthy Road Trip Snack Ideas
Taking healthy snacks with you on a road trip is not only better for your health, but is less expensive and can save you time by not having to stop as much. But what should you bring with you?
Some foods are better for traveling than others. When considering your choices, choose things that are:
Finger-Friendly
Being able to eat things by grabbing them with your fingers is easier (and safer) if you plan on eating while driving. Things like trail mix, baby carrots, fruit/protein bars, and various nuts and seeds are easy to eat going down the road and require zero preparation time. You can create portions before leaving home by placing them in small zip-lock bags.
Don't Need Peeling
Things that need peeling like oranges, grapefruit or peaches are not good choices as they end up creating a sticky mess. However, apples, pears and grapes are great choices because they can stay whole. Eat the skin and get some additional nutrition.
Not Messy
Certain foods are messier to eat than others. For example, sunflower seeds still in the shell can mess up a car real fast as can cherries with the pit still in them. For kids, boxed juice drinks and squeezable yogurts work well.
Keeping Things Cold
If you are taking meat and cheese with you, along with some fruits and vegetables, you are going to need a way to keep these items cool. Two of the most popular ways are a cooler with ice or a small electric refrigerator that plugs into your car's power socket. Most travel frigs also come with a power adapter so you can plug in once at your hotel for the night. The latter is less messy and time intensive because you are not always trying to keep things out of melted water and not draining off water and refilling with ice every day.
Controlling Trash
Be sure to bring along some larger zip-lock bags to put the accumulated trash in. Zip-locks work better in that things are not going to fall out of them after zipped and it reduces the smell of garbage in the vehicle.
With a little prior planning, it is not that hard to pack healthy snacks before leaving on a road-trip. Not only will it reduce the consumption of unhealthy fast food and save you money, but it can save a ton of time by reducing the number times you have to stop to eat. With the abundance of healthy snacks available, there is no reason why a road trip should wreck your healthy eating plan.
has been added to your cart!
have been added to your cart!
Social Media Posts & Images:
5 Shareable Social Media Travel Tips Graphics (PLR)

5 Shareable Social Media Inspirational Images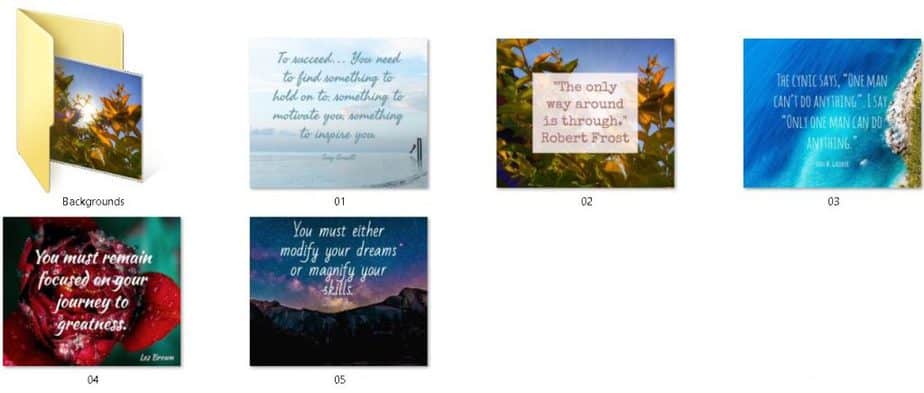 20 Social Media Posts (for sharing on Twitter or Facebook)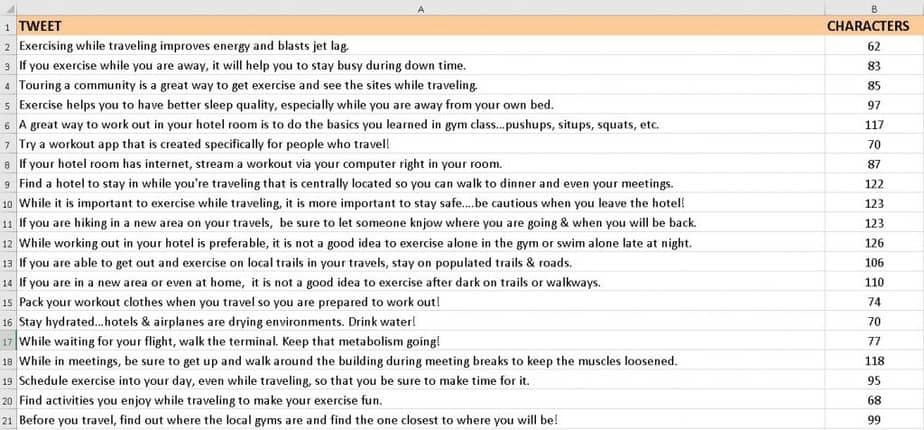 has been added to your cart!
have been added to your cart!
14 Royalty Free Images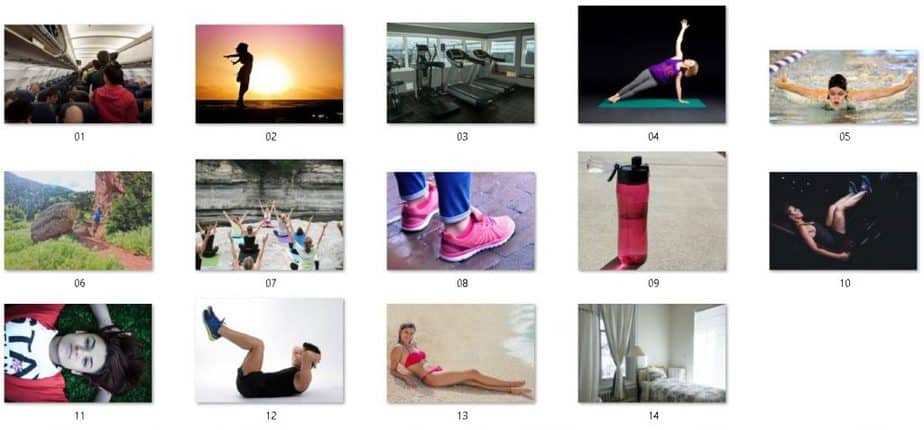 Images of All Products Reviewed

Fit As You Travel Keyword Research Pack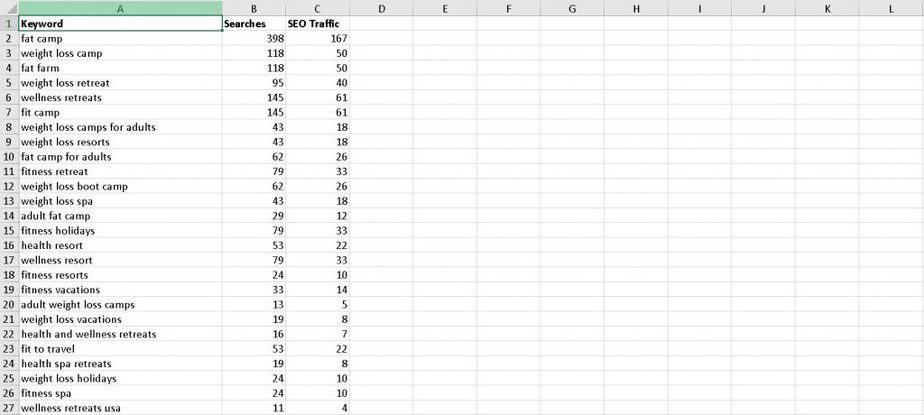 Bonuses:
5 Top Quality Summer Fitness FAQs PLR Articles
Can I Get a Six Pack in 3 Weeks? (572 words)
Will Weight Loss Supplements Get Me Toned by Summertime? (662 words)
Which is the Best Diet for Getting a Beach Body? (567 words)
Can I Get Fit by Summer if I Don't Have a Gym Membership? (563 words)
How Do I Maintain My Beach Body After Summer? (634 words)
All in Word Doc and .TXT Format with PLR License.
5 Top Quality Summer Fitness FAQs Bonus PLR Article Sample:
Can I Get a Six Pack in 3 Weeks?
You may have seen fitness magazines with headlines that scream, "Get Ripped In 3 Weeks!" or "6 Minutes to a Six Pack".
Everything looks so fast and easy. Yet, so many men struggle to get the coveted abs that seem to take ages to appear.
The answer is simple. The magazines are wrong. Most of it is hype and if you're 30 pounds overweight, it's next to impossible to get a six pack in 3 weeks. You'll probably only get one in 12 to 15 weeks, if you exercise daily and clean up your diet.
The reason why magazines use headlines like these is so that they can sell the most copies possible. It's all about money. Fast and easy abs sound sexy. People will pay money to learn the secrets… Only to discover that there are none.
There is no easy way to a washboard stomach. You'll need to train hard, get your bodyfat percentage down to a single digit, and focus on working your abs daily or every other day.
What they're not telling you
The secret to showing your abs is a low bodyfat percentage. In other words, getting a six pack is about weight loss.
If you're already skinny or slim, you can get a six pack in 3 weeks by training your abs daily. They'll become stronger and more defined.
This is why teenagers and sometimes even young kids seem to have abs. They're just lean and have a low bodyfat percentage.
However, most of us are not skinny, and with obesity at epidemic proportions, getting abs in 3 weeks will not be an option for most. These are unrealistic expectations that only set you up for failure or make you quit.
The truth of the matter is that we all know what we need to do. We need to sacrifice the unhealthy processed foods we love and stick to eating clean. It's a tough price to pay, but the rewards will be a six pack.
You'll need to reduce your carb intake and increase your fat intake so that your body is primed for fat burning and sheds the stubborn pounds more easily. By reducing your carbs, your insulin levels will stabilize and weight loss will be easier and accelerated.
Increasing your activity levels daily and exercising often will boost your metabolism and help you to burn more calories. Now you're burning fat and calories to get lean and ripped.
You may wish to do a quick ab workout for about 6 minutes daily. Since your core muscles are recruited in most of your day-to-day activities, it's fine to train them daily, but 6 minutes is all you need.
Use a variety of exercises from crunches to hanging leg raises and planks to hit your abs from different angles. Change up your abs workout daily so your body is always guessing. You can find hundreds of different abs exercises on YouTube.
Once you reach a bodyfat percentage of about 9 to 10 percent, you'll start seeing your abs in all their glory.
It will take you time… and depending on how much weight you carry, it may seem like a long process. But if you stick to it, you'll see your abs in 3 to 5 months. Not weeks, but months.
However, your sense of satisfaction when you do attain your goal will be immeasurable. The glory comes from the struggle. Keep going.
10 High Quality Blogging for Weight Loss PLR Articles
5 Reasons Why You Need a Weight Loss Blog (572 words)
Blogging about Your Weight Loss Setbacks (553 words)
Dealing with Insecurities When Blogging about Weight Loss (621 words)
How to Blog About Your Weight Loss Journey (564 words)
Monetizing Your Blog: Losing Weight and Gaining Money (578 words)
Monitoring Your Diet by Blogging (557 words)
Sharing Your Weight Loss Blog with Others (607 words)
4 Tips to Make Your Weight Loss Blog More Interesting (602 words)
Tracking Your Weight Loss Progress on Your Blog (591 words)
Using Blogging as a Weight Loss Tool and Not a Slave Driver (638 words)
All in Word Doc and .TXT Format with PLR License.
10 High Quality Blogging for Weight Loss PLR Bonus Article Sample:
5 Reasons Why You Need a Weight Loss Blog
Embarking on a weight loss goal can be a stressful endeavor. You've to watch your diet, exercise regularly, get enough sleep and so on. Just keeping all these plates spinning at the same time can be tedious.
So, it can seem ridiculous to entertain the notion of keeping a blog detailing your weight loss journey (even if it's for posterity).
In this article, you'll discover 5 reasons why blogging during your weight loss journey is more beneficial than you realize… and it i