Facebook Ad Secrets Videos Sales Funnel with Master Resell Rights - How To Create A $50,000 - $100,000 Per Month Business (Or More) With FB Ads Starting With A $5-$10/Day Budget
#facebook #facebookads #facebookadsecrets #facebookmastering #fbadvertising #fbretargeting
Facebook Ad Secrets Videos Sales Funnel with Master Resell Rights
How To Create A $50,000 – $100,000 Per Month Business (Or More) With FB Ads Starting With A $5-$10/Day Budget
If You Want To Get More Prospects, Close More Buyers And Scale Your Business, Then This Is Going To Be The Most Important Letter You'll Read…
As you may already know you need to be on Facebook if you want to generate more Customers or Clients as almost all your potential buyers are hanging out in the same place.
However, have you been getting the results that you want?
Maybe you have started a Fan Page, received some likes, posted some content, but you do not know what the next cause of action is.
Maybe you have invested a sum of money through FB advertising, but you have not been seeing the returns.
Perhaps you are uncertain, confused, frustrated…
There is a lot more to marketing on FB than just raking up a bunch of 'likes' and 'boosting posts' (don't do these, by the way – they don't convert into sales)
Introducing…   
Facebook Ad Secrets Videos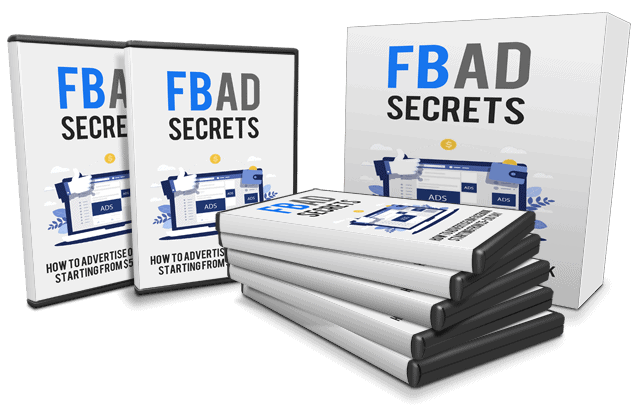 Announcing This Step-By-Step 4-Week Online FB Ad Secrets Training Program To Jumpstart Your FB Advertising And Mastering
You Will Never Have To Rely On Blogging, Referrals, JVs, Or Any Ineffective Methods Again…
FB Ad Secrets is designed for beginners who wants to learn and for existing marketers who wants to sharpen their FB advertising skills.
In this 4-week online training program, you will discover the secrets on how to create your FB (and Instagram) ads effectively, how to optimize for better results, and ultimately generate qualified leads and profitable sales.
has been added to your cart!
have been added to your cart!
How Is FB Ads Secrets Different?
Backed By Results
Everything taught in this Program is a result of hundreds of Ad Campaigns and tens of thousands of own dollars spent.
Regularly Updated
Unlike other Courses out there, I recognize that FB always changes. Get training updates at no extra charge.
Action Oriented
Straight-to-the-point tutorials promote easy-to-follow, actionable steps as you go through each module.
Here's A Sneak Peek Inside The Training Program…
Week 1 – FB Marketing Kickstarter
Evergreen FB Marketing Formula
How To Create Your BF Business Account
How To Create Your FB Page
FB Page Crash Course
How To Create FB Pixel And Add To Your WordPress
Week 2 – Ad Creation & Targeting Mastery
Setting Up Your Ads Manager Column Breakdown
Understanding Ads Manager & Objectives
Create Campaign "Conversions" For Lead Generation
How To Write Your Ad Creatives
How To Duplicate Ad Set Correctly
How To Delete Unused Page Posts
Week 3 – Retargeting & Lookalike Secrets
How To Create Custom Audience
How To Create Retargeting Ads & Save Lost Traffic
ADVANCED Retargeting Method
How To Create Lookalike Audience
Week 4 – Optimization and Scaling
How To Tweak Your Ad Targeting
How To Tweak Your Ad Creative
How To Spy On Competitors FB Ads
What To Do If Your FB Business & Ad Account Got Banned (And How To Prevent)
Act Now And You Get The Following Fast Action Bonuses!
Fast Action Bonus #1
10 FB Ad Templates
Fill-in-the-blank templates for your FB Ads, modeled after proven formula that we've used in multiple niches and markets (this is after spending mid six figures of our own money in a year!)
Fast Action Bonus #2
30 FB Ad Swipe File

A compilation of tried and tested FB Ads from various niches and business models: Free Book Giveaway, Webinar, Seminar or Live Event, E-Commerce Products, Properties, Service Providers, And Software.
Fast Action Bonus #3
FB Ad & Funnel Review

Usually reserved for my VIP Clients, when you purchase FB Marketing Kickstarter in full I will personally review your FB Ad Campaign & Funnel after you've completed it.
Master FB Marketing & Advertising Today.
Before I get to the price, first let us see how much it would cost you NOT to learn FB Advertising today…
You will always be 1 click away from reaching out to your ideal Customers and Clients. So near, yet so far.
Depending on your niche or industry, there is a high chance a lot of your competitors still don't know how to use FB to market themselves (yet)… and that will change – sooner or later.
Eventually, the ones are going to be out of Business will be those unwilling to learn and adapt.
has been added to your cart!
have been added to your cart!
Upgrade Your Order Right Now With The FB Ad Secrets Next Level Video Training  For Scaling!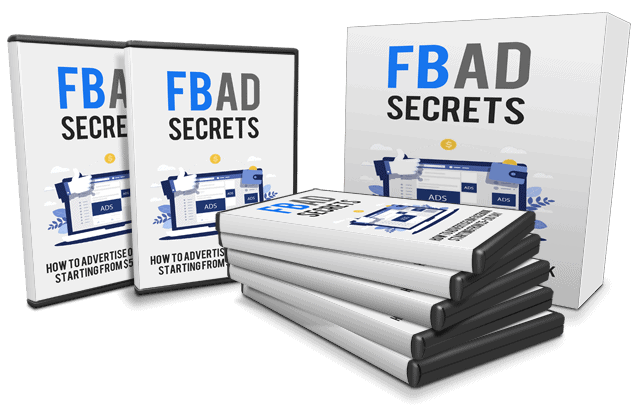 While the FB Ad Secrets was made for beginners just starting in Facebook advertising, these videos answer the coming challenges you will face as you scale to spending hundreds or thousands of dollars per day while remaining profitable.
For beginners, you will usually start with a low budget to run your Facebook ads. But eventually when the time comes for you to scale your offer with a bigger budget, you will come across problems such as your ad account being disabled, profit margin becomes thinner and things like when and how to split test your ads.
With this upgrade, it will help you prepare to scale your business to possibly 6-7 figures a year! You need to think long term and if you want your business to have massive returns, you must be willing to invest and work towards it as well.
Upgrade To The Next Level Package And Get The Following Pro Components…
In This Training Course, You Will Discover:
1 – Security Measure – How To Set Ad Spend Limit [3:08]
2 – How To Spy On FB Ads – Page Transparency [4:43]
3 – How To Optimize And Split Test FB Ads [8:44]
4 – How To Duplicate Ad Sets Correctly [11:01]
5 – How To Create Custom Audience [12:36]
6 – How To Add Customer List To Audiences [5:05]
7 – How To Create Lookalike Audience [6:06]
8 – How To Do FB Retargeting [6:09]
9 – Campaign Budget Optimization (CBO) [6:37]
10 – How To Delete Unused Page Posts [3:22]
11 – What To Do If FB Ad Account Disabled [5:46]
12 – What To Do With Hater Comments [1:21]
13 – How To View Breakdown [5:55]
14 – FB Ad Hacks [17:23]
And the good news is, I've also included the workbook and frameworks I usually use in both my live workshops and online courses, for students to use while building their Facebook ad campaigns and scaling further.
This will be your step by step handbook in running your Facebook ad campaigns, and saves you a lot of time rather than figuring it out on your own. A lot of people spend years in figuring out the ropes to marketing their products through Facebook ads.
You're only left with methods that work. All you need to do is just follow my readily available framework and you're good to go!
has been added to your cart!
have been added to your cart!
Package Details:
Covers
FB Ads
SalesPage
Report
Emails
FB Ad Secrets
Videos MP4
Advance Video Course:
Covers – Next Level
FB Ads – Videos
SalesPage- Emails – NextLevel
Videos – Next Level
Total File Download Size:
739 Megabytes (MB)
Master Resell Rights License:
[YES] Can be sold
[YES] Can be used for personal use
[YES] Can be packaged with other products
[YES] Can modify/change the sales letter
[YES] Can be added into paid membership websites
[YES] Can put your name on the sales letter
[YES] Can be offered as a bonus
[YES] Can be used to build a list
[YES] Can print/publish offline
[YES] Can convey and sell Personal Use Rights
[YES] Can convey and sell Resale Rights
[NO] Can modify/change the main product
[NO] Can modify/change the graphics and ecover
[NO] Can be given away for free
[NO] Can be added to free membership websites
[NO] Can convey and sell Master Resale Rights
[NO] Can convey and sell Private Label Rights
has been added to your cart!
have been added to your cart!
Share this and get 20% off!
Related Products That May Interest You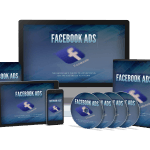 #FacebookAds #FacebookTips #FacebookAdvertising #FacebookAdvertisingCampaign #CreateYourAd Facebook Ads Sales Funnel with Master Resell Rights It's About Time For You To Learn Facebook Advertising The Right Way! Did you know that when…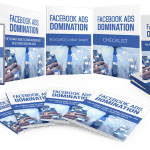 #FacebookAdsDomination #Facebook  #FacebookAds #FacebookStrategies #FacebookTechniques Facebook Ads Domination Sales Funnel with Master Resell Rights It's Finally Here The Ultimate Facebook Ads Domination Course Full Of Top Secret Strategies To Grow…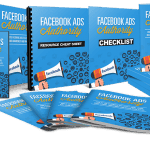 Facebook Ads Authority Sales Funnel with Master Resell Rights "Discover How To Use Facebook Ads To Get More Leads, Build Brand Awareness And Make More Sales" This Step-By-Step Guide Will…
---
TAG : facebook ad secrets mrr, facebook ad secrets sales funnel with master resell rights, facebook ad secrets videos master resell rights, facebook ad secrets with master resale rights, sales funnel facebook ad secrets videos
CATEGORY : Complete Sales Funnels, Master Resell Rights Products, MRR Autoresponder Series, MRR Lead Magnets, MRR Videos - Master Resell Rights Videos, Resell Rights Autoresponder Series, Resell Rights Lead Magnets, Resell Rights Products, Resell Rights Sales Funnels, Resell Rights Videos, Social Media, Social Media Marketing, Social Media Videos MRR