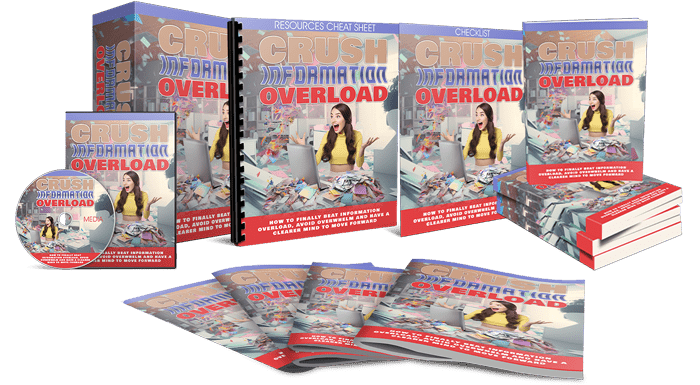 Crush Information Overload Sales Funnel with Master Resell Rights
in
Complete Sales Funnels , Lead Magnets , Master Resell Rights Products , Master Resell Rights Sales Funnels , MRR Audios , MRR eBooks , MRR Lead Magnets , MRR List Building Reports , MRR Videos - Master Resell Rights Videos , Products with Sales Pages , Resell Rights Audios , Resell Rights Ebooks , Resell Rights Lead Magnets , Resell Rights Sales Funnels , Resell Rights Videos , Self Help Ebooks MRR , Self Help MRR Videos , Self Improvement
Choose Your Desired Option(s)
has been added to your cart!
have been added to your cart!
#informationmanagement #overcominginformationoverload #productivitytips #timemanagementstrategies
#simplifyyourlife #mindfulnesspractices #digitaldetox #minimalism #focustechniques #organizationstrategies
Crush Information Overload Sales Funnel with Master Resell Rights
Finally! Learn How to Crush Information Overload, Avoid Overwhelm, and Clear Your Mind
Learn What It Takes to Conquer Information Overload, So You Can Avoid Overwhelm, and Clear Your Mind So You Can Finally Move Forward in Your Life
Since the invention of the Internet, the amount of information that we are exposed to on a daily basis has grown exponentially.
Never before in our history have we been able to access information from anywhere, at any time of the day.
This onslaught of information has come at a price to our health and mental well-being.
Information Overload Leads To a Decrease in Productivity
This constant barrage of information has led to a decrease in productivity, an increase in stress, and a decline in our mental well-being.
The 24/7 access to information has falsely lead us to believe that we're productive because we're learning something. However, we lose up to 75% of the information we obtain because our brains aren't designed to processes that much information.
So, how do you know if you're suffering from information overload?
Do Any of These Signs Sound Familiar?
Are you always checking your email when you should be focusing on other tasks?
Do you frequently find yourself anticipating the next time you'll be able to get online?
Do you find that you've lost track of time while online?
Do you find that you're always fatigued?
Do you have a hard time making decisions?
Do you experience more than an average number of headaches?
Have you become more irritable?
Have you become less productive at work?
Have you noticed you have a reduced mental capacity?
If you answered yes to any of these questions, then you're suffering from information overload.
So, how do you Crush Information Overload and avoid overwhelm so you can have a clearer mind and move forward?
The answer is in this brand new course I created.
Let me introduce you to
Crush Information Overload
How To Finally Crush Information Overload, Avoid Overwhelm And Have a Clearer Mind To Move Forward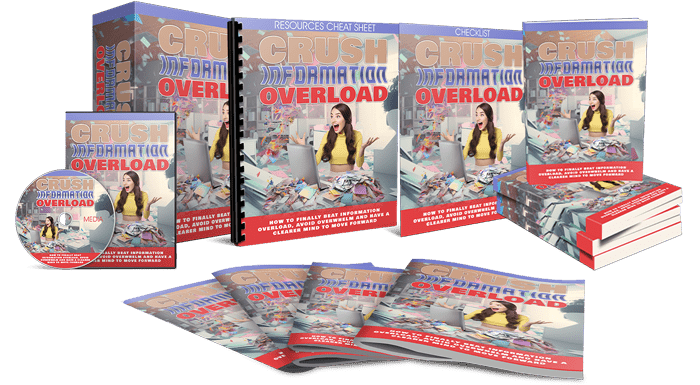 With a few simple techniques and willpower, you can overcome information overload to live a happier and healthier life.
Everyone falls victim to information overload, but you don't have to suffer from it any longer.
You can learn how to turn off the noise, declutter your environment, and filter out the irrelevant and unnecessary information that you're flooded with every day.
Discover how you can manage the information and start taking back control of your life.
Here's exactly what you'll get inside the course:
Crush Information Overload Ebook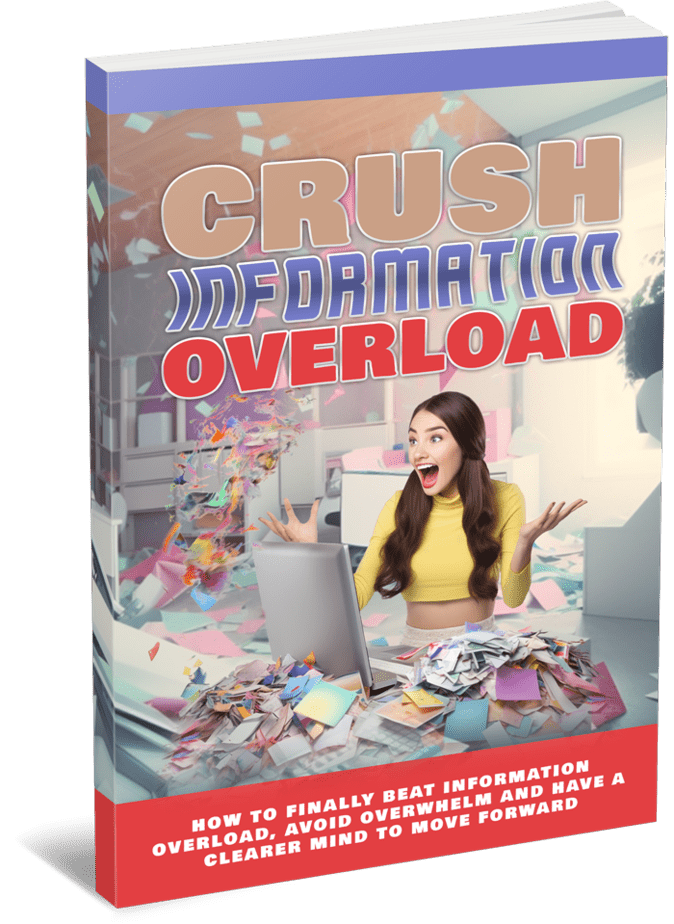 This guide takes you through the characteristics of a gritty person, the habits that gritty people develop, and shows you what you need to do to build your grit to leave your old life and become a successful entrepreneur and turn your dreams into reality.
Here's what you'll discover inside this guide:
What information overload is
The surprising history of information overload
Understanding the enemy
Social media's role in information overload
The limits of your working memory
What information overload does to the brain
How to overcome challenges in an information-driven world
Why multitasking is destroying your productivity
You will greatly benefit from the lessons presented in this guide and learn everything you need to know about information overload and how to overcome it to clear your mind and move forward.
Here are just some of the many benefits that you will gain by reading this guide:
You'll learn how to limit your decisions to Crush Information Overload.
You'll learn how to organize your home to reduce clutter and reduce stress.
You'll learn the importance of organizing your social life and how doing so can help you feel less overwhelmed.
You'll learn how to organize your time by recognizing your limits, making time to recover, and how to time your tasks to take advantage of the natural ebbs and flows of your energy.
You'll discover how multitasking can be a detriment to productivity and mental health.
You'll be shown how to be more productive at work, by removing distractions and reducing communication overhead.
And much more
SPECIAL BONUSES FOR TAKING ACTION!
FAST-ACTION BONUS #1: Point-By-Point Checklist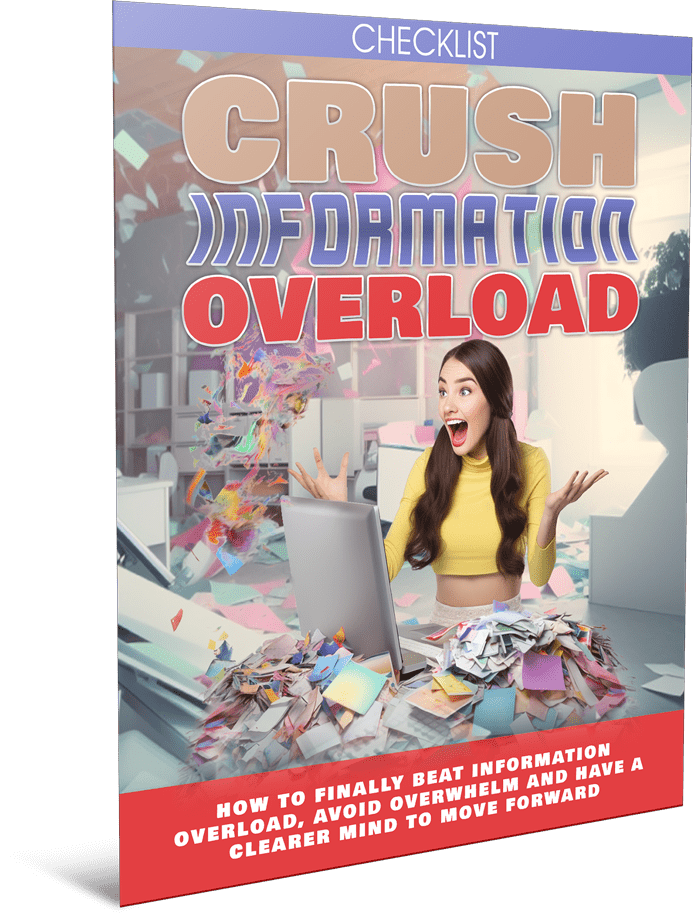 View or print this handy checklist so that you can check off each point.
It is like a summary of the entire guide but in actionable, bite-sized points so that you can successfully get through the course.
FAST-ACTION BONUS #2: Resource Cheat Sheet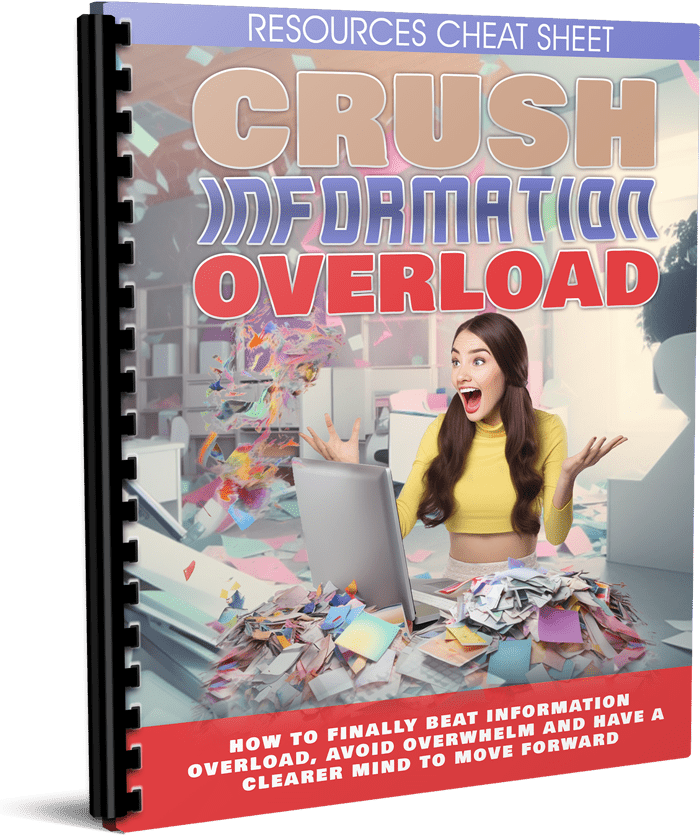 You'll also get access to a rolodex of top sites, blogs, forums, tools, apps and services to get you even further.
Inside you'll find:
Top blogs and forums
Top tools
Top tips and how to's
+ more!
FAST-ACTION BONUS #3: Mindmap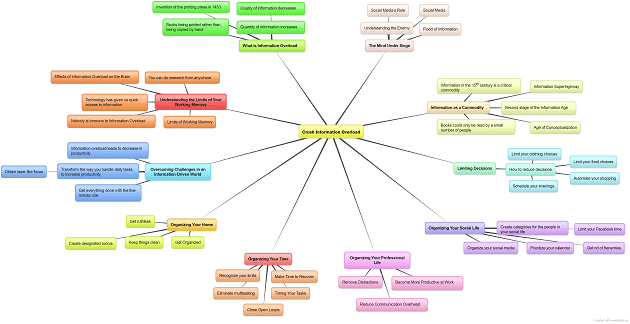 A quick glance over this mindmap and you'll get an instant refresher of all the major points and action steps from the main guide.
Does that sound good or what?
How Much Is All This Going To Cost You?
You can own Crush Information Overload together with all the bonuses for a mere $9.99.
That is a truly incredible deal!
Did I mention this eBook is only $9.99? It's definitely a point worth repeating. You will be hard-pressed to find a more valuable resource.
I'm delighted to have the chance to share this powerful guide with you.
Again, you will receive the comprehensive and valuable insights for only $9.99.
Please click the Add To Cart button right now and take ownership of this valuable eBook TODAY!
According to Digital Intelligence Today, overuse of social media can lead to short-term memory loss and is linked to more significant stress and poor health. This shows how important it is to learn how to Crush Information Overload, so you can improve your health and reduce your stress.
Everyone has to deal with information overload, it is an unfortunate side effect of advancements in technology, but you don't have to suffer any longer. If you're ready to start beating information overload and clearing your mind, click the Add To Cart button to get "Crush Information Overload!
has been added to your cart!
have been added to your cart!
Now You Can Get Instant Access To a 10-Part Training Series To Help You Get Ahead Even More…" Download And Start Playing These Videos Tutorials Right From The Comfort Of Your Home!
There's a long way and a short way.
The long way?
Trying to figure out everything yourself, only to go around in circles. All that time wasted could have been put into something more worthwhile.
Want to know the short cut instead?
Good news!
I recorded 10 exclusive, step-by-step video tutorials that'll show you the tools, techniques and my top tips to finally succeed and get results!
Here they are: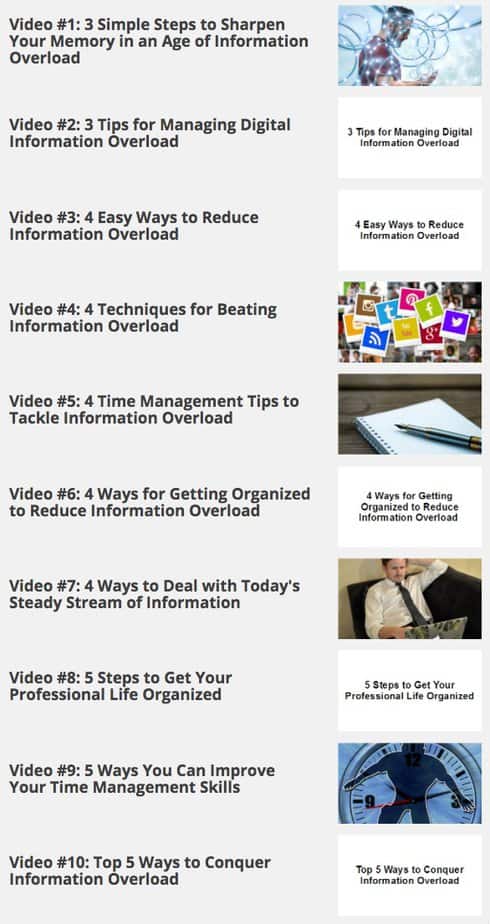 Sound Good?
Remember when I asked if you wanted the long way or short way?
Well, these videos will give you that unfair advantage and help you finally breakthrough so you can get results starting as soon as you finish watching the videos!
You can get instant access to all 10 video tutorials for just a measly $97.00 $9.99!
That's a measly drop in the bucket considering you're getting 10 step-by-step videos you can watch and replay at anytime!
Please click the Add To Cart button right now and take ownership of this valuable package TODAY!
has been added to your cart!
have been added to your cart!
Here's a Sample Video So That You Know What To Expect From These Videos
Package Details:
Module 1 – Ebook
Module 2 – Checklist
Module 3 – Resource Cheat Sheet
Module 4 – Mindmap
Module 5 – Sales Page
Module 6 – Optin Page
Module 7 – Graphics
Module 8 – Articles
Module 9 – Email Swipes
Module 10 – Social Media Images
Advance Video Course:
Module 1 – Videos
Module 2 – Upsell Page
Module 3 – 7 Day Autoresponder Series
Module 4 – Special Report
Module 5 – Affiliates Toolbox Page
Module 6 –  Social Media Swipe Kit
Module 7 – Audios
Total File Download Size:
103 Megabytes (MB)
Master Resell Rights License:
You're granted master resell rights, resell rights or to resell with personal use rights.
Price for resell is strictly $7.00 minimum (videos $17)
You may add this product to your PAID membership site
You may giveaway the product as a bonus when people buy through your affiliate link
You may edit the included sales page and opt-in page
No, you may NOT edit the contents of the eBook(s) & videos
No, this product does NOT include private label rights. You are granted Master Resell Rights only
No, you may NOT giveaway the eBook(s) & videos for free. Must be sold for at least $7.00 (videos $17)
Share this and get 20% off!
Related Products That May Interest You