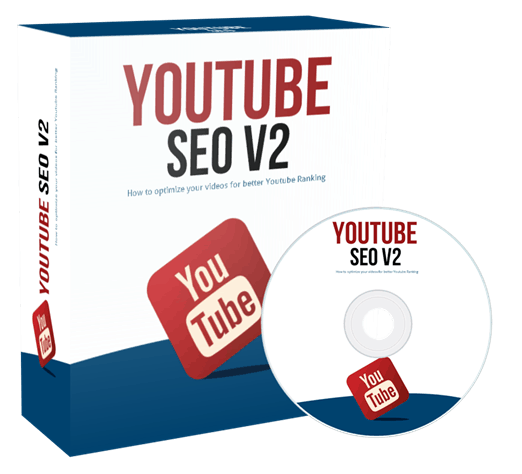 Choose Your Desired Option(s)
has been added to your cart!
have been added to your cart!
#YouTubeTips #YouTubeChannelSEO #YouTubeChannel #YouTubeVideoTraffic #YouTubeAccountCreation
YouTube Channel SEO V2 PLR Videos
Discover How to Optimize Your Videos For The YouTube Search Engine So You Can Outrank Your Competitors… Starting Today"
In this specific video training course, you will get to watch over my shoulder – step-by-step, click by click – and learn what you need to do before making your YouTube videos live.
It's nothing new that YouTube is a huge source of traffic for your products or services.
Video marketing is one of the easiest ways to get highly targeted traffic, but you have to do it right. If you do it wrong and simply upload a video to YouTube in the hopes that it will get a ranked on YouTube and on Google then you won't be as effective.
That may have worked back in 2005 and you could just throw a couple backlinks at it, but today is different.
The problem is that ranking on YouTube isn't as easy as it was back in 2005, or even 2010.
Plus, on top of that, there are tons and tons of different marketing strategies out there online.  Many of these work and many of them have faded away.
So what works and what doesn't?
What is a long term strategy that will work for years to come?
It's simple.
Understanding what keywords are in demand and how to properly optimize your video BEFORE you make it live is what will help YouTube know where to categorize your video.
Methods have changed and so has YouTube's algorithm.
You will learn the most updated SEO strategies that you must do before you make your YouTube videos live.
Introducing…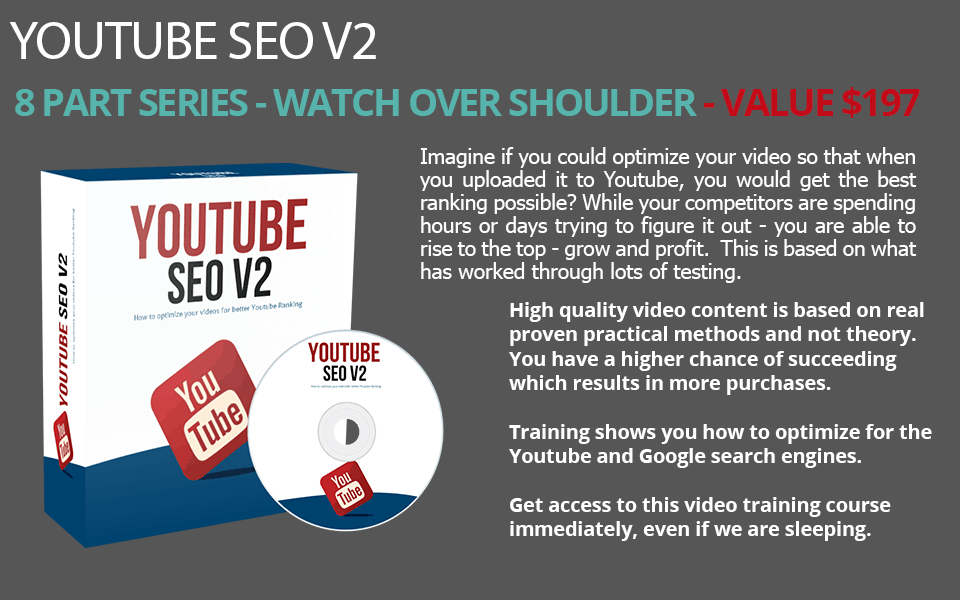 Video #1 – Introduction to YouTube SEO
Before we jump right in, we want to make sure that you are in the right mindset. So, we will be discussing what you need to put your 100% focus into.  In addition to that we will discuss a quick overview of what's inside this video course, so you know exactly what to expect. You'll also get to see everything that you need to be able to get started successfully.
Video #2 – Competitive Research
The best way to understand how you can rank better is to do a bit of competitive research.  This will allow you to see what is working right now and why YouTube may be ranking certain videos over others.
Video #3 –  Highly Searched Keywords
One mistake we see many Youtubers make is making their own title and description.  Instead of deciding what you think will work, why not use what is already working?  The best way to find highly searched keywords is to look at what is already out there and it's free.
Video #4 – Your Title and Description
Taking what you have gathered in the previous videos, let me show you how to properly create your titles and descriptions.  There's a super easy trick we use to create titles that both convert and rank well.
Video #5 – Video File Optimization
Did you know that all files contains data that tells YouTube what your video could be about?  This is one of the most skipped steps because it is a little technical.  But you'll learn how so you can get one step ahead of your competitors.
Video #6 – Your Thumbnail
Since our goal is to get more clicks to your YouTube video, we have to rely on attracting your viewers.  The thumbnail is the first thing people see as they are scanning to find what interests them the most.  You will learn what your Thumbnail should contain and what to do if you don't have any design skills.
Video #7 – Video Length
The big question is how long should your video be?  Yes, most folks have said to make your videos short and that worked in the past.  But what about today?  Should it be long?  Should it be short?
Video #8 – Secret Tip to Outrank Your Competitors
In this video, we will cover a secret tip that has worked for us time and time again to outrank your competitors.  This is one of the few methods that most people are aware of and it'll be another step you have to be ahead.
So, grab this video course today and begin optimizing your videos for YouTube the right way.
has been added to your cart!
have been added to your cart!
Follow this simple step-by-step system and start setting up your very own digital membership site!
This Private Label Rights Video Course comes with an entire business in a box reseller package that you can use, rebrand and resell at your wish.
Here's The Sales Video You'll Be Getting With This PLR Video Course:
Here's a Sample Video So That You Know What To Expect From These PLR Videos:
Download Package Details:
8 1280X720 MP4 Videos
8 MP3 Voiceovers
8 Transcripts
Sales Video in MP4 Format
Sales-letter in DOC, HTML and PDF Format
Editable Graphics: Covers, Flat Cover, Header, Footer, Button (Images and PSD)
Total File Download Size:
1.10 Gigabytes (GB)
Private Label Rights License:
Legal Disclaimer: This license is Non – Transferrable, meaning you cannot give these same rights away. If you want to sell rights to your customers, pay close attention to the license below. We closely monitor vendors that sell the product and take legal violations seriously.
DO NOT Change this license…violations will be obvious will be prosecuted under the DMCA federal law.
You cannot give the product away for free, even to your list…
What You Can do:
[YES] Can Sell This Product
[YES] Can Be Packaged with Paid Products. 5 PRODUCTS MAXIMUM CAN BE BUNDLED
[YES] Can Be Offered as a bonus to Paid Product
[YES] Can Be Added to monthly Paid MEMBERSHIP or Training SITES If you have a membership site where people pay a onetime fee to get into download 100's of products, then you cannot include resell rights this product in that bundle.
[YES] Can Put Your Name on the Sales Page
[YES] Can Sell Resale Rights (Does not relate to PLR, meaning your customers can resell the video as is…)
[YES] You can stamp your name on the videos, but you cannot sell PLR.
What You Can't Do:
You CANNOT Give your customers the AVI files or 1280 x 720 HD MP4 files
You CANNOT Give Transcripts
You CANNOT Offer In Firesales
You CANNOT Offer in Dimesales
You CANNOT Offer These Videos in Firesales if there are more than 5 products.
You CANNOT Sell Master Resale Rights to videos as is.
You CANNOT Give away resell rights for free
You CANNOT Give away videos for free
You CANNOT Claim Original Copyright
Repeat: You CANNOT Sell Private Label Rights
Share this and get 20% off!
Related Products That May Interest You