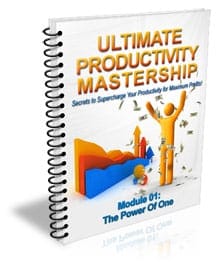 Choose Your Desired Option(s)
has been added to your cart!
have been added to your cart!
Ultimate Productivity Mastership Video Series With Master Resell Rights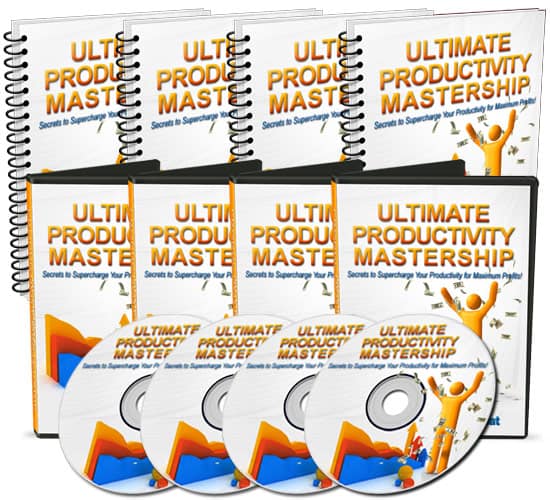 How To Get More Things Done, Get More 'Hours' In A Day & Discover The Secrets To Supercharge Your Productivity For Maximum Profits!
Ultimate Productivity Mastership is a video series – broken into 4 different sessions – on how you can maximize your limited resources in time, effort and money and trade them for higher gains in business! Consider this the discipline building program for success.
has been added to your cart!
have been added to your cart!
Here's What You Will Discover:
Module 01: The Power Of One
Working alone and starting your own business from scratch with little certainty of the future is very daunting. I expect you to be like most people who are just starting out – scarce resource in both time and money.
"The Power of One" reveals breakthrough methods to empower yourself to focus your efforts for effects – trade effort for amplified results.
Module 02: Managing Yourself
How to set priorities and time management for your business game plan
Eliminating 'time vampires' – how to get rid of counter-productive tasks and activities that do not empower you to build a profitable business and yourself as an entrepreneur!
Accountability Partner -how to find a person or people with like-minded goals you can work with on a synergistic level
And much, much more!
Module 03: Acquiring Productive Skills
How to get more hours in a day – find out how you can speed up irreplacable tasks like reading, writing and any effort that leads to building the bricks for your online business. Discover the 80-20 rule and what they are when it comes to your personal life, social life and business life!
Module 04: Reward, Rinse & Repeat
Why and how to reward yourself with rest every now and then
why the idea of "working hard for almost a year and going vacation for 2 weeks" is an obsolete idea – and embrace the mindset of the "new rich" aka mini-retirement plans!
"Get Your Copy Of Ultimate Productivity Mastership Today…"
If the information in this guide can help you minimize your learning curve, maximize your productivity, trade your effort for 10 times the results in business bottom-line… how much are all these worth to you?
Get your copy of this download today for just
has been added to your cart!
have been added to your cart!
License Details:
Resale Rights – Yes
Master Resale Rights – Yes
Private Label Rights – No
Giveaway Rights – Yes
Offered as a Bonus – Yes
Full Product Copyrights – No
Full Graphic Copyrights – No
May Modify Videos – No
Packaged with Other Products – Yes
Added to Paid Membership Websites – Yes
Added to Free Membership Websites – No
May Publish Offline – Yes
May Sell on Auction Websites – No
Share this and get 20% off!