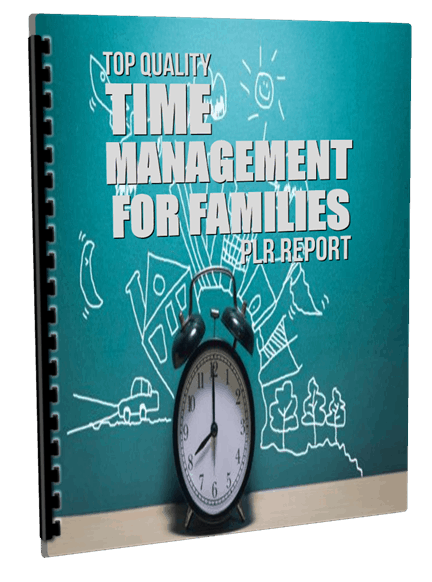 Choose Your Desired Option(s)
has been added to your cart!
have been added to your cart!
#TimeManagement #TimeManagementTips #TimeManagementTechniques #ManagingTime
Top Quality Time Management for Families PLR Report
Guide to Time Management for Families
Life can be hectic, not only for adults, but also for children and teens. Parents work, teens have school and may work on weekends and after school, and children have school. Family members may also be involved in any number of other activities such as religious activities, sports, dance, scouting, volunteering, going to movies with friends, dating, play dates, or lessons of one kind or another.
If you're like most families whose members are running here and there, you may be wondering how to keep your head on straight while you try to get everyone where the need to go when they need to be here. You know there has to be a better way to manage everyone in the family's schedules without losing your mind.
Then, of course, there's the topic of housekeeping. It used to be that wives were expected to do the lion's share of the work for keeping the housework done. Times have changed and it's no longer considered women's work to do the cooking and cleaning for the entire family. But how do you get your family to help if they've never done that before.
Time management for families is important, perhaps now more than ever before. With family members going in a multiple of directions each day, your family really can't afford not to consider time management. By using some of these time management techniques, it can make a huge difference in how your home is run, how stressful your home is, and how much time you have available to spend as a family rather than everyone running late to their respective activities.
It's important to note that time management for families and team work go hand-in-hand. The sooner your family realizes the parents can't do everything around the home, as well as running the children from place to place, the sooner your family's life will improve.
There are many ways you can begin to implement time management skills in your home, but it'll take your entire family to make it work. Where do you begin?
Introducing The…
Time Management for Families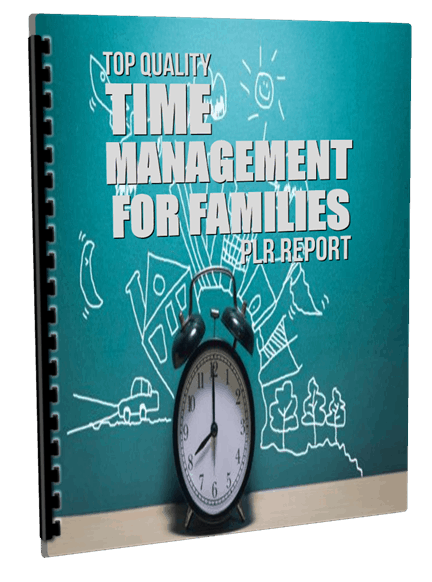 Know your family's activities
You can't improve the way your family's household runs if you're not sure where your family members are supposed to be each day. So, your starting point is to gather a few items:
Each family member regardless of how old they are
A large, new calendar with spaces you can write in
The calendar you currently use to keep track of appointments
Any papers your children may have brought home with important dates on them
A pencil, pen, and possibly markers for color coding
Paper to take notes
Any individual calendars your family may keep
Once you have the above items gathered together and you're ready to work on getting your family better organized, it's important to not be interrupted. You may not get another chance to accomplish this task; ask someone to be sure the answering machine is on so it can catch any calls that come in. Try to disregard the phone until this part of your time management planning is complete. If the telephone call is important, they'll call you back or leave a message that can be returned later.
Give everyone a piece of paper and a pencil or pen. Ask them to write down every activity they're involved in. This includes time at school, work, and commute time. Have them write down regularly scheduled meetings, practices, lessons, doctor appointments, dentist appointments, or weekly religious activities if your family has them. Younger children may need someone to help them complete this task but they shouldn't have many activities that another family member isn't involved.
Next, go through each person's individual calendar to see if any appointments were missed. Write these down on that person's list. After you're sure you have everyone's planned activities written down, it's time to look at papers you may have kept with important dates on them. Add those appointments to the respective lists.
Instead of writing everything on the new calendar right away, you might want to start a list for each day during the month: first Sunday, first Monday, first Tuesday, first Wednesday, first Thursday, first Friday, first Saturday, second Sunday, second Monday, second Tuesday, and so on for each of the days of the month.
Go through each person's list and write the meetings, appointments, or normal activities on each corresponding page. This accomplishes two things:  1) it allows you to see what activities are scheduled on the same days so you can decide who will be responsible for transporting people, and 2) it allows you to decide if there are too many activities planned for any particular day.
Another thing you might want to do before transferring information to the large calendar is to assign each person a particular color – use their favorite color unless two people like the same color. If you color code your family with their activities, it will be easier for each person to see at a glance if they have an activity on a particular day.
After you have all appointments, meetings, activities, and normal daily events listed on the daily pages, it's time to start putting them on the large calendar. Use the color coding system if you've chosen to do that.
Set aside a central location for everyone in the family to place papers with future important dates on them so they can be added to the family calendar. This will make over scheduling a thing of the past because you'll be able to see quickly if there's already something else planned for that time on a particular day.
If you're the person who will be in charge of upkeep for this new system, you might want to make a copy of the calendar with all marked dates on a portable calendar to keep with you. If your partner calls up and asks if they can bring friends over next Friday, you can look at the portable master calendar and see two of the children have activities you'll both have to take them to. This system really does have the ability to make at least keeping track of your family's activities away from home more manageable.
Another topic you might want to discuss along with your family's activities is curfews, especially for older children. If they work outside of the home on weekends, you'll want them to be home at a particular time. Discuss when you'd like them to be home and possible consequences if they aren't.
You may want to provide them with a cell phone so they can keep you apprised of where they are, who they're with, and when they will be home. If plans change or there are problems, they'll be able to reach you and keep you from worrying too much if they don't return at the time you two agreed upon.
has been added to your cart!
have been added to your cart!
Package Details:
Download File Size – 1.00 MB
Total Word Count: 3681+ Words
Word Doc Format – Source File
Text Doc Format – Source File
License Details:
You can add the articles or content to an ebook or product that you plan to sell or give away for individual use.
You can use the content to build your email list.
You can modify the content by removing, adding or otherwise editing to suit your needs.
You can use the content on your websites, blogs, newsletters or anywhere you publish content.
You can add your affiliate links, product links, Adsense and other ad code.
You can bundle the content into a viral report, free ebook, product or bonus for your customers.
You can charge for access to read this content. For example, a paid ebook, membership site or other paid access content.
You can translate it into another language and resell with personal use rights.
You can add the content as a autoresponder email series.
What you CANNOT do:
1 – You cannot give any type of resell rights to others. In other words, you can sell this stuff, but your customers can't.  Why?  This protects all our members and helps ensure there is a consistent limit on the number of sellers of this PLR. We allow 100 members/sellers maximum. Period.
2 – You cannot submit any of the content provided by Buy Quality PLR to reprint article directories or other websites which accept reprint content even if you have edited or reworded the content.
Why? Because many article directories won't take PLR articles. If everyone started submitting similarly written articles to these directories it wouldn't be fair for the directory owners, their users or our members. Be fair to everyone involved and don't do it, even if you feel you've edited or reworded the article.
Share this and get 20% off!
Related Products That May Interest You