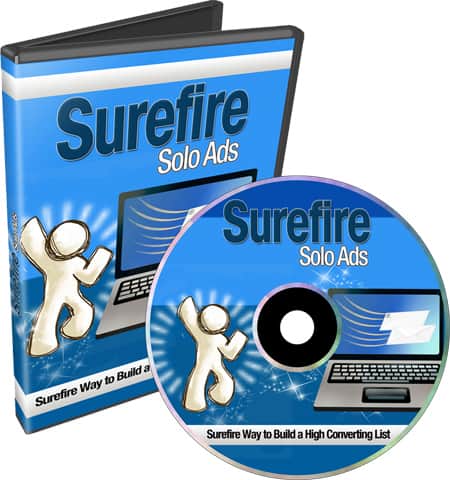 Choose Your Desired Option(s)
has been added to your cart!
have been added to your cart!
Surefire Solo Ads PLR Video Coures that comes with Full Private Label Rights
In this step-by-step private label rights video course you will get to watch over my shoulder as I show you how to create a proper plan of attack to build your list, build a relationship with your list properly, and convert your lists into sales when you promote something.
Who is this PLR Video Course Perfect For?
Internet Marketing Coaches
Book Marketers
Affiliate Marketers
Digital Product Resellers
Email Marketers
Membership Site Owners
Marketers looking for Editable Video Guides and Tutorials with Private Label Rights
Newbie marketers looking to learn from it
Online businesses looking to grow
Serious Marketers
And many other ways!
The fact is that people love learning from videos and video training in highly in-demand because people prefer learning from videos.
Introducing The Surefire Solo Ads PLR Video Course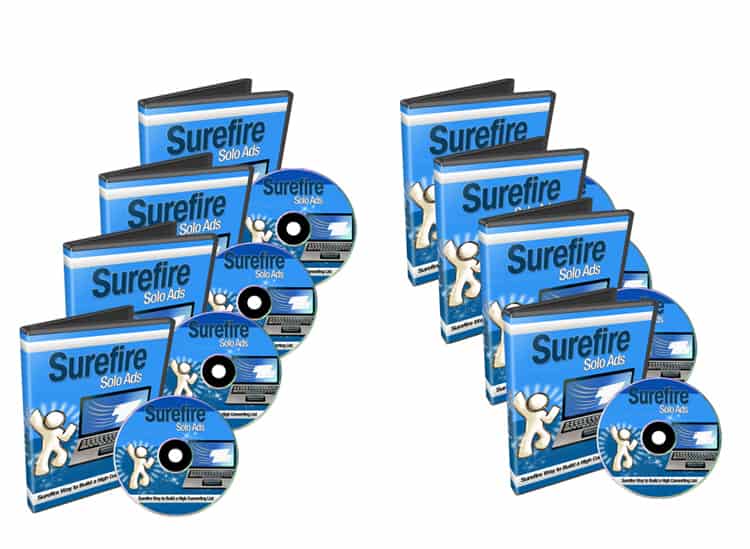 Video #1 : Introduction
In this specific video, you will be given a quick overview of the video series as a whole, how it all works, and tools you will need. This way you will be able to understand how all the pieces of the puzzle fit together. In other words, once you understand this then implementing the process will actually be easier and faster.
Video #2 : What Is your end sales plan?
One of the reasons why people fail is they get all excited about solo ads, building their list, and creating wealth before actually implementing a plan of attack. I know this can be exciting for you, but in order for me to help you – I need to show you how to create this plan of attack and apply it to your initial offer and future promotions as well.
Video #3 : Create your Mind Map of Success
After you have brainstormed the basics and your initial plan of attack. It's time to iron this out, and create a mind map of success to ensure that you're able to follow through on every step of your plan.
Video #4 : Where should you get the list?
Remember that where you get the list from is key. So, in this specific video you're going to learn what questions to ask solo ad list sellers. Before you jump all in because you're excited, it's very important to do your due diligence and research of the solo ad list sellers before you pay money or even worse get bad leads.
Video #5 : Big Myths Gurus want you to believe
There are many big myths that the gurus want you to believe. They sell a dream that shows you that you were able to build this massive list that converts into many sales. While that dream can come true, it does take some work in reality to create a high converting list. One of the myths is that you're able to build a massive list and start promoting to that list immediately. If you don't have a relationship with your list, then converting them into sales is actually a lot harder. Now the approach that we will be taking in this specific video is quality over quantity. This way it doesn't matter if you have a list of 100 people, 200 people, or even 300 people.
Video #6 : Congruency and Initial Offer
Congruency is key, and using this specific concept and applying it to your plan of attack will allow you to convert at a higher rate. We will be covering everything from signing up, to training, and tips all the way to what you should sell.
Congruency in application to your initial offer is important as well. If your initial offer is not valuable to your customers' perspective – then that will reflect on your reputation and your positioning. So, we'll talk about positioning and how to do it correctly and more on that later.
Video #7 : Your Personality
Another key to positioning yourself is your personality. As you build a relationship with your list – you will attract people on your list who are a lot like you. And you will likely turn off those who are not like you. Without knowing it – birds of a feather flock together – that saying is true and still holds true to the application of this specific process.
Video #8 : Follow Up series
Within your plan of the attack you should have a follow-up series. A follow-up series is merely a way to communicate with your new list and warm them up on a consistent basis. Now, there are many ways of approaching this specific strategy. And you'll learn more in this specific video on how to properly implement the follow-up series in the proper manner of building a strong relationship with your list.
Video #9 : How to Convert
Now, here's the moment that everybody has been waiting for. How to convert your list so that when you can sell your own or an affiliate offer, you actually make sales. By following the whole process that I will be laying out in this specific video series and creating that plan of attack, in order to convert – you have to make sure that everything lines up correctly.
You want to position yourself in the manner of somebody that they can really really trust. In this specific video you will learn how to properly convert and increase your conversion rates at a phenomenal rate.
This is no get rich quick scheme. It's about building a quality list over quantity and building a relationship with your list for years to come. Remember, the key is the more you serve them, the more they will respond to you in the future.
Grab this video course, and learn how to build your list from solo ads effectively in your business, increase your sales conversions, relationships, and more!
has been added to your cart!
have been added to your cart!
Here's The Sales Video You'll Be Getting With This PLR Video Course:
Here's a Sample Video So That You Know What To Expect From These PLR Videos:
Here's a Link Where You Can Preview the Actual Sales-letter and Sales-page:
Click Here To View The Sales Page
This Private Label Rights Video Course comes with an entire business in a box reseller package that you can use, rebrand and resell at your wish.
has been added to your cart!
have been added to your cart!
Download Package Details:
10 640X360 MP4 Flash Videos
10 1280X720 MP4 Videos
10 MP3 Voice-overs
10 PowerPoint Slides
Sales Video in MP4 Format
Sales-letter in DOC, HTML and PDF Format
Editable Graphics: Covers, Flat Cover, Header, Footer, Button (Images and PSD)
Total File Download Size:
383 Megabytes (MB)
Private Label Rights License:
Legal Disclaimer: This license is Non – Transferrable; meaning you cannot give these same rights away. If you want to sell rights to your customers; pay close attention to the license below. We closely
monitor vendors that sell the product and take legal violations seriously.
DO NOT Change this license…violations will be obvious will be prosecuted under the DMCA federal law. You cannot give the product away for free, even to your list…
What You Can do:
[YES] Can Sell This Product
[YES] Can Be Packaged with Paid Products. 5 PRODUCTS MAXIMUM CAN BE BUNDLED
[YES] Can Be Offered as a bonus to Paid Product
[YES] Can Be Added to monthly Paid MEMBERSHIP or Training SITES If you have a membership site where people pay a onetime fee to get into download 100's of products, then you cannot include resell rights this product in that bundle.
[YES] Can Put Your Name on the Sales Page
[YES] Can Sell Resale Rights (Does not relate to PLR, meaning your customers can resell the video as is…)
[YES] You can stamp your name on the videos, but you cannot sell PLR.
What You Can't Do:
You CANNOT Give your customers the AVI files or 1280x720HD MP4 files
You CANNOT Give Transcripts
You CANNOT Offer In Firesales
You CANNOT Offer in Dimesales
You CANNOT Offer These Videos in Firesales if there are more than 5 products.
You CANNOT Sell Master Resale Rights to videos as is.
You CANNOT Give away resell rights for free
You CANNOT Give away videos for free
You CANNOT Claim Original Copyright
Repeat: You CANNOT Sell Private Label Rights
Share this and get 20% off!