Discover How to Increase Your Retention Rate So That You Can Keep Your Website's Members Happily Paying You On A Recurring Basis!
Surefire Retention Commissions Video Series that with Private Label Rights
In this private label rights video series, you'll learn practical strategies that you can apply to your business right away.
Who is this PLR Video Course Perfect For?
Internet Marketing Coaches
Book Marketers
Affiliate Marketers
Digital Product Resellers
Email Marketers
Membership Site Owners
Marketers looking for Editable Video Guides and Tutorials with Private Label Rights
Newbie marketers looking to learn from it
Online businesses looking to grow
Serious Marketers
And many other ways!
The fact is that people love learning from videos and video training in highly in-demand because people prefer learning from videos.
has been added to your cart!
have been added to your cart!
Introducing The Surefire Retention Commissions PLR Video Course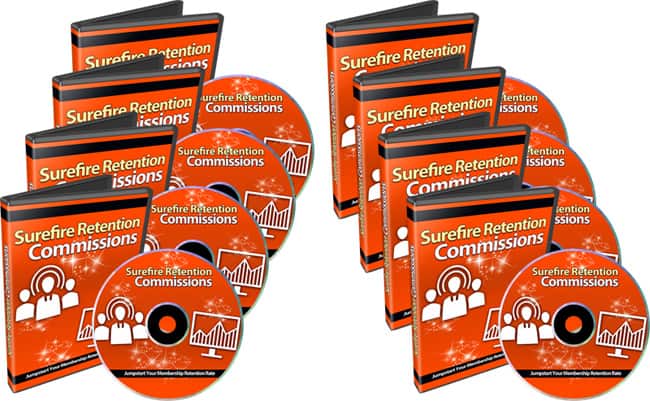 Video #1 – Introduction to Increasing Your Retention Rate
Before we jump in and talk about how to increase your retention rate, you'll be given a quick detailed overview so that you know exactly what to expect in the video course itself. Plus, we have to make sure that you're in the right mindset!
Video #2 – When They First Join
What should you do when members first join your site and what exactly should you put in your welcome video? How should you engage and interact with new users to make sure they feel that they're a part of your membership site? This video will answer all of those questions for you! Additionally, you'll learn the number one reason why people stay on your membership site and why you should pay close attention to it.
Video #3 – Quick-Start Training Videos
One of the biggest mistakes membership sites make is assuming that their customers know exactly how to use their products and services. The best way to avoid this is by providing quick-start training videos to show your members exactly what they need to know. However, there isn't just one way to create a training video; there are many different types of users and audiences, and you have to understand yours before you can make a great video. I'll teach you how to find your audience and the best way to reach them so that you can lower your support costs and decrease your refund rates.
Video #4 – Site Layout and Navigation
Another question you should be asking yourself is, "What's the best way to lay out my membership website?" The answer, of course, is going to differ from site to site depending on what niche you're in and how you provide content to your members. Still, in general, there is a way to make things easier for everyone as far as navigation goes. In this video, I'll show you how to get started on your site layout and give you some great tips for easy navigation!
Video #5 – What Software Should You Use?
One of the biggest questions that we get is: What software should I use to build my community? This is very important to brainstorm and plan ahead for because the products and services you offer can define what software you'll get the most out of. While you want to pay close attention to how well the software integrates into helping your members engage and interact with you, you want to make sure that you choose software that allows you to supply your content as well.
Video #6 – Public Recognition
Recognizing your members for certain actions can help increase your retention rates. However, there are different types of recognition for different types of people. There are also several ways to recognize them that can make other members what to jump onboard and do the exact same thing – thereby further directly increasing your retention rate. So in this video, we'll be covering some practical strategies that you can quickly and easily apply to your membership site.
Video #7 – Grandfather Pricing
Do you want to know how you can use pricing to retain members for years to come? Using the strategy described in this video will cause your current members to think twice about leaving your recurring membership site. Simply knowing that they may have to pay more if they leave and decide to come back could be more than enough to keep them looking for reasons NOT to leave.
Video #8 – Creating a Content Democracy
In this video, I'll show you a strategy to help you increase your retention rate by running your recurring membership site as a democracy. People love it when you take their feedback and actually apply it to your business. This shows your members that you care about their opinion and want to constantly improve your site. You'll be surprised at how easy it is to increase your sales with this strategy alone!
Video #9 – Releasing Your Content
Most membership site owners have to ask themselves one simple, yet hard to answer, question: "How should I release my content?" There are two ways of going about this, and I highly recommend using them both! When you implement these strategies, your members will think to themselves that it doesn't make sense to leave your site because they'll miss out on future content. This is probably something you weren't thinking about, especially considering the fact that it's rarely implemented, but believe me when I say that it can have a profound effect on your retention rate.
Interested in learning how to create a high-retention recurrent membership site? Everything you need to know is right here in this video course!
has been added to your cart!
have been added to your cart!
Here's The Sales Video You'll Be Getting With This PLR Video Course:
Here's a Sample Video So That You Know What To Expect From These PLR Videos:
Here's a Link Where You Can Preview the Actual Sales-letter and Sales-page:
Click Here To View The Sales Page
This Private Label Rights Video Course comes with an entire business in a box reseller package that you can use, rebrand and resell at your wish.
has been added to your cart!
have been added to your cart!
Download Package Details:
10 640X360 MP4 Flash Videos
10 1280X720 MP4 Videos
10 MP3 Voice-overs
10 PowerPoint Slides
Sales Video in MP4 Format
Sales-letter in DOC, HTML and PDF Format
Editable Graphics: Covers, Flat Cover, Header, Footer, Button (Images and PSD)
Total File Download Size:
249 Megabytes (MB)
Private Label Rights License:
Legal Disclaimer: This license is Non – Transferrable; meaning you cannot give these same rights away. If you want to sell rights to your customers; pay close attention to the license below. We closely
monitor vendors that sell the product and take legal violations seriously.
DO NOT Change this license…violations will be obvious will be prosecuted under the DMCA federal law. You cannot give the product away for free, even to your list…
What You Can do:
[YES] Can Sell This Product
[YES] Can Be Packaged with Paid Products. 5 PRODUCTS MAXIMUM CAN BE BUNDLED
[YES] Can Be Offered as a bonus to Paid Product
[YES] Can Be Added to monthly Paid MEMBERSHIP or Training SITES If you have a membership site where people pay a onetime fee to get into download 100's of products, then you cannot include resell rights this product in that bundle.
[YES] Can Put Your Name on the Sales Page
[YES] Can Sell Resale Rights (Does not relate to PLR, meaning your customers can resell the video as is…)
[YES] You can stamp your name on the videos, but you cannot sell PLR.
What You Can't Do:
You CANNOT Give your customers the AVI files or 1280x720HD MP4 files
You CANNOT Give Transcripts
You CANNOT Offer In Firesales
You CANNOT Offer in Dimesales
You CANNOT Offer These Videos in Firesales if there are more than 5 products.
You CANNOT Sell Master Resale Rights to videos as is.
You CANNOT Give away resell rights for free
You CANNOT Give away videos for free
You CANNOT Claim Original Copyright
Repeat: You CANNOT Sell Private Label Rights
has been added to your cart!
have been added to your cart!
Share this and get 20% off!
---
TAG : high quality plr videos, internet marketing plr videos, plr videos internet marketing, retention commissions, retention commissions plr, retention commissions plr videos, retention commissions plr videos with resell rights, retention commissions private label rights videos
CATEGORY : PLR Videos, Private Label Rights Products, Resell Rights Products, Resell Rights Videos, Sales Funnels PLR Videos, Video Courses