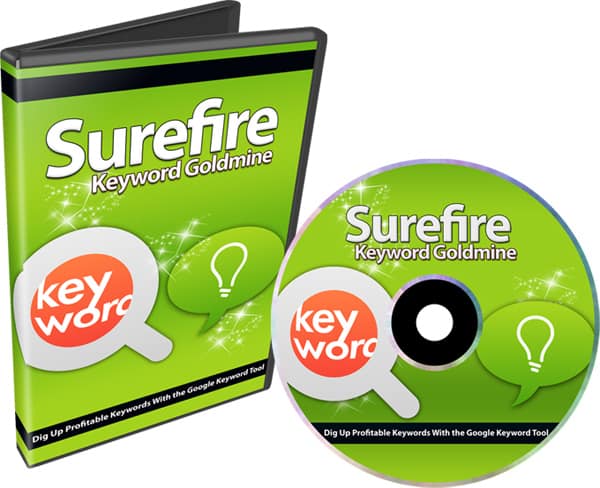 Choose Your Desired Option(s)
has been added to your cart!
have been added to your cart!
Surefire Keyword Goldmine Video Series with Private Label Rights
Whether you are trying to rank for a specific term in Google, finding keywords to rank in Google Adwords, or even researching market demand, keyword research is vital to almost any product or service.
Who is this PLR Video Course Perfect For?
Internet Marketing Coaches
Book Marketers
Affiliate Marketers
Digital Product Resellers
Email Marketers
Membership Site Owners
Marketers looking for Editable Video Guides and Tutorials with Private Label Rights
Newbie marketers looking to learn from it
Online businesses looking to grow
Serious Marketers
And many other ways!
The fact is that people love learning from videos and video training in highly in-demand because people prefer learning from videos.
has been added to your cart!
have been added to your cart!
Introducing The Surefire Keyword Goldmine PLR Video Course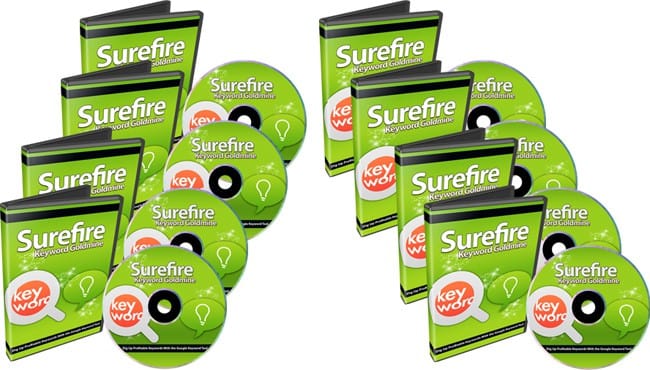 Video #1 – Introduction to Keyword Planner
In this video, you'll be given a quick overview of this video course as a whole.You'll see what you need to get started before you jump in and start researching your keywords and market demand.
Video #2 – Different Types of Searches
Within the Google Keyword Planner, there are currently four different ways to search. In this video, we will cover those types of searches so you know exactly which one to use that's most effective for your needs.
Video #3 – Search Type A: Keyword / Ad Groups Ideas
In this video, you will learn how to use this type of search.This search is great if you don't really know which keywords are out there, and you want to figure out which keywords people are really typing into Google that are related to the keyword you type in. We'll go through how to use the features to find the data you are looking for.
Video #4 – Keyword / Ad Groups In-Depth
Once you have entered a keyword and set the parameters on the first page of this search, you will enter a second page that shows the different routes you can take (either by seeing Keyword Ideas or Groups of keywords). You will learn how to use this section correctly.
Video #5 – Customize Detailed Estimates
Once you have found the right keywords, it's time to customize them. Since there are so many different routes you could take, I will show you how to use this feature so you can apply it exactly to your own needs.
Video #6 – Create and Download Keyword Lists
After you have done the proper keyword research and found the right keywords, if you'd like to save these keywords lists to your computer so you can use them later, in this video you will learn how to do so.
Video #7 – Search Type B: Search Volume
This search type is great if you already have a list of keywords you want data on immediately. Search Volume refers to how many people are searching for a specific keyword. This is perfect if you want statistics for keywords right away.
Video #8 – Search Type C: Traffic Estimates
Just like in video #7, this search type is a bit similar in the sense that if you have a list of keywords you want data on instantly, this is another great route to go. The difference is that it provides you with traffic estimates of the keywords themselves.
Video #9 – Search Type D: Multiply Keyword Lists
If you don't know where to begin, but want to start generating some keyword ideas, then you can use this search feature. This allows you to combine keywords together to form other keywords. The bottom line: it gives you a better reach into the market you are researching.
Go ahead and watch this video course. Grab this video course and start researching market demand or keywords that people are searching for with Google's Keyword Planner.
has been added to your cart!
have been added to your cart!
Here's The Sales Video You'll Be Getting With This PLR Video Course:
Here's a Sample Video So That You Know What To Expect From These PLR Videos:
Here's a Link Where You Can Preview the Actual Sales-letter and Sales-page:
Click Here To View The Sales Page
This Private Label Rights Video Course comes with an entire business in a box reseller package that you can use, rebrand and resell at your wish.
has been added to your cart!
have been added to your cart!
Private Label Rights License:
Legal Disclaimer: This license is Non – Transferrable; meaning you cannot give these same rights away. If you want to sell rights to your customers; pay close attention to the license below. We closely
monitor vendors that sell the product and take legal violations seriously.
DO NOT Change this license…violations will be obvious will be prosecuted under the DMCA federal law. You cannot give the product away for free, even to your list…
What You Can do
[YES] Can Sell This Product
[YES] Can Be Packaged with Paid Products. 5 PRODUCTS MAXIMUM CAN BE BUNDLED
[YES] Can Be Offered as a bonus to Paid Product
[YES] Can Be Added to monthly Paid MEMBERSHIP or Training SITES If you have a membership site where people pay a onetime fee to get into download 100's of products, then you cannot include resell rights this product in that bundle.
[YES] Can Put Your Name on the Sales Page
[YES] Can Sell Resale Rights (Does not relate to PLR, meaning your customers can resell the video as is…)
[YES] You can stamp your name on the videos, but you cannot sell PLR.
What You Can't Do
You CANNOT Give your customers the AVI files or 1280x720HD MP4 files
You CANNOT Give Transcripts
You CANNOT Offer In Firesales
You CANNOT Offer in Dimesales
You CANNOT Offer These Videos in Firesales if there are more than 5 products.
You CANNOT Sell Master Resale Rights to videos as is.
You CANNOT Give away resell rights for free
You CANNOT Give away videos for free
You CANNOT Claim Original Copyright
Repeat: You CANNOT Sell Private Label Rights
Share this and get 20% off!