Superfoods Premium PLR Package - High quality superfoods PLR product including ebook, report, emails and lots more. Over 53 000 words of done-for-you superfoods PLR content that is well written and ready to be used in your business to educate your audience. This superfoods PLR content includes fast-action bonuses for the first 50 buyers only.
#superfoods #superfoodsdiet #superfoodsmeals #smoothies #healthygutsmoothie #mealreplacement #superfoodsplr #superfoodsplrcontent #superfood #superfoodsguide #foodplr #foodcontent #foodniche #healthniche #healthcontent #healthyfoods #healthydiet #superfoodsdiets #superfoodsdiet #tumeric #superfooddiet #healthysuperfoods #healthierfood #healthiestfood #digitalproduct #plrebooks #premiumplr
Superfoods Premium PLR Package – Featuring Over 53 000 Words of Done-For-You Evergreen Health and Fitness Content.
Attention: Health, Fitness and Wellness Entrepreneurs
Done for You Premium Diet/Fitness PLR Product on a
EVERGREEN Topic:
Superfoods !
Dear online business owner, When it comes to top Diet and Fitness searches, the Superfoods is one of the most searched-for topics online.
It's safe to say that Superfoods have spawned an entire industry of blogs, health/fitness courses, and products.
This is where my premium done for you Smoothies and Superfoods PLR Package comes in. Its all about teaching your customers Superfoods and how to get your weight loss efforts and eating back on track for good!
Everything is done for you – from the main Superfoods PLR info product to your social media updates – its simply up to you to add your branding and firmly establish yourself in this lucrative health and fitness niche.
Introducing The…
Superfoods Premium PLR Package
Featuring Over 53 000 Words of High Quality Superfoods Content Ready To Be Used In Your Business!
This high quality Superfoods PLR package covers the hugely popular health and fitness niche. Health and Fitness is evergreen and will always be. Superfoods PLR content package is well-written by an experienced copywriter and comes with full private label rights so you can edit it, put your name on it, put your brand on it and sell it and use it to build your list of raving fans.
Here's everything you'll get in the Superfoods MEGA PLR Package…
Main eBook: "The Easy Way to Supercharge Your Health: With Superfoods"
(3,697 words, 17 pages, 8 images)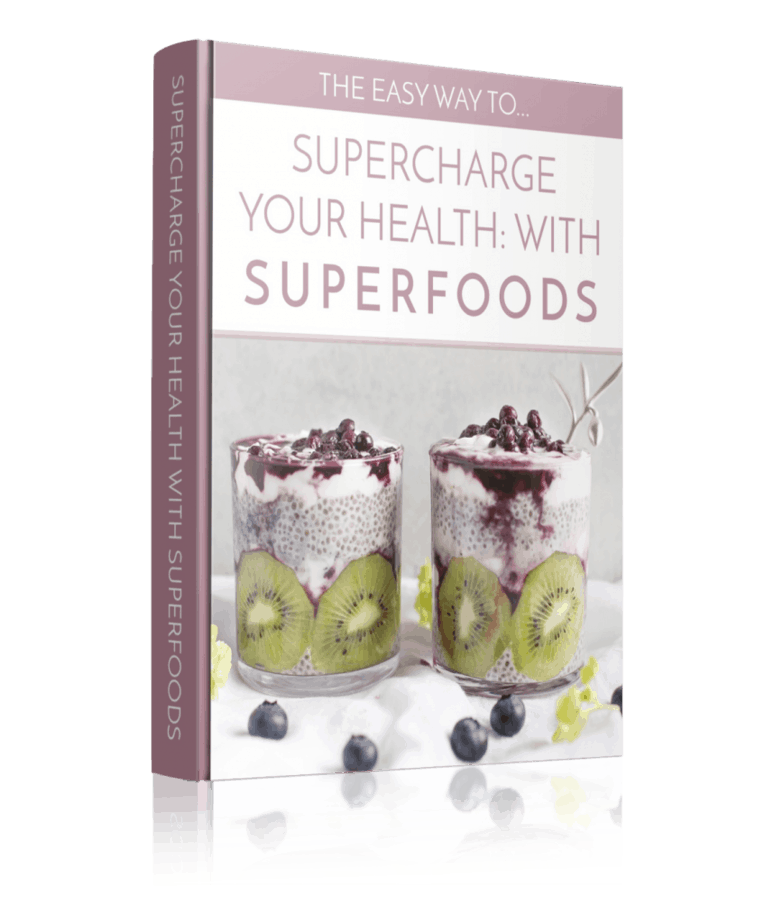 A look inside the Superfoods Premium PLR eBook: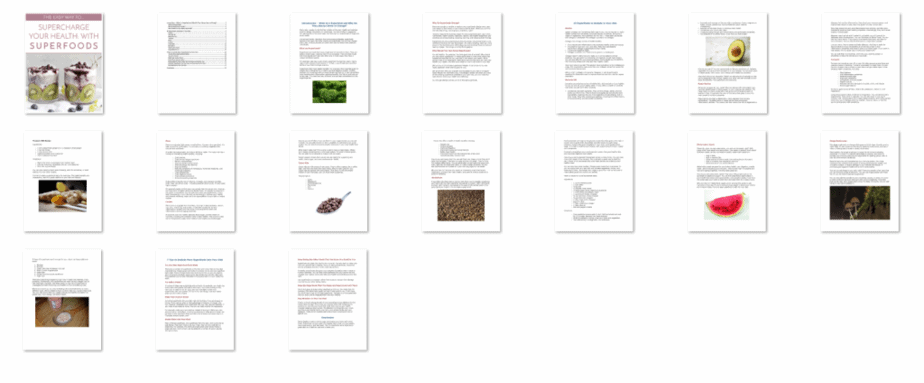 Table of Contents for the Superfoods PLR Ebook:
Introduction – What Is a Superfood and Why Do They Always Seem to Change?……………………………………………………………………………………….. 3
What are Superfoods?………………………………………………………………….. 3
Why Do Superfoods Change?…………………………………………………………. 4
Why Should You Care About Superfoods?………………………………………… 4
10 Superfoods to Include in Your Diet…………………………………………….. 5
Gelatin………………………………………………………………………………………. 5
Avocado Oil………………………………………………………………………………… 5
Maqui Berries……………………………………………………………………………… 6
Turmeric…………………………………………………………………………………….. 7
Maca…………………………………………………………………………………………. 9
Lucuma………………………………………………………………………………………. 9
Cacao Nibs………………………………………………………………………………… 10
Buckwheat………………………………………………………………………………… 11
Watermelon Seeds……………………………………………………………………… 13
Chaga Mushrooms……………………………………………………………………… 14
7 Tips to Include More Superfoods into Your Diet………………………….. 16
Try One New Superfood Each Week………………………………………………. 16
Try with a Friend………………………………………………………………………… 16
Make Your Food at Home……………………………………………………………. 16
Sneak Them into Your Meal…………………………………………………………. 16
Keep Eating the Other Foods That You Know are Good for You…………… 17
Keep the Superfoods That You Enjoy and Experiment with Them……….. 17
Pay Attention to How You Feel……………………………………………………… 17
Conclusion………………………………………………………………………………….. 17
Sample Content for the Superfoods Premium PLR Ebook:
Every year, usually in the first few months of the year, health and wellness experts release information on superfoods. You see articles in magazines. You see reports on the local news. And the topic is covered well on blogs and social media.
Like annual trends, resolution tips and success strategies, superfoods become a hot topic. But what exactly are superfoods, why do they change every year, and why should you care? Let's look at those three questions individually.
What are Superfoods?
Superfoods are foods that have a high level of nutrients in them. They are always whole foods, meaning they're not processed. They are often foods that most people don't eat very often and, in most cases, they have a unique nutritional quality.
For example, kale was a well-known superfood the past two years. Kale is high in both vitamin A and vitamin C. In fact, a cup of kale has more than 100% of your RDA for those vitamins.
Superfoods often have added benefits. For example, they might be great for weight loss or beneficial for a healthy gut and digestive system. Another example of a superfood with a unique benefit was fish oil. It has tremendous brain boosting and inflammation reducing benefits. But fish oil and kale are so last year. This year has new, different, and perhaps odd additions to the superfoods list.
Why Do Superfoods Change?
There are actually a handful of reasons why superfoods change every year. One reason is that there's a food industry behind them. When you can find the next best thing, you're going to market it, right?
However, beyond the business reason for new superfoods each year is this… nutritionists, health experts, dieticians, doctors, and health researchers and scientists are always testing, studying, learning, and releasing their findings.
Superfoods are announced because they're recently discovered foods or the benefits of the food are new discoveries. It's pretty amazing, when you think about it. The fact that we're still finding new and beneficial foods to fuel and heal our bodies. This brings us to the third question.
Why Should You Care About Superfoods?
You eat healthy. You exercise. You take good care of yourself. Why should you care about superfoods? It makes good sense to know what nature has created and provided for you, and how it can impact your health. We're going to look at 10 superfoods. We'll take a look at what they are, how they benefit your health, and offer some ideas on how to add them to your diet.
Will you try all 10 of these superfoods? Maybe. It can be fun to try new foods, especially when they're good for you.
Will all of them offer you a benefit and be added to your diet on a regular basis? Maybe not. But that's okay. Knowledge is power and when you know all the amazing superfoods available to you right now, you can make the best decision about your health and wellbeing.
Note: The above content is just a snippet of the ebook.
has been added to your cart!
have been added to your cart!
Superfoods Checklist 
(388 words, 3 pages) 


A look inside the Superfoods Premium PLR Checklist


Superfoods PLR Editable Ecovers:

Short Report: "How to Save Money on Superfoods & Smoothies"
(1,696 words, 9 pages, 5 images)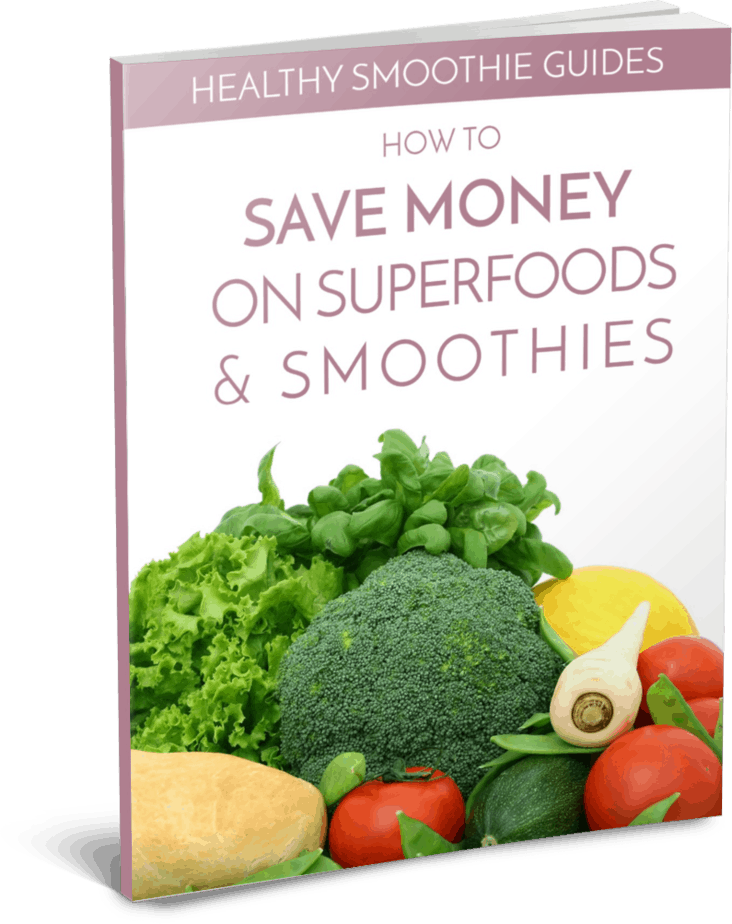 A look inside the How to Save Money on Superfoods & Smoothies PLR Report

Save on Superfoods Checklist Checklist 
(437 words, 3 pages) 

A look inside the Save on Superfoods Premium PLR Checklist

Save on Superfoods PLR Editable Ecovers:

4x Types of Smoothie Mini Guides:
Healthy Gut Smoothie Mini Guides

(861 words, 5 pages, 3 images)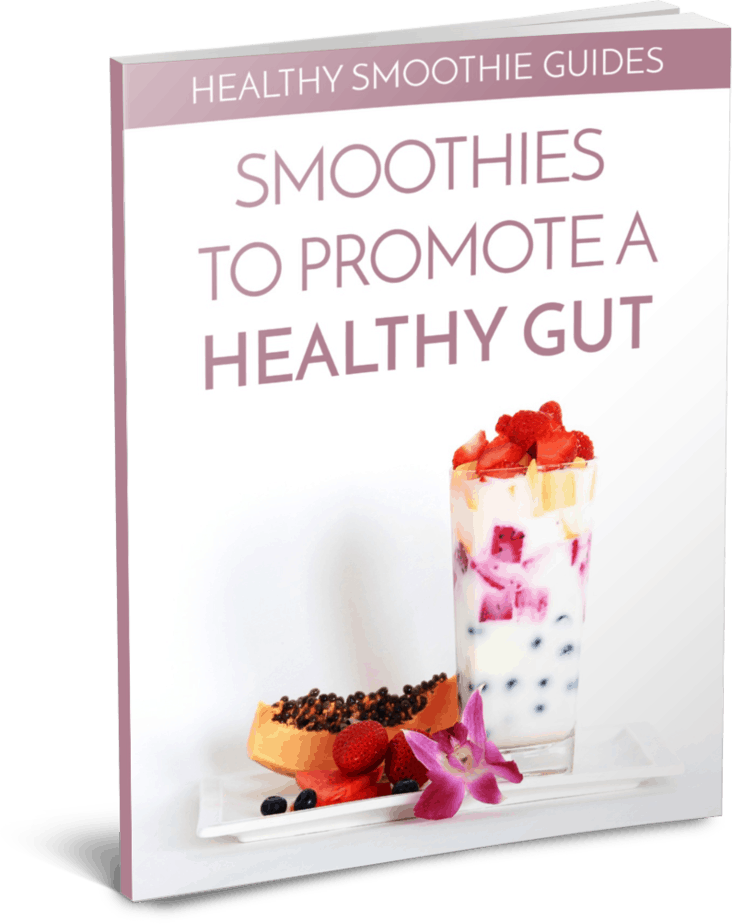 A look inside the Healthy Gut Smoothie PLR Mini Guides

Healthy Gut Smoothies Checklist 
(420 words, 3 pages)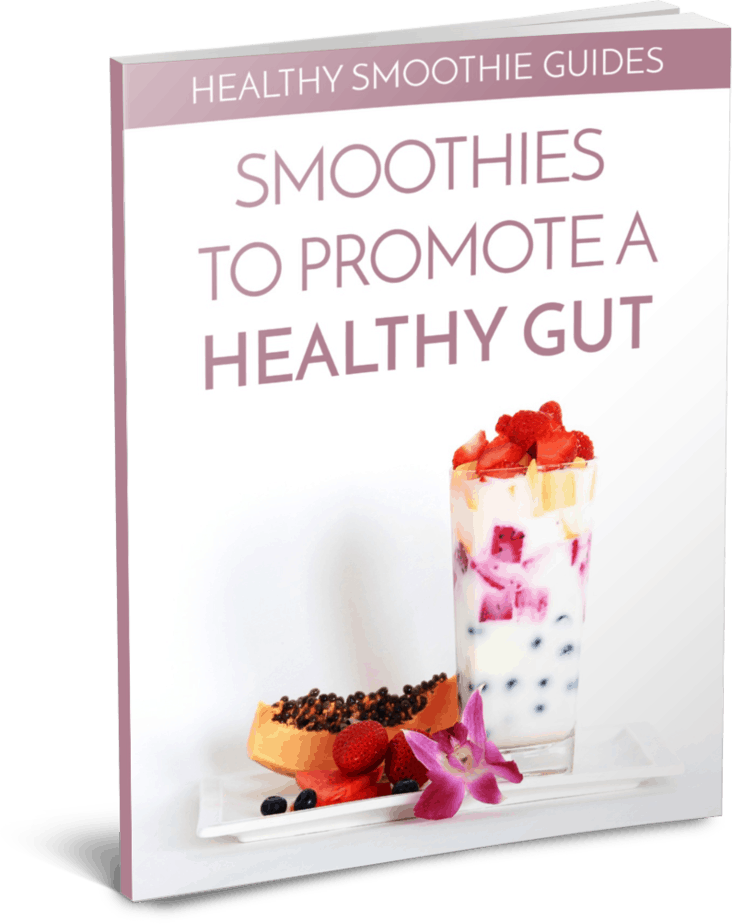 A look inside the Healthy Gut Smoothie PLR Checklist

Total Meal Replacement Weight Loss Smoothies Mini Guides
(1,387 words, 5 pages, 3 images)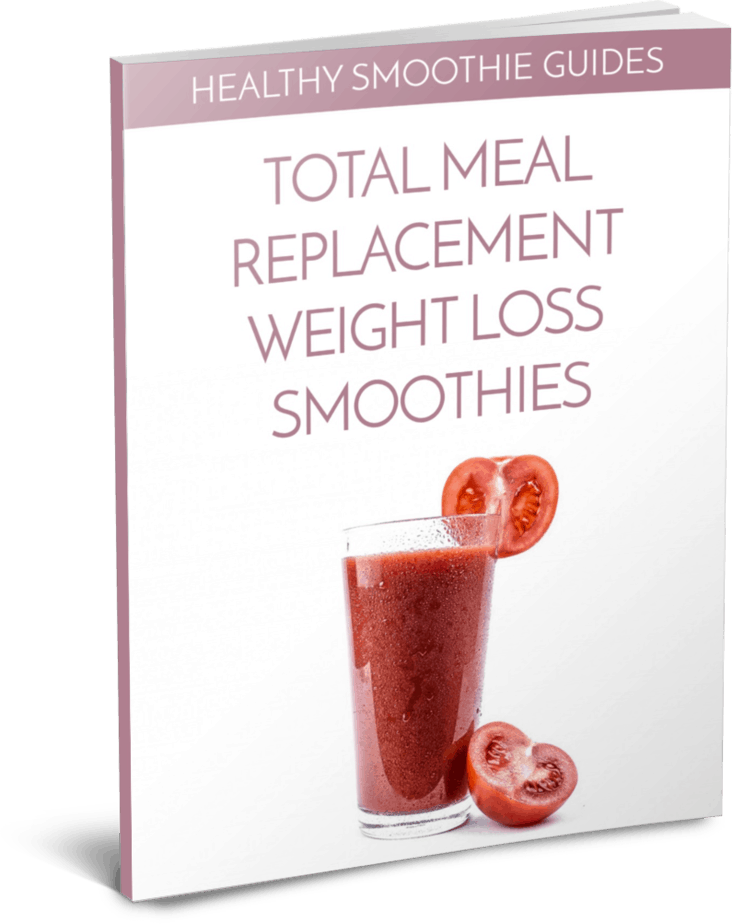 A look inside the Meal Replacement PLR Mini Guides

Meal Replacement Checklist 
(503 words, 3 pages)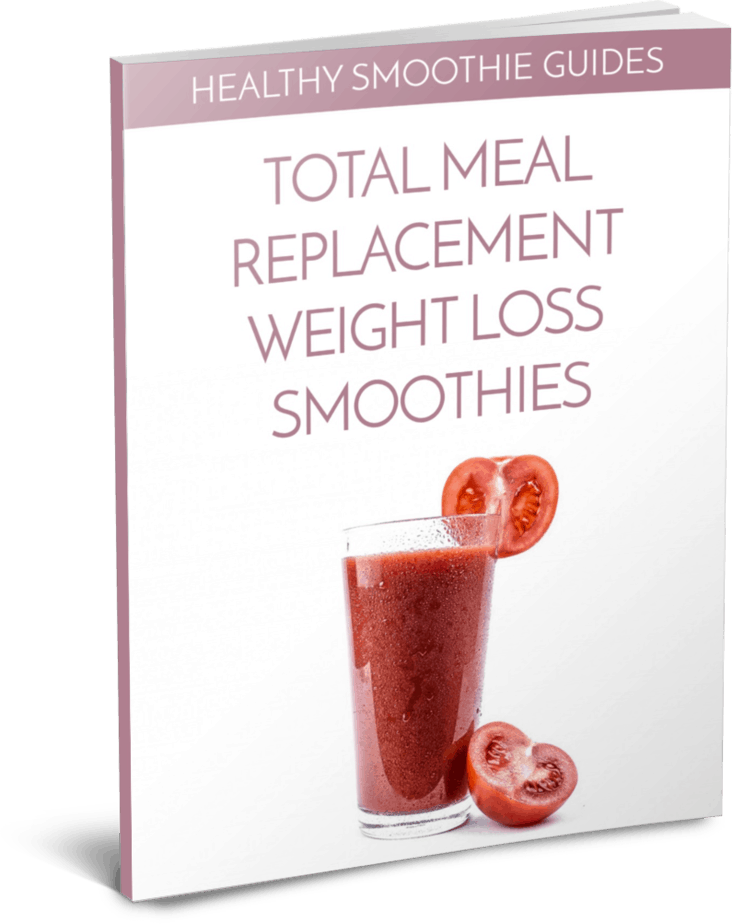 A look inside the Meal Replacement PLR Checklist

Pregnancy Smoothies Mini Guides
(878 words, 5 pages, 3 images)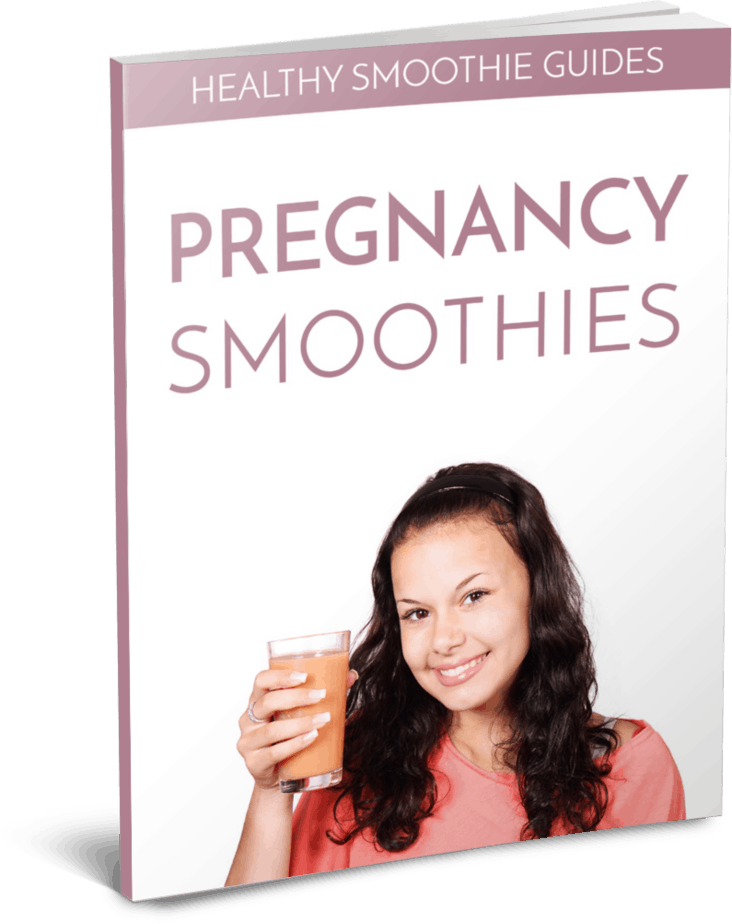 A look inside the Pregnancy Smoothies PLR Mini Guides

Pregnancy Smoothies Checklist 
(548 words, 3 pages)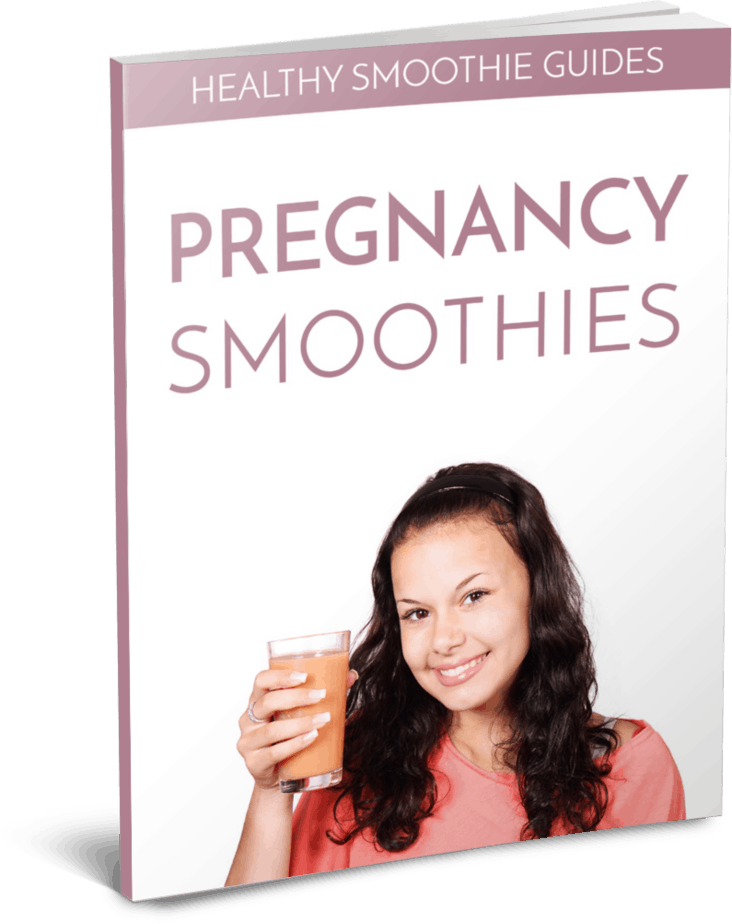 A look inside the Pregnancy Smoothies PLR Checklist