#SocialMedia #SocialMediaIncome #SocialMediaManager  #Instagram #Facebook #Instagram
Social Media Income and Manager Video Course With Master Resell Rights
How To Build Your Brand, Grow Your Business, Get More Leads And Get More Sales…
If your business is not on social media yet, then I hate to break it to you…
You're leaving a LOT of money on the table!
How much exactly? Well check this out:
There are more than 3.4 Billion Internet users worldwide – 2.3 Billion of them are on social media! (that's nearly every 7 in 10 people!)
And In 2016…
Facebook has 1.59 Billion users
Instagram has 400 Million users
Pinterest has 100 Million users
[Source: http://www.smartinsights.com/social-media-marketing/social-media-strategy/new-global-social-media-research/]
Now you're probably thinking…
has been added to your cart!
have been added to your cart!
"If I Could Have Done It, I Would Have Already Done It Right?"
And… what's wrong with email and other forms of 'old school' marketing? Now there's absolutely nothing wrong with these tried and tested ways but you need to be privy to the BIG picture and ultimately where most of your potential customers are heading to.
Check This Out Too…
Social media advertising budgets DOUBLED worldwide over the last 2 years — going from $16 Billion in 2014 to a whopping $31 Billion in 2016!
Social media spending in the U.S. alone is expected to increase to $17.34 Billion in 2019
In 2016, Facebook brought in $6.8 Billion in advertising revenue, up from $4.3 billion the year before
In the same year, Instagram brought in $1.53 Billion in mobile ad revenue
The number of YouTube channels earning 6 figures per year is up 50% year-over-year
[Source: https://blog.hootsuite.com/social-media-advertising-stats/]
It's hard not to see where this is going.
Quite Simply: If You're Not Using Social Media To Build Your Business, In A Few Short Years You'll Be Left Behind (If Not Yet!)
Now if you're having a tough time finding new customers…
Or keeping your current database of buyers engaged and interested…
Or standing out from the rest of your competitors and other me-too marketers…
… Then this might just be the missing puzzle.
And what if I tell you, it doesn't have to always to be like this?
Until now that is.
Because I am about to show you how you can instantly 'modernize' your business and give it the presence it deserves.
While most people casually use social media for rewardless debates and spending idle time…
I'm going to show you how to turn your social media accounts into an instant ATM!
(And even if you don't have a business yet? That's okay, because THIS is a business in itself…)
With Your Permission, I'd Like To Introduce…
SOCIAL MEDIA INCOME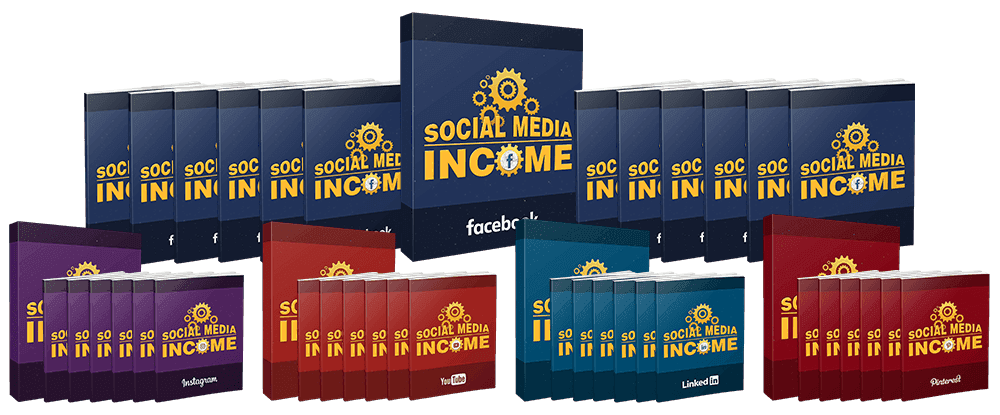 Social Media Income is HUGE 36-part course on how you – or anyone – can use some of the most popular social media platforms to:
Grow your business
Build your brand
Generate leads, and
Get sales
This isn't some 'theoretical' stuff – it's backed by ten of thousands of dollars and countless hours spent cracking the code. And unlike most courses out there that cover just 1 method or 1 social media platform… This Mega Training Program Covers 5!
Facebook
LinkedIn
Pinterest
Instagram
YouTube
Here's What You Will Learn:
How to utilize Facebook Live as a sales funnel
How to generate more leads after your Facebook Live broadcast
How to use Facebook ads to market your online business
How to optimize Facebook ads using Facebook insights
How to reach thousands of followers with Facebook fan page
How to turn your Facebook profile into an authority figure
How to reach targeted audience by optimizing Youtube SEO
How to make viral videos for ultimate business branding
How to utilize LinkedIn to grow vast business connections
How to customize LinkedIn messaging to expand network
How to optimize Instagram photos to increase viewership
How to hold Instagram contests to gain fame and exposure
How to use Pinterest to get targeted traffic and customers
How to gain more views with Pinterest rich pin
And more…
has been added to your cart!
have been added to your cart!
Here's a Sample Video So That You Know What To Expect From These Videos
Here's a Sample Video So That You Know What To Expect From These Videos
has been added to your cart!
have been added to your cart!
Package Details:
Download File Size – 723 MB
License Details:
[YES] Can sell and keep 100% of the sales.
[YES] Can edit the sales letter.
[YES] Can be bundled into another paid.
[YES] Can be used as a bonus to another product you are selling.
[YES] Can be sold in a Dime sale event.
[YES] Can be added into a PAID membership.
[YES] Can pass on the Master Resell Rights privilege to your customers.
[NO] Can be given away for free.
[NO] Contents of the product can be edited, modified or altered.
has been added to your cart!
have been added to your cart!
Share this and get 20% off!
---
TAG : Social Media, social media mrr, social media mrr videos, social media videos, social media videos with master resell rights
CATEGORY : Master Resell Rights Products, MRR Videos - Master Resell Rights Videos, Resell Rights Products, Resell Rights Videos, Social Media, Social Media Videos MRR