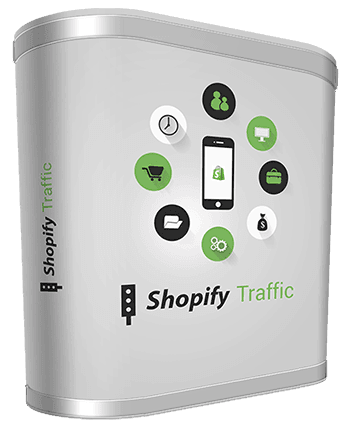 Choose Your Desired Option(s)
has been added to your cart!
have been added to your cart!
Shopify Traffic Video Series with Master Resell Rights
#Shopify #Traffic  #ShopifyTraffic #ShopifyTrafficTips
How Would You Like To Drew Massive Traffic To Visit Your E-Store Every Day And Increase Conversions For 400%!
Simple & Easy Methods To Attract Your Prospects Effectively  Without Spending Top Dollars For Advertisement
Compared to 10 years ago, starting an online e-store is not as hard anymore today. Driven by the dream of having an internet lifestyle, and the rewarding monthly income, everyone is triggered to own a business for a better life. With all the platforms and opportunities available, it's easy to kick start an online business anytime you want. Even if you have little budget, you can start an online shop on a small scale.
Here's a drawback though: It's hard to see results.
The rise of e-commerce increases the numbers of start-ups and thus, the competitions are more intense than ever. Everyone has the same products to offer, you might go unnoticed if you don't have the effective methods to appeal your customers.
There are tons of training courses teach you how to generate traffic. But is any of the courses worked for you? I am afraid not! This is because they don't have personal experience of how to drive traffic at all. All they have is some kind of information can be easily found on Google, and they just combined the information together and sell you the course. Do you see why you're not seeing results?
If you want to learn, you should learn from someone who is already doing it. Who has already achieved results and know what is the effective method to do it.
has been added to your cart!
have been added to your cart!
Introducing Shopify Traffic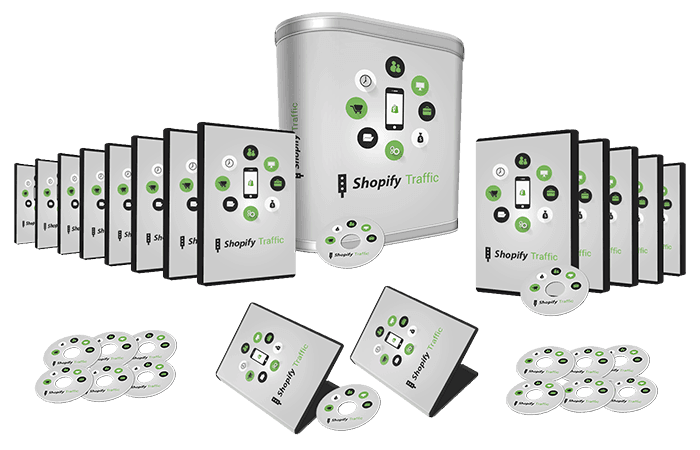 Shopify Traffic is a series of training course where I will teach you how to generate traffic to your Shopify e-store with effective methods and platform with my personal experience and culmination of my researches together with years of studies. Plus, I will guide you how to make this work on a budget.
Let's take a look of what you will learn from this:
Facebook
Facebook is a platform that no one can ignore. As the style of Facebook changes every once in a while, I will show you the latest methods to draw massive traffic from Facebook to your Shopify e-store.
Instagram
Instagram is another social media rising star! The growth of Instagram is consistently increasing day by day, so this is the best chance to generate traffic from Instagram to your Shopify e-store!
SEO
If you're familiar with internet marketing, SEO is a term you can usually hear. You may know about the theory of SEO but you can't do it to bring results. I will teach you a simple and easy method to master SEO at ease to increase traffic to your e-store.
Video Marketing
Visuals are always the best thing to attract people's attention, I will teach you the effective methods to draw traffic with video. Even if you don't possess the skills of videpgraphy, you still able to do it easily!
Recruiting Affiliates
If you recruit affiliates to promote for you, you can increase your sales for 200% and above! However, affiliates are picky of choosing who is worth promoting for more income. I will teach you how to capture their heart and promore relentlessly for you.
Shopify Apps to Drive More traffic
Mobile shopping is getting hotter these days. Besides using laptop or desktop, people spend most of their time with their smartphone for social purpose and for shopping too! I will teach you how to use Shopify Apps to drive more traffic to notice your e-store.
Pinterest
When someone mention Pinterest, you will definitely associate it with beautiful pictures and sophisticated photos. Images sell better, so I am going to teach you how to utilize Pinterest to attract visitors to your e-store.
How To Optimize Your Shopify Store For More Sales
There are some optimization works you have to do to increase your exposure for more traffic. Don't worry, this is not a difficult task, I will teach you the most simple and easy way to optimize your Shopify store.
Why Pay More For The 'Gurus' While you Can Get This At A Ground Level Cost?
Gurus out there can easily charge you a few thousands for each business consultation session. While the gurus only in charge of delivering the knowledge to you, they are not responsible of the results. To be bland, they just don't care about you, they care about your money at the end of the day. So, why pay more while you can do this on your own with a realiable training course?
Shopify Traffic is a must for you to generate traffic for your Shopify store. Even if you're just a newbie, you can expect to digest every piece of information in this course at ease. Besides, the intention of creating this course is to help you to clear obstacles and eliminate hassles without second guess on your own. If you're looking for a proven and effective way to earn 6 figures within a few months, then you owe it to yourself to check out Shopify Traffic!
Although what you'll learn inside this training is easily worth $1,000, you won't pay anywhere near $1,000 today. You won't even need to pay $277……or $177……or even $97 today.
For a very limited time, you can get access to Shopify Traffic for a one-time investment for just $4.99. Get instant access to Shopify Traffic now, you have absolutely nothing to lose!
has been added to your cart!
have been added to your cart!
Package Details:
eCovers
Sales Letter
Sales Video
Swipe Emails
Video Training
Download File Size – 395 MB
[YES] Can sell and keep 100% of the sales.
[YES] Can edit the sales letter and graphics.
[YES] Can be bundled into another paid package and sell at a higher price.
[YES] Can be used as a bonus to another product you are selling.
[YES] Can be sold in a Dime sale event.
[YES] Can be added into a paid membership site.
[YES] Can pass on the Resell Rights privilege to your customers.
[NO] Can be given away for free.
[NO] Contents of the product can be edited, modified or altered.
Share this and get 20% off!