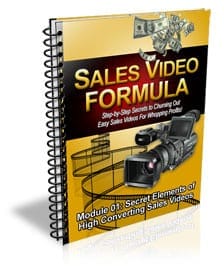 Choose Your Desired Option(s)
has been added to your cart!
have been added to your cart!
Sales Video Formula Video Series With Master Resell Rights
"New Amazing Breakthrough Reveals Whopping Conversions In Sales & Leads… Now You Too Can Easily Create Your Own Hypnotic Sales Videos!"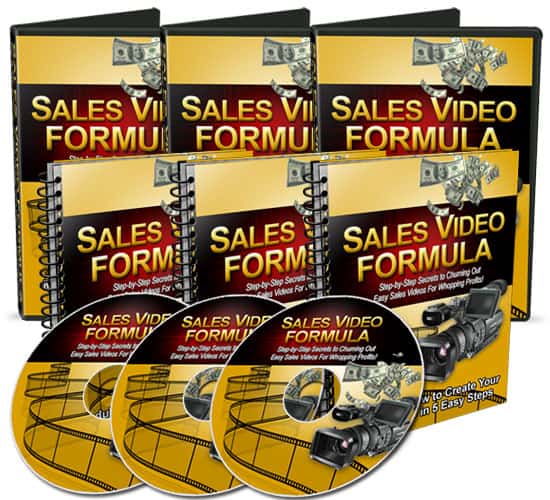 Are you selling your own product or service online? There is no better way to sell yourself than using an online sales piece that best explains what your product or service is about.
"But Here's The Problem…"
Read those lengthy, impressive sales letters before?
Those that go into the dozens of pages if you print them out? While they're persuasive, the problem is you might be wondering if you have what it takes to write those out too!
Writing a direct response copy isn't easy. It's going to take months of mastery with online copywriting before you write your first profit-pulling web copy. And even so, writing a good sales letter usually take days or even up to a week or two! I know this, because that's often how long I would spend writing a single piece of copy!
This isn't counting the days of weeks after your product launch before you can conclude whether your sales copy is converting well or not!
But how would you like to save time from writing your own sales piece, get higher conversions, and heck, sell high ticket products easier?
If you say YES, YES and YES…
has been added to your cart!
have been added to your cart!
"Goodbye to Long Hours Of Writing Your Own Direct Response Copy And Say Hello To Brand New Sales Video Formula…"
Step-by-Step Secrets to Churning Out Easy Sales Videos for Whopping Profits!
In the recent years, more and more Internet users from around the world started to get broadband access. Video streaming became easier and videos are now the 'in thing'.
There's no better and easier to sell your product than to record a video, put it up your website and let it do all the explaining!
You have the advantage of letting people see and hear from you in person, you do it only once, and don't be surprised if your conversions actually go twice or thrice as high!
It's also faster to do… and you can get it all done in as little as a few hours!
Sales Video Formula is a 3-part step-by-step digital course on how to create your own sales video from scratch – even if you are an absolute newbie to sales!
has been added to your cart!
have been added to your cart!
License Details:
Resale Rights – Yes
Master Resale Rights – Yes
Private Label Rights – No
Giveaway Rights – No
Offered as a Bonus – Yes
Full Product Copyrights – No
Full Graphic Copyrights – No
May Modify Product – No
Packaged with Other Products – Yes (2 max)
Added to Paid Membership Websites – Yes
Added to Free Membership Websites – No
May Publish Offline – No
Share this and get 20% off!