Responsive Email Marketing Tutorials Video Series With Master Resell Rights
Did You Know? Your Email Promotions Are Competing with Tens of Other Emails, All Fighting for Your Customer's Attention. Are You Sure Yours Is Going to Win?
"Are You Ready to Discover Three Hidden Secrets to Write Super-Responsive, Profit-Pulling Emails and Triple Your Sales?"
"Email Marketing Is As HOT As It Used to Be A Few Years Back, But Your Competition Is Now More and Stronger.
Find Out How to Still Be the #1 Attention Winner In Your Customers Inbox!"
"Introducing The Step-By-Step Video Tutorials To Writing Your Own Response-Pulling Emails…"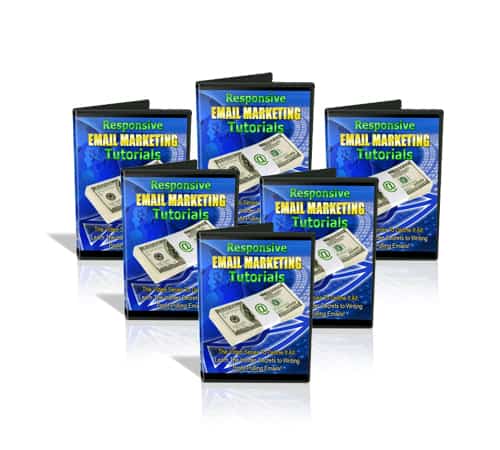 has been added to your cart!
have been added to your cart!
Here's a break down on what you will learn in this video series:
1. Why Writing Responsive Emails Determines your list success
Did you know that "how" you write your promotional or content based emails is a large determining factor as to whether someone takes the necessary action to click a link or buy a product? In this video, you'll get a brief introduction of this video series, but most importantly the main concept as to how you can create a responsive email list.
2. Brainstorming
There are several basic concepts you need to understand before you get started with writing your emails. You'll also learn what tools you must have, and how to understand the purpose of writing your emails beforehand. Brainstorming is one step most people tend to skip and by not planning ahead, you will decrease the conversion rate of your emails. So in this video, you'll learn how to brainstorm and plan ahead.
3. Different types of Promo Emails You Can Write
There is more than just one way way to write a promotional email. Did you know that if you know what type of email you are about to write ahead of time, you can write it a certain way to allow you to write easy to read and exciting emails.? In this video, you'll be shown several examples of real life and tested emails, so that you can get a better understanding of how you can write them yourself.
4. Mistakes to avoid when writing your promo emails
Most people tell you what you should do, but what about what you should NOT do? In this video, you'll be given a list of things you should avoid doing and of course, things you should not forget to do. By making these mistakes, they can often prevent your subscribers from taking the necessary action. This is taken from real life experience, so you can avoid the same mistakes we made.
5. Importance Of A Good Email Subject Line
The email subject line can often determine whether your subscriber will click the Delete, Spam, or Open button. Just like the beginning or heading of a sales page, you need to ensure that you have a good email subject line that creates curiosity. So you're goal is to get them to open the email, so your email body can do the job of getting them to take the certain action that you require. You will be shown how you can write good subject lines, and several examples of proven subject lines that can grab attention.
6. How to Format your Emails For Easier Reading
Writing copy is only half of the requirements. People do judge a book by it's cover, unfortunately. In this case, if your emails are not formatted correctly and it's hard to read, then you can forget about your subscribers reading your email. You'll be pointed to a free email formatting tool that you can use to make your emails look nicer.
7. Importance of a good Email Body
Once you've created a good subject line, and formatted your emails, your subscribers will hit your email body copy. This is the next step before getting your readers to take the necessary action. So writing good email body copy that incites curiousity and interest is important. You'll learn tips on getting your email read and understand how people will often respond to your writing style.your readers
8. How to get your readers to take actio
Great, now you've created an email that has got your subscribers attentions. But now you got to get them to take a specific action, whether it is to click a link, email you back, or whatever. You'll learn a few techniques on how to do this on also how to write the P.S., which is generally sums up your emails. The P.S. area is where a subscriber's eyes tend to go to, especially when they are scanning the email.
has been added to your cart!
have been added to your cart!
License Details:
You can put your name or pen name on the product as the author.
You can edit and alter the contents of the product (AVI) e.g. do your own voice over, put your own logo watermark, embed your URL, edit the content, etc. You cannot however pass the AVI Source Code to your customers.
You can change the title and sub-title of the product.
You can sell the video product with personal use rights, as it is or with edits, and keep all of the sales. The suggested selling price is $47.00 – $67.00. You can only sell in SWF Flash format. The AVI is for your own use only, and not transferable.
You can add the contents of the video product into a membership site (paid only) – viewable in the member's area (SWF format).
You can produce the product into written transcription and sell as a Special Report or E-Book.
You CANNOT give the product away for FREE under any circumstances at all.
You CANNOT use the product as a bonus to another product you are selling.
You CANNOT sell the product on auction sites such as eBay.com.
You CANNOT use this product in a dime sale event, under any circumstances at all.
You can offer the Basic Resell Rights or Master Resell Rights to the video products. The suggested selling price is $67.00 – $97.00
You can add the product into your product bundle or package and sell for a higher price.
You CANNOT, under any circumstances at all, resell, give away or trade the Private Label Rights to this video product, whether in full or partial. This includes not passing the AVI files to your customers.
You can use the videos as an education tool in your offline, home study or seminar course.
You can edit the sales letter anyhow you like as long as it does not misrepresent the benefits and offer of the product. Editing include, but is not limited to, put your name in the sales letter, insert your order link, fill in your own bonus offers, make changes to the sales page content, etc.
You can edit the graphics pack to this product anyhow you like as long as it does not misrepresent the product. You can put your name on the E-Cover, alter the design, using your own title, brand your trade name into the title and sub-title, or use a different design altogether.
You can edit the Thank You page anyhow you like i.e. put in your bonuses, enter your name, include the download link, etc.
You CANNOT give away Photoshop Source Document (PSD) graphics to the customers. It is only for your own use.
IMPORTANT! If you are offering this product with Master Resell Rights then please pass this license on to your customers so they are fully informed on the terms and conditions to the usage and resale of this product.
has been added to your cart!
have been added to your cart!
Share this and get 5% off!
---
TAG : responsive email marketing master resale rights, responsive email marketing master resell rights, responsive email marketing mrr, responsive email marketing video course, responsive email marketing video series
CATEGORY : Master Resell Rights Products, MRR Videos - Master Resell Rights Videos, Resell Rights Products, Resell Rights Videos