Product Creation Mastery PLR Video Course
If You Want To Make A Ton Of Money Online, Then You Need Your Own Products… So, Here's A Step-By-Step Course On How To Easily Create Your Own Products Quickly And Painlessly!
In Fact, I'll Even Show You How To Create Products So Fast…  You Could Create One Per Day If You Wanted To! Seriously…!
has been added to your cart!
have been added to your cart!
Introducing The…
Product Creation Mastery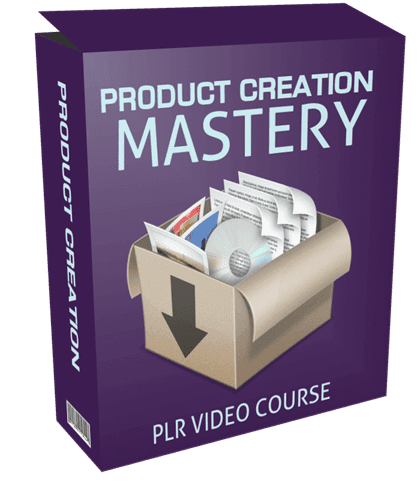 Discover How To Create Valuable Products Customers Rave About!
How to create cheap products and expensive products
What to do even if you are not an expert and don't plan on being one!
How even terrible products can make you a full time living!
Plus, the secrets most product creators don't want you to figure out!
Tons More Too… It's All Right Here In Step-By-Step Fashion
As you know most marketers out there gravitate to affiliate marketing, because it seems easier and most people are too lazy to create products. The bad news is the days of direct linking to some affiliate offer are about over…
That means, it's not 2008 anymore and you almost MUST create your own content and products to even compete in today's "Internet" marketing world.
There are tons of reasons you should create your own products, but one major reason is…
 With Your Own Products, You Have Full Control!
If you want to know why control is important, then this could be the most important and crucial letter you ever read. You see, most marketers do not realize that many affiliate networks actually steal from you… commit fraud and the tracking systems do not work 100% of the time.
This means that if you are promoting affiliate offers, a percentage of your sales are not being credited to you! Does that make sense? Conveniently for the product owners, many affiliate commissions never get tracked properly and commissions do not get paid out to you, as the affiliate.
I don't want to confuse you, so understand this… if you don't have control, then you are (A) losing money and (B) leaving money on the table.
Plus, with your own products you can collect income daily to your bank account instead of having to wait 45 days or longer for the affiliate program to mail you a check! And sometimes you have to "collect" on that check as some affiliates are not so quick to pay out!
That can waste your time and energy and damage your business, because cash flow is KING! With your own products, cash is coming in daily, maybe even hourly, straight to your PayPal account, or Merchant Account!
Your Own Products Allows You To Generate Daily Cash Flow, Which Allows You To REINVEST Back Into Your Company Right Away!
How powerful is that?
You see, most marketers out there are always looking for the easy route, the path of least resistance and they are looking for the quick bucks, or quick fix. This is understandable as we've all been there.
However, it's a big mistake.
Since they want the quick fix, they become affiliate marketers and their chances of succeeding become hard! Instead, I say for you to become the product owner so you can recruit all those lazy affiliates to promote FOR YOU!
Does that make sense?
If you own the products, then you can recruit the affiliates. And let me be the first to tell you, there are many more affiliates than there are product owners! Tons more affiliates, so that allows you to get hundreds, if not thousands of affiliates promoting for you!
What If You Had 100 Affiliates  Promoting For You!?!
Now you can see the big dollar signs, isn't that right?
100 affiliates promoting for you could mean big bucks for you quickly. And, the good news is there are tons of affiliates out there seeking products to promote and earn commissions from all the time. They are actively looking for cool stuff to promote and make money off of!
What if you could provide them with products to promote, where you both make money… you and the affiliate?
Well, what if creating products people want to buy was much easier than you realized?? What if it was a breeze to create simple products quickly and easily? What if you could simply create a product per week, or even one per day if you wanted?
Well, it's possible!
And, the quality would be good too!
Creating Valuable Products Is Much Easier Than You Realize If You Know These Secrets…
Most people think they need to create some masterpiece of a product and that's simply not true. Heck, I've seen people who work on a product for years and then never finish it or ever sell it.
It just sits there collecting cyber dust on their computer.
They think if they create some masterpiece, then they'll make tons more money and that's just not true. Heck, I learned a long time ago that you can spend an eternity trying to create the best product in the world and then nobody buys it or likes it.
But, then you create some quick product and toss it out there and tons like it and it sells like crazy! Therefore, why would you continue to waste your valuable time trying to create a NY Times Best Seller or Masterpiece when those things are rare!
Instead, go for the cash flow! Get the products out there and out there fast. Money loves speed, so get the products out there and they do not need to be perfect!
In fact, many customers would rather have quick-to-the-point products than products with a ton of fluff. Don't try to be too fancy here, just get the products done and done quickly. This has made me so much more money than trying to create a masterpiece its not even funny!
Products Solve Problems And People Pay Money To Solve Their Problems… This Is Easy-Easy Money For You!
Look, the Internet is the Information Superhighway. Let's not forget that. With all the apps, and social networks and games, etc on the net today, it's easy to forget that this is still the information superhighway… and people want:
Solutions to their problems
They are bored and want entertainment
They are fearful and afraid and want security
They are frustrated and want hope
Therefore, creating simple products that solve simple problems is as easy as I've ever seen in my life for making money. I mean, millions of people will look up how to grow a garden, or how to raise a child, or how to lose weight, or get rid of wrinkles, or survive, or invest in gold or stocks, or how to be a better husband, or golfer, or get buns of steel, etc.
If you are there, in their way, showing them you have the solution to their problem or desire, then you are going to make a lot of money. Imagine selling 50 ebooks per day for $10. That's $500 per day.
Let me tell you something…
ANYONE CAN DO THAT!  Get "Product Creation Mastery" Right Now! Start Creating Quick And Easy Products Left And Right!
Here's What You Get:
Step by step training on exactly how to create quick and easy products that people will buy!
Everything you need to know to speed up the process and make it as easy as pie.
The trials and tribulations of a seen figure marketer and how he generated millions with simple little products.
How to find an unlimited supply of tips, content and free ideas!
How to get others to create the content for you, the right way!
How to mix and match products to get back-end sales too
How to brand your products for maximum effect
How to solve one problem at a time and make tons of money
How to have people begging you to create more products for them!
The biggest mistakes product creators make and why you should avoid these mistakes like the plague
How to practically eliminate "research" time
How even terrible products generate lots of money
How to find products already created and what to do with them
How to reverse engineer other products out there on the market now
So much more, too much to list here!
Get inside and buy this program right now!
has been added to your cart!
have been added to your cart!
Package Details:
Total File Download Size:
57 Megabytes (MB)
Private Label Rights License:
[YES] Can sell Standard Resale Rights
[YES] Can sell Master Resale Rights
[YES] Can sell Private Label Rights
[YES] Can NOT be given away free
[YES] Can NOT be sold on Ebay or Other Auctions
[YES] Can NOT be used as web content or articles
[YES] Can be packaged
[YES] Can be offered as a bonus
[YES] Can be sold
[YES] Can be provided in a membership/subscription as long as that membership/subscription is not free.
[YES] Can be edited or modified in any way
[NO] Can NOT include Eric Louviere's name or sites in the sales materials
[YES] Can distribute raw contents
[NO] Can NOT be sold offline, for example, off the Internet or in paper-ink format
has been added to your cart!
have been added to your cart!
Share this and get 20% off!
---
TAG : product creation mastery, product creation mastery plr, product creation mastery plr video, product creation mastery plr videos, product creation mastery videos, product creation mastery videos with plr, product creation plr videos
CATEGORY : Business, Business Coaching PLR, Business PLR, Master Resell Rights Products, MRR Videos - Master Resell Rights Videos, PLR Videos, Private Label Rights Products, Product Creation PLR Videos, Resell Rights Products, Resell Rights Videos, Video Courses