Choose Your Desired Option(s)
has been added to your cart!
have been added to your cart!
My WHM Tutorials Video Series With Basic Resell Rights
"Give Me Just One Hour and I'll Show You Things You Never Knew You Could Do with Your Website Hosting!"
On the page below, you'll find the fastest and easiest way to learn all the tools, resources, and functions that Web Host Manager can offer you and your online business… guaranteed!
Introducing "My WHM Tutorials"… a Fast, Easy Way to Learn about Web Host Manager in just one hour!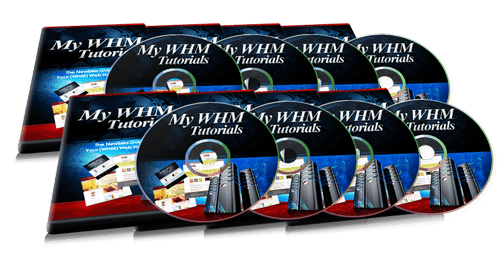 Now you don't have to weed through page after page of boring, dry technical jargon that will go right over your head.
You can use this video tutorial course to learn how to get the most out of your Web Host Manager faster, better, and easier than trying to figure it out on your own.
"My WHM Tutorials" is the first online video tutorial course that teaches new or even experienced web users how to get the most out of web host manager, all in the easiest and most convenient way.
This course consists of a set of 17 different videos showing you how to use your WHM (Web Hosting Manager) in the easiest, low-hassle way possible.
Many people get confused when using a Web Hosting Manager. These videos will show you everything you need to know to manage all of your sites from one location.
These are step-by-step videos that you can watch over and over. You can pause or rewind them if you miss something or want to actually do what's being shown.
All it takes is one hour total, and you'll know all you need to know.
Here's Why This Video Course is Unique…
These videos were created by a professional webmaster and programmer with over 20 years of experience.
I promise they will save you loads of time just by learning HOW to do everything and what it all does for you.
There are a total of 17 videos and all together they last about an hour.
You can either spend 10 or more hours trying to read and learn everything the hard way through reading the boring, technical manuals that come with your hosting account or you can just watch these videos and learn all you need to know in an hour.
You won't find a more low-hassle, convenient way to learn all about your web host manager, and be able to do it all in an hour.
Here's Exactly What Each Video Covers…
Video 1. – How to log into Web Host Manager– The first video explains how to log into your Web Host Manager and the URLs to access it.
Video 2. – How to create hosting packages in WHM– Setting up packages is one of the first steps when accessing your WHM the first time.
Video 3. – Using the feature manager in WHM– This video explains how to create different feature packages to enhance your offered packages for clients
Video 4. – Learn about the skeleton directory in WHM– This video demonstrates how to create your own custom default hosting pages, just like Hostgator or Hostdime.
Video 5. – How to modify the suspended accounts page in WHM – Customize your own suspended accounts page when you've suspended an account
Video 6. – How to create a new hosting account in WHM– This video walks you through adding a new hosting account (site) in your WHM. This video will explain each step in detail for you.
Video 7. – Change account's password and/or upgrade/downgrade an account in WHM. This video demonstrates how to change an account's password and also shows how to upgrade and downgrade an account's package
Video 8. – In depth account modification in WHM– This video expands upon the account upgrades/downgrades video by explaining how to really go in depth with fine tuning actual storage space and bandwidth on a per account basis. This allows complete customization of account settings on an individual basis.
Video 9. – Suspending or unsuspending an account in WHM– How to suspend and reactivate an account and the steps to follow.
Video 10. – Terminate an account in WHM– Outlines the steps to take when terminating (deleting) an account in WHM.
Video 11. – Managing MX entries in WHM– Useful when clients want to use a 3rd party service such as Gmail or Amazon mail services with their account
Video 12. – Managing DNS Zones in WHM– This video demonstrates how to edit the DNS entries for any domain in the WHM
Video 13. – How to park a domain in WHM– This video shows you how to park a domain using WHM instead of the accounts cpanel
Video 14. – How to generate your remote access key in WHM.- useful for any script that requires it. Most uses will be for hosting scripts, an example is WHMCS
Video 15. – Generating and installing SSL certificates in WHM– Step by Step example on how to add a SSL to any account in the WHM
Video 16. – Using cPanel/WHM news feature in WHM Keep your hosting clients informed with ease.
Video 17. – How to move an add-on domain to its own account– Step by step tutorial on how move an add-on domain to its own individual account using a WordPress blog as an example. This is one of the main reasons to have a WHM.
Bottom line, these videos provide tips and tricks that ensure you get the most from your web hosting, for both you and your customers.
They provide simple and easy solutions to common Web Hosting Manager problems and pitfalls.
Even if you've never had experience working with WHM, these videos will walk you through every feature you need to know. This saves you time, frustration, and money.
Before these tutorial videos came along, if you needed Web Host Manager help you had to rely on the documents that came with cPanel or had to use the cPanel forums.
Well, those can be quite confusing to understand. But now you have a faster, smoother option.
These videos have information on WHM that will get you up to date fast. They include screenshots of virtually every part of WHM you need to know about. They take you step by step from the beginning to getting into advanced WHM functionality.
Click Here To View The Sales Page
License Details:
[ Yes ] Can sell to your customers. (personal use only)
[ Yes ] Can be sold, "as is".
[ Yes ] Can include within website flips (personal rights only).
[ Yes ] Can give away product from a squeeze page.
[ Yes ] Can be used as a bonus to a paid product.
[ Yes ] Can include in membership site for personal use of your members.
[ Yes ] Can be combined with other offers or sold as a package.
[ NO] Can sell Private Label Rights to customers.
[ NO] Can sell the Resell Rights to customers.
Share this and get 20% off!