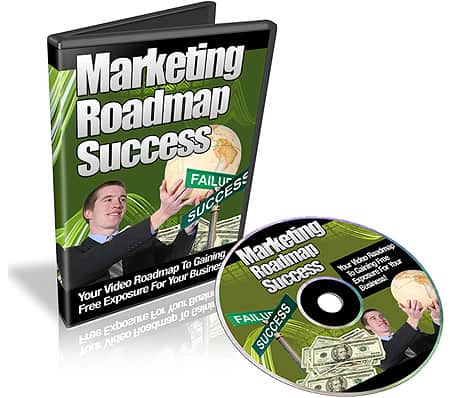 Choose Your Desired Option(s)
has been added to your cart!
have been added to your cart!
Marketing Roadmap Success Video Series With Master Resell Rights
Announcing The Brand New, 7 Part, Step By Step Video Course That Shows You How To Get Lots of Free Traffic and Free Exposure to Your Business…
"Discover How You Too Can Use This Easy To Understand Marketing Roadmap Video To Gain The Traffic Results Your Business Needs…"
You Need The "Marketing Roadmap Success" Video Series!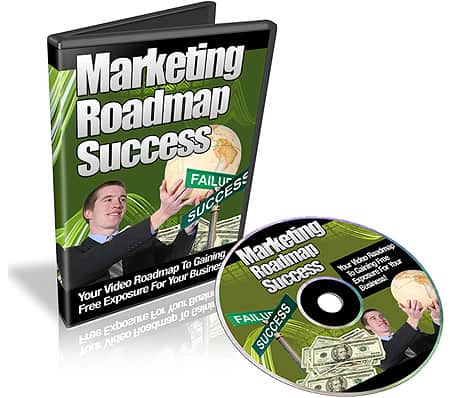 In this video series, you'll have access to 7 content packed videos that will show you how to traffic back to your site and position it correctly with the searcn engines. While it was said earlier that there are so many types of roadmaps, we will be following the free roadmap to getting traffic starting today.
has been added to your cart!
have been added to your cart!
1 – Blogging Strategy
Building a blog and posting an article isn't as hard as it sounds; but while it's easy to jump on board and just create one, there are several things you should watch out for when you create one.
2 – Writing Blog Comments
Blog Comments? What are those? We'll, with just a few blog comments you can start getting backlinks to your site that actually matter. Forget the backlinks that mean nothing and do nothing for your SEO positioning. These are so much easier to do an can often take you just one hour per day to start seeing results.
3 – Building Links And Traffic With Wikis
Did you know that you can get traffic from Wikis? Wikis tend to have high PR and have tons of traffic because they are basically a huge online library. While Wikis like Wikipedia are generally monitored carefully, getting just a few backlinks will help you greatly and you'll learn how to in this video.
4 – Social Networks: Facebook Profile and Finding Groups
Haven't gotten into Social Networking yet? Or just stepped a few feet in? Social Networking allows you to get to know your customers, business partners, and prospects even better on a personal level. Find out how to create your facebook profile, use groups to find people and integrate it with Twitter.
5 – Basic Forum Marketing
You may have heard of forum marketing and how powerful it is. In this video you'll get a basic overview of how to implement this tactic into your business plan. Posting on forums will indeed get the targeted traffic you need, but there are a few things you need to avoid doing and to watch out for.
6 – Video Sharing Sites
While you hear a lot about Youtube and Google Video, and while they're great; there are many other avenues that integrate into things like social networking that will allow you to not only increase your explosure, but to explode your exposure several times more.
7 – Product Review Sites
If you're trying to find people who are looking to purchase products, then that's what review sites are all about. People that go there are usually in the mindset of trying to find out more information about someone's product; hopefully yours. The question is how do you tag these people?
So…with that said, if your business isn't getting the traffic you need, and you don't even know where to begin, grab this video series now and bring in traffic that converts.
You can view this video immediately after your purchase, so you don't have to wait until I wake up or even if I'm sleeping or out of my office, you can still download it instantly.
has been added to your cart!
have been added to your cart!
License Details:
You can put your name or pen name on the product as the author.
You can edit and alter the contents of the product (AVI) e.g. do your own voice over, put your own logo watermark, embed your URL, edit the content, etc. You cannot however pass the AVI Source Code to your customers.
You can change the title and sub-title of the product.
You can sell the video product with personal use rights, as it is or with edits, and keep all of the sales. The suggested selling price is $47.00 – $67.00. You can only sell in SWF Flash format. The AVI is for your own use only, and not transferable.
You can add the contents of the video product into a membership site (paid only) – viewable in the member's area (SWF format).
You can produce the product into written transcription and sell as a Special Report or E-Book.
You CANNOT give the product away for FREE under any circumstances at all.
You CANNOT use the product as a bonus to another product you are selling.
You CANNOT sell the product on auction sites such as eBay.com.
You CANNOT use this product in a dime sale event, under any circumstances at all.
You can offer the Basic Resell Rights or Master Resell Rights to the video products. The suggested selling price is $67.00 – $97.00
You can add the product into your product bundle or package and sell for a higher price.
You CANNOT, under any circumstances at all, resell, give away or trade the Private Label Rights to this video product, whether in full or partial. This includes not passing the AVI files to your customers.
You can use the videos as an education tool in your offline, home study or seminar course.
You can edit the sales letter anyhow you like as long as it does not misrepresent the benefits and offer of the product. Editing include, but is not limited to, put your name in the sales letter, insert your order link, fill in your own bonus offers, make changes to the sales page content, etc.
You can edit the graphics pack to this product anyhow you like as long as it does not misrepresent the product. You can put your name on the E-Cover, alter the design, using your own title, brand your trade name into the title and sub-title, or use a different design altogether.
You can edit the Thank You page anyhow you like i.e. put in your bonuses, enter your name, include the download link, etc.
You CANNOT give away Photoshop Source Document (PSD) graphics to the customers. It is only for your own use.
IMPORTANT! If you are offering this product with Master Resell Rights then please pass this license on to your customers so they are fully informed on the terms and conditions to the usage and resale of this product.
Share this and get 20% off!