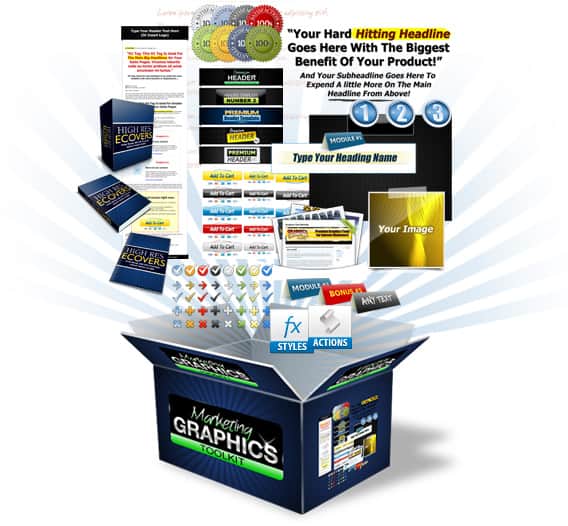 Choose Your Desired Option(s)
has been added to your cart!
have been added to your cart!
Need Quality Graphics for your projects?
Grab the Ultimate Collection of 30 Different Graphics Tools For One Crazy Low Price!
Several months ago I released a package with some of my best personal graphics tools and templates called Marketing Graphics Toolkit. It was a HUGE success and sold over 3,000 copies in just over a month of release, and had some amazing customer feedback.
After the success of the V1 package, I released Marketing Graphics Toolkit V2 and V3 which were even bigger and better and sold even more copies than V1. The Marketing Graphics Toolkit products have sold over 12,000 copies combined so far, and are considered by thousands of people as "the" go to graphics resource.
Now I'm releasing Marketing Graphics Toolkit V4… and I'm REALLY excited about it because it's bigger and better than the last 3 packages, and now contains 30 different graphics "modules" (instead of 21 like in previous packs). And all of this stuff is brand new and created specifically for this package.
has been added to your cart!
have been added to your cart!
Introducing… Marketing Graphics Toolkit V4


License:
Personal Use Only – Marketing Graphics Toolkit is for personal use only.
Share this and get 20% off!