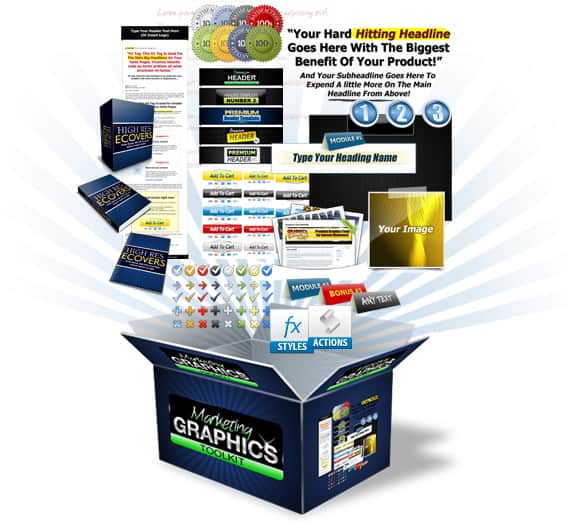 Choose Your Desired Option(s)
has been added to your cart!
have been added to your cart!
Need Quality Graphics for your Websites but don't have Photoshop?
Create AMAZING Graphics For All Your Marketing Needs In Just a Few Minutes WITHOUT Photoshop
Marketing Graphics Toolkit V3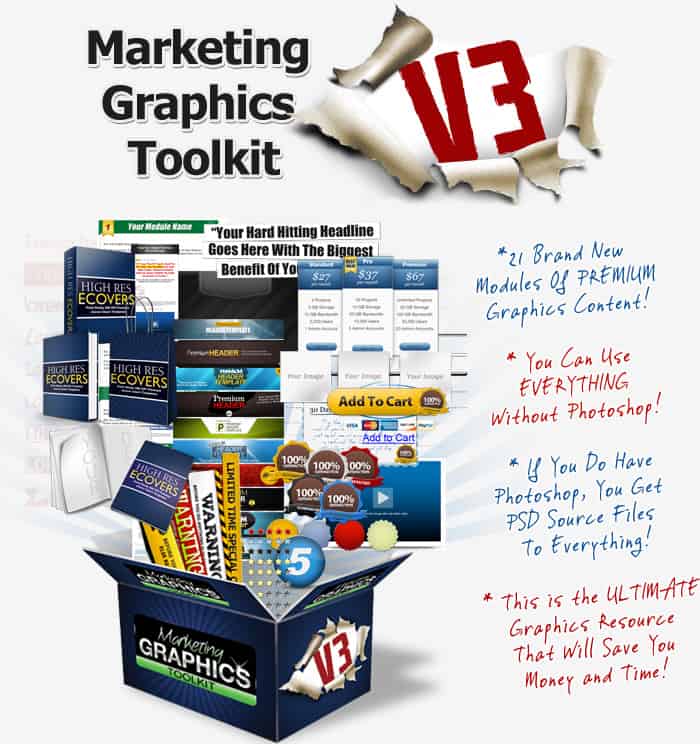 This "Marketing Graphics Toolkit" V3 package consists of some of my very best tools and templates that are geared specifically towards Internet Marketers. These tools and templates will add some KILLER visual flair to all your websites, blogs and even WSO's.
I've been doing this graphics stuff for over 7 years now, and I charge up to $100 an hour for custom design work, so you won't get any amateur content (you'll see samples for yourself below).
With 21 different Modules, there's something for everyone here. Just one piece of content from this package can save you either a hundred bucks on designer fees, or hours of time trying to do it yourself.
What makes MGT V3 different from V1 and V2 or any of my other graphics products?
Bigger and Better than ever:
First of all, the new V3 pack is BIGGER and BETTER than V1 and V2. I surveyed my customers and asked what they liked best about the package and what they wanted to see more of. And based on the feedback I created more of what people wanted to see. I took the best tools and improved them and added more of them, plus I added brand new tools. My previous packages were already great, and V3 is even better.
This V3 package consists of BRAND NEW tools, templates and web ready graphics, that are NOT in any of my previous packages. I've offered similar tools before… for THIS package I've updated my best tools and created brand new tools. So if you bought MGT V1 or V2 or any of my other products before, you will get brand new content with this MGT3 package here. This is like a "best of the best" pack full of my greatest tools… all updated for 2011.
Created by me personally:
All of the graphics and tools in this package were created by me personally. This is NOT some rehashed PLR material. Plus I've never sold PLR or any kind of other reseller rights to this package, and you can only get this content from here.
Plus, just like the V2 package you can…
has been added to your cart!
have been added to your cart!
Create ALL the graphics  without Photoshop!
About half of my customers don't have Photoshop and I want to make this new package accessible to everyone. So you no longer need Photoshop to create killer graphics (although you CAN still use Photoshop and you get PSD source files to everything).
Everything you see below you will be able to create without Photoshop using a free online graphics editor called Sumo Paint. Sumo Paint is very easy to use and is the most powerful free online graphics editor.
I created special templates based on the Sumo Paint format for all of the tools in this package. These templates are layered and editable so you can add your own details and customize things fully (just like in Photoshop). And I'm including video instructions on how to use Sumo Paint to edit all these templates and create killer graphics yourself.
Again, you'll be able to create EVERYTHING you see below (even 3D eCovers) without Photoshop, using an easy to use and free online graphics editor called Sumo Paint. You can use Sumo Paint on any computer with an internet connection (PC or Mac) and it's 100% free without restrictions.
There's actually just 2 things you can't edit in Sumo Paint (since it's not an HTML editor), and those things are the Mini Site templates and the Squeeze Page template. You'll need an HTML editor for those. For everything else though you can use Sumo Paint.
Just 2 More Important Points:
1.  You get layered PSD source files to all of the files you see below. So you'll be able to make tweaks to all these graphics to fit your needs.
2.  For those without Photoshop, all of the files below also come with either Sumo Paint templates or in web ready formats like PNG, GIF, and JPEG.
So everyone can use this package!
With these things said let me show you exactly what you get…
21 Modules Of  Premium Graphics Content…
(Please allow a minute or two for all the images to load,
since there's A LOT of content.)


These "Mini Site" templates will save you hours of time. These are actually the same templates I use to put together sales pages for my own products and my clients.
What makes them special is that they come already pre-formatted with professional and clean CSS styling for things like text, bullets, boxes and more. Just type in your own sales copy and it gets formatted automatically.
You can literally put together a great looking mini site sales page in just a few minutes with these templates.
You get 2 templates:
Comes with a header and footer (it's the same template I used for this page you're on now). And you can either just type your own text into the header and footer right in your HTML editor, or you can insert your own logo image.
Comes without a header or footer, and can be resized to any width.
These are the same Mini Site templates I created for Marketing Graphics Toolkit V1 and V2, only I added some new things to these V2 templates…
What I added to V3 templates:
Section headings
New bullet lists
New boxes
Testimonial boxes
Guarantee Box
Disclaimer text at the bottom
Image box
Video box (embed any video code)
Line breakers
Module boxes
Signature with hand written font
And more..
has been added to your cart!
have been added to your cart!
You can see some scaled down samples of these templates below.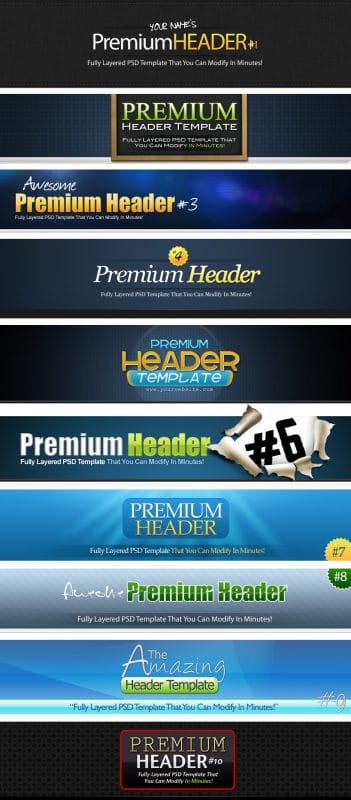 License:
Personal Use Only – Marketing Graphics Toolkit is for personal use only.
Share this and get 20% off!