Loneliness Premium PLR Package - High quality loneliness PLR product including ebook, checklist, emails and lots more. Over 27 000 words of done-for-you loneliness PLR content that is well written and ready to be used in your business to educate your audience. This loneliness PLR content includes fast-action bonuses for the first 50 buyers only.
#loneliness #lonelinesstips #overcomeloneliness #lonelinesstechniques #depression #lonelinessplr #plrcontent #lonely #poorsleep #sleepingpatterns #dating #exercise #aromatheraphy #gratitude #kindness #emotions #meditate #plrpackage #plr #plrebook #plrarticles
Loneliness Premium PLR Package – Featuring Over 27 000 Words of Done-For-You Evergreen Self Help Content.
Attention: Self Help Marketers, Personal Development & Self Improvement Coaches

Done for You Premium Personal Development PLR Product on a
EVERGREEN Topic:
Loneliness!
Dear Self Improvement online business owner, When it comes to self help and personal development searches, the Loneliness is one of the most searched-for topics online.
It's safe to say that Loneliness has spawned an entire industry of blogs, courses, books and products.
This is where my premium done-for-you Loneliness PLR content package comes in. It's all about teaching your customers how to Overcoming Loneliness.
Everything is completely done-for-you and ready-to-go – from the main info product to your social media updates – it's simply up to you to add your branding and firmly establish yourself in this lucrative self improvement niche.
Introducing The…
Loneliness PLR Package
Featuring Over 27 000 Words of High Quality Loneliness Content Ready To Be Used In Your Business!
This high quality Loneliness PLR package covers the hugely popular self help niche. Self Help is evergreen and will always be. This Loneliness PLR package is well-written by an experienced copywriter and comes with full private label rights so you can edit it, put your name on it, put your brand on it and sell it or use it to build your list of raving fans.
has been added to your cart!
have been added to your cart!
Here's everything you'll get in the Loneliness MEGA PLR Package…
Main PLR eBook: "Overcoming Loneliness"

(3,958 words, 21 pages, 8 images)
 
A look inside the Loneliness PLR eBook:

Table of Contents for the Loneliness PLR Ebook:
Introduction. 3
6 Signs That You're Lonely. 4
1 – You Just Got Through Watching 3 Straight Seasons and 39 Episodes of a Popular TV Series. 4
2 – You Have Poor Sleep Patterns. 4
3 – You Get Sick a Lot 5
4 – You Are Shopping More Than You Usually Do. 5
5 – The Friends You Spend the Most Time with Also Talk about Being Lonely a Lot 5
6 – You Can't Get out of a Cycle or Rut That Frequently Has You Feeling Lonely and Depressed. 6
Why Loneliness is Bad for Your Mental AND Physical Health. 7
How to Open Yourself Up to Other People and. 9
Make Yourself Vulnerable. 9
How to Meet Other People Like You. 11
Go Group-Hunting. 11
Finding Help in the Real World. 14
8 Techniques to Help with Loneliness. 15
1 – Minimize Your Dates with Happy Hour 15
2 – Start Exercising Regularly. 15
3 – Practice Aromatherapy. 16
4 – Laughter, the Best Medicine for a Number of Problems. 17
5 – Tell Yourself That Loneliness Is Simply an Emotion, and Not a Factual State of Being. 17
6 – Don't Withdraw, Reach Out 18
7 – Meditate Regularly. 18
8 – Practice Gratitude and Kindness. 19
Dealing with Depression That Comes from Loneliness. 20
Develop a Plan of Action. 20
Sample Content for the Loneliness Premium PLR Ebook:
There is an old quote that says, "Loneliness adds beauty to life." You would be hard-pressed to convince a lonely person of that. When you feel lonely, the sense of isolation and being alone, possibly of even being unwanted or undeserving of others, can be crippling. It can lead to a severe withdrawal from society that furthers the idea that you only deserve to be with yourself, and no one else.
This is a shame, because there are a lot of ways to overcome loneliness, no matter why you developed that emotion. In this short report on battling loneliness, we will look at a few signs that indicate you may be feeling isolated. Sometimes, the lonely person doesn't realize that his or her behaviors and emotions are causing an unhealthy withdrawal from society.
We will show you exactly why loneliness is devastating for your physical and mental health, as well as some simple ways to open yourself up so you improve your odds of making friends and building relationships. You will be provided with concrete ways to meet people just like yourself, online and off. You will get proven techniques to battle loneliness, as well as how to head off the depression that sometimes accompanies a feeling of isolation.
Let's get started beating loneliness by looking at some typical (and not so typical) signs that you may feel unwanted and alone.
6 Signs That You're Lonely
Loneliness can lead to other negative emotions, as well as physical health conditions. Here are some subtle and not so subtle signs that you may be suffering from loneliness.
1 – You Just Got Through Watching 3 Straight Seasons and 39 Episodes of a Popular TV Series
Yes, if you have just watched multiple seasons and dozens of episodes of some television series, this binge-viewing could be a sign of loneliness. A University of Texas study conducted in 2015 showed that binge-watching should probably be classified as a minor addiction, and is a definite signal that loneliness could be the cause for this behavior.
2 – You Have Poor Sleep Patterns
Some sleep research shows that lonely people have a problem falling to sleep, they don't sleep soundly, and they usually don't progress through all the stages of sleep. If you have problems sleeping or falling to sleep, and you wake up worn-out and tired, this could be a sign that isolation and anxiety are the underlying cause. It appears that feeling alone creates mental and emotional stress which can interfere with sleep.
3 – You Get Sick a Lot
Here is a direct indicator that physical and mental health are connected. Loneliness is an emotional state. As you will find out later in this report, emotions are often dictated by hormonal imbalances. Accordingly, when your immune system is weak, and the improper hormones and chemicals are in abundance in your body, you experience more feelings of loneliness. That weaker immune system also makes you prone to illness, sickness and disease, and less likely to recover from a physical injury quickly.
A UCLA study remarkably showed that the immune system in lonely individuals devotes its attention to fighting bacteria rather than viruses. This means that people who feel alone and isolated often suffer more flus and colds than people who do not have these feelings.
Note: The above content is just a snippet of the ebook.
has been added to your cart!
have been added to your cart!
Loneliness Checklist :
(460 words, 3 pages)

A look inside the Loneliness Premium PLR Checklist

Loneliness PLR Editable Ecovers:

5 Emails/ Blog Posts:
Topic: How to Make New Friends as An Adult if You're Feeling Lonely
Email 1 – Take Up New Hobbies
Email 2 – Focus on Improving Yourself
Email 3 – How to Reach Out to People
Email 4 – Tips for Overcoming Shyness
Email 5 – Tips for Overcoming Awkwardness
Loneliness PLR Emails Total Word Count: 1809 Words
Loneliness Email Content Sample:
Email #1 – Take Up New Hobbies
Welcome to the email series on ways to make friends if you are lonely. Being lonely is definitely no fun, but unless you grab the bull by the horns and fix it, it will not get any better.
One way to do that is through a hobby. For one, you and other people having that same hobby have a common interest that can be used to make starting a conversation easy(ier). With that said, some hobbies are easier to "break the ice" than others. If you are prone to panic attacks in large groups of people you don't know, then a hobby that typically has smaller groups of people may be more for you.
For example, a round of golf usually puts together a group of four people to play. If you arrive at the clubhouse alone, they will usually pair you up with another group. Then you only have three (or four) other people to get to know and talk with.
Traveling (as part of a group or club) is another great way to not only meet people having a like interest that can turn into friends, but also to see places and experience new cultures and cuisines. Generally, you would start by talking to just the people immediately around you. If traveling on a motor coach or plane, it could be just the people in your row. Gradually you could expand your circle to include more people.
If you are looking for something more local and like to read, joining a book club can be fun. It is generally a quiet environment with small groups of people, so making friends can be easier.
When trying to make friends, it is usually better to stay away from the large groups of people, such as at a convention. The sights, sounds and activity level can be overwhelming, thus making the environment not conducive for meeting people and making new friends.
In the next email, we are going to talk about how to make friends easier by improving yourself. See you in a while!
Loneliness PLR Articles:
3 Ways Loneliness Can Negatively Affect Your Health – 524 words
5 Tips On How to Make Friends When You're Shy/ Socially Awkward – 443 words
7 Ideas for Connecting with New People if You Feel Lonely – 585 words
8 Tips for Developing More Social Confidence – 406 words
What to Do When Anxiety and Depression Make You Feel Isolated and Lonely – 446 words
Loneliness PLR Article Sample:
3 Ways Loneliness Can Negatively Affect Your Health
Loneliness is more of a social condition, not caused by either bacteria or virus, yet it can have some health implications. Not only can loneliness affect your mental health, but it can affect your physical health as well. Multiple studies have shown a biological link between ill physical health and loneliness. In fact, it can be as dangerous to your health as smoking, excess use of alcohol or obesity. Social isolation -the fancy term for loneliness – tends to show up more in older people living alone either after retiring or suffering the loss of a mate, but in reality, it can show up in any age group. In general, loneliness can cause these three conditions to affect your mental or physical health.
Stress
Loneliness can bring on depression and that alone can increase your stress level (whether you know it or not). Cortisol is the hormone released by our body in response to the "fight or flight" syndrome. When under constant stress, the cortisol flowing through our veins and arteries remains too high for too long. While an occasional cortisol spike was necessary for survival back in the caveman days, constantly held at a high level today causes cardiovascular health conditions, such as high blood pressure, heart disease and even heart attacks.
Poor Nutrition
Lonely people tend to not eat as healthy as those who are more socially connected. If you are cooking for more than just yourself, research has shown the meals you cook are better for you and better balanced. Once you are just cooking for yourself and if you suffer from loneliness, your diet suffers from a lack of fresh vegetables. This can lead to sickness from a variety of diseases and illnesses.
Weakened Immune System
When under stress, our immune system produces more inflammatory-related proteins. These can lead not only heart disease as mentioned earlier, but also Type 2 diabetes, arthritis and Alzheimer's disease. Studies have shown that the feeling of loneliness alone can raise the risk of dementia by 64%.
And because our immune system has limited fighting capability, it must choose between fighting bacteria or viruses – it can't do both at the same time. In people who see the world as a lonely threatening place, their immune system tends to focus on fighting bacteria, leaving them open to an increase in various virus-caused diseases, such as infections and cancer, in addition to the cardiovascular diseases mentioned earlier.
The Remedy
Studies on loneliness have shown that most people showed physical improvements when they became more socially engaged. That can range anywhere from just having more contact with people online through the various social medias or actual face-to-face contact by joining a class in something you have always wanted to learn or volunteering for a cause you support like at a hospital, school or food bank. Try to participate in events supported by your church, organizations you belong to or just schedule recurring outings with friends or family.
While not viewed normally as something affecting physical health, loneliness can be dangerous. Take the steps to engage with more people; you'll not only be happier mentally, but also healthier physically.
Social Media Posts and Images:
5 Shareable Social Media Graphics (PLR)

16 Social Media Posts with hashtags (for sharing on Twitter or Facebook)

8 Royalty Free Images

Loneliness Keyword Research Pack

has been added to your cart!
have been added to your cart!
Bonuses:
10 Loneliness PLR Articles and Tweets
Loneliness PLR Articles and Tweets Sample:

How to Help Parents Who Suffer from Loneliness
Most parents don't end up spending much time alone, especially when their children are young. But, even if they never actually find themselves alone, these same parents are certainly susceptible to loneliness.
Loneliness occurs when we feel socially distant or isolated from others. Parents who maintain positive relationships with their children may not have a lot of extra time to develop friendships outside of the family. That being said, if you have a friend who is a parent and is suffering from feelings of loneliness, here are a few things you can do to lend a hand.
Let Them Know You Can Help
It can be difficult for anyone who is feeling lonely to ask for help. This is especially true of people who are shy or not very self-confident, who may find it difficult to reach out to people in the first place.
If you suspect that a friend is feeling a little isolated, let them know that you're someone they can talk to. Call or text them every now and then to ask how things are going, rather than waiting for them to get in touch with you. Having someone to keep in contact with consistently will help to alleviate their loneliness.
Offer to Help with the Kids
One of the main reasons parents typically experience loneliness is that the responsibilities of being a parent doesn't leave them much time to socialize with others. If you're comfortable with caring for children, you might offer to take care of their kids for the day (or even for an hour or two) so that they can get out and unwind. Even the occasional chance for some kid-free time will give them the opportunity to get out and connect with other people.
Give Them Something to Do
Group activities are a great cure for loneliness. Not only do they give everyone involved a chance to feel less isolated, they also help to keep your friends from allowing themselves to dwell on feelings of being alone.
Obviously, you want to choose an activity or activities that you and your friends enjoy. To make things even more exciting, suggest something you've never done before. The best kind of activity in this case is one that re-occurs. Think along the lines of a weekly acting class or a monthly fishing trip.
Not only does this help to establish a positive social routine, it also helps to reduce any feelings of loneliness that may pop up unexpectedly. How? If the lonely parent in question has something to look forward to, chances are that he or she won't feel quite as isolated.
If you can't or don't want to come up with an activity involving the whole family, helping your (parent) friend find the perfect babysitter is a thoughtful gesture. It simply means it's one less thing he or she has to stress over before the fun begins.
The best recourse for a lonely parent is a strong support network. So, it's vitally important to step in to lend a hand when a friend or family member is feeling down. At the same time, it's also important to remember that being a parent is a lot of work. The last thing you want to do is overwhelm these parents with too much contact. It's sometimes tricky to find the proper balance.
Just remember this. When it comes to helping someone overcome feelings of loneliness, being a caring friend is the absolute best thing that you can do for them. If the tables were turned, chances are they'd do the same for you.
15 Stress and Anxiety Disorders PLR Articles
Stress and Anxiety Disorders PLR Articles Sample:
3 Simple and Natural Ways You Can Treat Anxiety
Occasional anxiety and stress are a part of most people's lives. However, chronic stress and anxiety can wear you down and cause a number of unwanted side effects. If you suffer from chronic anxiety and don't want to take medication, rest easy. There are natural ways for you to treat your anxiety successfully.
But please note that if you are suffering from depression or mental health issues that are causing you concerns, it is always best to seek the advice of a medical professional – who knows they may be able to help you implement natural therapies as well as more scientific-based ones.
For those who need a little help to ease stress and general anxiety, here are three simple, natural remedies:
#1 Sunshine. It may sound silly however 20-30 minutes of sunlight each day can do a lot to help improve mindset. Much of this is due to sunlight and your body's ability to manufacture vitamin D. Vitamin D helps your body manage stress and it helps you regulate your moods and emotional well being.
The medical community agrees that most people are drastically low on vitamin D. If you cannot get out into the sun each day for 20-30 minutes, take a vitamin D supplement or a multi vitamin with a day's supply of vitamin D.
#2 Move your body. Exercise is a known stress reducer. And it doesn't have to be a killer, fat burning intense workout. 30 minutes of walking, bicycling or yoga has the same effect. It helps your body's systems optimize so you can manage stress better. Also, exercise releases endorphins which are natural feel good hormones.
#3 Meditation. One of the common problems with anxiety is that your thoughts essentially get carried away. One minute you're thinking about what you're going to buy for dinner at the super market and the next minute you're imagining being involved in a horrific traffic accident, not having enough money in your account to cover your grocery bill or knocking over a display and receiving ridicule and laughter. Meditation can help you control these wayward anxiety ridden thoughts. You can learn to quiet your mind and to change your thoughts to more positive ones.
One of the aspects that keeps many people from meditating are the preconceived notions of what it is. Meditation doesn't have to be sitting on the floor, your legs crossed, chanting for an hour. It can be sitting on a chair with your eyes closed for five minutes and focusing on your breathing. Meditation can also be taking a quiet walk with your dog and clearing your mind of all thoughts. It can also be using your imagination to take you to a relaxing state – guided imagery.
Treating anxiety means treating your mind and your body well. Fuel your body with nutrients, exercise your body and move it like it's designed to, and learn the practice of quieting your mind. Stress and anxiety will literally melt away.
Top Quality Depression 101 PLR Report
Top Quality Depression 101 PLR Report Sample:
If you or someone you know has suddenly lost interest in the things they normally love, has trouble sleeping, or sleeps too much, there is a possibility that it's depression. Sometimes depression is subtle, and sometimes it can be in your face. The main thing to note is that if you're feeling hopeless, sad, and empty for more than two weeks, you probably are suffering from depression. Thankfully, depression is very treatable.
Major depression affects more than 7 percent of the US population. Sadly, most of the people suffering don't know that they're suffering and don't seek the appropriate help. Usually, the reasons for not getting help involve not having the right insurance, not being able to afford the care, or not accepting that they have a problem because it's considered a made-up problem by their circle of family and friends.
Since depression is a treatable disorder, this is sad. If you do seek treatment, you're a strong person who can recover. Don't allow the stigma or even money stand in your way. There are often places that can help you, regardless of your financial abilities. You'll be glad you did.
The Difference between Depression and a Low Mood
Everyone experiences stressful times and low mood occasionally. Usually, this is related to an event in life such as working too long hours, or a tragedy that you're coping with. But these types of low moods usually pass eventually. When a low mood doesn't pass, usually within about two weeks, or you cannot identify why you're feeling bad, then you may be suffering from depression.
In addition, there are other illnesses that you can have that manifest as low moods, such as thyroid disorders, low vitamin D3 levels in the blood, and even anxiety. It's imperative that you seek professional diagnosis to ensure that what you really have is depression before you try to treat your condition.
Remember that sadness like other feelings is a valid, human emotion. Everyone who feels low is not depressed. When you're sad, it's likely that someone can still make you happy, or you can listen to happy music, or do your favorite hobby and feel better. But, when you are depressed you cannot find joy in even the things that used to give you joy, no matter what they are.
Depression may happen even at the happiest time of your life because it has nothing to do with outward events. While it's true that sometimes depression can be triggered by a normal life event that you're having trouble accepting and getting over, usually it just happens for what seems like no reason. It's not different from getting another disease such as diabetes. It has a physiological reason for happening even if we're not totally sure yet what causes it, but it has a treatment that can help you manage it or cure it.
When you are depressed, you cannot just snap out of it. You can't just listen to a happy song, play with your kids, go for a walk, read positive things, or write a journal and expect it to magically go away.
Types of Depression
There are many different types of depression. If your symptoms have persisted for a long time, be honest with your doctor about them. Don't leave anything out. Even if you're not sure it's related to your disorder, you want to tell the truth and be honest so that you can be properly diagnosed and treated.
Major Depression – Usually there is a combination of symptoms that have lasted for two weeks or longer. These symptoms interfere with your ability to enjoy everyday life, even when you loved them before. You may feel empty, moody, hopeless, pessimistic, worthless and more. You may even have thoughts of suicide or have attempted suicide.
Dysthymia – If someone has depression for more than two years without it lifting, it's considered chronic. It's not different from major depression but you may have to be treated longer (if not for a lifetime) if you are diagnosed with dysthymia.
Persistent Depressive Disorder – Some people are depressed for a long time, over two years, but it comes and goes. Some days you're able to be happy, but the depression comes back. This differs from bipolar in that you don't have manic episodes, just times of normalcy.
Bipolar Disorder – There are many types of bipolar disorder that also involve depression. But often it includes manic episodes where you feel on top of the world, and then you plunge into a depression that seems to have no end.
Seasonal Affective Disorder (SAD) – This is depression that happens due to weather, specifically dreary weather that keeps you from the sun. Some people find relief using light therapy but for some, this doesn't work.
Psychotic Depression – This is typical depression along with a separation from reality. A person may suffer from delusions, false beliefs that are disturbing to others, and even hear voices and see things that aren't there.
Postpartum Depression – Some women end up with this type of depression after giving birth. It is a hormonal imbalance. It can happen to 15 percent of women who give birth, and interferes with life and the joy in being a parent.
Premenstrual Dysphoric Disorder – Many women have worse premenstrual syndrome than others. Often this can be a serious depressive illness that needs treatment to help them avoid doing things they will regret.
Situational Depression – Most people are sad after someone they love dies, they lose a job, or something else major goes wrong. But for some, they cannot shake it off and need extra help to do so.
Comorbidities – Sometimes depression is brought on by medications, drug use, or illnesses that change the brain and cause major depression symptoms that should be treated to avoid them getting worse.
These types of depression can be diagnosed and treated by the right medical professional. Let's look at a few of the causes, signs, and symptoms of depression next.
The Causes, Signs, and Symptoms of Depression
The truth is, no one is sure what causes depression. People who seem to be happy and privileged still suffer from depression at the same rate as others. But, there are some things that seem to make depression more likely in an individual.
The signs and symptoms should be around for more than two weeks without treatment to properly diagnose whether it's depression or a low mood. However, if you or anyone you know is having suicidal thoughts, please seek help immediately.
Grab All of the Above at a BIG Discount Today!
Wait! I Forgot to mention…BONUSES!!
For the first 50 buyers of this Loneliness PLR Package, if you grab this PLR deal right now, you'll also get these FAST-ACTION BONUSES for a limited time only!
has been added to your cart!
have been added to your cart!
Bonus 1
Overcoming Loneliness Unrestricted PLR eBook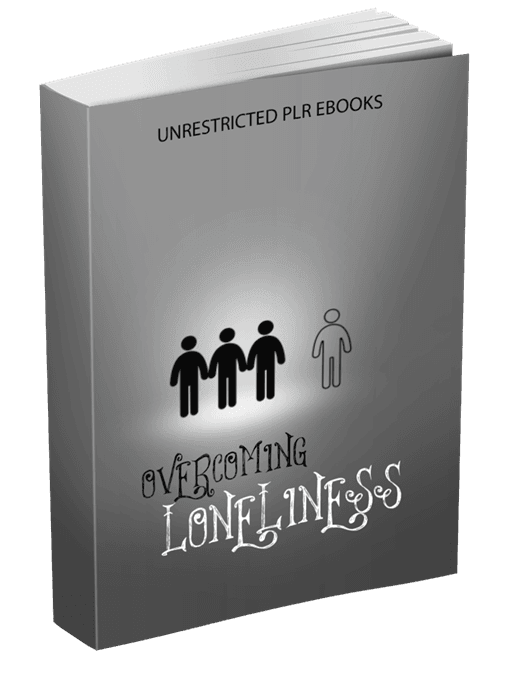 Package Details:
Ecovers
Product
Rebrandable
Source Documents
Source PSD Graphics
Content: 20 Pages – 3682 Words
Total File Download Size:
40.4 Megabytes (MB)
Bonus 2
Dealing with Loneliness PLR Ebook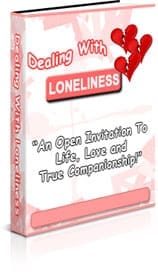 Package Details:
Download File Size –  1.07 MB
eBook Format – PDF,
Source File – Word
Number of Pages – 20
Bonus 3
Better Relationships Sales Funnel with Master Resell Rights
Package Details:
Module 1 – Training Guide
Module 2 – Cheat Sheet
Module 3 – MindMap
Module 4 – Resource Report
Module 5 – Sales Letter And Thank You Page
Module 6 – Sales Video
Module 7 – Legal Pages
Module 8 – Graphics
Module 9 – Articles
Module 10 – Banners
Module 11 – Promotional Email Swipes
Module 12 – High Quality eCovers
Module 13 – Social Media Images Pack
Advance Video Course:
Module 1 – Training Videos
Module 2 – Salespage
Module 3 – Legal Pages
Module 4 – Sales Video
Module 5 – Affiliate Page
Module 6 – Promotion Email Swipes
Module 7 – Squeeze Page
Module 8 – Giveaway Report
Module 9 – Graphics
Module 10 – Audios
Module 11 –Educational Infographics
Total File Download Size:
482 Megabytes (MB)
Bonus 4
A Comprehensive Guide to Finding Your Perfect Woman Unrestricted PLR eBook