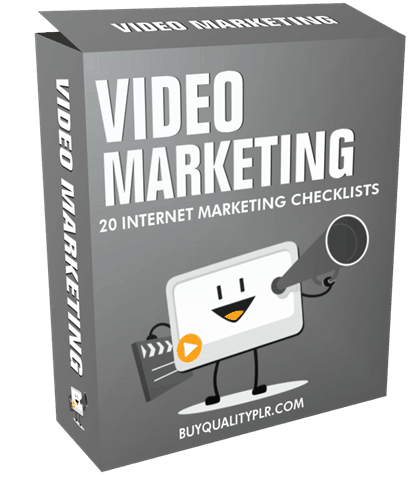 Choose Your Desired Option(s)
has been added to your cart!
have been added to your cart!
#VideoMarketing #VideoEditing #VideoTemplate #VideoTypes #VideoTraffic
Internet Marketing Checklist – 20 Video Marketing Checklists
Internet Marketing Checklists by BuyQualityPLR.com
Checklists Created To Help You With Video Marketing
Use these marketing checklists to simply the process of doing Video Marketing.
We personally use these checklists when doing our marketing and you can too!
These checklists are delivered in PDF format. So you can print them and use them as a step by step guide of tasks you need to plan and complete while doing Video Marketing.
It's much easier to succeed at your marketing if you're planning properly and these checklists are designed to help you do exactly that.
has been added to your cart!
have been added to your cart!
Introducing…

Internet Marketing Checklist – 20 Video Marketing Checklists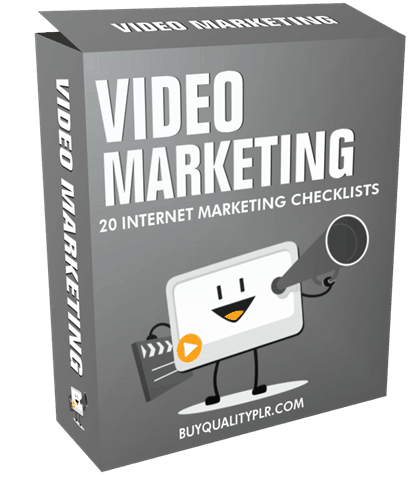 Here's the List of 20 Video Marketing Checklists You'll Get:
Checklist 1 – Video Aims
Checklist 2 – Video Types
Checklist 3 – Keyword Research
Checklist 4 – Recording Equipment
Checklist 5 – Smartphone Video
Checklist 6 – Prepare To Record
Checklist 7 – Video Template
Checklist 8 – Video Monetisation
Checklist 9 – Video Editing
Checklist 10 – YouTube Channel
Checklist 11 – YouTube Playlist
Checklist 12 – YouTube Playlist
Checklist 13 – YouTube Connect and Engage
Checklist 14 – Video Traffic: Email
Checklist 15 – Video Traffic: Blog
Checklist 16 – Video Traffic: Facebook
Checklist 17 – Video Traffic: Twitter
Checklist 18 – Video Traffic: Pinterest
Checklist 19 – Video Traffic: Instagram
Here's the details of the checklists you'll get in this Video Marketing checklists pack:
Video Aims
The first thing you must do is figure out the reason you are creating a video.
Too many people create and upload videos to sites like YouTube without first thinking about what they would like to achieve.
Go through this list each time you plan on creating a new video to help you clarify the end result you want from your videos.
Video Types
There are so many different types of videos that you can create ​that will help to keep your videos interesting and more engaging for your audience.
If you're ever stuck thinking about what type of videos to create, then take a look through this checklist and think about how you can repurpose content that you may already have to create some great new videos you can share with your followers or upload to your YouTube channel.
Keyword Research
If you've ever wondered why some videos rank higher in search results that others for specific search terms or you've wanted to improve the ranking of your own videos on sites like YouTube so that you get more engagement, views and subscribers then you need to understand how important keyword research is prior to uploading your videos…
Recording Equipment
​Using the right tool for the job can not only help improve the quality of your videos but it can also save you a lot of time and effort.
​One of the quickest way to lose your veiwers is if your videos have poor sound or visual quality so use this checklist to get your equipment set up the best it can be right from the start.
Smartphone Video
It's amazing now just how much you can do all on a smartphone.
You can record high quality videos, you can edit the videos, add effects, add music, create animation videos and share them with the world all whilst you're on the go and just by using something that you carry around with you every day!
Here are some points to remember as well as some great resources that you can get on your phone.
Prepare To Record 
​​Preparation is key to producing great videos.
From having all of your equipment set up​ and making checks through to knowing what you're going to say, how your going to say it and even how you'll look in each of your videos. ​Use this checklist everytime you're about to record a single video or even a whole batch of videos…
Video Template
Once you have your main content recorded for your video, whether this is a talking head video in which you appear on screen or if you have recorded the audio version of your video script and you want to use it to create an animation or slideshow type video then it's now time to put everything together.
A good way to structure your video is to break it down into sections…
Video Monetisation 
There are many different ways in which you can use your videos to generate an additional income or to help grow your business online.
​Most people ​have heard about people making money on YouTube through ads but that requires a very large following whereas a lot more money can be made a lot quicker and easier and with little to no subscribers at all!
Here are a number of different ways in which you can make money from creating videos…
Video Editing
Once you have your video content created then it's time to edit your video to make it as engaging and professional as you can. There's a wide range of different free and paid online resources that can help you with this as well as video editing software.
In this checklist, I'll cover what you should think about when editing your videos and provide you with a number of different resources you can use to edit your videos as quickly and easily as possible.
YouTube Channel 
Before you start uploading your videos to YouTube you need to ask yourself a few questions. Taking the time to do this first will really pay off and lead to thousands more subscribers and video views.
If you want more subscribers, likes, comments and people sharing your videos with their friends and followers you need to make sure it's clear what your channel is about and ensure it's set up and optimised ​for maximum results…
​YouTube Video Upload
If you want your videos to be found on YouTube and show up in the search results then you need to make sure that you optimise your videos properly.
Too many people upload videos without optimising them and then wonder why they're not getting many views.
Follow the points ​in this checklist and you will find that you have far better results.
YouTube Playlist
Whether you have a single channel or mulitple channels, you need to structure it so that it's easy for your viewers to find what they're looking for.
Creating playlists will not only help your viewers easily find relevant videos in your channels but they will also help with ranking your videos in YouTube searches…
​YouTube Connect and Engage
The huge difference and massive benefit YouTube has over other social media sites is that people really connect with you more, especially if you upload videos where you are on camera. They get to see you and get to know you a lot more than sites where you just post pictures and this builds that know, like and trust factor quicker than any others.
Use this checklist to connect and engage with your perfect audience…
Video Traffic: Email
A great way to drive a ton of engaged traffic to your videos is to email all the people on your email list.
After all they all signed up to hear from you and if you're providing value and gone out of your way to create a video that will help them they'll love you for it and it'll help build a connection with your list even more especially if they can see and hear you.
Video Traffic: Blog
Embedding your videos on your blog or website is not only a great way to add content but it also helps with ranking your content in the search engines and gets more views to your videos, you can also add other content on your webpage such as optin forms, affiliate links, social media share buttons, comments section and much more…
Video Traffic: Facebook
​Facebook is one of the best places to get tons of veiwers watching and sharing your videos.
There are so many different ways to utilise Facebook ​ to get your videos in front of ​thousands of viewers who are exactly the right type of people to watch them and you can also retarget these people with ads or find other people just like them.
Video Traffic: Twitter
Another great traffic source you can use to drive more views to your videos is to share your video link on Twitter.
Not only that but you can also find features within Twitter that will get your videos seen by thousands of people in a very short time which leads to even more YouTube video views and improved ranking…
Video Traffic: Pinterest
Another great social media platform you can use to drive tons of free traffic to your videos, that you may not have thought of yet is Pinterest.
Pinterest is generally used to share image posts but you can actually use it to images that drive traffic to your videos and you can even play videos right from within Pinterest itself!
Video Traffic: Instagram
The problem with Instagram is that you're only allowed ONE link in your bio and you're only allowed to upload videos less than 60 seconds.
However, in this checklist I'll share with you ​exactly how you can start driving tons of traffic to your videos from Instagram.
​Live Videos
One of the fastest and most effective ways to connect and build a relationship with your audience, gain authority in your niche and drive tons of traffic to anywhere you choose, is to do live videos on sites like Facebook and YouTube.
You can tell your story, provide value with helpful tutorials, promote products and much more…
has been added to your cart!
have been added to your cart!
Start using the checklists right now to save time and improve your marketing or give it to your assistant so they can plan and execute your marketing with proper guides.
You be able to stay focused without having to guess what you need to do next. Get better results with these marketing checklists.
Here's a Preview of the Video Marketing checklists pack: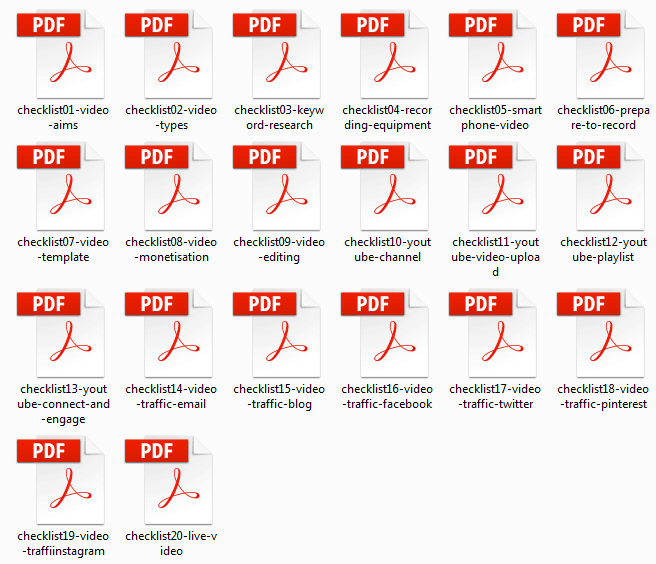 Package Details:
Total File Download Size:
9.30 Megabytes (MB)
Personal Use License:
[YES] Can be used for Personal Use
[YES] Can learn from this product
[YES] Can Use This Product for Marketing Planning
[NO] Can sell this Product
[NO] Can convey and sell Giveaway Rights
[NO] Can convey and sell Resale Rights
[NO] Can convey and sell Master Resale Rights
[NO] Can convey and sell Private Label Rights to the original document
Share this and get 20% off!
Related Products That May Interest You