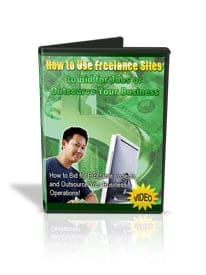 Choose Your Desired Option(s)
has been added to your cart!
have been added to your cart!
How to Use Freelance Sites Video Series With Master Resell Rights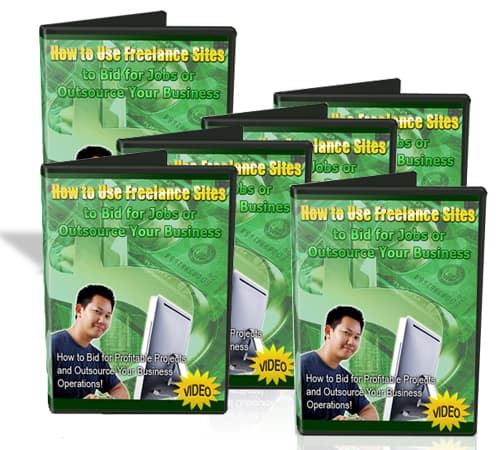 The Ultimate Video Guide To Using Freelance Websites To Bid For Jobs… Or Outsource Your Business…
"Amazing Step-By-Step Videos Reveal How To Use Freelance Websites To Get Your Own Database Of Clients… Or Explode Your Business By Slashing Your Time & Stress In Half…"
… And Do This Without Risking Paying Thousands Of Dollars To Expensive Trial And Error, Minimize Your Chances Of Getting Scammed, And Make Massive Profits!
has been added to your cart!
have been added to your cart!
"Discover How To Use Freelance Sites To Bid For Jobs Or Outsource Your Business…"
Video Count: 6 Flash Format, Instant Download After Purchase
** You'll be learning from someone who has years of experience in this area as a freelancer and buyer, has lost 100's of hours of time and $1000's from scammers. You will be taught what to avoid and what to look out for!
Here's a quick summary on what you will learn from this video series:
Video #1: An Overview of Two Different Perspectives – The Freelancer and The Buyer
In this introduction, you'll be given an overview of two different perspectives. How you can find profitable jobs as a freelancer and how you could outsource your business operations as the buyer. You see…you can easily tap into both these perspectives or just one.
If you're taught to see only from one perspective freelancer or buyer, then I can guarantee that you won't be as efficient in getting high bids as a freelancer or getting quality bids as a buyer. It's just like real life, if you can't see two perspectives then you can strengthen yourself on that one perspective.
Video #2: Popular Sites That Bring Freelancers And Buyers Together
There hundreds of sites out there that bring freelancers and buyers together, however the question is which was is the best? If you don't know already, many freelance sites actually specialize in different areas, even though they don't advertise it. Some sites are better for finding programmers or programming jobs. Some are better in graphic design, article writing, and more. We'll go over a few of the popular ones. You will learn several techniques later on how you can spot as a freelancer which sites are more profitable for you to go on, and which are not.
Video #3: The Freelancer: Bidding For Jobs – What You Need to Know Before
Before you get started trying to find jobs on freelance sites, there are several things you must know and prepare beforehand. Otherwise you will waste a lot of time and it will only end up in more headaches. For example, in this video you will start brainstorming about what you as a freelancer will be selling, what your strengths and weaknesses are, and much. More so, you need to understand a buyers basic perception when they come into these sites and how different buyers in your market are thinking.
Video #4: The Freelancer: How to Increase Your Bid Acceptance and Long Term Relationships with Your Buyers
So you learned in video 3, what you needed to know before you got started. Now that you have that information in hand ready to go, let's talk about how you as the freelancer can stand out among your competition. Depending on the site you go into, you can have 10-30 other freelancers competing and bidding on the project you are trying to get.
There are specific things buyers will look out for when they go through the bids. Many freelancers make the mistake of just jumping in and wondering why no one accepts their bid. You will learn what they look for, so you can get ahead of the rest of the freelancers. Also, if you watch the videos on the buyers perspective, I guarantee that you will get better view of what the buyer is looking for.
Video #5: The Buyer: How to Save Time and Outsource Your Business Projects
If you learn what is in this video, I guarantee that you will be able to avoid the same mistakes I made losing lots of time and money.
As the buyer, understanding the freelancer perspective, is good as well, but as the buyer you have more say so, since you are dishing out the money. In this video you will get a good view of how you should create your project so that you don't waste time and you attract the right type of freelancer. You se… for example, many buyers make un-realistic expectations without knowing it; and attract the wrong type of freelancer and it only ends up in more confusion and headaches later on. You'll get a short lesson in Hiring 101, which you can use in many aspects of outsourcing your business operations.
Did you know as a buyer, you have a partial impact on your freelancer's output? You probably didn't know this, but a good experienced buyer can easily help the freelancer create a better design, article, or program. Remember, it goes both ways in reality and you'll learn how to better approach this.
Video #6: The Buyer: Hiring Freelancers – Spotting Honest and Hardworking People, Legal Issues, How to Avoid Being Scammed and Cheated, and Red Flags
Most people will look at the feedback someone receives and make that the determing factor as to whether they will choose the person or not. Just like you and I, we have our ups and downs, personal problems that can keep us from our work. However on the deeper side of things, there are scammers out there with great feedback that will take advantage of you. Using feedback is fine if it is a partial factor, and there are actually several measures you can combine together to see whether someone will scam you or not.
I've had over 5 projects go sour, after getting excuses for months on end and losing over $5000 due to scammers; with perfect feedback ratings. On the flip side, there were several with no feedback, and became long term 2 year+ relationships.
We'll also talk about legal issues, which is a good measure. You know that different countries have different understandings of legal issues, so you have to know what to look out beforehand to keep yourself safe.
has been added to your cart!
have been added to your cart!
License Details:
You can put your name or pen name on the product as the author.
You can edit and alter the contents of the product (AVI) e.g. do your own voice over, put your own logo watermark, embed your URL, edit the content, etc. You cannot however pass the AVI Source Code to your customers.
You can change the title and sub-title of the product.
You can sell the video product with personal use rights, as it is or with edits, and keep all of the sales. The suggested selling price is $47.00 – $67.00. You can only sell in SWF Flash format. The AVI is for your own use only, and not transferable.
You can add the contents of the video product into a membership site (paid only) – viewable in the member's area (SWF format).
You can produce the product into written transcription and sell as a Special Report or E-Book.
You CANNOT give the product away for FREE under any circumstances at all.
You CANNOT use the product as a bonus to another product you are selling.
You CANNOT sell the product on auction sites such as eBay.com.
You CANNOT use this product in a dime sale event, under any circumstances at all.
You can offer the Basic Resell Rights or Master Resell Rights to the video products. The suggested selling price is $67.00 – $97.00
You can add the product into your product bundle or package and sell for a higher price.
You CANNOT, under any circumstances at all, resell, give away or trade the Private Label Rights to this video product, whether in full or partial. This includes not passing the AVI files to your customers.
You can use the videos as an education tool in your offline, home study or seminar course.
You can edit the sales letter anyhow you like as long as it does not misrepresent the benefits and offer of the product. Editing include, but is not limited to, put your name in the sales letter, insert your order link, fill in your own bonus offers, make changes to the sales page content, etc.
You can edit the graphics pack to this product anyhow you like as long as it does not misrepresent the product. You can put your name on the E-Cover, alter the design, using your own title, brand your trade name into the title and sub-title, or use a different design altogether.
You can edit the Thank You page anyhow you like i.e. put in your bonuses, enter your name, include the download link, etc.
You CANNOT give away Photoshop Source Document (PSD) graphics to the customers. It is only for your own use.
IMPORTANT! If you are offering this product with Master Resell Rights then please pass this license on to your customers so they are fully informed on the terms and conditions to the usage and resale of this product.
Share this and get 20% off!