Fitness Tech Premium PLR Package - High quality fitness tech PLR product including ebook, report, articles, emails and more. Over 35k words of done-for-you fitness tech PLR content that is well researched and written by professional copywriters and ready to be used in your business. Include Fast-action bonuses for the first 50 buyers of this PLR fitness tech pack.
#fitness #fitnessplr #fitnesstech #exerciseplr #workoutplr #fitnesscontent #fitnessworkout #fitnessprograms #fitnesstraining #fitnessblogging #getfit #fitnesstracker #heartrate #heartratemonitors #fitnesslifestyle #fitnessgoals #fitnesstechnology #fitnessgear #wearabletech #wearabletechnology #fitnessniche #fitnessebook #dfycontent #wearablefitness #fitnessmarketing #digitalcontent #plrproducts #digitalproducts #plrpack #readymadecontent #dfynichecontent #plrstore #bestplr
Fitness Tech Premium PLR Package – Featuring Over 35 000 Words of Done-For-You Evergreen Fitness Content.
Attention: Health, Fitness and Wellness Entrepreneurs
Done for You Premium Fitness PLR Product on a
EVERGREEN Topic:
Fitness!
Dear online business owner, When it comes to top fitness searches, the Fitness is one of the most searched-for topics online. It's safe to say that fitness has spawned an entire industry of blogs, fitness courses, and products.
This is where my premium done for you Fitness Tech PLR Package comes in. Its all about teaching your customers about A Buyer's Guide to Wearable Fitness Technology.
Everything is done for you – from the main info product to your social media updates – its simply up to you to add your branding and firmly establish yourself in this lucrative fitness niche.
Introducing The…
Fitness Tech Premium PLR Package
Featuring Over 35 000 Words of High Quality Fitness Content Ready To Be Used In Your Business!
This big Fitness Tech PLR package covers the hugely popular fitness niche. Fitness and exercising is evergreen and will always be. This Fitness Tech PLR content package is well-written by an experienced copywriter and comes with full private label rights so you can edit it, put your name on it, put your brand on it and sell it and use it to build your list of raving fans.
Here's everything you'll get in the Fitness Tech MEGA PLR Package…
Main eBook:"A Buyer's Guide to Wearable Fitness Technology"
(4,669 words, 19 pages, 9 images)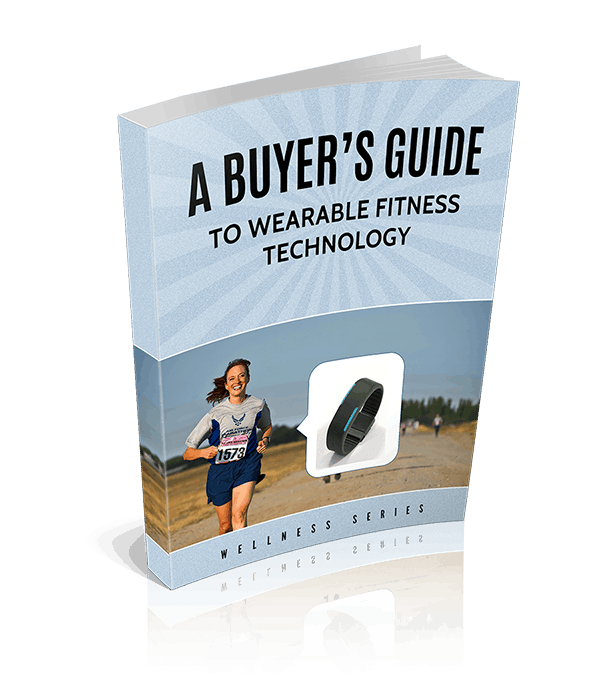 A look inside A Buyer's Guide to Wearable Fitness Technology Premium PLR eBook: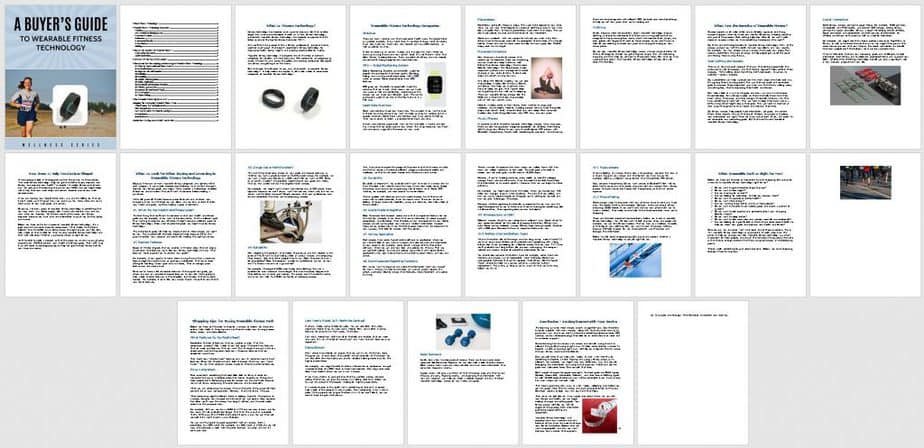 Table of Contents For A Buyer's Guide to Wearable Fitness Technology PLR eBook:
What Is Fitness Technology?…………………………………………………………………………….. 3
Wearable Fitness Technology Categories:…………………………………………………………. 4
Watches……………………………………………………………………………………………………….. 4
GPS – Global Positioning System……………………………………………………………………….. 4
Heart Rate Monitors……………………………………………………………………………………….. 4
Pedometers…………………………………………………………………………………………………… 5
Movement/Lifestyle……………………………………………………………………………………….. 5
Music Players………………………………………………………………………………………………… 5
Clothing………………………………………………………………………………………………………… 6
What Are the Benefits of Wearable Fitness?……………………………………………………… 7
Goal Setting and Success………………………………………………………………………………….. 7
Social Connection…………………………………………………………………………………………… 7
How Does It Help You Get Into Shape?……………………………………………………………… 9
What to Look for When Buying and Investing in Wearable Fitness Technology…… 10
#1 What Are Your Health and Fitness Goals?………………………………………………………. 10
#2 Desired Features………………………………………………………………………………………. 10
#3 Single Use or Multi-Function?……………………………………………………………………… 11
#4 Reliability………………………………………………………………………………………………… 11
#5 Durability………………………………………………………………………………………………… 12
#6 Social Media Integration…………………………………………………………………………….. 12
#7 Online Application…………………………………………………………………………………….. 12
#8 Downloads and Reporting Functions…………………………………………………………….. 12
#9 Wireless Sync or USB?……………………………………………………………………………….. 13
#10 Battery Life (and Battery Type)………………………………………………………………….. 13
#11 Music players…………………………………………………………………………………………. 14
#12 Phone Pairing…………………………………………………………………………………………. 14
What Wearable Tech Is Right for You?…………………………………………………………….. 15
Shopping Tips for Buying Wearable Fitness Tech……………………………………………… 16
What Features Do You Really Need?…………………………………………………………………. 16
Price Comparison………………………………………………………………………………………….. 16
Last Year's Model, Is It Worth the Savings?………………………………………………………… 17
Demo/Borrow………………………………………………………………………………………………. 17
Read Reviews!……………………………………………………………………………………………… 18
Conclusion – Getting Started with Your Device…………………………………………………. 19
Sample Content A Buyer's Guide to Wearable Fitness Technology PLR eBook:
What Are the Benefits of Wearable Fitness?
Success experts in all walks of life and is all fields agree on one thing; success happens when you track your results. Of course, tracking results is only part of the process. Goal setting helps too. After all, you can't really measure success unless you have something to compare it to, right?
So, that's one of the big benefits of wearable fitness technology. Many of the devices provide you with the ability to track your efforts and your results. For example, you may choose to use a device that tracks your steps. Many doctors recommend this type of device to help people get up off the couch and moving more during the day.
Goal Setting and Success
There is an abundance of research that says that sitting is essentially the precursor to a lot of diseases, and that moving regularly helps combat these diseases. We're talking about everything from depression, to cancer, to diabetes – serious diseases.
So, a pedometer can help a person see how many steps they take each day, thus giving them a starting point. They can then set small and achievable goals to increase those steps each day. Each day that they're walking more, and sitting less, they're improving their health and fitness.
Now take a look at a runner who goes out every day and runs the same three-mile loop. Put a fitness tracker on them that tells them what their heart rate is, their pace, and their average three-mile time and now they have something to work with. They can work to keep their heart rate in a fat-burning zone if weight loss is their goal. They can work to maintain an even pace throughout or to run faster and improve their time.
So, fitness devices help people track information, set goals, and achieve them. Those experts who say that one of the keys to success is tracking your information are right. When you have data in front of you, it's easier to set achievable and motivating goals. But that's not the only benefit of wearable fitness technology.
Social Connection
Some fitness devices connect to social media. For example, FitBit connects to Facebook and MyFitnessPal, and Garmin GPS devices, among others, connect to a social site called Strava, a social networking site for athletes. Social connection and competition are both sources of information for athletes and fitness enthusiasts as well as a tool for motivation.
For example, you might see that a friend posted a course on MapMyRun or Strava, as well as the time they did the run in. You might then go run that same course and see what your time is. This social connection is a benefit that many people don't think about, yet it can be a powerful one.
If you're motivated to share your exercising goals and challenges, to seek information from others, and to celebrate accomplishments and support your fellow athletes then the fitness technology benefit can play a significant role in your exercise program and your life.
Note: The above content is just a snippet of the ebook.
Short Report:"7 Mistakes to Avoid With Fitness Technology"
(1,693 words, 7 pages, 5 images)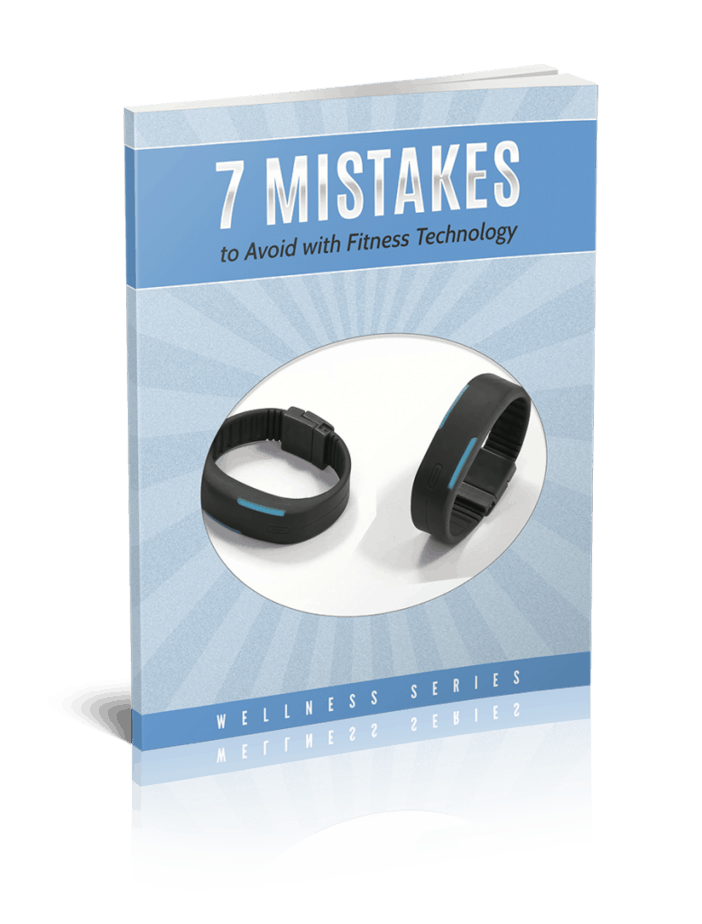 A look inside the 7 Mistakes to Avoid With Fitness Technology PLR Report:

Product Reviews:
(5 Extra Reviews as This Month's Bonus)
Why We Get Fat: And What to Do About It" by Gary Taubes – 498 words
Fitbit Alta Fitness Tracker – 578 words
Fitbit Blaze Smart Fitness Watch – 597 words
Fitbit Charge 2 Heart Rate + Fitness Wristband – 568 words
Fitbit Flex 2 – 556 words
Garmin Forerunner 230 – 556 words
Garmin vivofit 3 Activity Tracker – 414 words
Garmin vívosmart HR – 427 words
Polar M400 GPS Smart Sports Watch – 506 words
Under Armour UP3 by Jawbone – 408 words
Product Comparison Review:
Top 5 FitBits – 1177 words
5 Emails/ Blog Posts:
Topic: Tracking Your Fitness for Success
Email1-Why Should You Use a Fitness Tracker – 293 words
Email2-How to Buy a Fitness Tracker Everything You Need to Know – 340 words
Email3-Using Your Fitness Tracker The Right Way – 312 words
Email4-How Much Should You Spend on Your Fitness Tracker – 278 words
Email5-Fitness Trackers What Should You Be Tracking – 302 words
Fitness Tech Email Sample Content:
Fitness Trackers – What Should You Be Tracking?
You are so pumped. You bought a fitness tracker, and now you are going to get healthy and fit.
Actually, you've got that process backwards.
You should consider what specific fitness goals you have BEFORE you purchase any activity tracker. That is the only way you are going to know if the tracker you are considering purchasing can deliver the fitness goals you are hoping to achieve.
For instance, you may be thinking about buying a fitness tracker so you can lose a specified amount of weight. If this is the case, your tracker had better monitor and record calories burned, and allow you to record the foods and beverages you eat and drink.
Not all fitness trackers provide those features.
If all you want to do is track the number of steps you take each day in your pursuit to hit the popular 10,000 steps number, most any fitness tracker will work for you. If you want to monitor your heart rate however, you need to ensure your fitness tracker has that capability.
Proper sleep patterns strongly influence how healthy you are.
If you exercise frequently and watch what you eat, but still are not where you want to be as far as your fitness goals are concerned, you may need to take a look at your sleep. You will pay a little more than base model price for a fitness tracker that effectively monitors and reports the quality of your sleep, but this is something most people can benefit from.
Different people will want to track different metrics with their fitness trackers. Figure out exactly what you want to monitor, the specific goals you want to reach, what you want to track, and then do your due diligence before you make a purchase.
High Quality Fitness Tech PLR Articles:
3 Ways to Track Your Fitness Progress – 519 words
4 Ways to Track the Number of Calories You Eat – 412 words
5 Tips for Keeping Yourself Motivated to Exercise – 486 words
5 Ways to Get More Steps into Your Everyday Life – 527 words
6 Signs That You Are Sitting Down Too Much – 482 words
6 Ways to Reduce Boredom While Exercising – 461 words
Are Pedometers Accurate? – 635 words
Are You Sitting Down Too Much? – 653 words
Do Pedometers Really Help You Stay Fit? – 592 words
Do You Need a Fitbit® If You Already Have a Smartphone? – 462 words
How Do Sleep Trackers Work? – 599 words
How Many Steps Should I Walk Daily to Lose Weight? – 611 words
How to Overcome the Feeling That You're Too Tired to Exercise – 462 words
How Wearable Fitness Technology Has Developed Over Time – 498 words
Is Wearable Fitness Technology Just Another Fad? – 512 words
Top 4 Gadgets to Help You Get Fit – 400 words
What is an Activity Tracker? – 622 words
What is the Difference Between a GPS Running Watch and Fitness Activity Tracker? – 414 words
What to Do When You're Bored of Your Fitness Routine – 446 words
What Should You Look for in a Running Watch? – 732 words
Fitness Tech PLR Article Sample:
3 Ways to Track Your Fitness Progress
Tracking fitness progress can be a simple as monitoring the change in the way your favorite jeans fit. While that is one way to know you are making progress, a better way is to track not only the fit of your clothes, but also scale weight, body measurements, and calorie deficit.
Scale weight
Change in weight is a numbers game. If losing weight is your goal, then you want to see a steady downward trend on your scale. The key word is trend. If you see an overnight gain of a couple of pounds, don't despair. It is probably water weight and it will disappear as fast as it appeared.
Eat more calories than you expend and you'll gain weight; eat fewer and you'll lose weight. It is as simple as that.
The exception is a gain in muscle mass. Because muscle weighs more than fat, if you are strength training and your goal is to gain muscle mass, then your scale will show a gain … but so will it reflect in your other measurements too, so you'll know you are heading in the right direction.
Body Measurements
There are a couple of ways to do this; one, by using a simple tape measure or two, using a body caliper. If you use a tape measure, ensure you measure the same places and use the same amount of tightness on the tape. Places measured should include:
Neck – measure around the center of the neck with your head looking straight forward.
Waist – take a measurement at belly button level.
Hips – measure at the widest part.
Thigh – Left or right, it doesn't matter. What does matter is that you measure the same one in the same place each time.
Also, take your measurements at the same interval (like once a week) and at the same time of day as the body can vary in size throughout the day.
If you use a body fat caliper to measure bodyfat, measure in the same three places each time and average out the readings. Don't be too concerned with the number – only how it is changing.
Calories Deficit
One tool that can help track calories is a fitness tracker. Most of them will show the number of calories burned throughout the day. Some also have a calorie counter where you can also track how many calories you consume. A weekly deficit of 3,500 calories will result in a loss of one pound. Break that down and it comes out to burning 500 more calories per day than you take in.
Tracking
The old adage of "What get measured gets done" holds true in fitness tracking too. Maintaining a written record of your measurements creates a trend so you can see overall how you are progressing. Charting using a bar graphs makes an easy way to see progress. Tracking also serves as motivation to keep moving forward toward your goal.
Tracking can be as simple as recording information in a journal to using sophisticated smartphone apps. The point is to use a method that works for you and one that you will use continuously.
Social Media Posts & Images:
5 Shareable Social Media Fitness Graphics (PLR)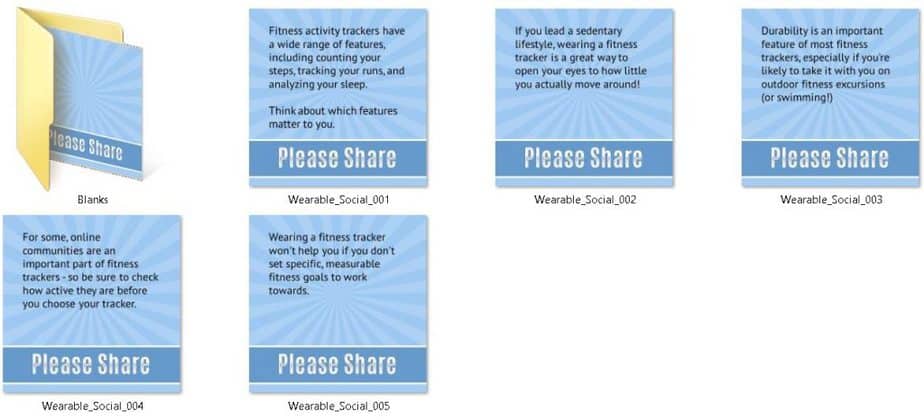 5 Shareable Social Media Inspirational Images

20 Social Media Posts (for sharing on Twitter or Facebook)

14 Royalty Free Images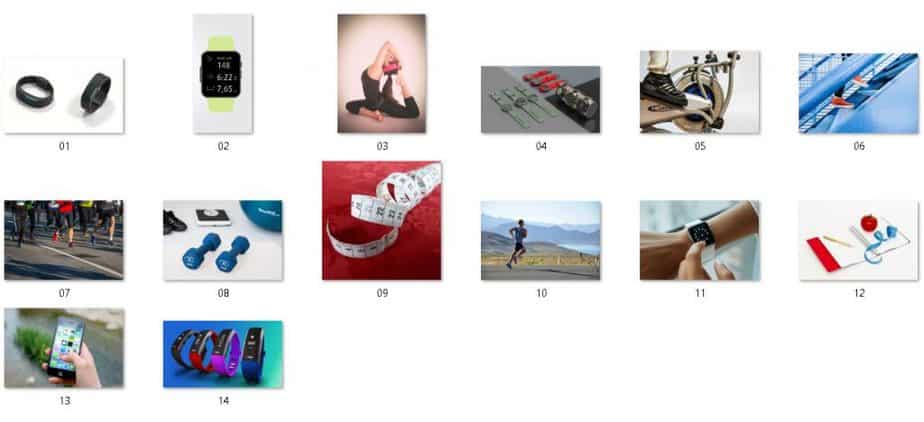 Images of All Products Reviewed

Fitness Tech Keyword Research Pack

Bonuses:
5 High Quality Fitness Routines For Weight Loss PLR Articles
Is Exercise Really That Important for Your Weight Loss Journey? (662 words)
4 Training Mistakes People Make When Trying to Lose Weight (662 words)
Are You Killing Yourself with High Intensity Training? (639 words)
How Often Should Your Exercise to Lose Weight (677 words)
How to Structure a Training Program to Lose Weight (567 words)
5 High Quality Fitness Routines For Weight Loss Article Sample:
4 Training Mistakes People Make When Trying to Lose Weight
It's inevitable. You know you have to do it. Anyone who is hoping to lose weight fast and effectively will need to exercise. There's no way around it.
While many people try to just reduce their food intake and do see some fat loss, they're never able to achieve the toned and attractive body that they desire. This is because their muscles have not been worked. Their metabolism is also sluggish.
So, we exercise… and while that is tough, it gets tougher if you're going about it the wrong way. You may have seen people running on the treadmill daily and yet they're still overweight.
Exercising while beneficial, must be strategic if you wish to lose weight. In this article, you'll discover 4 common mistakes that impede the progress of most people. Avoid them and you'll be golden.
Going Too Hard
While high intensity workouts are excellent for boosting one's metabolic rate and putting the body in fat burning mode for hours, they're also very taxing on the body. Ideally, you should do them on alternate days.
One high intensity day should be followed by a lighter workout the next day. Beginners who try to speed up their weight loss often go hard every single day. This causes burnout because their central nervous system has no time to recover.
The body gets fatigued and is unable to perform at its peak. Their weight loss may even plateau because the body is in 'shock' and needs time to recover. So, your goal should be to challenge yourself, but not overdo it.
Only Focusing on Cardio
Cardio is a great tool, but it's not the only tool. You must mix up resistance training with cardio sessions. Working your muscles will allow the body to build lean muscle, which in turn will boost your metabolic rate and help to burn more fat.
Long sessions of cardio are counterproductive. Most people's bodies are trained to burn carbs for fuel instead of fat. So, if you engage in long cardio sessions, you'll have carb cravings throughout the day… and that is not something you want.
Your time is better spent lifting weights and building strength.
Out-eating Their Training
While exercising will help to burn calories, most people overestimate just how many calories they burn. They believe that just because they train, they can eat anything they want without worry.
The truth of the matter is that you can cancel out an entire 60-minute workout in just 10 to 15 minutes of eating. Generally, you may burn anywhere from 500 to 600 calories during a 1-hour session.
2 slices of pizza contain about 600 calories. You could eat them in 15 minutes and that will be your workout gone. What if you drank a cup of soda after that? That's it. You've gained back all the calories you burned and more… and you did it easily in minutes.
You cannot out exercise a poor diet. So, always be mindful of what you're eating even if you exercise. Do not let your guard down. 80 percent of your weight loss is determined by what you put in your mouth. Only 20 percent is decided by the training.
Not Varying Their Workouts
Your body is a highly intelligent organism and can adapt quickly to most challenges placed upon it. If you do the same workout every time, it will adapt and become more efficient. So, you'll get better at what you're doing, but unlike when you first started, you'll be burning less calories, because you're stronger.
The key to avoiding this is to keep changing your workouts. Use different exercises, different weights, different timings, etc. This will keep your body guessing and it won't be able to adapt because it's a new workout every single time.
The workouts will be challenging, and your body will be forced to burn more calories to complete the job.
Avoid these 4 mistakes and your workout sessions will not only be more rewarding, but you'll also burn more calories and fat. Small changes make a world of difference over time.
5 Top Quality HIIT For Women PLR Articles:
4 Ways Women Can Incorporate HIIT in Their Workouts (717 words)
Discover Why HIIT is So Effective for Women Struggling to Lose Weight (676 words)
HIIT Splits and Training Different Muscle Groups for a Toned and Sexy Body (712 words)
How to Structure an Effective HIIT Workout (669 words)
Steady State Cardio vs. HIIT. Which is Better for Women? (807 words)
5 Top Quality HIIT For Women PLR Article Sample:
Discover Why HIIT is So Effective for Women Struggling to Lose Weight
Gone are the days when long, dreadful sessions on the treadmill or never-ending aerobics workouts were deemed as the only solution to weight loss and the be-all and end-all of fitness. Over the years, studies have shown that short, intense bursts of activity are far more effective for burning fat and getting fit.
HIIT refers to high intensity interval training and it has skyrocketed in popularity as more and more people discover how powerful it really is. HIIT is a cardiovascular protocol that uses short, extreme workouts to get you in your maximum heart rate zone.
Many benefits will be accrued to you by incorporating HIIT in your training regimen. Thousands of women have made HIIT a part of their life because the workouts are short and the results are phenomenal. Let's look at why HIIT is so effective for women.
Unlike normal steady state cardio, your body will not crave for carbohydrates after a workout session. The HIIT workouts are so exhausting that you'll also be more aware of what you're eating just because you expended so much effort during training. Undoing a hard workout with an easy snack just doesn't seem worth it.
Trains your heart to work efficiently
HIIT is exhausting and because it is so tough, it improves cardiac output which directly reduces heart related health problems from taking root in your body. HIIT training may be explosive in nature because of the speed involved. This speed of activity will recruit different muscular functions and aerobic pathways.
Improves steady state performance
It is very common to see many women on treadmills or stationery bikes at the gym. Women sure love their cardio and they'll do anywhere from 20 minutes to an hour of it. However, in most cases, the cardio is steady state. It is not fast or explosive. That's why it's called steady state.
HIIT, however, can last anywhere from 10 minutes to 30 minutes. It is totally draining and will leave you breathless. Yet, by engaging in HIIT often, you'll actually become better at steady state cardio.
HIIT is far more difficult and really improves your stamina in a way that steady state cardio never will. Oxygen and fuel is diffused faster into your muscles and this will improve your level of fitness. So, it's better to train with HIIT. Cast your worries aside about the women spending hours on the treadmill being fitter than you. It's just a misconception.
EPOC stands for excess post-exercise oxygen consumption. It is impacted by the duration and intensity of the workload. In simple terms, it just means that your body will be in fat burning mode for hours after your workout is over. You could be burning calories anywhere from 5 to 12 hours after a HIIT session.
There is higher fat oxidation when you engage in high intensity interval training. The size and amount of mitochondria in your cells will increase. This will boost your metabolism and speed up fat loss. Short HIIT sessions burn just as much fat as long steady state sessions.
So, you spend less time working out and get better results. It's a win-win situation.
Last but not least, HIIT sessions barely give you time to breathe much less let your mind wonder and get bored. Long treadmill sessions can get boring because the pace is slow or moderate and your mind starts to 'space out' and you ponder in boredom about the other things in your life.
HIIT workouts are fast and you don't even have time to think. The rest periods are short and only give you just enough time to cuss a little and catch your breath before jumping into the next set. You'll feel a burst of energy during the session and will bask in the warm afterglow of exhaustion and pride when you're done with a HIIT session.
Every woman should include HIIT in her workouts. It'll save you time and get you to your dream body faster than most other training methods. Your strength, stamina, metabolism and energy levels will get a boost. It doesn't get better than this.
10 Top Quality Exercise PLR Articles: 
Why You Should Enlist in a Fitness Boot Camp – 456 Words
Running – A Low-Cost Way to Become and Stay Fit – 503 Words
Personal Fitness Trainer versus Health Club Membership – 465 Words
New Fitness Gadgets – 533 Words
Kickbox Your Way to a Great Body – 491 Words
Jukari Makes Working Out Exciting – 401 Words
Hoopilates – A Hot New Workout – 419 Words
Get Into Shape with Spinning Classes – 448 Words
Zumba Latin Dance – A Healthy Addi