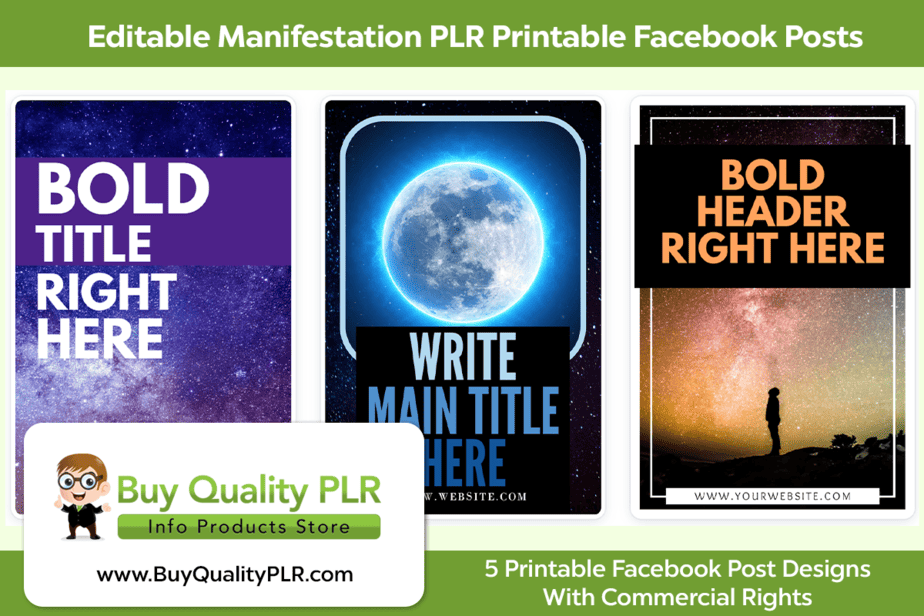 Choose Your Desired Option(s)
has been added to your cart!
have been added to your cart!
Editable Manifestation PLR Printable Facebook Posts
#EditableManifestationPLRPrintableFacebookPosts #Editable #Manifestation #PLRPrintable #FacebookPosts #manifestationprintables #manifestationgraphics #facebook #facebookdesigns #canvaeditable #canva #canvaprintables #plrprintables #lowcontentplr #printondemand #doneforyou #commecialuserights #commecialuse #Publish #buyqualityplr
The Editable Manifestation PLR Printable Facebook Posts Pack – Includes Canva Printable Facebook Pages With Commercial Use Rights
The Manifestation PLR Graphics Pack provides you with 5 Printable Facebook Post Designs. All files are easy to edit via Canva and publish so that you can create new unique products and PLR printables that you can sell for profit on your low-content publishing store or use these templates for your own designs.
Introducing The…
Editable Manifestation PLR Printable Facebook Posts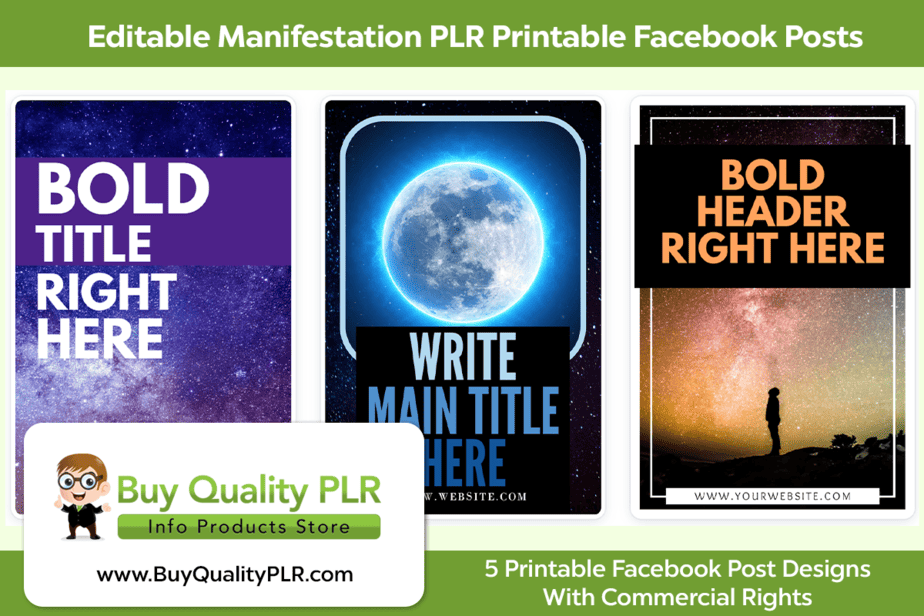 Here's exactly what you're getting in this Editable Manifestation PLR Printable Facebook Designs:
If you're looking to captivate your Facebook audience with engaging and inspiring content related to manifestation, look no further than these Editable Manifestation PLR Printable Facebook Posts. This collection offers a wide range of customizable posts that are designed to spark conversations, generate interest, and drive engagement on the world's largest social media platform.
Here's what you'll discover in this manifestation-themed Facebook post package:
Customizable Post Templates:
This collection features a variety of professionally designed post templates that are fully editable. You can easily customize the text, colors, fonts, and images to align with your branding and create a cohesive and eye-catching visual experience for your Facebook followers.
Inspiring and Informative Content:
These editable Facebook posts cover a broad spectrum of manifestation-related topics, including affirmations, mindset shifts, the law of attraction, goal setting, and more.
Promote Your Products or Services:
With these editable Facebook posts, you have the opportunity to promote your own manifestation-related products or services. Showcase your digital courses, coaching programs, e-books, or any other offerings and entice your audience to learn more and engage with your business.
Drive Engagement and Discussion:
These manifestation-themed Facebook posts are designed to encourage likes, comments, and shares. They are crafted to prompt meaningful conversations, ask thought-provoking questions, or share actionable tips and techniques. By sparking engagement, you can create a sense of community and build a loyal following around your manifestation-focused brand.
Time-Saving and User-Friendly:
Whether you're a social media manager, entrepreneur, or blogger, these editable Facebook post templates are designed to save you time and effort. With their easy-to-use format, you can quickly customize and publish high-quality content on your Facebook page. This allows you to stay consistent with your social media presence and effectively communicate with your audience.
Commercial Use Rights:
Along with using these editable Facebook posts for your own business, you also have the freedom to resell them as part of your products or services. This provides an opportunity to offer social media marketing packages, create digital products, or collaborate with other manifestation-focused professionals.
Take your manifestation-focused Facebook page to the next level with the Editable Manifestation PLR Printable Facebook Posts. These customizable post templates enable you to deliver valuable content, drive engagement, and build a thriving community around your manifestation brand. Get your copy today and start making an impact on Facebook with powerful and inspiring posts.
5 Facebook Post PLR Printable Designs
Editable Canva Templates Link
Commercial Use License
Here Are All of The Facebook Graphics You'll Be Getting:
The Editable Manifestation PLR Printable Facebook Graphics is just for you if you're looking for printable Facebook graphics that can be used to create your own unique printables and profit! Perfect for you if you have a publishing business and are looking for new products or printables.
Click the button below to purchase this product!
has been added to your cart!
have been added to your cart!
Your Package Details:
5 Individual Printable Facebooks Graphics In Canva, PNG, PDF, And PowerPoint Format
Total File Download Size – 36.5 MB
Here are the Licence Terms:
What You Can Do:
You can sell this product in a non-editable format like PDF to sell to your customer for personal use.
You can sell this product as a physical product.
You can use this product to build an email list.
You can edit the product and brand it with your name and company branding.
You can resell the product as your own.
You can include the product in a bundle or package.
What You Cannot Do:
You cannot sell this product with PLR or resell rights. This license is for you only.
You cannot sell this product with its editable source files.
Set a fair price when you sell and do not give the product away for free unless you're using it to build an email list
Share this and get 20% off!
Related Products That May Interest You