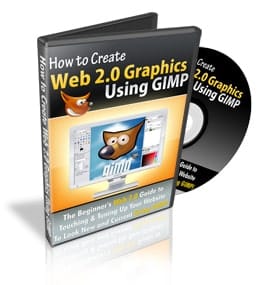 Choose Your Desired Option(s)
has been added to your cart!
have been added to your cart!
Create Web 2.0 Graphics using GIMP Video Series With Master Resell Rights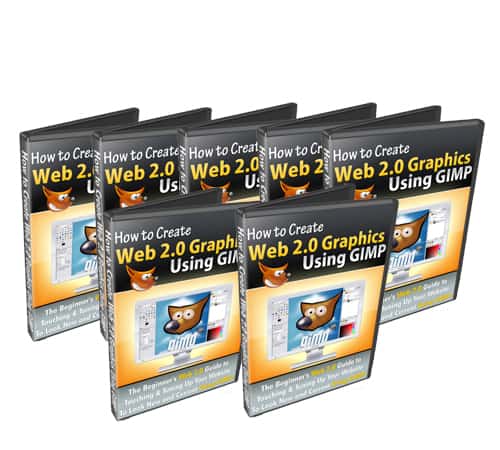 Step-By-Step Breakthrough Videos Show How Any Internet Newbie Can Churn Out Professional Graphics In Just Minutes… Using Freely Available Graphics Software!
Finally… Here's How To Create Beautiful Web 2.0 Designs, Realistic Buttons, And Eye-Grabbing Icons… And Shame The Pros Who Indulge In Expensive Gadgets!
– Make Web 2.0 shiny buttons using GIMP
– Create image reflections and shadows
– Create Web 2.0-style text logos with shadow reflection
– Create awesome web 2.0 striped style header
And Much More…!
has been added to your cart!
have been added to your cart!
Here's a break down on what you will learn in this video series…
Video #1: How to Download and Install GIMP
GIMP stands for GNU Image Manipulation Program. It is a freely distributed piece of software that is like a scaled down version of Adobe Photoshop, yet of course its easy to use. You'll be shown where to download GIMP and how to install it.
Video #2: Understanding GIMPs Features and Tools
Just like any software, knowing and understanding the features you will be using in the future videos is a must, so you save time trying to figure them out later.
Video #3: How to Make Web 2.0 Shiny Buttons Using GIMP
Its the new trend of graphics, graphics that come to life. So, every wonder how people make those shiny buttons that come to life? Well you'll learn just that in this video.
Video #4: How to Create Image Reflections and Shadows Using GIMP
Have you noticed how companies create ecovers and screenshots and they have cool reflections and shadows that make them look like you're staring at the real thing? In this video, you'll learn how easy it is to actually take any picture and create a reflection and shadow with this free tool, GIMP.
Video #5: How to Create a Shiny Badge Using GIMP
You've seen those shiny badges people use on their sales pages that announce special sales. Creating badges in GIMP is very straightforward.
You'll learn how to manipulate the shapes GIMP gives you to create a professional shiny looking badge so you can start adding them to your sales pages like the professionals.
Video #6: How to Create a Web 2.0 Text Logo with a Reflection Using GIMP
By now, you've probably realized that when people say Web 2.0 graphics, what they mean is new style or new look graphics are being given. Well, long long ago, text logos looked bland and normally were made up one purely one color, no gradients and no shiny look. In this video, you'll learn how to give your text logos a cool shiny gradient look, as well as a reflection. This is something many designers create nowadays.
Video #7: How to Create a Cool Web 2.0 Striped Style Header Using GIMP
Don't know how to draw and don't have a sense of creativity? Dont worry, well take everything you've learned so far and create an eye catchy Web 2.0 header that has stripes. You can use these headers on the top of your sales pages, or even any other landing pages.
Finally you can learn how to create your own web 2.0 graphics using what is already available on the Internet. And you don't have to go back to school or take up a special course just to keep up with the rest of the graphic designers in training.
NOTE: You need to have Adobe Flash Player to view all of the videos. If you don't have the application installed in your computer, you can get the plug-in from the Adobe official website for FREE.
has been added to your cart!
have been added to your cart!
License Details:
You can put your name or pen name on the product as the author.
You can edit and alter the contents of the product (AVI) e.g. do your own voice over, put your own logo watermark, embed your URL, edit the content, etc. You cannot however pass the AVI Source Code to your customers.
You can change the title and sub-title of the product.
You can sell the video product with personal use rights, as it is or with edits, and keep all of the sales. The suggested selling price is $47.00 – $67.00. You can only sell in SWF Flash format. The AVI is for your own use only, and not transferable.
You can add the contents of the video product into a membership site (paid only) – viewable in the member's area (SWF format).
You can produce the product into written transcription and sell as a Special Report or E-Book.
You CANNOT give the product away for FREE under any circumstances at all.
You CANNOT use the product as a bonus to another product you are selling.
You CANNOT sell the product on auction sites such as eBay.com.
You CANNOT use this product in a dime sale event, under any circumstances at all.
You can offer the Basic Resell Rights or Master Resell Rights to the video products. The suggested selling price is $67.00 – $97.00
You can add the product into your product bundle or package and sell for a higher price.
You CANNOT, under any circumstances at all, resell, give away or trade the Private Label Rights to this video product, whether in full or partial. This includes not passing the AVI files to your customers.
You can use the videos as an education tool in your offline, home study or seminar course.
You can edit the sales letter anyhow you like as long as it does not misrepresent the benefits and offer of the product. Editing include, but is not limited to, put your name in the sales letter, insert your order link, fill in your own bonus offers, make changes to the sales page content, etc.
You can edit the graphics pack to this product anyhow you like as long as it does not misrepresent the product. You can put your name on the E-Cover, alter the design, using your own title, brand your trade name into the title and sub-title, or use a different design altogether.
You can edit the Thank You page anyhow you like i.e. put in your bonuses, enter your name, include the download link, etc.
You CANNOT give away Photoshop Source Document (PSD) graphics to the customers. It is only for your own use.
IMPORTANT! If you are offering this product with Master Resell Rights then please pass this license on to your customers so they are fully informed on the terms and conditions to the usage and resale of this product.
Share this and get 20% off!