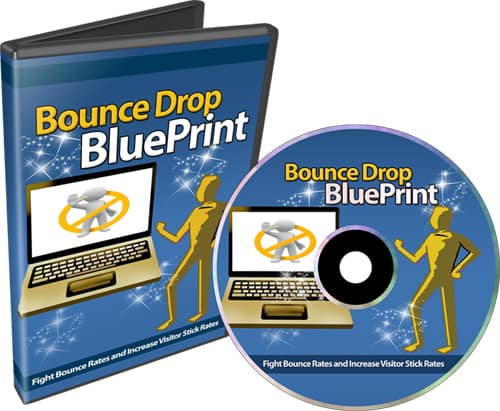 Choose Your Desired Option(s)
has been added to your cart!
have been added to your cart!
Bounce Drop Blueprint Video Couses with Private Label Rights
In this step-by-step private label rights video course you will get to watch over my shoulder as I show you three things that can spike your bounce rate, which has a direct impact on your sales and conversions
Who is this PLR Video Course Perfect For?
Internet Marketing Coaches
Book Marketers
Affiliate Marketers
Digital Product Resellers
Email Marketers
Membership Site Owners
Marketers looking for Editable Video Guides and Tutorials with Private Label Rights
Newbie marketers looking to learn from it
Online businesses looking to grow
Serious Marketers
And many other ways!
The fact is that people love learning from videos and video training in highly in-demand because people prefer learning from videos.
has been added to your cart!
have been added to your cart!
Introducing The Bounce Drop Blueprint PLR Video Course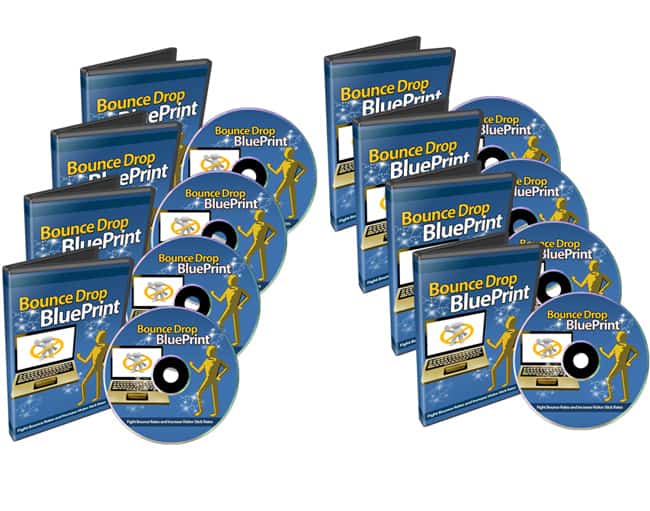 Video #1: Introduction and Quick Overview
In this specific video, we are going to introduce you to the blueprint. Also, we'll give you a quick overview of the video course as a whole – so that you can understand clearly what to expect as we go about implementing the system to lower your bounce rates more effectively. You're also going to be shown how it works, and what tools to use to effectively accomplish this.
Video #2: How fast does your site load? And how to check.
Referring back to the previous example, if you go to a site and it takes more than 10 seconds to load, most visitors will leave to Google and look for another one. Yet before you learn how to speed things up, you need to know where you stand now. But how? There are so many tools out there to use, which is the best?
Video #3: How to expand and speed up HTML pages
At this point in time, you have found how fast your site loads. We know that Google does not like single pages, so we'll talk briefly about ways to expand your site a little bit. But more importantly, how can you speed up an HTML landing page exactly? In this video, we'll discuss ways of doing this.
Video #4: How to speed up WordPress sites? What Plugins to use? What Settings are best for shared hosts vs. virtual private servers?
Speeding up WordPress is quite different to a basic HTML page. This requires more stuff, but it's easily done using a specific plugin. While there are many out there, we'll focus on one specific plugin that we've found works really well. Whether your site is on a shared host or virtual private server, we've got you covered. Don't worry – we've done the testing and can show you how to find the best settings, because it is different from site to site and there is no 'one size fits all' solution.
Video #5: Web Hosting and Content Delivery Networks – What to look for
If you're looking for ways to switch web hosting companies, then before you do that, we want to make sure you understand what type of web host to look for and Content Delivery Network providers. Don't worry if this doesn't make any sense now – it will soon. Essentially, who you host with can often be a roadblock to how fast your site loads. That's the bottom line. Therefore, you'll learn how to pinpoint a good fast host in basic terms.
Video #6: Content is key and types of content to use
The content itself can often create an atmosphere for the visitor – either good or bad. Bad quality content unrelated to what they're looking for creates frustration, while good quality content related to what they're searching can create trust. In the end, you want the visitor's trust, because ultimately that is what gains sales and conversions. So in this video, we'll discuss the different types of content, how long they should be, and how you can use them to create a great experience.
Video #7: Where to get quality article content created
That is the question. If you don't feel like you're a great writer and want to outsource article writing to an expert, there is a way to do it and a way not to do it. Not all writers will write well – we know that. But how do you find quality article writers? That I will show you here.
Video #8: Where to get quality videos created (edu-tainment)
People have short attention spans. And thus, people need to be entertained while they are being educated. Unless you've been hiding under a rock, you know that there is a trend going on now where videos that provide great content also provide great entertainment. It allows someone to stay on your site for quite a while, enjoying every minute of it. Videos themselves can increase your visitor stick rate, especially if you have many good quality ones. But you have to ensure they are good quality and are related to what they're looking for. So how? It's super easy to find people, but you have to do it right. Not all video creators have equal quality work either, but I'll show you how to pinpoint the best.
Video #9: Organizing Your Content to Ensure Easy Access
The last point we want to cover is ensuring that your content is easily accessible. While this sounds like common sense, it's often overlooked because it does require some technical sense. If your high quality content is stuck deep within 3-4 clicks, people may never see it or want to get there unless they are desperate. However said that, with hundreds or thousands of competing sites, people have many options. But back to the topic at hand, we'll cover how you can organize your content for easy access.
Video #10: Site Navigation 101
Now let's jump into the technical stuff. How to do you ensure that your content is easily accessible once you have organized everything? Well, in this video we'll look at both HTML sites and WordPress sites on how to do this step by step.
Grab this video course and learn how to fight bounce rates and increase your stick rates which ultimately impact your sales conversions, relationships, and more!
has been added to your cart!
have been added to your cart!
Here's The Sales Video You'll Be Getting With This PLR Video Course:
Here's a Sample Video So That You Know What To Expect From These PLR Videos:
Here's a Link Where You Can Preview the Actual Sales-letter and Sales-page:
Click Here To View The Sales Page
This Private Label Rights Video Course comes with an entire business in a box reseller package that you can use, rebrand and resell at your wish.
has been added to your cart!
have been added to your cart!
Download Package Details:
10 640X360 MP4 Flash Videos
10 1280X720 MP4 Videos
10 MP3 Voice-overs
10 PowerPoint Slides
Sales Video in MP4 Format
Sales-letter in DOC, HTML and PDF Format
Editable Graphics: Covers, Flat Cover, Header, Footer, Button (Images and PSD)
Total File Download Size:
814 Megabytes (MB)
Private Label Rights License:
Legal Disclaimer: This license is Non – Transferrable; meaning you cannot give these same rights away. If you want to sell rights to your customers; pay close attention to the license below. We closely
monitor vendors that sell the product and take legal violations seriously.
DO NOT Change this license…violations will be obvious will be prosecuted under the DMCA federal law. You cannot give the product away for free, even to your list…
What You Can do:
[YES] Can Sell This Product
[YES] Can Be Packaged with Paid Products. 5 PRODUCTS MAXIMUM CAN BE BUNDLED
[YES] Can Be Offered as a bonus to Paid Product
[YES] Can Be Added to monthly Paid MEMBERSHIP or Training SITES If you have a membership site where people pay a onetime fee to get into download 100's of products, then you cannot include resell rights this product in that bundle.
[YES] Can Put Your Name on the Sales Page
[YES] Can Sell Resale Rights (Does not relate to PLR, meaning your customers can resell the video as is…)
[YES] You can stamp your name on the videos, but you cannot sell PLR.
What You Can't Do:
You CANNOT Give your customers the AVI files or 1280x720HD MP4 files
You CANNOT Give Transcripts
You CANNOT Offer In Firesales
You CANNOT Offer in Dimesales
You CANNOT Offer These Videos in Firesales if there are more than 5 products.
You CANNOT Sell Master Resale Rights to videos as is.
You CANNOT Give away resell rights for free
You CANNOT Give away videos for free
You CANNOT Claim Original Copyright
Repeat: You CANNOT Sell Private Label Rights
Share this and get 20% off!