Audacity Training Video Series With Basic Resale Rights

Have you ever considered podcasting as a form of content creation or newsletter distribution? It's easier than you think!
learn how to use free software and tools to create and edit your podcasts and get them online.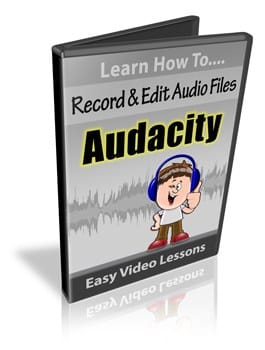 There is no reason to be intimidated by the technology involved because all you need is…
A Computer
A Microphone
Free Software
Free Hosting
Free Online Placement
If the last three create a quiver inside then let's put it to rest: in less than 60 minutes you're going to know exactly how to create, edit and upload your very own high-quality podcast.
In four simple video sessions, you're going to have all the knowledge you'll need to get your voice and your vision out in front of anyone you choose. Whether you're simply interested in expressing your opinion and sharing your ideas or drumming up clients and sales for your business.
The limits of your personal podcasting production are only in your own mind.
Most of us have listened to the voices coming through our radios and thought, "I could do better than that." Thanks to this simple and easy tutorial you're going to be proving that to the whole world in less than one hour.
From finding, downloading and installing the perfect free software for no-cost podcasting success to sharing your personal productions with the world (also at no-cost), this easy-to-follow tutorial covers it all.
With a computer (which you obviously have) and a microphone (which you can get for next-to-nothing if you don't already have it)…the only other thing you need to bring to the mix is your personality.
Learning to podcast professional quality audio productions to the world (without paying for software, hosting or advertising) could easily cost hundreds of dollars. After all, this same information could very easily be billed as an "Advanced Multimedia Course," like similar products on the web.
Instead of throwing together a jargon-laden title and upping the price, this tutorial is yours for less than the cost of a two-person dinner date at a fast food joint. Podcasting is an important part of the internet, and creating them should be available to everyone.
Most people who currently do podcasting pay more for software, hosting and advertising PER MONTH than you'll be investing in this tutorial ONE-TIME. Thanks to the resources you're about to discover, you won't have to pay for any of that stuff again.
Here is just some of what you will learn:
How to get the software
How to install mp3 encoding
A tour of the interface
Creating audio files
Editing audio files
Timeline shifting
Intros and exit music
Background music
Free podcasting
and lots more…
This video series will show you what you need to know about creating and editing audio and getting it online.
Basic Resale Rights
[YES] May be added to PAID membership sites
[YES] May be packaged with other PAID products
[YES] May be offered as a bonus with other PAID products
[YES] May sell personal use rights
[YES] Will receive a sales page with graphics. and PSD Files
[YES] May Resell on auction sites within the pricing guidelines.
[NO] May be given away free
[NO] May be added to FREE membership sites
[NO] May sell Private Label Rights (PLR)
[NO] May sell master resale rights
[NO] May sell basic resale rights
[NO] May claim copyright
has been added to your cart!
have been added to your cart!
Share this and get 20% off!
---
TAG : audacity podcasting videos, audacity training basic resale rights, audacity training basic resell rights, audacity training brr, audacity training video course, audacity training video series, podcasting video course
CATEGORY : Internet Marketing, Resell Rights Products, Resell Rights Videos