Choose Your Desired Option(s)
has been added to your cart!
have been added to your cart!
Viral Marketing Riches eBook With Master resell rights
"Discover How YOU Can Make MAXIMUM Profits With minimum Effort By Getting Other People To Willingly Market For You!"
Unlock The Secrets To Getting Other People To Talk About You And Your Business Willingly Whether They're Paid To Do It Or Not!
Announcing:
Viral Marketing Riches 2nd Edition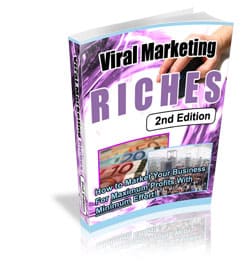 Discover how you can market your business for MAXIMUM profits with minimum effort on your part. All you really need is some inspirations and concepts – and they're found in this power-packed manual!
In This Manual, Discover:
The "buzz" concept and how to create it like a massive bee hive before your project launches for success!
Inspiring Viral Marketing success stories you can model your business after and enjoy the same privileges of massive sales and massive publicity!
How to add an edge to your Information Product(s) and make it go viral, passing hand in hand, hard drive in hard drive, spreading the good word about you and your business!
Leverage on E-mail marketing and how you can create a mad house of buzz within your mailing list!
The power of blogging and how you can spread the word out like a virus that will spur people to pass the word on to the next!
How to use newsletters and practice a little-known Viral Marketing tactic that will make people not only break their own wallets for you but also other people to do the same – without you asking!
The mechanisms of Viral Marketing that makes people cannot afford to keep it all to themselves that they have to talk about you!
The 5 critical success factors that will make or break your Viral Marketing campaign.
How to create a controversy over your product, service or project among your close friends and contacts!
The great incentives for people to talk and spread the word about you (other than affiliate programs),
And much more!
License Details:
You can put your name or pen name on the product as the author.
You can edit the contents of the product e.g. putting in your affiliate links, adding and removing text, inserting pictures and advertisements, etc.
You can change the title and sub-title of the product.
You can sell the product (E-Book) in PDF format. The suggested selling price is $27.00 – $37.00.
You can break the contents of the product into articles for article submission purposes or add content to your website, blog or e-zine, and include your resource box.
You can spawn a series of short reports (free or paid) by breaking down the contents of the product.
You can add the product into a membership site (paid only).
You can add the product into your product bundle or package and sell for a higher price.
You can offer the Basic Resell Rights or Master Resell Rights to the PDF E-Book. The suggested selling price is $67.00 – $97.00.
You can produce audio/video content from the materials in this product.
You CANNOT give the product away for FREE, under any circumstances at all.
You CANNOT offer the product as a bonus to another product you are selling. However, you can offer other bonuses to this product when selling.
You CANNOT sell the product on auction sites such as eBay.com.
You CANNOT use this product in a dime sale event, under any circumstances at all.
Selling the Private Label Rights (Word Format)
You CANNOT, under any circumstances at all, resell, give away or trade the Private Label Rights to this product, whether in full or partial.
Offline Publishing
You CANNOT use the Private Label materials of this product to publish your work offline. This includes, but not limited to, hard copy books, tapes, CDs, DVDs, and MP3s.
Sales Letter & Graphics Pack
You can edit the sales letter anyhow you like i.e. put your name in the sales letter, insert your order link, enter your own bonuses, make changes to the sales page content, etc.
You can edit the graphics pack to this product anyhow you like i.e. put your name on the E-Cover, alter the design, using your own titles, branding your trade name into the titles and sub-titles, etc.
You can edit the Thank You page anyhow you like i.e. put in your bonuses, enter your name, include the download link, etc.
Share this and get 20% off!