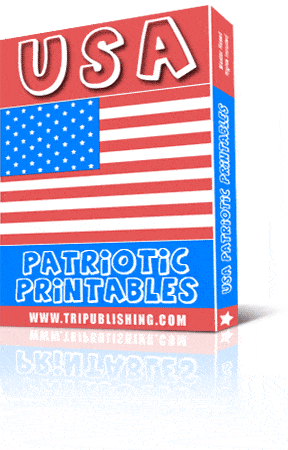 Choose Your Desired Option(s)
has been added to your cart!
have been added to your cart!
USA Patriotic Coloring Book Master Resell Rights
USA Patriotic Printables Coloring Pages provides hours of fun for everyone in your family, regardless of their age!
And, the best part is, you can access it within seconds of purchase and reuse the pages over and over again.  This is because USA: Patriotic Printables Coloring Pages comes to you as an Adobe PDF file that you can instantly download from the internet!
has been added to your cart!
have been added to your cart!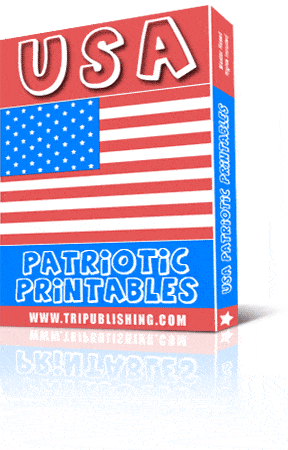 USA: Patriotic Printables Coloring Pages is chock-filled with fun to color graphics that show the best of the US!  Inside, you'll find images of…
American Flags
The Statue of Liberty
Uncle Sam
The Bald Eagle
The Liberty Bell
And much, much more!
Here are some screenshots of the pages: (Images size to full page when printed)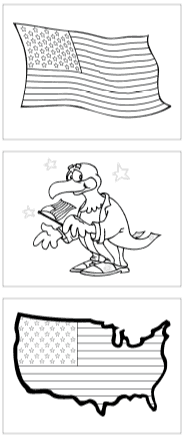 The Way You Use These Printable Pages Is Only Limited By Your Imagination!
Here are some real-life activities that people are doing with their copies of USA: Patriotic Printables Coloring Pages:
"I printed them out for my kids and they made they colored them in, cut them out, and made terrific holiday decorations for The Fourth of July!"
"I teach 3rd grade.  Not all the kids finish their work at the same time.  Some are quicker than others.  For the kids who finish their work early (to keep them from goofing off!), I let them choose a sheet to color in.  They really like these and it keeps them occupied.  Plus, they are educational!  I like them because I have an unlimited supply!  Terrific job!!"
What Makes USA: Patriotic Printables Coloring Pages Different From A Regular Coloring Book I Could Buy At The Store? 
What are the advantages of purchasing this ebook over those?
Pages can be printed as needed, as many times as needed. A regular coloring book you can only use once. Not so with this ebook format. You can print out enough copies for all of your children. No more fighting over the book! So, just save the pdf file to your computer or a cd and use it again & again. Great for parties, at home, or in the classroom.
Because they are printed on separate sheets of paper, you never have to worry about those torn edges you get from regular coloring books when you rip them out for display. These look a lot neater hanging on the fridge!  They are also much easier to work with!
Many times, children only want to color certain pages of a coloring book, leaving many pages going to waste. With this pdf of coloring pages, print only what you want, when you want!
If a child "messes up" coloring and wants to do it again, it's no problem! Just print out another.
This pdf of coloring pages is also tailored for those who like to do craft projects. Many of the images are very suitable for coloring in and then cutting out with scissors.
You don't have to wait for your coloring book to be shipped to you and you don't have to go to the store and purchase one. It will be delivered to you within seconds of purchase via instant download!
USA: Patriotic Printables Coloring Pages is a real money and time saver!
How do I view and print USA: Patriotic Printables Coloring Pages?
All of the images are in black & white and are ready to be colored in. If you have a printer (just a black and white printer will do!), you are ready to print these wonderful coloring pages. Please note that upon viewing the images on your computer screen, the images may appear fuzzy or incomplete.  This is because we've optimized the images for print only.  Please rest assured that the actual pages are sharp, clear, and crisp upon printing.
You can print the pages on regular copy paper (8 1/2 x 11), or any paper of your choice. All images should turn out beautifully. (To achieve the "feel" of a regular coloring book, consider using recycled copy paper!) You can even print on both sides of the paper if your printer has such functionality, which will save you paper if you so desire.
The total file size is relatively small considering the number of pages you get, and you need Adobe Acrobat Reader to view the file.
This file should print flawlessly on any printer. Should you have any trouble opening or printing the pdf file after purchase, please contact us and we will work quickly to assist you.
INCLUDED:   MASTER RESALE RIGHTS!

USA:  Patriotic Printables Coloring Pages comes complete with Master Resale Rights and sales material. Upon purchase, you will receive the following:
45 Page Ebook USA:  Patriotic Printables Coloring Pages in Adobe PDF format, so it can be read on almost any computer!
Full TRANSFERABLE Master Resale Rights, so you can begin selling this ebook within minutes of receiving it.  You keep 100% of the profits!  Plus, you are able to pass along these same Master Resale Rights to your buyers!
Professionally Designed Graphics Pack.
Web Sales Letter that can be easily edited to include your information.
License Details:
[YES] Can sell or grant others Master Resale Rights to the ebook
[YES] Brand it with your name and website info
[YES] Store it on a hard drive, website, CD, or other storage mediu.
[YES] Sell it on eBay and other auction sites
[YES] Can be included on a membership site
[YES] Can be include it with an ebook package that sells for a minimum of $2.95
[YES] You may print this ebook out for your own personal at-home reading
[NO] Give it away as a stand-alone gift
[NO] Alter it in any way. Except for branding mentioned above
[NO] Claim the copyright as your own
[NO] Distribute for sale or otherwise in any printed version whatsoever
Share this and get 20% off!